Creating the dream gaming set-up extends far beyond your GPU, headsets, monitor, keyboard and mouse. You need to be comfortable and have excellent ergonomics…well this is where a budget gaming chair comes in. If you've spent the big bucks elsewhere, worry not. These chairs won't break the bank (or your back!)
With so many of us spending many hours each day in front of a computer ar work and then more hours gaming the evening, it's imperative to your health that you invest in at least a budget gaming chair.
So without further ado… let's take a look at the best budget gaming chairs.
What are the best gaming chairs?
We spent dozens of hours trawling the net to discover and assess which budget gaming chairs are the best gaming chairs. We looked a customer reviews, reviews from specialist experts, as well as independent research to bring you this list of the best budget gaming chairs.

#1 GTRacing Pro Series Gaming Chair
The GTRACING Pro Series Gaming Chair is highly-reviewed on Amazon, garnering a 4.6 rating out of a perfect 5 from over 24,000 global users. For a very reasonable fee, users are generally happy with GTRACING's budget gaming chair.
GTRacing gaming chairs are always included in most, if not all, best gaming chairs review, whether it'd be its premium line or its budget-friendly gaming chair. It's a known brand in the gaming community for offering quality gaming chairs (and other products) for a very reasonable price. The company was founded in 2011 but it was only in 2013 when it debuted its very first gaming chair.
Price reduction
GTRACING Pro Series Gaming Chair
This GTRACING gaming chair is wrapped in red leatherette in a sleek, race-inspired shape, providing immersive gaming experience.
Ergonomic design helps you maintain a neutral, balanced posture and reduce your pressure and pain.
Well-padded seat, lumbar & headrest cushions make extended gaming sessions more enjoyable.
Large angle adjuster provides perfect angle support from 90 to 170 degrees to suit all your needs.
One of its attracting features is its racing-style design. In a way, it sets itself out from the rest. It also is ergonomically designed (with a metal frame) to maintain a neutral balanced posture and reduce any back pain.
It's well-padded; both having lumbar and headrest cushions. So you can comfortably enjoy playing for an extended period of time. Although commonly bought as a gaming essential, this great budget gaming chair, thanks to its sleek faux leatherette wrapping, can also be used as an office chair.
So you can enjoy this comfortable chair while doing work—also for an extended period of time. It would still look professional during zoom calls too, especially with the black colour variant.
This low-priced gaming chair is fully adjustable, from its height, its armrest, to its tilt rock tension. You can adjust the chairs angle to three different ones: At 90 degrees, for a comfortable work mode; at 130 degrees for cozy reading mode or for chill gaming; and at 170 degrees for when you need to lie down for a bit to take a bit of a rest or a break.
Things you need to know: 
It can carry the maximum capacity of 30 lbs
Seat height adjustment is from 16.9″ – 20.9″
The base is plastic
It usually comes with a two-coloured variant but the PRO SERIES // GT099-BLACK looks minimalistic, having two shades of black.
---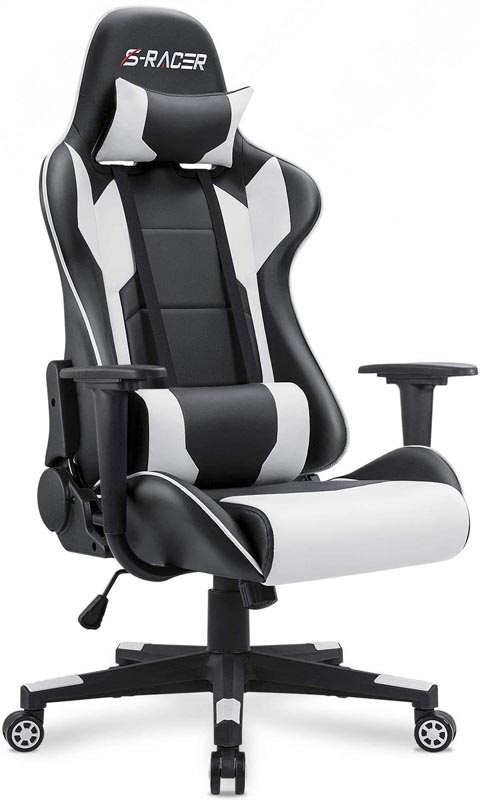 #2 Homall High-Back Racing Chair
Similar to GTRacing, the Homall High-Back Racing chair is also highly reviewed on Amazon, with over 39,000 users leaving a rating—garnering a 4.4 out of a 5-star rating. As of this writing, Amazon actually dubbed this gaming chair as its #1 Best Seller.
Homall, as a company, doesn't have its own official website. Its products are distributed to online retail stores like Amazon.
It also sports a racing-like design and headrest and lumbar support. But looking at it, it's a bit thicker than the GTRacing. Its tilt locking mechanism ranges from 90° to 150° angles.
Price reduction
Homall High-Back Racing chair
Selected Material: High density shaping foam, more comfortable, elasticity resilience and service life. 1.8mm thick steel frame, more sturdy and stable. Pu Leather, skin friendly and wear resisting.
Upgraded Configuration: Class 3 gas lift, durable, reliable and supports up to 300lbs. Rubber casters, rolling quietly and tested by 1000 miles rolling.
Multi Function: 360 degree swivel and multi direction wheels, load capacity: 300-pound maximum weight capacity. Recline function. Between 90 to 180 degree. Rocking function: chair can rock back and forth when you adjust the knob beneath the seat.
Dimension: Size of back: 22.5 inch and 30.5 inch. Size of seat: 14.5 inch and 20.5 inch. Seat adjustable height: 17.3 to 21.5 inch.
It's also priced very affordably but it's made with premium materials like high-density shaping foam, PU leather, equipped with a 1.8mm thick steel frame and multi-direction wheel with a 360° swivel.
This type of budget gaming chair is great for taller gamers because it's on the narrower and taller side. It also has a weight capacity of 300 lbs.
Things you need to know: 
Armrests are also adjustable
It has a heavy-duty five-star metal base
Equipped with updated PU wheel
---

#3 Respawn 110 Racing-style Gaming Chair
Just by looking at it, the Respawn 110 gaming chair already screams comfort and style. It still sports a race car style design, with a headrest and lumbar support but it's thicker compared to the others in this list. It doesn't look like a budget gaming chair at all.
The over-all design itself helps gamers full immerse themselves in the games they play. It sets the right mood when you need to be pumped up to grind in-game.
What gamers look for in gaming chairs is of overall comfort. So it needs to be ergonomically designed and built with great adjustability. Respawn catered to that need by using segmented paddings making sure users have contoured support.
Respawn 110 gaming chair
GAMIFIED SEATING: A racecar-style gaming chair that provides luxury and comfort, whether it's used for intense gaming sessions and climbing to the top of the leaderboards, or long work days.
ERGONOMIC COMFORT: With segmented padding designed to give highly contoured support when and where you need it most, this ergonomic chair is also equipped with an extendable footrest for position reinforcement. Adjustable headrest and lumbar support pillows, as well as padded armrests provide all-around comfort.
4D ADJUSTABILITY: Find your optimal position by raising or lowering your chair and reclining between 90 - 155 degrees with infinite locking positions. Soft, padded armrests pivot with the chair as it reclines. Full 360 degrees of swivel rotation enable dynamic movement.
PREMIUM MAKE: Upholstered in bold, contrasting colors but maintains a professional look, this gamer chair can also be used as an office chair. Gaming chair includes a 275 pound weight capacity for long-lasting use.
The armrest is padded and it has an extended footrest. So along with the adjustable headrest and lumbar support, the Respawn 110 provides optimal comfort. Not to mention, a reclining control with infinite angle lock for maximum 4D adjustability.
The seat is 19.25″ to 22.5″ and 21" wide, with a weight capacity of 275 lbs. The range for the reclining angle is from 90 – 155 degrees. It also swivels a full 360°.
Things you need to know: 
The leather may need regular cleaning and conditioning. To help avoid the fading of leather, keep the gaming chair away from sunlight.
It's easy to assemble
As a brand, Respawn was actually a finalist for the Esports Awards Hardware Provider of the Year in 2020.
---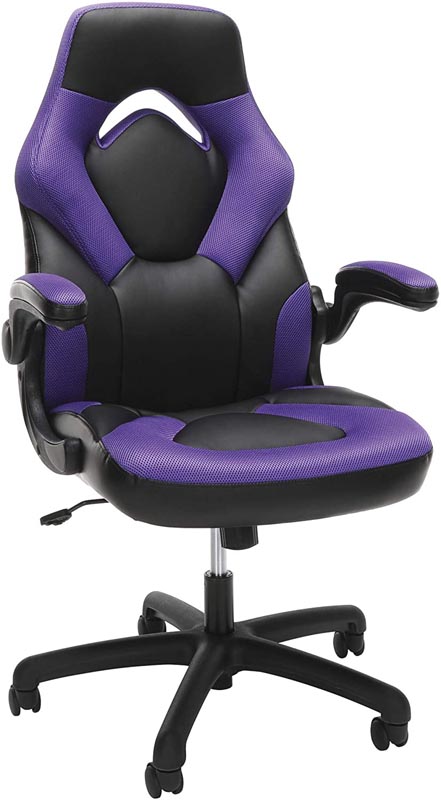 #4 OFM ESS Collection Gaming Chair
The OFM ESS Collection gaming chair provides a different but fresh take on the race car style design. It actually resembles closer to what an actual racing chair looks like.
It doesn't have the headrest and lumbar support, unlike the others on this list. But it does use amazing segmented paddings as well, especially for the seat. And it also has a padded armrest—closing in on the optimal comfort needed.
It has a 360° of swivel and the arms can be flipped upwards. This is great when you need more free space when playing VR games.
Price reduction
OFM ESS Collection gaming chair
COMPUTER GAMING CHAIR: A race car style chair that provides luxury and comfort whether used during intense gaming sessions or long workdays
ERGONOMIC SWIVEL CHAIR: With contoured segmented padding, integrated padded headrest, and padded arms, this video game chair provides quality support and comfort for hours of play
ADJUSTABLE RACING CHAIR: Features height adjustment, center-tilt control, flip-up arms and 360 degrees of swivel
PREMIUM LEATHER CHAIR: Upholstered in SofThread Leather and contrasting colored upholstery for an aggressive style and cool feel
Unlike the rest as well, THe OFM Ess Collection is not all leather. It is wrapped with a combination of upholstered in black SofThread Leather and mesh (colour will depend on the chosen variant). So if you're not into the all-leather gaming chair, you might want to look into the OFM Ess Collection.
It has over 17,000 reviews on Amazon with a 4.5 out of 5-star rating. Many users testify to the product being very easy to assemble.
Things you need to know: 
It can carry a maximum weight capacity of 275 lbs.
It has a centre-tilt mechanism that helps control the chair's back recline for every gamer's unique preference.
The height can also be adjusted
Taller gamers may not be suitable for this type of chair
---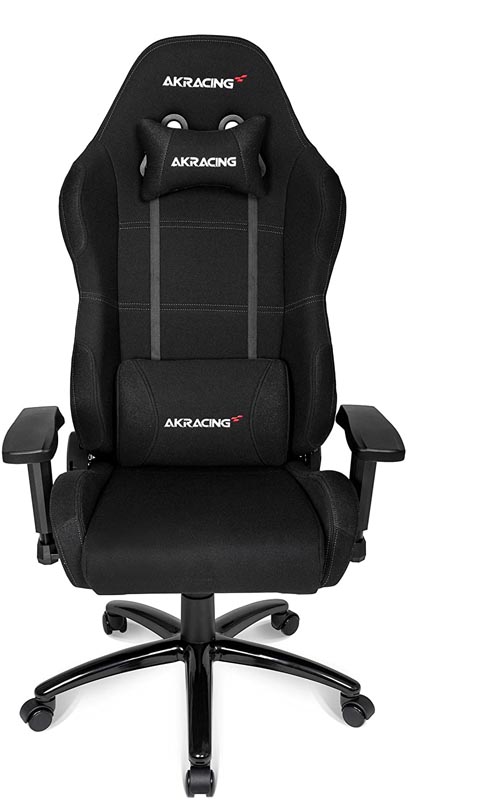 #5 AKRacing Core Series EX Gaming Chair
The AKRacing Core Series EX gaming chair is a bit on the pricey side compared to the rest but it does have colour variants that are under $300 on Amazon.
This AKRacing gaming chair is actually tagged as "Amazon's Choice" for Video Game Chairs. Also, the brand won ChairsFX's end-of-year gaming chair industry awards last year, 2020, for the Best Gaming Chairs for Adolescents.
One great thing to note about this gaming chair is that it does have a 10-year warranty on its frame and a 5-year warranty on the chair itself. It uses the highest quality upholstery materials.
The metal frame, for instance, has an anti-corrosive coating. It is paired with a high-density cold-cured foam padding and is ergonomically sculpted to have a contoured chair back design. Basically, it is curved in a way that naturally follows the curve of the lower back.
Price reduction
AKRacing Core Series EX gaming chair
Chair Dimensions- Height: 5'3" - 6'3" | 27" W | Back Height: 32.75" | Back Width: 21.25" | Net Weight: 48.55 lbs
Durable metal frame with anti-corrosive coating covered with high-density cold-cured foam padding for maximum comfort and durability.Foam Type: High Density Mould Shaping Foam
Adjustable headrest and lumbar support pillows for comfort and enhanced ergonomics included.
3D armrests adjustable in three directions: up & down, back & forth and rotate to the sides. Tilt Angle Lock - No
On top of that, it has an adjustable and removal headrest and lumbar support—talk about the ultimate comfort when playing. And it's covered with breathable and soft fabric, instead of leather, which makes it an ideal chair for places with warm weathers.
However, unlike the others, the AKRacing only has 3D adjustability and it doesn't have a tilt angle lock.
For its base, it has a standard hydraulic cylinder that can adjust the seat's height from 16.9 to 20.2 inches.
Things you need to know:
The maximum weight recommendation is 330 lbs (150 kg).
The gaming chair's height is around  5'3″ – 6'3″, with a 27" width.
The fabric may not feel as smooth as PU leather. The level of comfortability may depend on users' preference.
It may not be as thick as we'd like it to be, compared to a more inexpensive gaming chair like Respawn's.
---
Budget Gaming Chair Buying Guide
Buying a budget gaming chair requires careful consideration of certain factors which can make or break your experience with the chair. Take the guesswork out of the equation and guarantee yourself a budget gaming chair you will absolutely love.
Ergonomics & Comfort
The function should always be prioritised over form when it comes to gaming chairs. Comfort and ergonomics are at the top of this buying guide because they play the largest role in the level of enjoyment. Without proper comfort and ergonomics, you will get neck aches, headaches and general discomfort.
Almost all budget gaming chairs offer at least some level of ergonomics with many of them offering a good level of customisation and adjustments.
Make sure you are aware of what is adjustable and how adjustable it is. For example, some brands offer 4D armrests. Essentially meaning they are highly adjustable, but this term is used differently among different brand so make sure you know exactly what they mean.
Also, keep an eye out for included lumbar pillows and neck cushions.
Materials
The chosen materials of a budget gaming chair play a large part in the quality and durability. There is a range of materials used across gaming chairs, but with the budget chairs, you are usually limited to synthetic fabrics. Leather is of course reserved for premium chairs due to the cost of the material. Here's a quick breakdown:
Leather: The most durable but also the most expensive. Not seen with any budget gaming chairs. Easy to clean.
PU Leather: A synthetic compound comprised of low-quality leather and a polyurethane topcoat. Still relatively durable but less so than real leather. Easy to clean. Found occasionally on budget gaming chairs.
PVC Leather: Another leather imitation comprised of PVC and additives.  It's an excellent cheap material choice because it offers good aesthetics as well as durability and ease of cleaning. Seen a lot fo budget gaming chairs.
Fabric: Less durable and harder to clean than the above materials, but the fabric does offer more breathability and some people prefer the texture. Some people also rate them to be more comfortable but this is a personal preference. Seen on some budget gaming chairs.
Mesh: Even more breathable than Fabric, but harder to clean as well. It is found across the price range but more commonly on premium gaming chairs. Budget gaming chair mesh can warp over time compared to more premium chairs.
Size
Chairs often come in multiple different sizes so make sure you are buying the appropriate size for you. The sizes are not consistent across the different brands so make sure you check the specs of each chair and size.
Aesthetics
The look and style of your budget gaming chair should certainly be considered. There is a wide range of colours and styles to pick from, so choose one that looks good in your home. There is also a wide range of styles with some chairs including RGB and others being very minimal.
You may also be interested in:
Last update on 2021-06-06 / Affiliate links / Images from Amazon Product Advertising API