ⓘ We are reader-supported and may earn a small commission at no additional cost to you if a purchase is made through one of our links.
Creating the dream gaming set-up extends far beyond your rig, headset, monitor, keyboard and mouse. You also need comfort and excellent ergonomics, which is where a quality budget gaming chair comes in clutch. If you've spent the big bucks elsewhere, worry not. These chairs won't break the bank (or your back!)
With so many of us spending hours each day in front of a computer at work only to spend even more time gaming in the evening, it's vital for your health that you invest in a good budget gaming chair.
TL;DR: The #1 Budget Gaming Chair for Most People 👇
Alfordson Gaming Chair
This budget gaming chair is the number best seller on Amazon, and with good reason. It offers great build quality, comfort, and versatility – and all at a fantastic price.
You definitely have to check this chair out if you're on a budget! 💸
Below are some of the best budget gaming chairs that you can add to your station:
Artiss Gaming Office Chair with RGB LED Lights
ALFORDSON Ergonomic Mesh Chair
Artiss Gaming Office Chair with RGB LED Lights
ALFORDSON Ergonomic Mesh Chair
The Best Budget Gaming Chairs to Buy Today in Australia
---
1. Best Budget Gaming Chair for Back Pain: Furgle Gaming Chair
The Furgle Gaming Chair is a bit on the pricey side compared to the rest on this list, but it's definitely worth including because it's still technically a budget gaming chair and a very good one at that! In fact, in our opinion, it wins the award for the best budget gaming chair available in Australia!
We love the design and comfort this gaming chair offers. It's a combination of modern and sleek, with racing-style influences, and the comfort of an ergonomically designed office chair!
It's also very well reviewed by Aussies and is one of the most popular gaming chairs on Amazon Australia, with almost 600 reviews globally and an average rating of 4.2.
And with good reason! Despite being in the budget category, the aesthetics and materials used are both top-notch. The Furgle Gaming Chair uses a combination of a high-density elastic sponge and PU leather for absolute comfort, and also includes lumbar and neck support cushions that can be strapped on for extra support. Gaming chairs don't get much more comfortable than this!
Aside from having excellent padding, it's highly adjustable. The chair can recline from 90 degrees all the way down to 170 degrees, so if you want to take a little nap between rounds, you can! The armrests can be adjusted vertically as well as rotated. This means no matter your preferred picture or arm position, you're good!
To top it all off, there's even a retractable footrest to help provide great comfort and support literally from head to toe!
Overall, this undoubtedly sits at the top of our best budget gaming chairs list, though it does cost a bit more than a lot of the others.
---
2. Best for Most People: Alfordson Gaming Chair
Why we like it:
High-grade materials
Incredibly comfortable
Built-in footrest
Awesome colours to choose from
What customers say:
"Got this to replace my computer chair. Very sturdy, well designed and good looking. Solid chrome base can hold up my ample mass with no problems. Hardly a piece of plastic on the whole chair – everything is metal." – Bruce Crane
The Alfordson Gaming Chair is highly-reviewed on Amazon, garnering a 4.2 rating out of a perfect 5 from nearly 260global users. For a very reasonable fee, users are generally very happy with Alfordson's budget offering.
Alfordson gaming chairs are always included in most, if not all, Australian best gaming chair lists, whether it's their premium line or wallet-friendly models. It's a gaming brand known in the community for offering quality products at a very reasonable price.
One of its most attractive features is its racing-style design and bold colourways. It's ergonomically designed (with a metal frame) to maintain a neutral balanced posture and reduce any back pain.
This low-priced gaming chair is fully adjustable, from its height and armrest to its tilt rock tension. You can even manipulate the chair's angle to three different settings: 90 degrees, for a comfortable work mode; 130 degrees for cosy reading or chill gaming; or 150 degrees for when you need to lie down for a bit to get some rest or take a break.
It's well-padded, featuring both lumbar and headrest cushions, allowing you to comfortably enjoy playing for extended periods of time. Although commonly bought for gaming purposes, this exceptional budget gaming chair can also be used as an office chair thanks to its sleek faux leatherette wrapping.
That way, you can enjoy this comfortable chair while doing long hours of work as well. It would still look professional during zoom calls too, especially if you get it in black.
---
3. Best Budget Gaming Chair for Comfort: HQ-GAMING Ergonomic Gaming Chair
Why we like it:
Racing-style gaming chair
Incredibly comfortable
Padded armrests
Highly adjustable
What customers say:
"I took a punt as there were no reviews, I looked at so many chairs my brain hurt. It just looked nicer than a lot of them and I liked the colour. Chair arrived took me no time to assemble, very easy. The back recline and foot rest work well. The chair is very comfortable for work."-Karen
The HQ-GAMING Ergonomic Gaming Chair already screams comfort and style. It sports a race car style design, with a headrest and lumbar support but it's thicker compared to some of the others in this list. It doesn't look like a budget gaming chair at all.
The number one priority of any budget gaming chair is making sure you're not sacrificing your comfort. The Hq-gaming chair is ergonomically designed and built with a high degree of adjustability, so optimum comfort is definitely not an issue. It uses techniques like segmented paddings to make sure that users have contoured support.
The armrest is cushioned and has an extended footrest. Add that to the adjustable headrest and lumbar support and you'll find that this is one of the most comfortable gaming chairs around. And to top it all off, it features a reclining control that will allow you to recline the backrest up to 130 degrees. It's a great look and a nice departure from the same old styles we see time and time again in the budget gaming chair space.
---
4. Best Breathable Budget Gaming Chair: Alfordson Mesh Office Chair
Why we like it:
Different style to typical gaming chairs
Excellent material choice
Sturdy build quality
Very comfortable
What customers say:
"Pleasantly surprised with the firmness and comfort of the cushion. Headrest only just works for me at 5'10, so if you're taller it might not reach. Customer service is brilliant – I had an issue with a part and they got a replacement arranged very quickly. 5 stars all around" – Jon Cameron
The Alfordson Mesh Office Chair provides a different but fresh take on gaming chairs.
It doesn't have the racing car design seen elsewhere on this list of best budget gaming chairs, but it does still offer amazing style and comfort.
It has a 360° of swivel and the arms can be flipped upwards. This is great when you want more free space when playing games. It looks more like a high-end Hermen Miller rather than a typical gaming chair, but it's fantastic for gaming regardless.
Another thing that's different about the Alfordson Mesh Office Chair is that it's not all leather. It uses a combination of mesh back and head support with a highly breathable foam padding for the seat itself.
It can recline all way down to 150 degrees, has a retractable footrest, and an S-curve design for the ultimate ergonomics. It may not be a traditional gaming chair, but if you want something a little less edgy, then this is your guy!
---
5. Best Budget Gaming Chair for the Money: Farini Gaming Chair Racing Style
Why we like it:
Head support for maximum comfort
Rocking function for user convenience
Extra thick cushions
Height adjustable for a customised user experience
What customers say:
"Very well made easy assembly instructions looks good packaged well if I can put this together anyone can highly recommend this chair value for money."–Wayne Mckie
The Farini Racing Style Gaming Chair is also another reliable unit that you can consider buying. It features thick cushions that will provide you with the comfort that you need when gaming. Both the seating area and the backrest are breathable, so you won't be drenched in sweat even after sitting for long hours.
It sports a wide headrest that will keep your cervical vertebrae in a healthy posture, thus preventing neck pains. The armrests are nicely curved and also padded for optimum comfort. And like most gaming chairs, this unit is height adjustable, meaning you can raise or lower the seat according to your preference.
To add to its list of features, it has a rocking function that can come in handy when you are taking a break from the game. This racing style gaming chair has a maximum weight capacity of 136 kilograms, making it ideal for most people. Also, the smooth rolling wheel casters will allow you to move the chair with ease.
---
How We Researched the Best Budget Gaming Chairs
We spent dozens of hours trawling the net to discover and assess which budget gaming chairs are considered the very best. We looked at customer feedback and reviews from experts, as well as independent research to bring you this list of the best budget gaming chairs.
The gaming chairs listed above were selected based on Comfort, Material, Size, and Aesthetics. since we care about your needs and comfort, we only went for high-quality budget gaming chairs from reputable brands, so feel free to pick any unit that matches your preference.
Budget Gaming Chair Buying Guide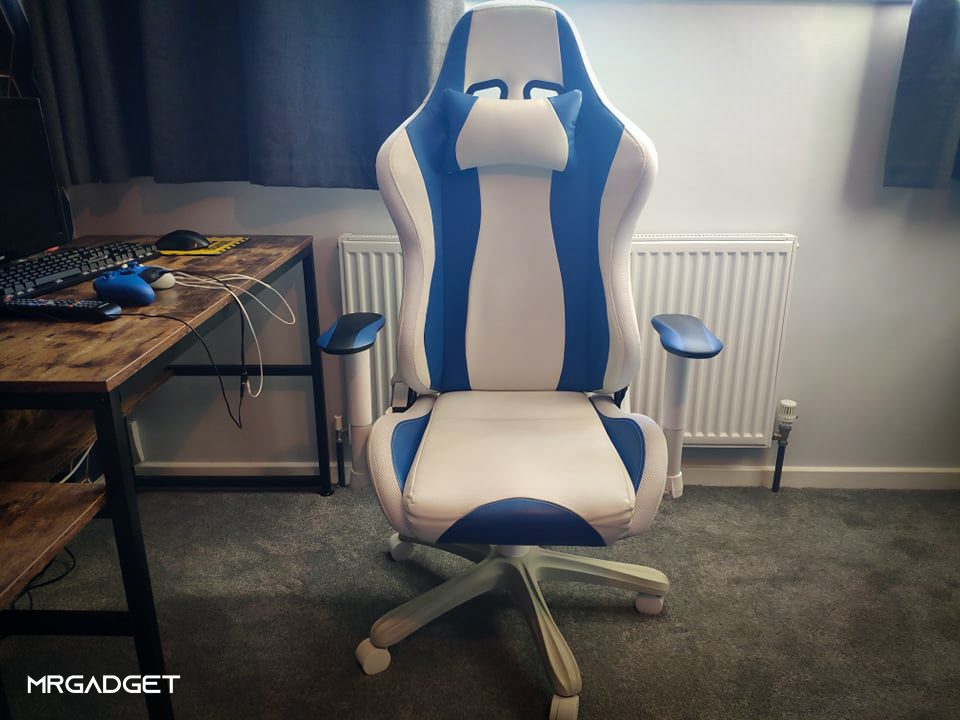 Buying a budget gaming chair requires the careful consideration of certain factors which can make or break your experience with the chair. Take the guesswork out of the equation and guarantee yourself a budget gaming chair you will absolutely love.
Ergonomics & Comfort
The function should always be prioritised over form when it comes to choosing the best budget gaming chairs. Comfort and ergonomics are at the top of this buying guide because they play the largest role in the level of enjoyment and health. Without proper comfort and ergonomics, you'll end up with neck aches, headaches, and general discomfort.
Almost all budget gaming chairs offer at least some level of ergonomics, with many of them offering an impressive level of customisation and adjustments.
Make sure you are aware of what is adjustable and to what degree. For example, some brands offer 4D armrests which essentially means that they are highly adjustable, but this term is used differently among different brands so make sure you know exactly what they mean.
Also, keep an eye out for included lumbar pillows and neck cushions.
Materials
The chosen materials of a budget gaming chair play a large part in the quality and durability. There is a range of materials used across gaming chairs, but with the budget models, you are usually limited to synthetic fabrics. Leather is of course reserved for premium chairs due to the high cost of the material. Here's a quick breakdown:
Leather: The most durable but also the most expensive. Not seen with any budget gaming chairs. Easy to clean.
PU Leather: A synthetic compound comprised of low-quality leather and a polyurethane topcoat. Still relatively durable but less so than the real thing. Easy to clean and found occasionally in budget gaming chairs.
PVC Leather: Another leather imitation comprised of PVC and additives.  It's an excellent yet cheap material because it offers attractive aesthetics as well as durability and ease of cleaning. It's seen in a lot of budget gaming chairs.
Fabric: Less durable and harder to clean than the above materials, but the fabric does offer more breathability and some people prefer the texture. Some users also rate them as more comfortable but that boils down to personal preference, really. Seen in some budget gaming chairs.
Mesh: Even more breathable than Fabric, but harder to clean as well. It can be found across the price spectrum but is most commonly seen on premium models. Budget gaming chair mesh is more likely to warp over time compared to the ones in premium variants.
Size
Chairs often come in different sizes so make sure you're buying the appropriate size for you and your gaming/workstation. The sizes are not consistent across the different brands so do your due diligence when it comes to the specs of each chair and size.
Aesthetics
As with most gaming products, the look and style of your budget gaming chair should certainly be considered. There is a wide range of colours and styles to pick from, so invest in one that looks good in your home. There is also a wide range of style options with some chairs, including RGB, accents, and other stuff.
For further info on what to consider when buying a budget gaming chair click the link.
---
You may also be interested in:
Last update on 2023-12-11 / Affiliate links / Images from Amazon Product Advertising API