For any gamer, desktop computers reign supreme for performance. They have the storage, power, and complete functionality to run your favourite games optimally. When you couple this with choosing the best gaming monitor and finding the right gaming headset, it's hard for anything to compete with a desktop.
However, gaming desktops lack portability. This is one thing that every PC gamer wishes for at some stage. As such, gaming laptops are the perfect alternative when on the move. Packed with almost identical specifications, but small enough to take with you, scroll down to learn more about how to choose the best gaming laptop for your preferred type of gameplay.
Time Short? – Skip to your preferred topic by clicking the links below.
What Is The Best Gaming Laptop?
The truth is, there is no real answer to this question.
Not all gaming laptops are the same and many could be considered 'the best' depending upon the game genre. The fact is, you don't necessarily need 'the best gaming laptop' and many people are suckered into spending way too much. Consider your options, narrow down a few choices and then research carefully. After all, when there are too many opinions to make an informed decision, nothing beats your own research. Each gamer has different needs and different games require varied specifications for optimal performance.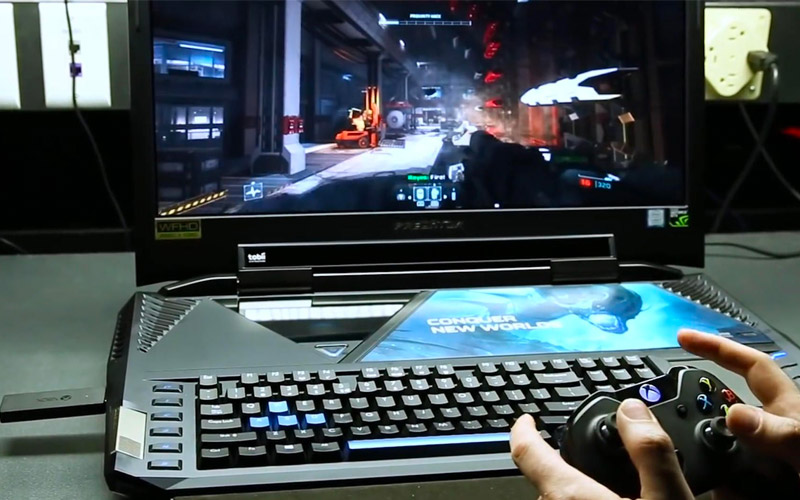 How To Choose The Best Gaming Laptop?
We have spent (and wasted) a lot of money with laptops over the years. So when we say we understand how challenging it is to find the right gaming laptop; we mean it. It's partly what prompted us to write this guide.
When choosing the right gaming laptop, you are of course looking for power. However, hardware balance plays a vital part in delivering a smooth experience. Each hardware component is only as good as the weakest link. Therefore, if you can't afford the best of everything, balance is critical. The last thing you want to uncover is that you've maxed out on RAM but your game jitters because of a poor graphics card. We've been there and it sucks!
Before you fork out hundreds of dollars, figure out which types of games you will play the most and maybe even rent a laptop for a test drive. Meanwhile, scroll down for 6 most important factors to consider when purchasing any gaming device.
–
1. GPU / Graphics Card.
Besides processing power, your graphics card is the most important piece of hardware you should consider when choosing a gaming laptop. Simply put, the better the graphics card, the better your performance and visuals. Currently, Nvidia's RTX 2020 is at the high end. But Nvidia's GTX 1660 and 1660 Ti cards will also suffice for smooth gaming.
2. Screen Display.
For display, nothing less than a full high definition panel or a screen resolution of 1920×1080 pixels will suffice. Another factor to consider is the screens refresh rate. Of which, a high refresh rate of above 144Hz and a 72% colour gamut is optimal. With these specifications, you can make sure that your monitor can keep up with the majority of your games' rapid movements.
3. CPU.
Particularly for FPS, you will need a processor that's as solid as your no scopes. By doing so, you can ensure that you have enough memory to keep your CPU performing at its best. Today, all intel processors above Intel i5 are fit for most games. However, we recommend that you squeeze your budget to an Intel i7 where possible.
4. RAM.
When it comes to RAM, the absolute minimum for gaming should be 8GB. However, stretch this to 16GB and you'll be happy. Whilst RAM does not necessarily directly affect your FPS, the speed of your RAM can make or break your experience. You should also always couple quality RAM with a quality gaming router such as the Asus ROG Rapture GT-AC5300 or the Asus rt-ac68u.
5. Storage.
Chances are, you're not going to be playing just one game for the rest of your life (GTA, anyone?). Since most games consume massive amounts of storage space, we recommend buying a gaming laptop with both SSD and HDD storage. Alternatively, you could purchase an external hard-drive or find other ways to backup your computer's data long term.
6. Protection.
You would be fooling yourself if you didn't take into account the keyboard bashing nature of modern gaming. Unlike a mechanical keyboard, laptops are typically fragile. Therefore a solid laptop framework for the travelling gamer is important. If you are concerned about the safety of your laptop keyboard, we would recommend purchasing a waterproof keyboard as an external unit. Now you can also eat and drink whilst slaying dragons on the plane!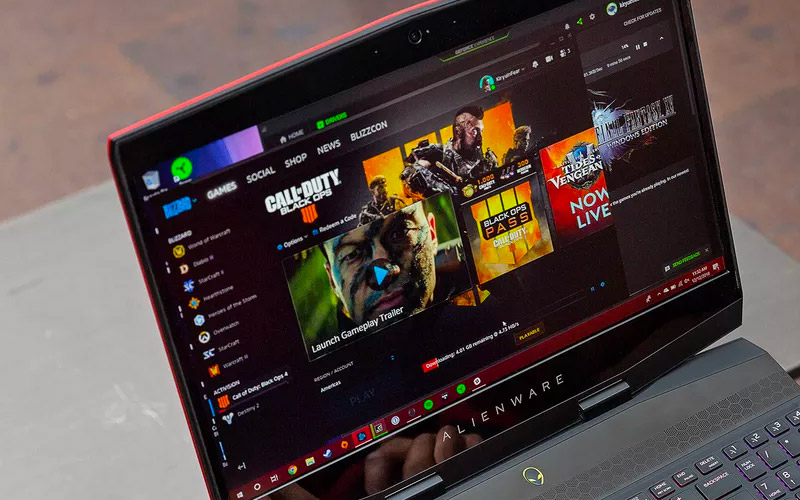 How To Choose Gaming Laptop For FPS Games?
Kicking things off with the most popular type of game, we're looking at first and third-person shooters. Since release, first & 3rd person shooter games have been hugely popular. Currently, they command the biggest platforms and e-sports events with prize pools of over $20 million for games such as Fortnite. Yeah, that's a lot of moolah.
Whether looking for the best twitch streaming setup or choosing a gaming laptop to become an FPS legend, power is critical here. Where budgets are tight, don't sacrifice your graphics card or RAM for storage space. FPS games are only becoming more complex and wherever you can squeeze more of these two hardware components, the better. This cheap gaming laptops comparison chart by PC Mag is a good reference point on where to get started for FPS gaming laptops. You'll notice the similarities in processing power and graphics cards.
–
Our Recommended FPS Gaming Laptop.
In terms of panel, performance, keyboard, and software, the AORUS series by Gigabyte is a great choice for FPS games. With a reputation for quality among the highly competitive e-sports laptop brands, Gigabyte has been slaying this space since 1986. With the AORUS series, you can choose from a wide range of gaming laptops depending on your level and budget. From the beginners AORUS 5 to the extreme gamers AORUS 15, Gigabyte offers some of the best laptops for FPS and third-person shooter games. It's just up to you to decide how much you cherish your specifications
Click here to read our comprehensive AORUS 15 Laptop Series Review.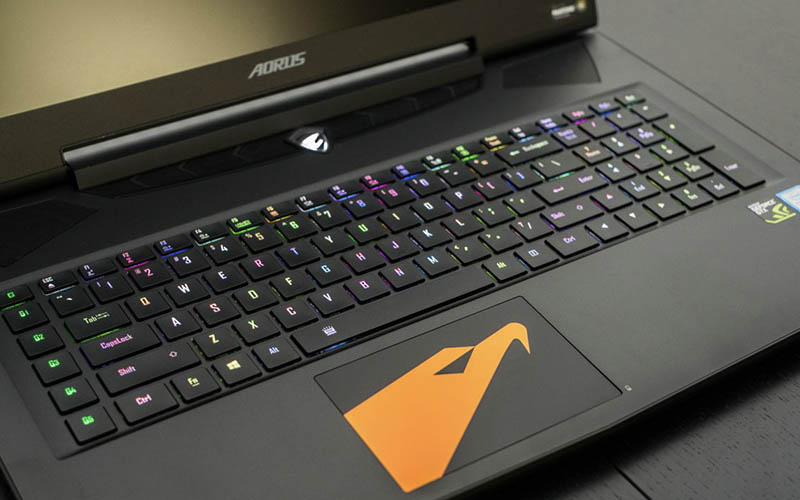 How To Choose Best Gaming Laptop For Racing Games?
What makes racing games special from other types of games are the ultra-realistic physics engine. Whilst bringing games closer to real-life racing, a physics engine also provides realistic tracking and weather conditions. Therefore, a gaming laptop for racing will demand a mother-load of processing power. For this, you need to look at a gaming laptop with bags of CPU.
The minimum requirement to run a racing game is an Intel Core i3-530. However, to ensure a smooth driving experience, upgrade to an Intel Core i5-650 at the very least. That said, if you're interested in playing Project CARS 2 (currently the most demanding game for CPU), be sure to go for an Intel Core i7 processor instead.
In terms of the graphic card, the NVIDIA GeForce GTX series can perfectly imitate lifelike scenes and conditions. It is also enough to provide you with a smooth racing experience. As for the monitor, make sure to have an FHD panel with a refresh rate of at least 144Hz. On the other hand, for memory, we recommend at least 8GB. For best results, go with 16GB where possible.
–
Our Recommended Racing Game Laptop.
Whilst at the more costly end of the market, the AORUS 7 gaming laptop has a killer 17.3" screen that is absolutely perfect for delivering the full racing experience. Whereas you might want a smaller screen for FPS games, bigger screens are just so much better for racing games. Supported by a 256SSD and 1TB HDD, the AORUS 7 is compatible for any type of racing game currently available. Boasting an Intel Core i7-9750H and 2x 32GB DDR4 RAM, you'll have absolutely no trouble tearing up the streets of Roeun Les Essarts!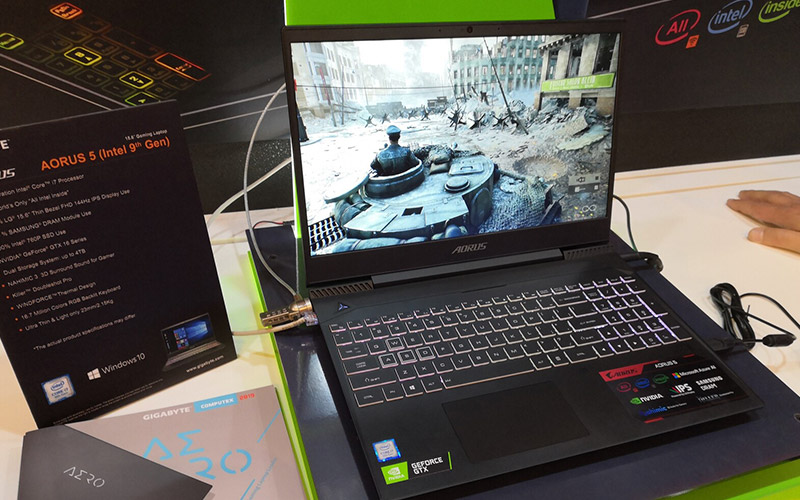 How To Choose Gaming Laptop For Adventure Games?
Action-adventure games require a high level of visual standards. That's if you want to see every movement your characters make, of course. Therefore, to get the most out of adventure games, you will need a great FHD panel with a refresh rate of at least 144Hz. Combine this with an NVIDIA GTX series graphics card and you will be well on your way to noticing every turn, step, and bounce you make.
To ensure flawless overall performance, 6GB memory and 1TB high-speed SSD will make your action-adventure game truly extraordinary. With these specs, you can play Far Cry 5 and Red Dead Redemption 2 without lagging. However, if you do have some spare cash and want to future proof your gaming laptop, upgrade the processing power slightly and opt specifically for Nvidia GeForce GTX 1660 Ti graphics card. After all, who doesn't want the highest amount of fidelity for Arthur Morgan's beard?
–
Our Recommended Adventure Gaming Laptop.
The Gigabyte AORUS 5 is a real contender when it comes to gaming laptops for any genre. However, for action-adventure games, it's particularly strong. With excellent performance all-round and realistic display, the AORUS 5 gaming laptop offers the whole package. More importantly, AORUS 5 meets the needs of every gamer, regardless of what type of game you play. Other than gaming, it's also great for creative minds, businesses, and personal use. We also use the AORUS 5 for basic photo editing on Adobe Photoshop. In this regard, it's just as seamless as an iMac which you would pay twice as much!
–
AORUS Laptop Series – Any Good?
Whilst more expensive than your everyday gaming laptop, the AORUS series is actually incredible. Of course, you could opt for mainstream gaming machines like ASUS. However, when it comes to gaming, there isn't much that can compete with Gigabyte. There's quite a number of Gigabyte laptops available in the market today, however, we would recommend the AORUS 5 or AORUS 7.
Both the AORUS 5 and AORUS 7 are equipped with motherboards and components that can satisfy the requirements for any FPS, racing, and action-adventure games. Plus, they are produced by globally renowned manufacturers. So you don't have to worry about their quality, durability, and reliability.
See, when choosing a gaming laptop, you must look at its production. This is to avoid ending up with uncoordinated performance caused by untrusted components. For example, it is highly likely that you'll face data loss if the laptop is equipped with poor SSD. Besides, most entry-level laptops have only a flat 45% NTSC colour gamut and a refresh rate of 60Hz.
AORUS Laptop Specifications
With AORUS models, you are guaranteed with the best gaming experience with 144Hz refresh rate premium panels and a 72% NTSC vivid colour gamut. You just have to add a little more to enjoy its high-end specs as they are worth a minimum of A$1,599.
Model
AORUS 5
AORUS 7
GPU
NVIDIA GeForce GTX 1650
NVIDIA GeForce GTX 1660Ti / NVIDIA GeForce GTX 1650
CPU
9th Gen. Intel Core i7-9750H
9th Gen. Intel Core i7-9750H
RAM
8GB / 16GB DDR4 2666MHz
8GB / 16GB / 32GB DDR4 2666MHz
Display
15.6in FHD (1920x1080) 144Hz IPS Anti-Glare
17.3in Thin Bezel FHD 144Hz IPS Anti-Glare
Storage
Supports 2 Storage System
-1 x 2.5in HDD/ 2.5in SSD
-1 x M.2 SSD slots
Supports 3 Storage System
-1 x 2.5in HDD/ 2.5in SSD
-2 x M.2 SSD slots

Price
A$1,599 to A$1,999
A$1,699 to A$2,299
–
Where To Buy AORUS Laptop?
If you're looking for where to buy AORUS laptops, you're not spoilt for choice. You can find the majority of the AORUS laptop range online. For $1,599 you can pick yourself up the AORUS 5 at MWAVE. On the other hand, the AORUS 7 can be found at Online Computer for A$1,899. A similar model can also be found at Scorptec for anywhere between $1,699 to $1,999. While it's easier and faster to order AORUS laptops online, it's always a good idea to go into a store and see the laptop for yourself before making a purchase.