ⓘ We are reader-supported and may earn a small commission at no additional cost to you if a purchase is made through one of our links.
The SteelSeries Arctis 1 sits in a similar boat to the BlackShark V2 X, offering the credibility prestigious brand names offer,  at a price that the average gamer can afford.
CHECK TODAY'S PRICE HERE: See at Amazon
30 Second Review: SteelSeries Arctis 1
Design & Build -

6.5/10

Sound Quality -

7.6/10

Mic Quality -

7.1/10

Comfort -

7.1/10

Total Value -

8/10
Summary
If you don't mind giving up the fancy lights and sporty headband touted by the other Arctis models, the SteelSeries Arctis 1 offers remarkable sound quality,  a comfortable design, and one of the better gaming mics we've come across, all at an incredibly reasonable $50 price point.
We do wish we had an equalizer to fiddle with, but the headset's audio profile is expertly tuned for video games anyways, so we'll let it slide.
Pros
Stellar sound quality
Very affordable
Excellent microphone
Lightweight and comfy
Low-profile design will click with minimalists
Cons
Cheap build
No ski-goggle headband means less flexibility
Lack of SteelSeries Engine support
Minimal controls
But the budget gaming headset business is rife with stiff competition, including Razer's aforementioned BlackShark V2 X and their older mid-ranged models like the excellent Kraken Tournament Edition currently sold at lower price points. That being said, can one of the oldest brands in gaming bring enough to the table to warrant your buy-in? That's what we're here to find out, in this SteelSeries Arctis 1 review.
In a rush and can't get through the whole review? Just click any of the links below and you'll skip right to that section:
What is the SteelSeries Arctis 1?
Arctis is what SteelSeries likes to call its roster of gaming headsets which range from entry-level all the way up to premium. The Arctis 1 sits at the lowest end of the lineup, offering stellar audio performance and comfort but giving up a lot of extra features in the process.
You can't tell that the headset was built for gaming from its looks alone, as its plainer form factor and one-tone colour scheme is a stark departure from the majority of its Arctis siblings. It's a neat design that's sleeker and more professional-looking, making attractive towards gamers who enjoy lowkey peripherals.
It's listed at $60 on the official SteelSeries website, but you can get it for 50 bucks on Amazon at the time of this writing which is $10 cheaper than the  BlackShark V2 X.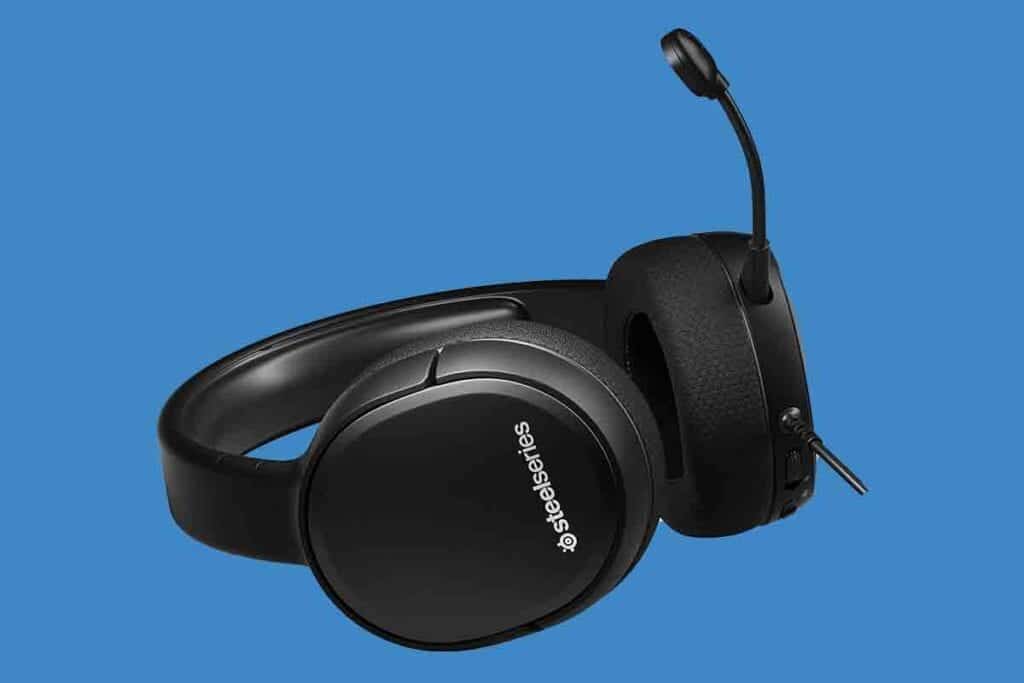 Features
Connectivity
This is an exclusively wired headset that connects to compatible devices via a 3.5mm audio cable. There's a more expensive wireless variant that'll cost you 50 bucks extra, in case you're looking to get rid of the cord.
Noise Cancellation
it doesn't come with active noise cancellation technology but offers enough noise isolation to block out moderately loud conversations in the room and the humming of an AC. However, it struggles against lower frequency noises like car engines.
Accessories
Don't expect any freebies in the box, as the Arctis 1 only comes with the headset itself, the detachable microphone, and a Y-splitter for connecting the microphone to a PC.
Software
Due to its wired nature and lack of USB connectivity, this headset isn't compatible with the SteelSeries Engine software.
Sound Quality
We have yet to encounter a SteelSeries headset with substandard sound quality and that includes the Arctis 1. Its bass profile is full-bodied and punchy, providing a satisfyingly boomy experience when playing video games. The mids are precise but a little underwhelming, so vocals and instruments almost always take a back seat to the powerful bass no matter what you're listening to.
Similarly, the highs are also accurately rendered but aren't particularly highlighted, meaning mid-ranged frequencies sound dark and sibilants aren't too well-represented.  Overall, the Arctis 1 is unmistakenly tuned for gaming and our Doom Eternal test run showed just how great it fared in that regard.
Buckshots and explosions sounded extremely satisfying as they ripped apart Doom Slayer's enemies and the vicious basslines in the adrenaline-pumping soundtrack were bouncy and brilliantly exaggerated.
The headset's detachable microphone sounds fantastic, making your voice sound clear, detailed, and natural. It also features top-notch sound isolation, eliminating unwanted ambient sounds even in noisier environments.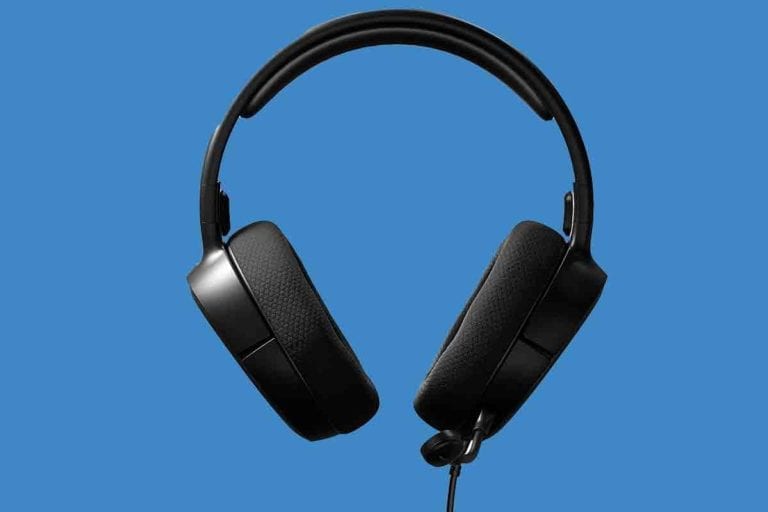 What's it like to use?
Since the Arctis 1 is a wired gaming headset, there really isn't much to setting it up beyond plugging it into a compatible device with a 3.5mm port. This makes it compatible with pretty much any gaming console, including PS4, Nintendo Switch, and Xbox. Using it on PCs requires the extra step of hooking it up to the included Y-splitter if you intend on using the headset's microphone.
Unfortunately, one of the Arctis 1's biggest drawbacks is its lack of software support which is due to the absence of a USB port or any way to establish a PC data connection. So what you hear is pretty much what you get since you won't have access to any customization options like a graphic equalizer.
It only comes with a couple of controls, namely the volume dial and a mic mute switch, both of which are easy enough to use though you won't really know if your mic is muted unless you've memorized the switch positioning or you take the time to remove the headset and make sure.
The Arctis 1's ear cups are well-padded but not quite as much as some of its siblings and the absence of the trademark ski-goggle headband means they aren't as flexible either.  They are lightweight though, so wearing them feels pleasant overall. However, they aren't very stable so you should probably stay away from activities that require too much movement, though this shouldn't really be an issue since it's a wired headset anyways.
Aesthetics
The Arctis 1's oval-shaped ear cups are attached to swivels that are, in turn, connected to the headset's metal frame. Towards the top, the metal frame is encompassed by a plastic shell that forms the headband and the bottom portion is lined with padding. It's a one-toned peripheral covered entirely in matte black, with the SteelSeries logo and label tattooed on either side of the ear cups.
Visually, what sets the Arctis 1 apart from the rest of the lineup is the absence of the signature adjustable ski-goggle headband, along with the lack of RGB lighting. While this means that the headset is a lot more traditional-looking and lacks a particular sense of flair, it's bound to be more attractive to gamers who took issue with the louder aesthetic that often accompanied other Arctis headsets and prefer something more subtle.
It isn't nearly as durable as any of the other Arctis models, which is sort of expected considering its low price. The plastic used across the peripheral doesn't feel dense and the padded lining isn't stitched so it's likely to come off after extended use. The hinges, at least, seem well-made unlike the forked ones used in the BlackShark V2 X.
Final Thoughts
If you ever wondered what a bargain bin version of an Arctis headset would look like, the Arctis 1 is your answer. It leaves out some of the things that make its siblings so memorable, like the ski-google headband and SteelSeries Engine customization options, but manages to retain the superb audio quality and awesome mic that make it a great gaming headset.
It may not be as sophisticated as some of the more expensive peripherals out there, but at 50 bucks you really shouldn't expect it to be. It sounds great, feels good, and looks classy, and that's enough to make it one of the better budget gaming headsets on the market.
SteelSeries Arctis 1 Review Box
Price reduction
Last update on 2023-12-11 / Affiliate links / Images from Amazon Product Advertising API