ⓘ We are reader-supported and may earn a small commission at no additional cost to you if a purchase is made through one of our links.
I spend far too much time at my desk either working or gaming and I'm constantly looking for ways to improve its function and aesthetic. I've added fancy laptop stands, iPad holders, deskmats and most recently the Satechi 2-in-1 Headphone Stand with Wireless Charger.
It's been a great addition to my desk providing me with a dedicated spot for my gaming headset as well as a spot to charge my iPhone. Before using this headphone stand I was resting my headset on the top of my open gaming monitor which was far from ideal and plugging my iPhone into a USB cable on my desk, so this one device has really neatened up my workspace.
First Impressions
It takes about 30 seconds to set up and once you've connected the stand to the base all you need to do is attach the included USB C cable and you're good to go.
The first thing I noted was the stand's clean and simple aesthetic. It's a combination of a black/dark grey base and a chrome stand. It's nothing special but it's certainly not ugly and will not look out of place on any desk.
It also has a good weight to it making it difficult to knock over even with the headphones sitting on the stand. So overall, it ticks all of the boxes you would expect, but nothing more.
Now it's not a cheap product, retailing at the time of this review for A$139.99, so personally I would expect some sort of wow factor.
My Experience
This is a product I have used daily for a few weeks now and have to say I am very happy with it. It has certainly improved my workspace but does have a couple of issues I wish could be improved.
Firstly, its maximum charging capacity of 10w is on the low side and it takes a long time to charge my phone. In fact, I plugged it in directly to my gaming laptop and it seems to only just about maintain its charge. So I would recommend plugging it directly into the wall which is not an option for me.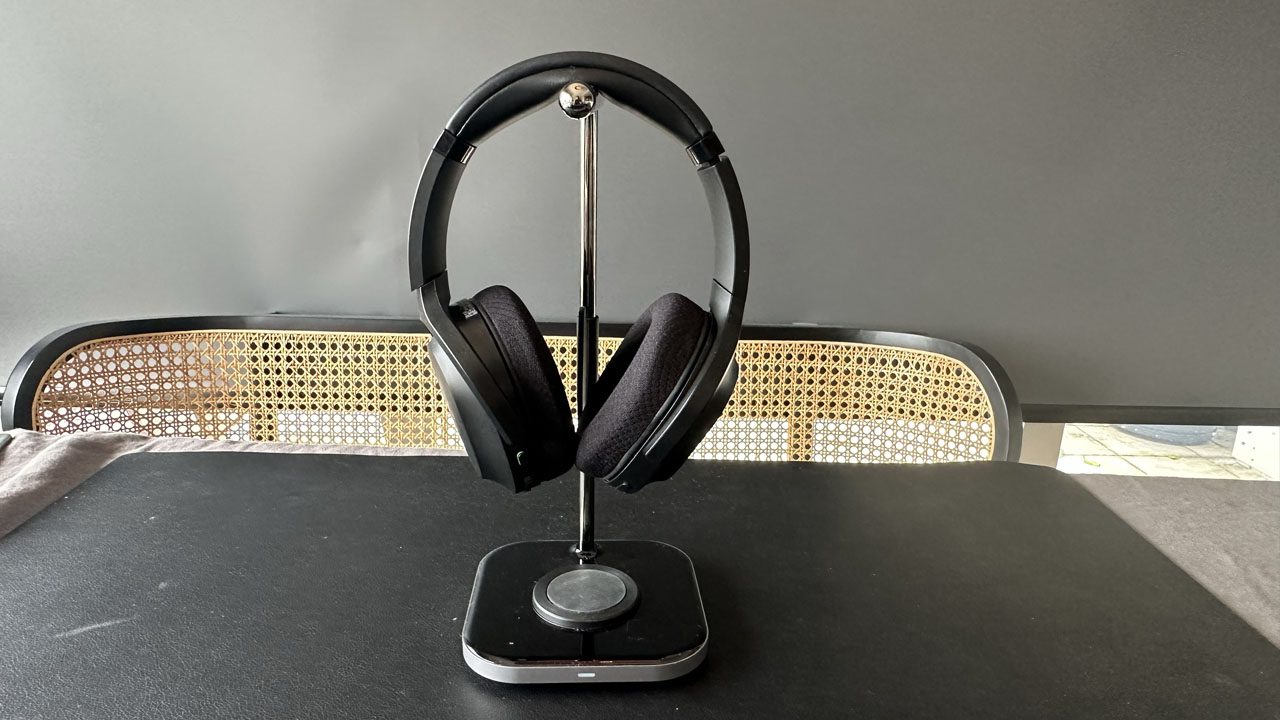 Additionally, due to the form of the charging base, it's only possible to charge my phone sideways, which just looks odd and makes checking notifications awkward. It's not a huge deal but it certainly detracts from the convenience it's supposed to offer.
Aside from these issues I only have good things to say, which is that it holds my headset safely and looks pretty good doing so.
The Verdict
I would say the bnat the Satechi 2-in-1 Headphone Stand with Wireless Charger is a good product but is it worth the price tag? I'm not so sure. It has improved my desk space but I'm not sure I would pay the asking price for it.
If it could charge my phone faster and let me place my phone down vertically then I think the price is justified. But these two minor drawbacks combined do significantly reduce the usability and my opinion of it.
I would recommend it if you have disposable income and are looking to spend some cash, but if you're tightening those pursestrings I think you can give it a miss!