ⓘ We are reader-supported and may earn a small commission at no additional cost to you if a purchase is made through one of our links.
StretchPad Review Summary
After using the StretrchPad for a month, I can confidently say it has made a noticeable improvement to my recovery protocol. It delivers on its promises to alleviate aches, pains and tightness.
Pros
Offers a variety of stretching routines
Heating Function
Easy Storage
Offers Longterm Value for Money
Cons
High Up-front Cost
No Leg Stretches or Massaging
When HYDRAGUN reached out to me to see if I was interested in reviewing the StretchPad, I immediately jumped at the opportunity. I previously reviewed their massage gun and was thoroughly impressed, and was excited to see what their new product had to offer!
Playing sports and working out at the gym can cause some issues for your body, especially when age is creeping up like it is with me. I take my fitness quite seriously and have a dedicated stretching routine that I do at least a few times a week, but there's always room for improvement!
The StretchPad promises to release whole-body tension, boost blood flow and help you decompress after a day of stress and exercise, but, does it deliver on these promises? Find out now with our HYDRAGUN StretchPad review.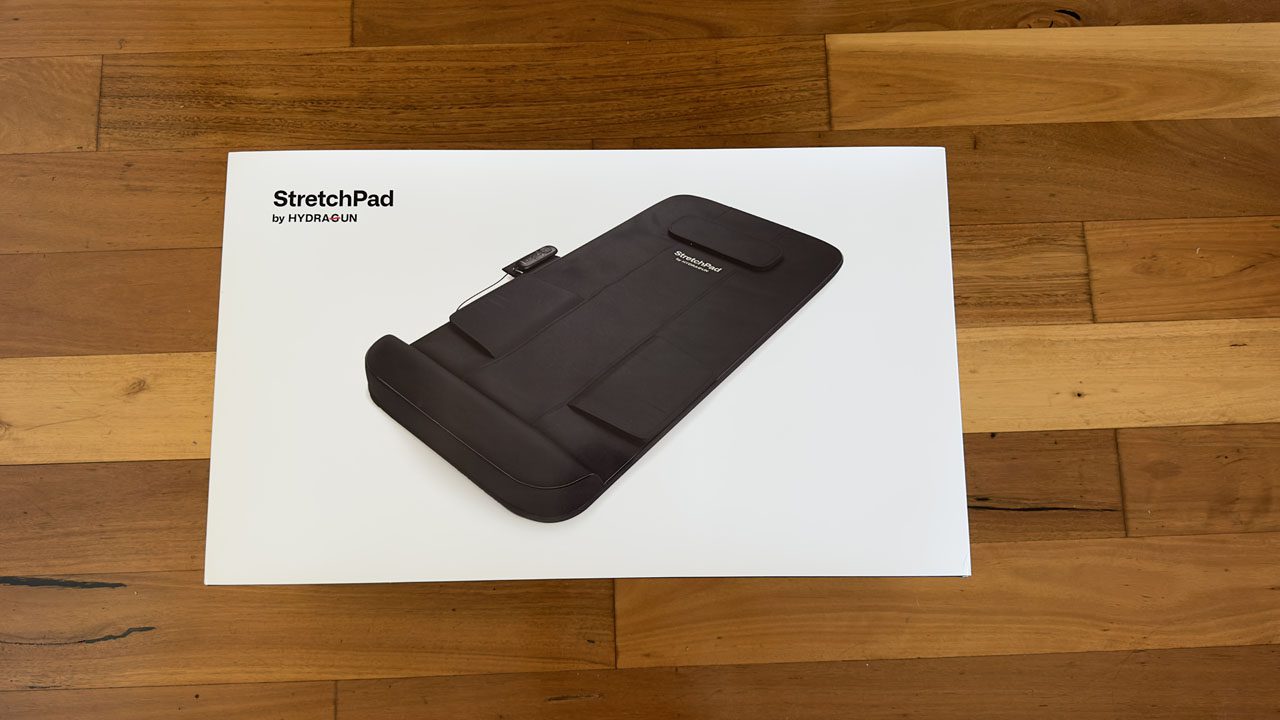 First Impressions
The product is neatly packaged in a high-quality box that protects it during transit and delivers a pleasant unboxing experience. The StretchPad itself is packed folded in half and secured by a zip at the top and bottom. This makes the StretchPad much more compact and easy to pack away, store and travel with.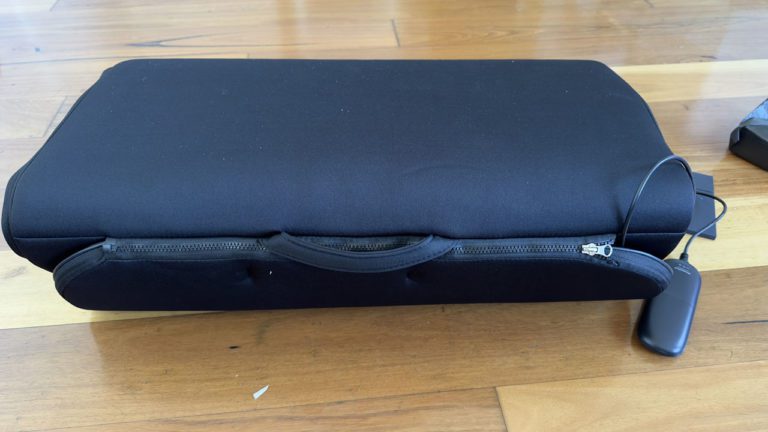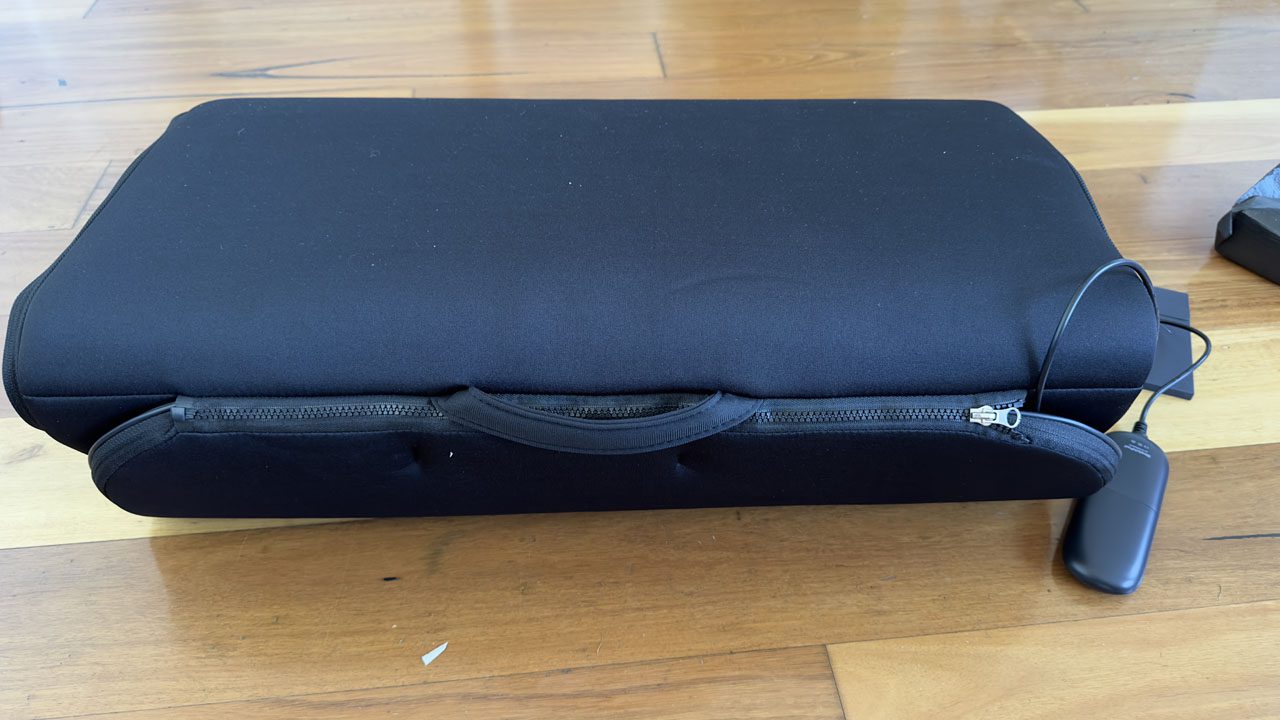 After unpacking, it was clear to see the quality of the product in terms of material and design choices. It's incredibly easy to set up with just a single plug that connects to your wall outlet. Once it's plugged in, you're ready to go!
What Does It Do?
As the name suggests, this is an automated stretch device that helps alleviate aches and pains, improve blood flow and deliver an overall relaxing and health-benefitting experience. It uses 22 precision-controlled air chambers to manipulate and stretch key areas of your body.
There are a lot of different routines programmed into the device, all of which are controlled with the intuitive remote control. There are 4 full-body routines that each deliver a different type of massage; Stretch, Twist, Lift & Deep. My personal favourite is the Lift mode which does an excellent job at stretching out the lumbar region, which is a problem area for me.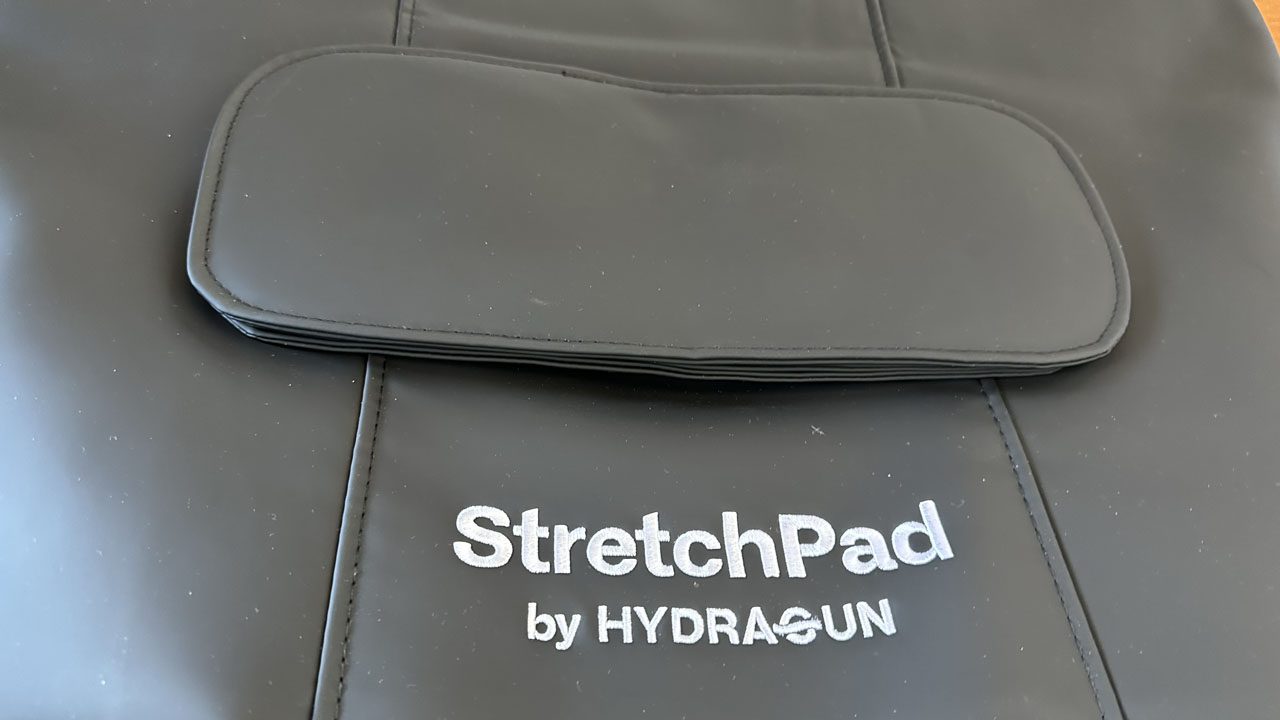 In addition, there are 3 targeted massage routines; one for your neck and shoulders, lower back, and hips and thighs. Again because I have some issues with my lower back, being able to target it directly has been really beneficial and definitely made an improvement in my comfort.
You are also able to adjust both the intensity of the massage and the time duration (10, 20 and 30 mins) from the remote. There's actually quite a lot of variation in terms of intensity and I would recommend starting on the lowest intensity and working your way up. The lower back air chamber is quite powerful and on the highest level of intensity arches the back quite high, which could be uncomfortable for some.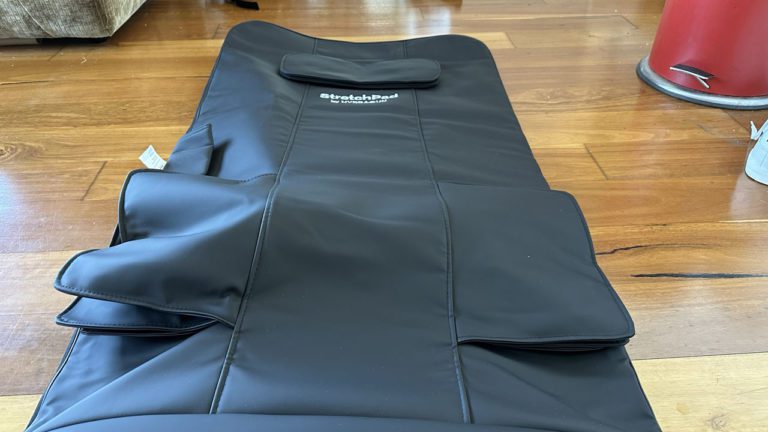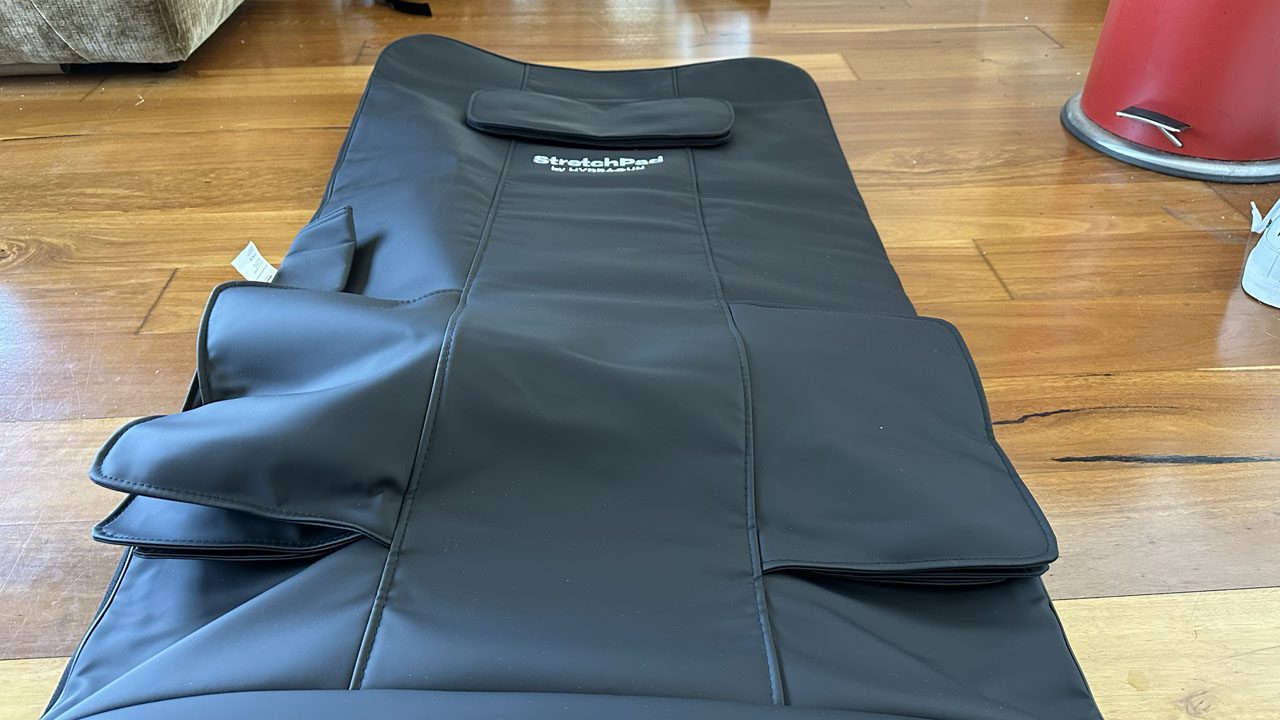 Finally, there is an infrared heating function, similar to those you find in heating pads, located on the middle and upper back region which delivers what I would describe as a gentle but effective level of warmth that certainly helps relax and loosen the muscles.
My Experience
I play Soccer weekly and go to the gym quite regularly and as a result, also have at least one nagging issue. I also work from a desk typing a lot and get a stiff back and neck from time to time. I've been using the HYDRAGUN StretchPad for a few weeks now and have to say I have noticed a marked improvement with my back.
Usually after a week of exercise, I have a notable amount of tightness in my lower back which flares up when working on a computer. However, since using the StretchPad almost daily I can safely say that my back is nowhere as tight as it was before.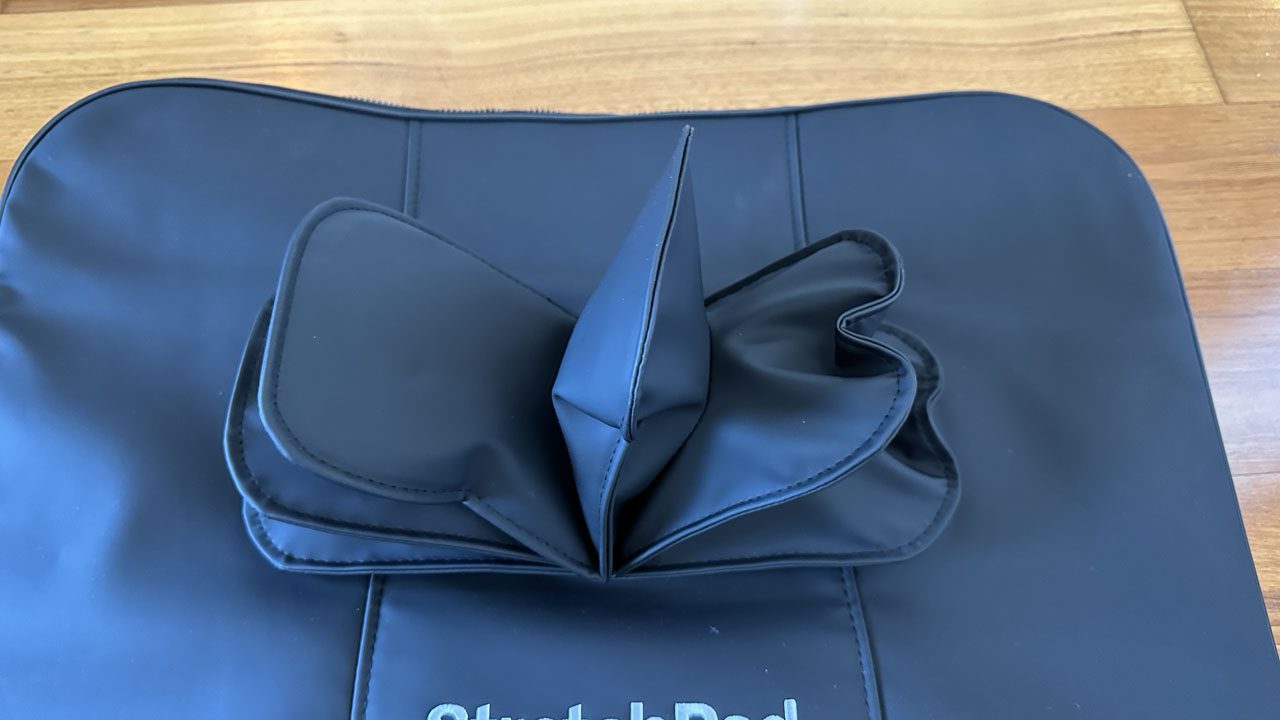 As mentioned previously I primarily used the Lift routine to combat my tight back but I have used all of the different programs at some points, all of which I found to be beneficial. I really like using the Twist routine in addition to the Lift routine as I felt it opened up my hips, which then allowed my lower back to relax more than before.
The heat function is also something absolutely loved. It's not the most powerful thing in the world but you can certainly feel the difference! And in the Melbourne Winter, it's doubly nice!
My Feedback
I don't have many complaints about the StretchPad but I do wish it was a bit long and had function for the lower legs. As someone who plays football, I get a lot of niggles and I think people like me or runners would massively benefit from this.
The Verdict
The HYDRAGUN StretchPad is an excellent product that offers a lot of value. It has made a meaningful difference to my recovery and overall well-being in a relatively short period of time. Although it's not a cheap product, you have to consider the value it offers long-term compared to costly physio appointments.
Even as a relatively fit and young person, I can see myself using this regularly and long-term, but I would argue that it's even better suited to those who have more ailments and lack mobility. The automatic nature of the stretch pad makes it accessible to absolutely anybody who wants to improve their flexibility and overall mobility.