ⓘ We are reader-supported and may earn a small commission at no additional cost to you if a purchase is made through one of our links.
The best strick vacuum cleaners deliver powerful suction in a lightweight and convenient form factor. They're one of the most versatile pieces of home cleaning equipment and can quickly freshen up your living room, kitchen, or even your countertops.
They don't take up much room and can be stored away easily in a cupboard or even hung on the wall. There have been some serious improvements in the last 5 years and suction power and battery life has steadily improved over that time.
TL; DR: The #1 Best Stick Vacuum Cleaner for Most People 👇
More and more brands are now entering this market with quality stick vacuums, many of which have made it onto this list of the best stick vacuums in Australia.
The Best Stick Vacuums in Australia
1. Best Overall Stick Vacuum: Miele Triflex HX1 3-in-1 Cordless Stick Vacuum Cleaner
The new Miele Triflex HX1 3-in-1 Cordless Stick Vacuum Cleaner is an exceptional innovation that's perfect for any household. We chose it as our top pick for the best vacuum cleaners due to its high performance motor, advanced filter system , large capacity battery, and flexible handle.
This unit offers three configurations, making it one of the versatile vacuum cleaners that our team tested. And with its powerful suction and quick cleanup time, you'll be able to clean your floors in no time. This unit delivered great results when we used it on all three rugs that we used for testing.
It also performed well on our hardwood floor. Miele's Triflex HX1 3-in-1 cordless vacuum cleaner provides the versatility to clean any area, large or small.
With an easy, compact switch of the handle knob under the machine head you can quickly and easily change from cleaning fluffy rugs to hardwood floors with three different settings: Comfort Mode for large areas, Reach Mod for ceilings and corners, and Compact Mode for smaller spaces like your car or computer desk.
Whatever your location needs are when cleaning up after a whirlwind day in your household, Miele has a setting just right for you!
---
2. Best Stick Vacuum for Hard Floors: BLACK+DECKER Powerseries Extreme Cordless Stick Vacuum
No products found.
The is a long-lasting, lightweight vacuum cleaner that tackles any mess with a 3-stage cleaning process.
Designed for multiple surfaces from hardwood to carpets, and with a patented anti-tangle brush bar, you'll be cleaning your entire home with confidence. It lifted all the debris from the floor with just a few passes.
Best of all, it did not scratch the flooring material. This cordless vacuum has an easy-to-use control panel and 55 minutes of runtime per charge, making it the ideal stick vacuum for everyday use.
Also, it has a self-standing feature not found in many other stick vacuums which makes it super convenient when doing a rapid cleanup. You can vacuum up some mess, stand it up immediately without having to lean it against the wall of some furniture.
Anyone who owns a stick vacuum has watched it slide down a wall onto the ground more than once!
---
3. Best Stick Vacuum for Macro-level Cleaning: Uoni X1 Cordless Vacuum Cleaner
Equipped with a 350-watt brushless motor, the Uoni X1 Cordless Vacuum Cleaner can generate a powerful suction of 28000PA for fast and efficient cleaning. It offers three power modes that you can choose from based on your cleaning needs.
This unit lifted all debris, including large pieces of crisps from our floor. The turbo mode can effectively lift pet hair, dander, dust, and other debris from your carpet, sofa, rugs, etc. Also, this vacuum cleaner comes with additional accessories that you can use in different scenarios.
You can easily transform it into a mini handheld vacuum cleaner by attaching the crevice nozzle or multifunctional brush attachment.
Weighing approximately 2.5 kilograms, the Uoni X1 is one of the lightest cordless stick vacuum cleaners that you can consider buying. That said, it will allow you to clean extensively without straining your hands and shoulders.
The motor on this unit is not only powerful but also reliable. And since it is brushless, it can run extensively without needing maintenance. It employs the cyclonic effect to ensure all the dirt is picked up within the shortest time possible.
This unit draws its power from a 2200mAh li-on battery that can provide you with up to an hour of continuous runtime on a single charge. Depending on your preference, you can juice up the battery separately or while attached to the vacuum cleaner.
The other thing that we liked about the Uoni X1 is that it has bright headlights. This means you will be able to see hidden dirt under your sofas, bed, and other hard-to-reach spots.
Emptying the dirt canister is also very easy. Simply align the canister with your dust bin and press the eject button. To get the best out of this vacuum cleaner, ensure that you wash the filter and roller regularly.
---
4. Best for Most People: Bosch Unlimited Serie 6 Rechargeable Cordless Stick Vacuum
A stick vacuum that can clean everything – even your car seats! The Bosch Unlimited Series 6 Cordless Handheld Stick Vacuum is a favourite among most people because its versatile and also offers powerful suction.
You'll never want to go near a dusty mess again. This cordless Bosch Handheld Vacuum cleans on both carpet and hard floor surfaces and is proficient with pesky pet hair, thanks to the AllFloor Power brush and DigitalSpin brushless motor.
Lightweight design with an integrated battery makes vacuuming up the kitchen floor so much easier than ever before, so you can finally flip off those old clunky machines for good.
This vacuum cleaner doesn't discriminate, it will easily beat the dust off of your car seats or drawers with its excellent bendy attachment that will get you into the difficult spots with ease.
Complete with 1 battery pack, you can be sure this cordless handheld vacuum cleans every inch of every room. A cartridge filter with a pure air membrane and a hygienic filter for extra clean exhaust air ensures maximum efficiency without sacrificing filtration quality.
At 2.3kg. it's a lightweight brush head vacuum that gives you more mobility than ever before without compromising power or precision cleaning! So, if you're looking for the best stick vacuum in Australia, look no further!
---
5. Best Value Stick Vacuum: Xiaomi Viomi A9 Handheld Stick Vacuum Cleaner
In a world of endless clutter, tiny space living, and constant cleaning guilt, there's a solution – stick vacuum cleaner. The Xiaomi Viomi A9 Handheld Stick Vacuum Cleaner.
This stick vacuum comes with 3 power modes and is one of the more efficient units that we assessed. We're talking 10 minutes at max power — to get the super-quick but effective job done! With 30 minutes at medium power and 60 minutes at eco power for longer vacuuming needs.
Forget the dusty floor on your way out, this A9 vacuum cleaner from Xiaomi on a stick is there to do all the suffering for you! This handheld beast features headlights that point downward on the front brush as well as LED lights to provide improved visibility of spots you might have missed while cleaning the floors!
With separate motors inside its main attachments, this battery-powered sucka' can efficiently pick up dirt into any corner of any type of flooring it's pointed at – leaving no particles behind. And with a 10,000rpm brushless motor and high-speed roller attachment, those pesky dust mites haunting you in corners will be erased from existence.
---
6. Best Stick Vacuum for Carpet: INSE Cordless Stick Vacuum Cleaner
The INSE Cordless Vacuum Cleaner is the latest cordless stick vacuum cleaner from INSE. With a redesigned filtration system, there's no need to use an expensive filter bag anymore!
In addition, this strick vacuum strong-suction machine at 23KPa sucks out even the most stubborn of pet hairs. It does not matter whether you have a low pile or high pile carpet, this stick vacuum cleaner will help you get the job done.
This is one of the most powerful stick vacuums on the market and has a 5 stage Higher Filtration Efficiency System, with no suction reduction! It generated steady and powerful suction during testing, leaving our rugs cleaner than before.
The extendable nozzle gives you more reach and power without any cord issues. It's lightweight, easy to use, and conveniently small enough for storage in your kitchen pantry. Don't let those pesky crumbs stay on your floor – vacuum them up today!
---
7. Best Stick Vacuum for Pet Hair Australia: Xiaomi Mi Handheld Vacuum Cleaner
The Xiaomi Mi Handheld Vacuum Cleaner features a high-speed motor and a powerful suction system that will help you lift pet hair from your floors and furniture in no time.
With this stick vacuum cleaner, we easily removed dog fur and dust bunnies from both carpeted and uncarpeted surfaces. It is not only fitted with a HEPA filter but also has a three-step filtration system for deep cleaning. This means the vacuum cleaner can lift both tiny and large debris, leaving your home cleaner than before.
And since it is cordless, you can make limitless manoeuvres during the cleaning process. As such, you will be able to reach all parts that require cleaning. To add to this, the roller brush head is motorised to ensure you apply the least amount of effort when using this unit.
Moreover, this stick vacuum cleaner is exceptionally lightweight, weighing 1.2 kilograms. You can work with it for long hours without straining your arms and shoulders. But it doesn't end there, it has an ergonomic handle that is designed with your comfort in mind.
The Xiaomi Mi Handheld Vacuum Cleaner is powered by a rechargeable battery that will provide you with an approximate continuous runtime of 45 minutes. However, this may vary depending on the cleaning mode that you are using.
If you are using the turbo mode, the battery is likely to run out of juice faster compared to when the normal mode is in use. If you are looking for an entry-level stick vacuum cleaner, the Xiaomi Mi may just be what you need.
---
8. Best Budget Stick Vacuum: Advwin Cordless Vacuum Cleaner
The Advwin Cordless Vacuum Cleaner is our pick for the best budget stick vacuum cleaner because it's the cheapest model that we tested. With its telescopic pole and LED floor lamp that makes each dark corner visible, 3 different types of brushes – suitable for carpets, sofas, or hard floors it offers second-to-none value for money.
And no more worrying about tripping over wires! The Advwin cordless vacuum cleaner is compact enough to carry into those tight corners where dirt seems intent on making a permanent home too-especially if there's a rug down there!
Your home is your sanctuary. Keep it clean with the Advwin Cordless Vacuum Cleaner, so you can spend less time cleaning and more time relaxing! It has an ultra-lightweight design that makes it easy to empty out all of the captured particles by simply shaking.
And with its innovative filter/sponge system, you get cleaner, healthier air without sacrificing convenience.
---
How We Researched the Best Stick Vacuums in Australia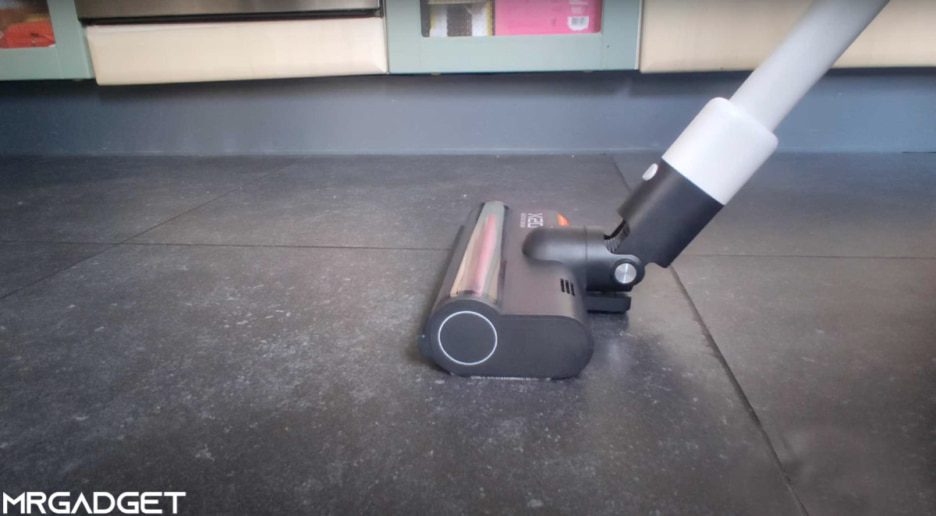 To ensure that you get the best stick vacuum cleaners in Australia, we spent three weeks researching and testing eight models from some of the top-rated brands in Australia. We were mainly focused on finding out how powerful and effective the test models are when it comes to lifting small and large debris from surfaces.
That being said, we tested the stick vacuum cleaners for suction power since it's one of the key factors of consideration for choosing such units. For this step, we used a high pile rug, low pile carpet, and a medium pile rug.
We scattered different sizes of debris all over the rugs to assess the cleaning performance of each stick vacuum cleaner. The rugs were covered in breadcrumbs, dust bunnies, wood ash, cat litter, dog fur, black pepper, and hair. We also threw in pieces of crisps.
A good number of the test models helped us remove the debris from the low pile rug with just a few passes. However, we had to vacuum repeatedly to lift black pepper granules and wood ash. The stick vacuum cleaners delivered almost similar results on a medium pile rug.
Running the vacuum cleaners on a high pile rug was the true test of suction power. All the test models failed to remove the debris with the first pass because the particles were deeply embedded between the carpet fibres. The roller heads did an amazing job at lifting dust bunnies, hair, and dog fur.
Additionally, we tested the stick vacuum cleaners on a section of our uncarpeted hardwood floor. Virtually all the stick vacuum cleaners delivered great results when we used them on the hardwood floor. We however noticed that some test models, especially those with low-seated heads pushed part of the debris in front instead of sucking in everything at a go.
Once we were done testing, our review team compared and rated the stick vacuum cleaners, taking into account battery life, bin capacity, ease of use, manoeuvrability, attachments, and filtration system.
Stick Vacuum: Buyer's Guide
Buying  the best stick vacuum cleaner can prove challenging due to the countless options currently available in the Australian market. That being said,  make sure you're in the know before you spend your money on these machines. You can start by reading our stick vacuum buying guide:
What to Consider When Buying a Stick Vacuum
There are many different considerations  when buying a stick vacuum cleaner, but we have listed the key ones below:
Type
Depending on your needs and budget, you can go for a cordless or corded stick vacuum cleaner. Cordless stick vacuum cleaners are preffered by most people because they are eay to manoeuvre.  Additionally, you can use them just about anywhere without being limited by pesky power cords. However, you should keep in mind that most corded stick vacuum cleaners are more powerful than their cordless counterparts.
Variable Suction Power
Not all types of floors or fabrics require the same suction power. Curtains and upholstery for example can be cleaned on a lower power to protect the integrity of the fabric. If you know that you will be using the vacuum cleaner on  different surfaces, ensure that you pick a unit that allows for quick and easy customisation of the suction power.
Filters
Filters are there to capture small particulates that can enter the air or damage the vacuum. They should be easy to replace and if you have allergies pick up a HEPA filter. These types of filters are very effective when it comes to trapping allergens, pollen, and other airborne particles.
2-in-1 Stick Vacuums
If you want a stick vacuum that's also great for cleaning counters or harder to reach spots then pick up a 2-in1 version that switches between a stand-up and handheld version.
Floor Heads
A stick vacuum is an efficient, lightweight way to clean your home. Some models come with a standard motorized head that can be used on carpet and hard floors while other more expensive or high-end vacuums may have the ability to detect surface type for optimal suction adjustments without having you change heads!
Weight
In an ideal world, the most powerful vacuums would also be lightweight, but the reality is there is some trade-off for power when you opt for a lightweight stick vacuum. Try to find the sweet spot that works for your needs. All the stick vacuum cleaners in this guide are exceptionally lightweight and will allow you to clean extensively without experiencing any problem.
Charge Time & Run-time
Stick vacuums can be a great way to keep your home clean, but they do have some drawbacks. The average stick vacuum is only good for around 13 minutes of runtime on most surfaces and may take four hours (or more) before it's fully charged again. If you plan on cleaning an entire room in one session then opt for one with a large battery, or at least removable batteries!
Health Benefits of Vacuum Cleaning Your Home
The best stick vacuum cleaner will not only make your work easier when it comes to cleaning your home but also provides you with a long list of health benefits. As earlier stated, stick vacuum cleaners with HEPA filters can  greatly improve the quality of air you breathe. If used regularly, a vacuum cleaner can help you alleveiate allergies, hay fever, asthma, and other respiratory-related health complications.
According to a data report by the Australian Bureau of Statistics, about 10.7% of the Australian population had asthma between 2020 and 2021. Dirty upholstery and carpets are known to harbour dust mites, pet hair, dust, pet dander, and other respiratory irritants, all of which can aggravate asthma and allergies.
If you have  any of the aforementioned health problems or just looking to keep your home clean and safe for your family, you should consider buying a vacuum cleaner. Our list of best stick vacuum cleaners can help you get started.
You may also be interested in:
Last update on 2023-12-02 / Affiliate links / Images from Amazon Product Advertising API