ⓘ We are reader-supported and may earn a small commission at no additional cost to you if a purchase is made through one of our links.
HYDRAGUN Massage Gun Review
Design & Build

Features

Battery Life
Summary
This is a premium massage gun that delivers premium performance. With 6 different massage heads 6 speeds, long battery life and a quiet motor it's hard to look past the HYDRAGUN.  It has a modern aesthetic, fantastic build quality and excellent tactile controls.
Pros
✓ Quality build, design & materials
✓ 6 Speeds
✓ 6 attachments
Cons
✗ Out of some people's budgets
Update after 6 months of use: The Hydragun has become a very important part of my recovery and maintenance. Now that the soccer season is back underway, my body is under more stress than it has been for a while and the Hydragun really has made a difference. I get a lot of niggly little injuries and the Hydragun does a great job at loosening any knots or bits of tension I get in my legs. This combined with stretching and a good warmup has kept me injury free thus far this season. 
As someone who focuses on their fitness and runs frequently, I'm no stranger to muscle fatigue and injuries. When HYDRAGUN reached out to me to try out their massage gun (HYDRAGUN has kindly provided me with an exclusive discount code: "MRGADGET20" – $20 off) I jumped at the chance, not only because I love reviewing cool tech but I have a few niggling muscle injuries and physicians were shut due to the Melbourne lockdown.
So, after using the product for around 6 weeks now, I'm ready to give my thoughts on the general product quality and how effective it was at alleviating some of my aches and pains. Let's jump into this HYDRAGUN review. If you're short on time, feel free to skip ahead to the different sections of the review by clicking the links below:
First Impressions
It's obvious from the moment you open the packaging that this is a quality product. It comes im a relatively nice hard carry case to keep everything organised and protected. This is a good start. When you open the case the first thing that stands is the massage gun itself. It looks nice, really nice. HYDRAGUN has done a great job designing a product that looks futuristic. It has a really nice black and dark red colour scheme which looks hi-tech yet subtle at the same time. It has cool angles and in some ways reminds of the Tesla Cybertruck.
In the case you get the gun but also the following:
HYDRAGUN massage gun
Massage heads x 6
Storage bag
Charger
User manual
The attachments do not have the same quality as the gun itself but they really don't need it. They're not badly put together by any stretch, they're just not on par with the quality of the gun itself.
Taking the gun out fo the case you'll notice that it is quite heavy. Thankfully it is a well-balanced itself so it doesn't apply any strain but it's certainly weighty. This is probably due to the battery, motor and material selections.
The material selection is really nice. The barrel of the gun is made from an aluminium alloy that feels very solid. The handle is wrapped in some sort of rubber/silicon that provided additional grip without feeling sticky.
All in all, the HYDRAGUN delivers an excellent first-impression that sets high expectations for the utility.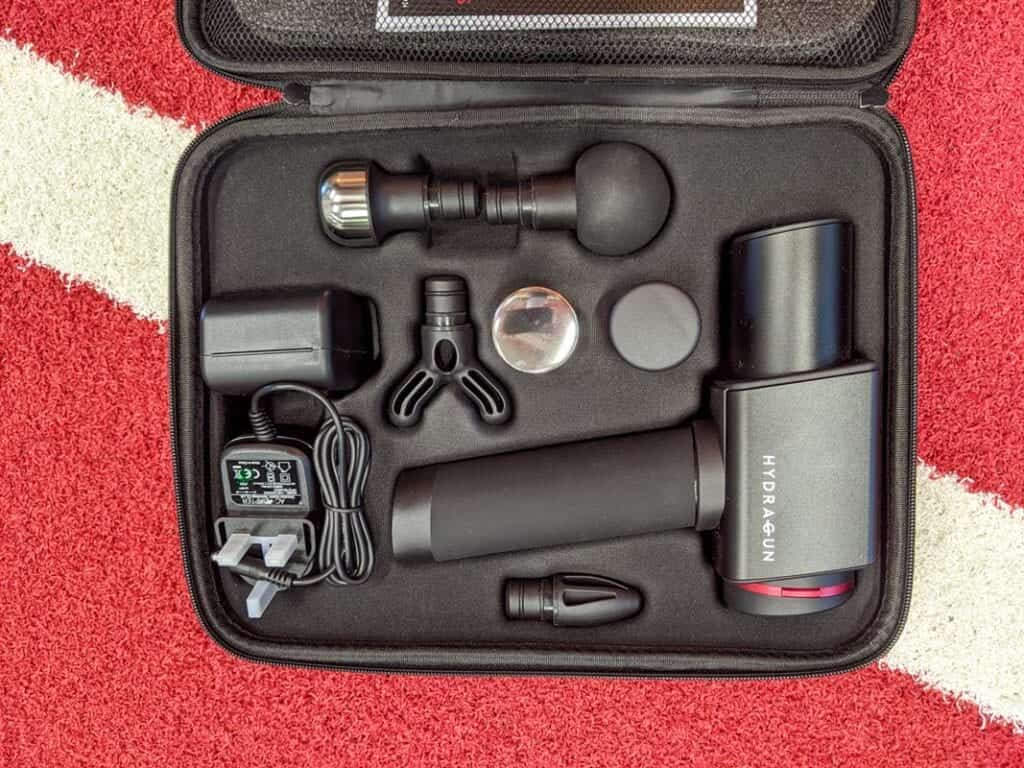 Use Cases
In total there are 6 attachments and 6 different speed settings. But what do each of the attachments do and what speed setting should you use the gun on. Well. it all depends on the use case. I'm by no means an actual expert on this subject so just keep that in mind. All of the information I'm presenting is second-hand research and then my own first-hand experience following that research.
So what are the attachments for?
Essentially the different attachments are designed to interact with different muscles groups. Muscles range greatly in size, with some requiring a more intense massage while others just need a gentle, but precise massage. Below is an overview of each attachment and the appropriate muscle group (I'll quote HYDRAGUN for this:
Flat heads: For recovery for particularly sore muscles. The larger surface area helps increase blood flow. Bigger spread.
Bullet: For inner joints; feet, or for deeper penetration. Pinpoints and releases the tightness in a particular pit on the body.
Fork: For deeper penetration on medium muscle groups (forearm, calves, shoulder). Releases tightness with dual-point targeting.
Ball: For larger muscle groups (glutes, quads, calves, lats, traps), if you do not want too deep a massage or to go around bony structures like the knee
In addition to the above, there are two metal-finished variants for the ball (although smaller) and the flat head. They should be used to target the same types of muscles but provide a firmer impact.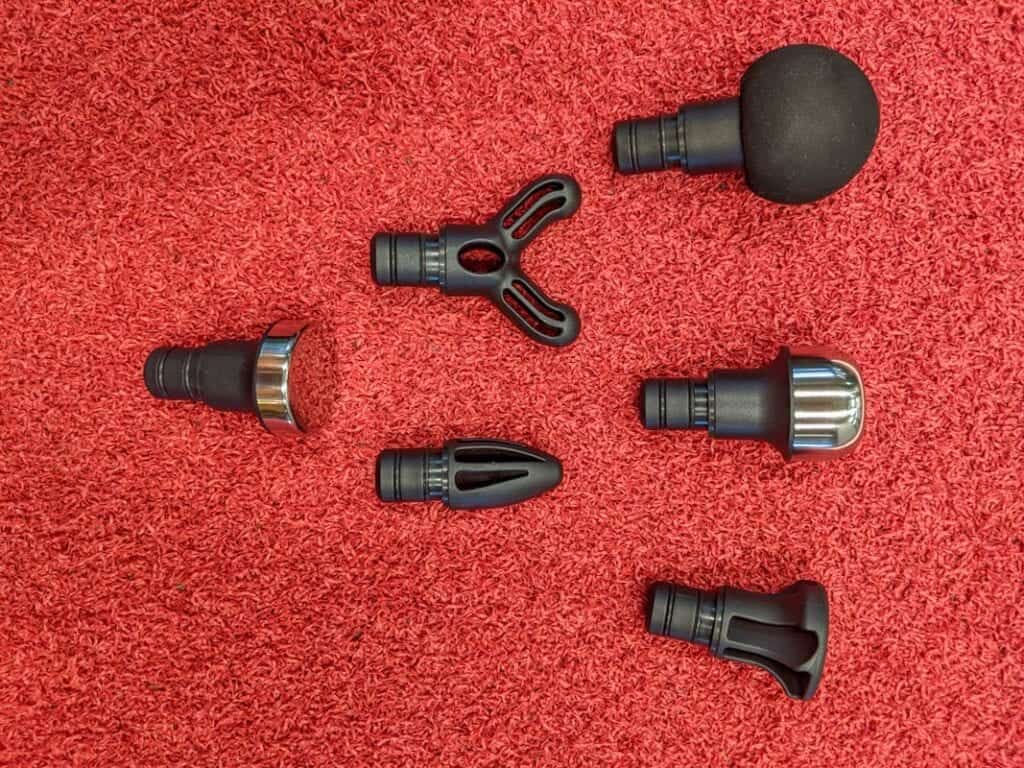 Different speeds
The HYDRAGUN has a 6-speed motor which is controlled using the button the backside of the barrel. The speeds (RPM) are as follows:
1200
1600
2000
2400
2800
3200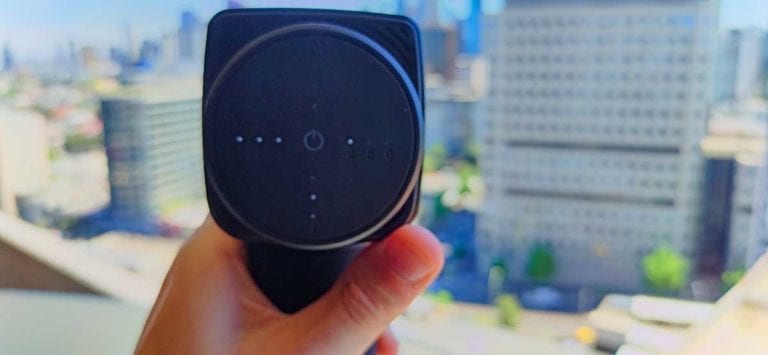 The sensation ranges from a gentle vibration at the low end, a firm vibration around 2000-2400 RPM, and something more like an intense buzz at the top end. I think a lot of it comes down to personal preference and injury type, but there is enough diversity in the speed for everyone to find something suited t their needs and tastes.
Did It Work For Me?
Short answer, yes! As someone who runs on average every other day, I've almost always got a muscle injury somewhere in legs. Never anything serious just a bit of fatigue or tightness that takes a while to get over. A soon as I received the gun I would use it after every run to massage my problem areas. Usually my calf and hamstrings.
Check out the Trigger Point Rocker if you need something to help with back pain.
I used the rubber ball on the high-end speeds and would massage each area for approximately 5 minutes. It's hard to describe and as I mentioned I'm no doctor but it's as if you can feel the blood flowing to the area being massaged. From my admittedly poor knowledge, blood flow to an injury is a good thing and can aid in the recovery. And from my own anecdotal experience, I have to say this is true.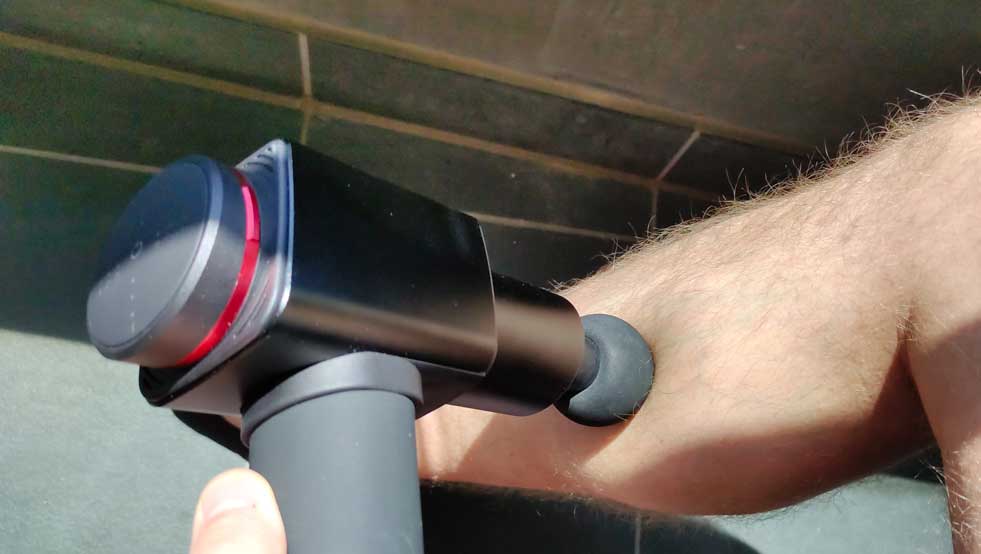 It didn't completely remove my injuries like some sort of magic gun, but it did alleviate them to a point where I could clearly notice the difference. I think the best way to view this massage gun is as a muscle fatigue management tool rather than as a remedy.
Another issue that I sometimes get is neck ache from all of the computer work I have to do as part of this site. This got worse during lockdown where initially my set-up was less and ideal. I used the HYDRAGUN to help reduce my neck strain by using a combination of the rubber ball and the bullet. I would use the rubber ball initially for a few minutes and then finish it with the bullet to get right into the problematic muscle.
I would do this after a typing session or when I started to feel some discomfort and I can say it is really effective at reducing the discomfort significantly.
Final Thoughts
I have to say that this is a quality product and impressed me in every way. As someone who has never used a massage gun before but was a little cynical towards them, HYDRAGUN has completely proved me wrong, This is now a staple of my exercise routine and has helped me be more consistent with my running. The fact that it is this beneficial and also looks and feels great is a powerful combo. I can easily recommend this product to anyone who is the market for a quality massage gun.
Content Disclaimer: Our Hydragun review is totally independent and has not been commissioned by the company in any capacity. Mr Gadget has not received any endorsements for this writing including financial reimbursement or free advertising. If you purchase this item via an affiliate link on our website, we may receive a small commission from the seller. We hope you enjoyed this review!