ⓘ We are reader-supported and may earn a small commission at no additional cost to you if a purchase is made through one of our links.
As someone who works from a laptop while they travel and I am always on the lookout for productivity gear that can help improve my mobile office. I often use an iPad with Sidcar as a second screen but until now I have been using a foldable case that props it up on the desk. This is OK, but I have noticed that over time it does impact my neck. 
So, when I was offered the chance to review the 12 South HoverBar Duo I jumped at the chance and began using it immediately. 
First Impressions
From the moment I opened the box, it was immediately apparent that the Hover Bar Duo is a very well-made product. It has a clear design language, is made from high-quality materials, and showcases a thoughtful design that prioritizes user convenience and versatility.
There is a quick start booklet that provides simple instructions on how to set up the stand, but honestly, it's so simple and intuitive, I didn't need to use it. Within 2 minutes of opening the box, I had my iPad safely and securely positioned at eye height next to my MacBook. 
I know it's not a complicated product but it's always great when the product you buy immediately works and improves your workflow without any hiccups or complications.
My 1–week Experience
I've been using the HoverBar Duo for just over a week now, both at home but also at my coworking space in the city. Overall it's been a very positive experience that has certainly elevated my work experience, both in terms of ergonomics and productivity, with the former causing the latter.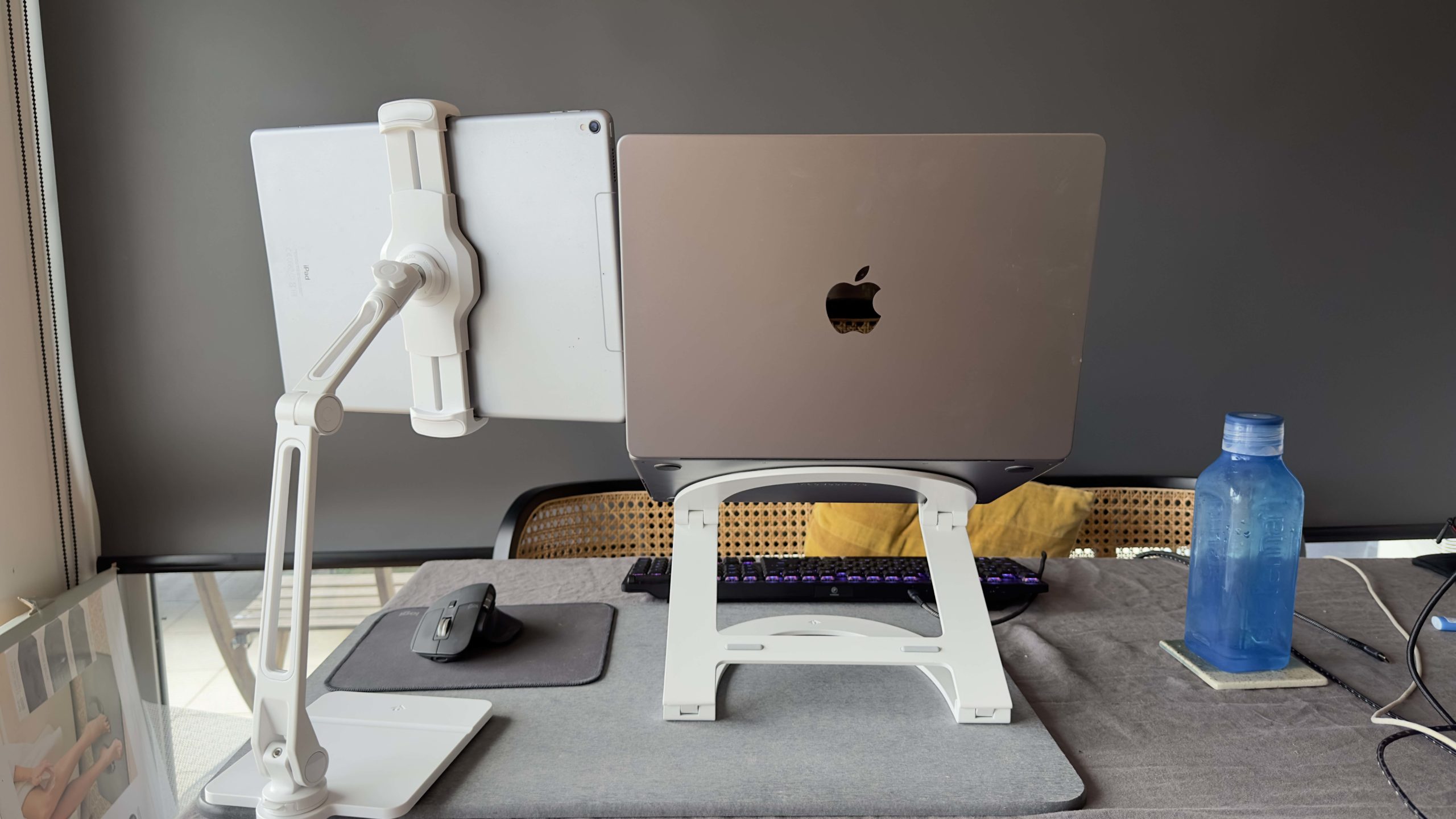 I've been using it almost exclusively to hold my iPad as a second monitor so I'll focus on this particular use case. Some people have used the HoverBar Duo as a phone stand for better video calls or as a better way to hold an iPad while they work directly on it, but these are things I simply don't do. 
I absolutely love how adjustable this tablet stand is. For a start, the whole thing can freely rotate 360 degrees. The arm itself has a lot of articulation and be adjusted to lean backwards and forwards from the base. Up and down from what I will call the elbow – and there's a big range of motion where can almost get it to face the tablet backwards. Then there's the ball mount that you see frequently on tripods that allows for further angle adjustments and rotating from portrait to landscape.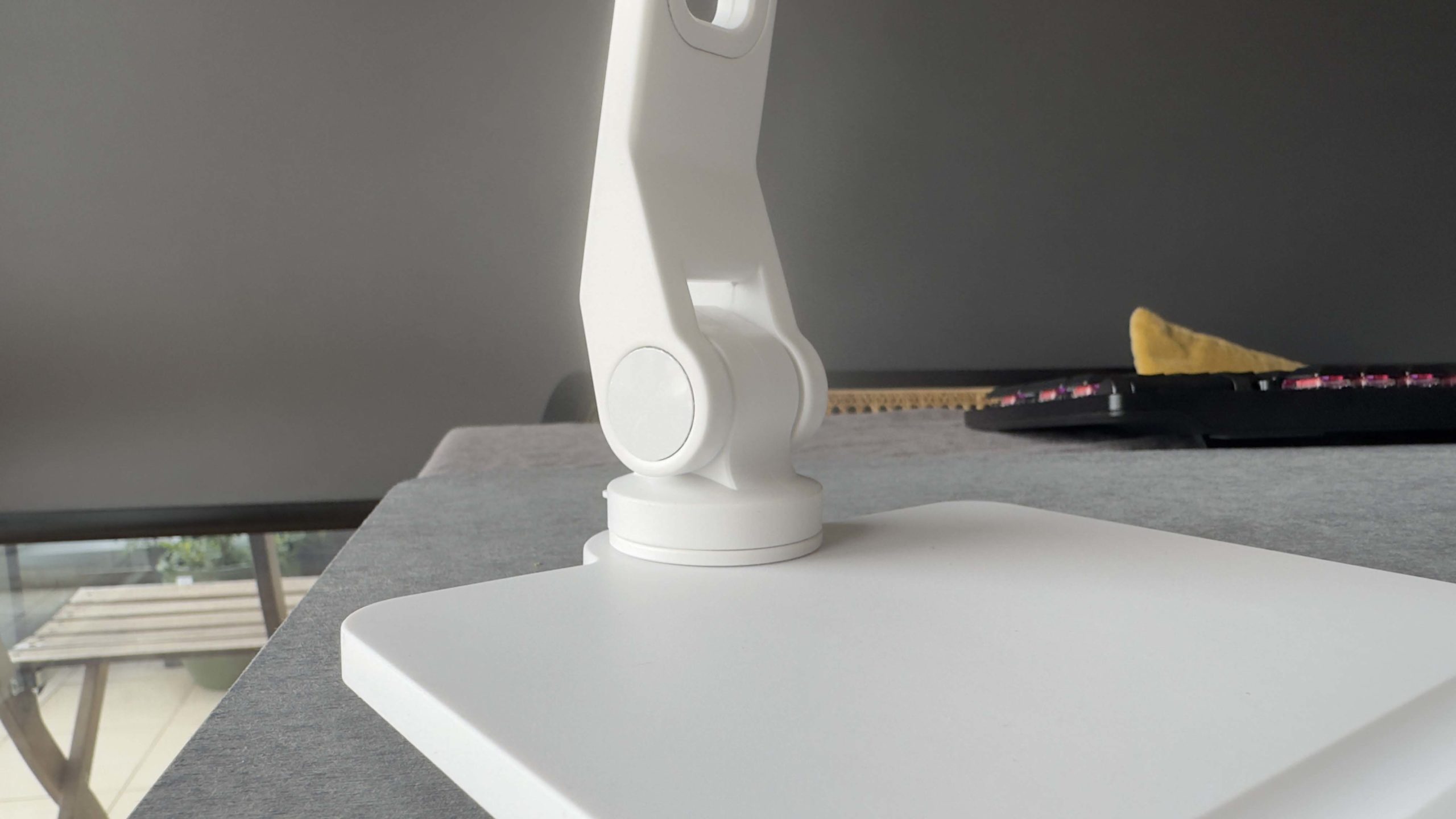 However, this level of articulation is limited by the weight of the base which isn't sufficiently heavy to support a tablet in many of the more extreme positions. This is actually the only negative I have discovered so far and for me personally, it isn't a big deal. I value a lighter-weight design more than a heavier, more stable base because I work in a lot of different places and it travels very well in its relatively lightweight form.
At no point over the past week has the stand changed its position due to the weight of the iPad, despite it being in stressed positions for up to 8 hours a day. It holds its position firmly but can be adjusted by hand easily without much effort at all. They have found the perfect balance between stability and adjustability.
If you're interested in ergonomic setups, then consider reading my review of the Curve Flex Laptop Stand.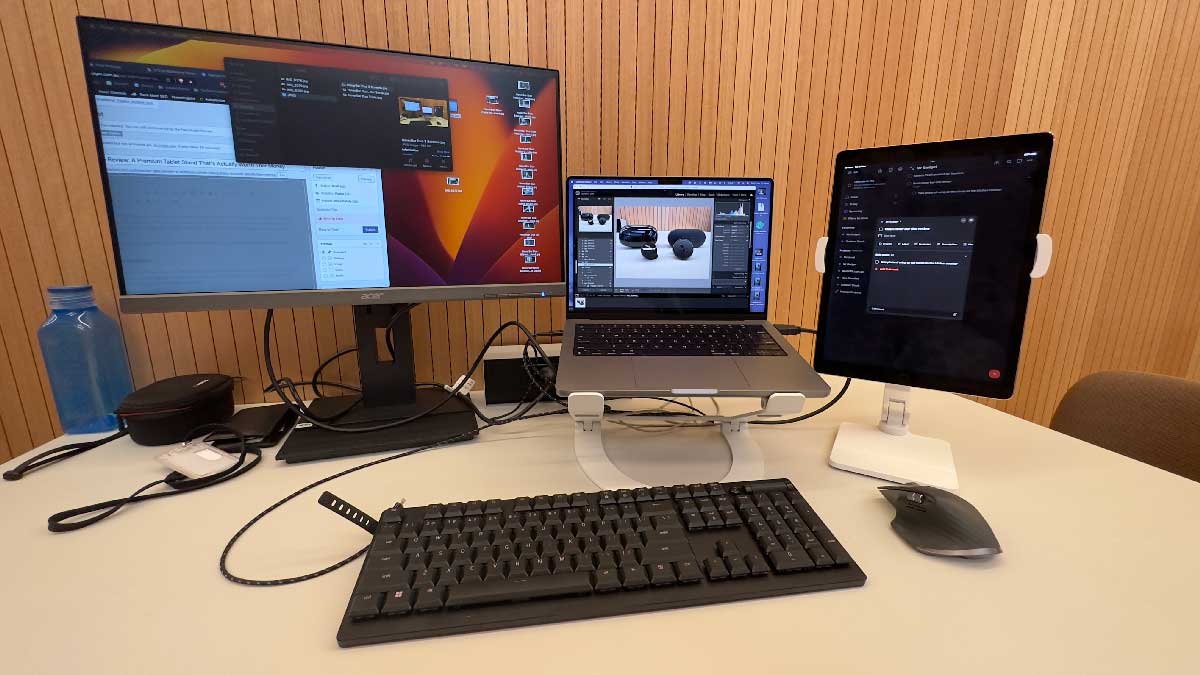 Having a second monitor while working from different coworking spaces or hotel rooms is a real game-changer and even more so when it's ergonomically positioned. One of the offices I occasionally work from has a monitor, so I have also been using the iPad as a third screen, which I know sounds ridiculous, but in this capacity, I've used it to keep my to-do list always available, which is just a nice workflow improvement.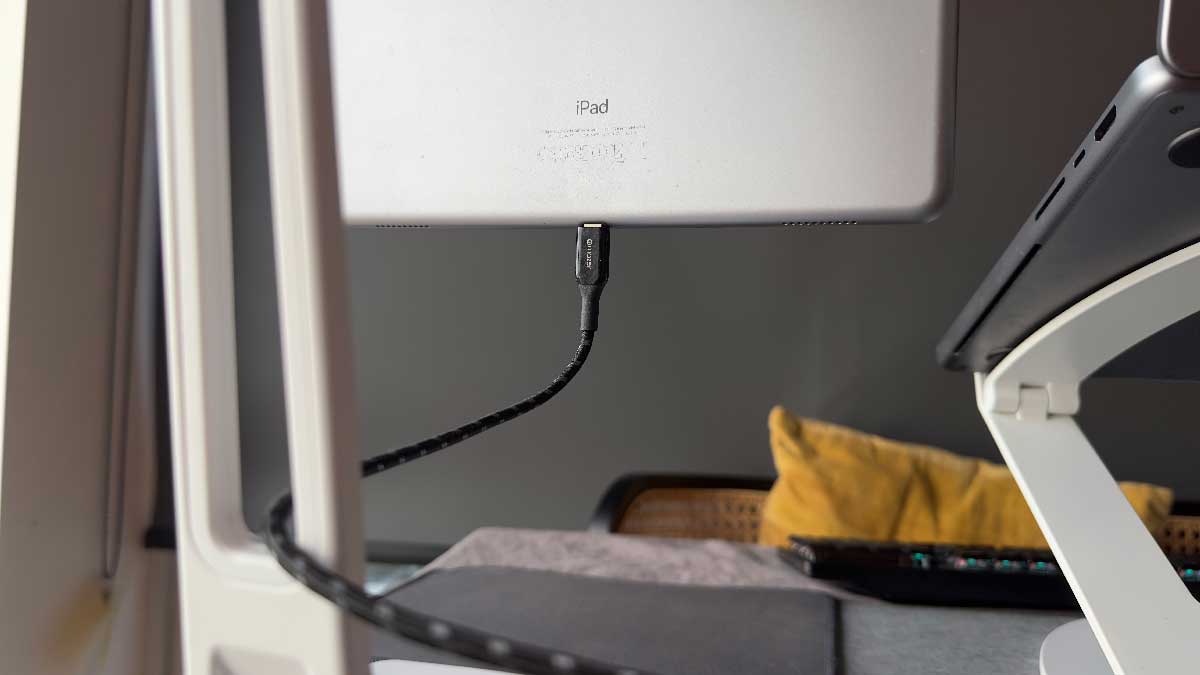 Another thing worth mentioning is cable management, which is a constant struggle for me, and with using the iPad for hours each day, it's actually something I've been taking advantage of. It's a small but thoughtful detail that demonstrates 12 South's commitment to improving workstations.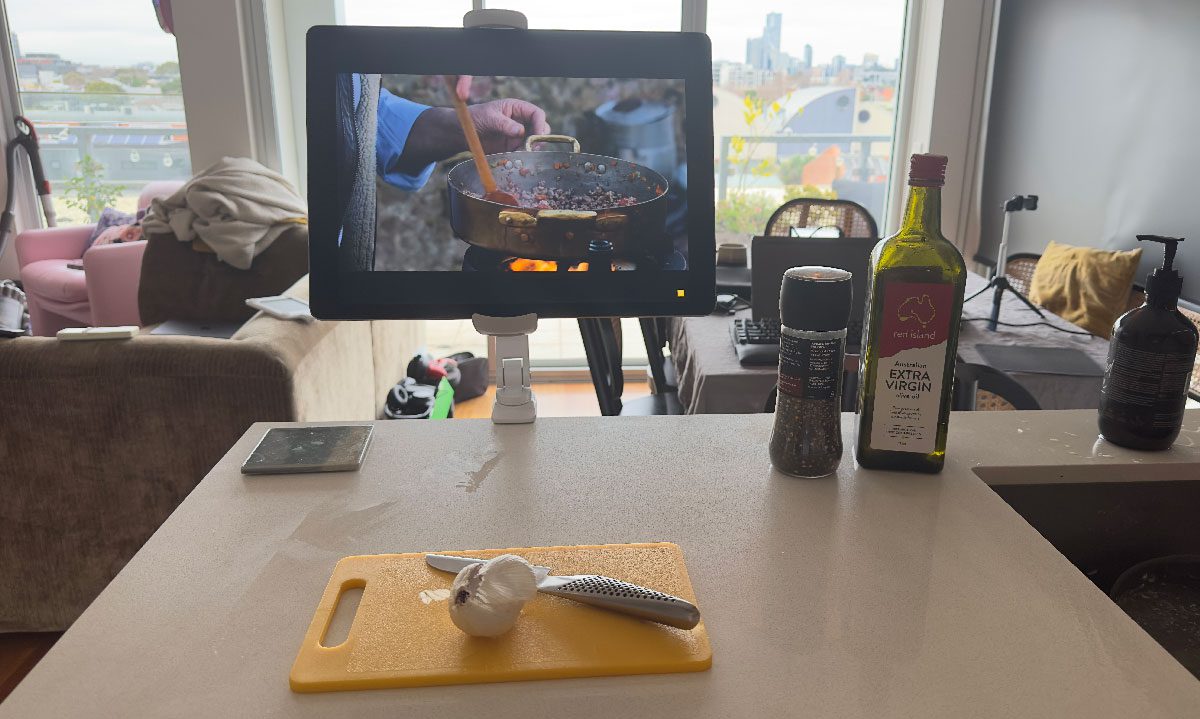 The only other way I've used the HoverBar Duo is to use my iPad more conveniently in the kitchen. I've been attempting to cook more often lately to help minimise the cost of living (and my weight gain) but as a beginner, I really need help with recipes and instructions, and this is where the Hover Bar Duo has come in really handy. 
Having access to an iPad that's positioned above the counter without taking up any space is much more convenient than I imagined. With the clamp mechanism, you avoid the balance issue that happens with the stand, meaning you can position the tablet screen however you want without fear of it falling over.
I've seen people in other reviews even clamp the stand to their cabinets and have the tablet "hang" from above, which is a good idea if you have the right type of cabinets (I don't).
And this brings up the point of switching the arm from the stand to the clamp. I've seen a few other reviews of the HoverBar Duo mention how fussy or annoying it is to make the switch, but from my experience, it's a super seamless process that can be done literally in a matter of seconds. So, I'm not sure if I got lucky with a perfectly working mechanism or if I'm especially talented.
Wrapping it Up
In conclusion, the 12 South HoverBar Duo has proven to be a valuable addition to my mobile office setup. Its well-designed and adjustable nature has significantly improved both productivity and comfort while using Sidecar with my iPad.
The stand's stability and ease of adjustment are notable features. It securely holds my iPad during extended use, allowing me to find the optimal viewing angle. While there is a slight limitation in terms of stability when extending the arm too far over the base, it hasn't been a major issue in my experience. 
Additionally, the HoverBar Duo's inclusion of a cable management solution is a thoughtful detail that helps keep my workspace organized. Based on my positive experience, I would recommend the 12 South HoverBar Duo to anyone who uses the iPad a lot and in particular to anyone who utilises Sidecar with their iPad. It provides a reliable and adjustable solution for enhancing productivity.