ⓘ We are reader-supported and may earn a small commission at no additional cost to you if a purchase is made through one of our links.
Cable management accessories solve the age-old problem of tidying up cables and neatening your workspace. Cables and wires are arguably the most annoying part of technology. Although wireless devices are a thing, a lot of PC equipment, sound systems, and general office tech still relies heavily on cables and wires.
The best cable management accessories come in many shapes, sizes, designs, and functionality. But all these have one thing in common—it'll keep your desk organized, offering a boost in work productivity and keeping you safe from almost all the dangers that cable wires may bring.
If you don't have the time to read the full review, you can just click on the links below to skip to that cable management accessories:
The 7 Best Cable Management Accessories
We spent countless hours searching the internet for the best cable management accessories. After our extensive search, we managed to reduce the large list down to just 8 of the best cable management accessories. We evaluated the value for money, reliability, function, and aesthetics to determine which cable management solutions we should include in this list.
#1.Blue Key World Cable Clips
Pcs. per pack: 6 | Adhesive: Yes | Workable surface: All surfaces
The Blue Key World Cable Clips is the mini cable clip that we are looking for. It's best to have it handy if you have limited space on your desk and can no longer accommodate other mechanisms that will occupy a good amount of space.
This accessory looks like small buttons and they're so easy to set up and use. You just have to peel the adhesive on the back, stick it to the desired spot on your desk or any other surface and clip the cables onto it.
These mini cable clips are also great for your car; it makes it easier to reach out and charge your phone while driving. All you have to do is make sure it's plugged into your car charger and extend the wire to reach your phone. No more cupping around to look for your charge and untangling it, which can be very dangerous and prone to road accidents.
The Blue Keyword Cable Clips makes it to our list of best cable management because they're so versatile and are capable of sticking to almost all surfaces: wall, plastic, wood, glass, metal, and rubber.
---
#2. Simple Cord Cable Management Ties
Pcs. per pack: 30 | Adhesive: Velcro | Workable surface: None
The Simple Cord Cable Management Ties is the standard cable management accessory you usually see in the office. You may have been looking for something similar yourself and here it is.
Each pack contains 30 pieces of 8" x ½" reusable cable ties that are made with durable and quality materials. It' strong self-gripping materials ensure your cables will stay in position until you decide otherwise. If you're using it at home, it'll be best not only to your desk but also to your entertainment center and even in the kitchen, to keep your appliances' wires organized too.
What makes it one of the best cable management accessories in the market is it can also help you conserve spaces like the inside of your draws, as all cables are nicely wrapped and tucked. You won't even realize how big your drawers are until you start using the simple cord cable management ties.
---
#3. Idealstanley Cable Clip Holder
Pcs. per pack: 1 | Adhesive: None | Workable surface: All flat surfaces
The Idealstanley Cable Clip Holder is the best cable management accessory to have when you need to keep your cables at bay for easy access at any time. It's to keep your needed cable wires, like your laptop and phone charge ready and organized for when the situation requires it. Some would remove their charger once the laptop's battery is full, but most laptops don't last long so you need to immediately plug that charger in without losing any unsaved files.
That's the beauty of the Idealstanley Cable Clip Holder. Not to mention, it doesn't require any type of adhesive to stay in place. It's weighted so it won't topple down easily. Plus, you can bring it anywhere and use it on any flat surface. It can stack up to four (4) cables on this handy accessory. So it'll save you a lot of space and at the same time keep your desk organized.
---
#4. Zip Tie Adhesive-Backed Mounts
Pcs. per pack: 100 | Adhesive: Yes | Workable surface: clean, flat, and dry surface
The Zip Tie Adhesive-Backed Mounts 100 Pack is a simple cable management accessory but provides quite great support to cable ties. It provides one of the best bases when opting to use cable ties to organize your wires, starting from the extension wires, to power cords, and other heavy wirings you may need to organize. Its adhesive is made to last and if that's not enough to convince you, the mounts have screw holes already—ensuring it'll stick to the surface for as long as it can. Each of them has a dimension of around 1.1" x 1.1" and will come in packs of 100 for an appealing price tag.
---
#5. JOTO Cable Management Sleeve
Pcs. per pack: 4 | Adhesive: None | Type: Zip-up wrap
The JOTO Cable Management Sleeve is one of the best cable management accessories in the market right now because it'll definitely give you the most organized workspace. Just like a magic trick, it'll turn your numerous wires into one single big one. You can also think of it as a pencil case for all your power chords, wires, computer cables, etc.
It comes with a set of four form-fitting neoprene stretchy materials that can hold 8 to 10 cables per sleeve. Each is about 19 to 20 inches long with a 1.2 in. diameter when zipped. It's very easy to use. You can even snip some holes in the middle to accommodate all wire positioning and length.
It's an ideal cable management accessory for workstations with PCs or your entertainment center. This is also best to keep your cables safe from the curious eyes of the kids and from nibbling pets as well.
---
#6. VELCRO Brand ONE-WRAP Cable Ties
Pcs. per pack: 100 / 50 | Adhesive: None | Type: Velcro Cabel Ties
The VELCRO Brand ONE-WRAP Cable Ties is quite the tool for the keen organizer. It's pre-cut; each is sized at 8 x ½ in. and so all you have to do is to wrap it around your wires and your other things, such as pens, pencils, or paintbrushes. It's also a perfect tie for your headphones and other desk cables that are typically thin.
Because it makes use of velcro, it can be reused over and over again. It also comes in a pack of 50 or a hundred. With that amount of reusable ties per pack, you'll feel like you have a lifetime's supply of cable ties. You'll also be able to organize all the wires in your house, in your office, and have extra to replace those that'll come loose after some time.
---
Best Cable Management Accessories: Buyer's Guide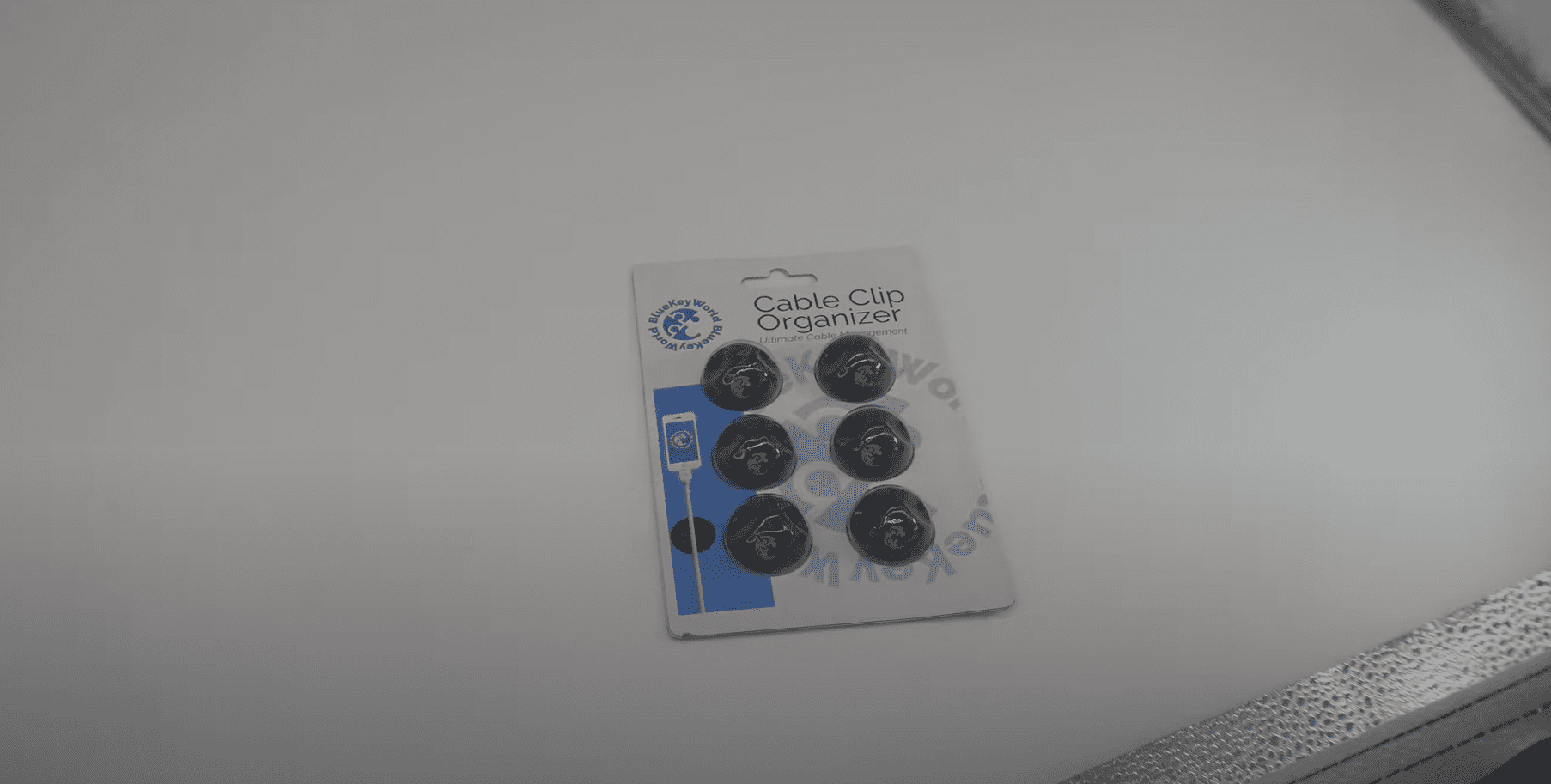 The best cable management accessories should not be that hard to find so long as we know what key features to look for in certain products. Indeed, the market, online or physical, is crowded with different innovations that'll spark your interest. But with this helpful buyer's guide, you'll be able to pick out the best of them all:
Adhesive 
When we talk about cable management accessories, we are not only referring to those that can stick on your desk and hold your cables and wires. It has a wider scope but the first thing that comes to your mind is those that have self-adhesives on the bottom that you can stick on any surface.
The downside of opting for those that have self-adhesive is that they tend to get worn fast and lose their grip, especially if they are positioned vertically, with the wires hanging on the side of your desk or wall. That's why most of these products come in packs of 4 or 2, for replacement (aside from needing a few of them to accommodate other wires in different places).
There are those that instead of adhesive, will make use of screws for a long-lasting placement. Others are even weighted. But the best cable management accessories with adhesive are great for flat surface use, usually on desks. Many still prefer but most are left disappointed with the quality of adhesive that manufacturers equip on the products.
Type of cable management
As already emphasized, cable management is not just about holding your chargers and cables in place, but some will mainly aim to organize your wirings. Before anything else, consider the goal you want to achieve. Are you looking for something that'll fix those intertwining cables under your desk or behind your PC? Or are you looking for cable ties?
Plan out your organizing method first and consider those products that'll efficiently solve the issue you are facing with your cables and wires.
Pieces per pack
Many smaller cable management accessories come in many pieces per pack, such as the regular plastic cable ties, the velcro ones, and support bases. You'll find these products the most economically friendly as they usually carry an affordable price tag. That's why they are called the "Econo pack".
But it doesn't mean you should always go for those that have the most number of pieces per pack because what happens here is that the unused products will become dormant and will degrade over time inside your storage boxes or drawers. Typically, you can observe this with products made with plastic materials or with some kind of cheap wood.
If you're planning for a big project such as arranging the electric wirings inside the whole house or office, then you'll definitely benefit more financially with those "Econo packs".
Materials
The materials used in your best cable management accessories will be the test of their durability. Many consumers are not quite fond of plastic-made products as they see them as, somewhat, low quality. But there are sturdy and hard plastic materials that'll surprise you.
Many prefer the velcro cable ties but the strength of its grip will likely degrade over time, especially when it accumulates dust build-up. Nonetheless, just like other cable ties, those velcro ones also come in a large number of pieces per pack, so you can easily replace the old ones.
Conclusion
Disorganized cables and wires are a sore eye to look at. Not to mention, how dangerous they can be and how accident-prone they are. There are a lot of benefits in investing in the best cable management accessories. In the long run, you'll find yourself saving more money as you no longer need to constantly replace chargers (because of poor storage and handling), and having the need to replace electronic units due to ruined cable wires.
Also, you may find yourself more productive because of how organized and clean your desk is. And if you're a parent, you are more ensured with the safety of your children, especially in the entertainment room where they may explore on the vines of cables and wires behind the entertainment set.
You don't need to spend hundreds of dollars to keep your cables organized. The best cable management accessories are typically budget-friendly but quite durable and long-lasting.
More Reading:
Last update on 2023-11-30 / Affiliate links / Images from Amazon Product Advertising API