ⓘ We are reader-supported and may earn a small commission at no additional cost to you if a purchase is made through one of our links.
The 2019 iteration of the Astro A50 Wireless attempts to stand among these heavy hitters by combining an impressive level of customization, a killer charging station, and the stellar audio quality the model has become known for throughout the years. But does it have enough under the hood to make gamers overlook its sky-high price tag?
30 Second Review: Astro A50 Wireless
Design & Build -

8.1/10

Features -

8.1/10

Sound Quality -

8.6/10

Mic Quality -

8.5/10

Battery Life -

7.8/10

Comfort -

8.2/10

Total Value -

8.3/10
Summary
The Astro A50 Wireless may not make the greatest first impression on account of its overly-edgy design and scary price tag, but once you experience its spectacular sound quality, comfortable fit, and stellar microphone for yourself, you'll feel a lot better about coughing up those 300 bucks.
Razer and Steelseries should definitely take a page out of Astro's book and consider adding a base station of their own since it's one of the prime reasons why the A50 Wireless is one of the best ultra-high-end gaming headsets in existence.
Pros
✓ Exceptional sound quality
✓ Comfortable even during extended usage
✓ Fantastic base station
✓ High-quality microphone
✓ Replaceable earpads
✓ Low-latency wireless connection
Cons
✗ Uber-gamer design may be a turn-off for some people
✗ High price
✗ Lacklustre sound isolation
✗ Astro Command Centre could use more customization options
In this Astro A50 Wireless review, we're going to find out if it makes good on its promises and whether or not it's time to mortgage your house so you can afford it.
Pressed for time and can't get through the whole review? Click on any of the links below and you can skip right to that section:
What is the Astro A50 Wireless?
Astro Gaming is actually a branch of the design firm Astro Studios and is dedicated solely to crafting quality headsets aimed at gamers. The Astro A50 originally made its debut back in 2012 and has received several iterations over the years, each bringing moderate improvements over the last. Its fourth and most recent generation dropped last year and with it came a more streamlined charging station, visual tweaks, and way better wireless connectivity.
If you enjoy low-profile headsets, you'll be disappointed to know that the A50 is the complete opposite. You can tell from a mile away that his headset is intended for gaming thanks to its angular robotic design and abundance of decals. It's not bad-looking per se, but you're definitely not gonna want to take a walk around the neighbourhood with this thing on your head.
The Astro A50 is also one of the priciest gaming headsets on the market. – putting it in the same league as the slightly more expensive Sennheiser GSP 670 and Steelseries Arctis Pro Wireless.
Features
Battery life
While it's not quite at the level of the Razer BlackShark V2 Pro or the Steelseries Arctis 7, the Astro A50 offers great battery life that lasts for more than 17 hours of continuous use, and charging it back up to full power shouldn't take more than a couple of hours (four if you're charging wirelessly via the base station).
Charging station
Unlike the GSP 670 and Arctis Pro Wireless that come with little more than the headset itself, the Astro A50 comes with a base station that acts as a charging dock. It allows for wireless or wired charging and includes USB, aux, and optical ports. The dock is fully compatible with PC and either your PS4 or Xbox depending on the variant you choose. It even displays your battery level, which device you're connected to, your equalizer preset, and surround sound status.
Noise cancellation
Not only does is this headset void of active noise cancelling, but its noise isolation is exceedingly subpar, allowing most ambient sounds to seep right into the earcups. That being said, you're going to want a quiet place to game or listen to music in peace.
Software
The A50 Wireless utilizes the Astro Command Center software which is pretty intuitive and easy to use. Problem is, it's sorely lacking a lot of sought-after features and does little beyond allowing you to customize your presets and assign it to the headset's equalizer button. You'd expect a premium headset to have premium software, but that's just not the case.
Connectivity
The headset only connects to devices wirelessly, though its performance has improved markedly over its predecessor, providing seamless performance at low latency.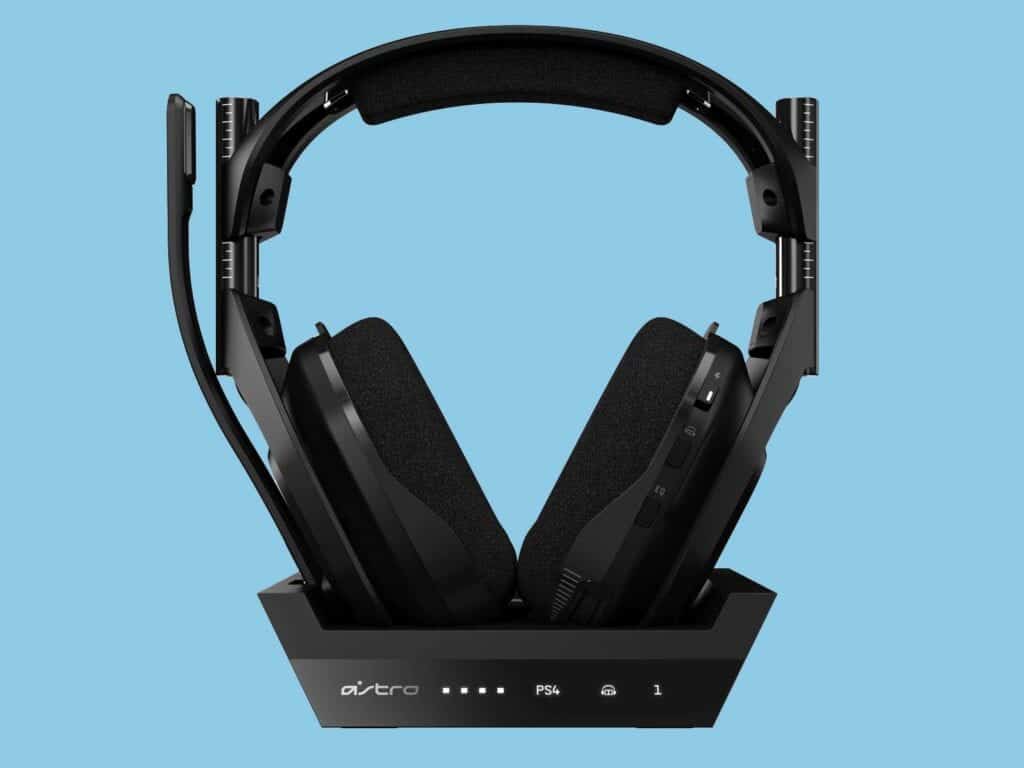 Sound Quality
One of the Astro A50 Wireless' most alluring features is its sound quality which is amazing all across the board. Bass notes are spot-on and sound nice and full yet strike a realistic tone, as opposed to most gaming headsets that tend to overdo the lower frequencies so much that you'll feel your head rumbling between the earcups.
The mids are even more impressive, rendering musical instruments and vocals in a wonderfully precise and crisp fashion. Experiencing dialogues in games and movies is extremely satisfying and listening to your favourite band sing that chorus you love never sounded sweeter. Finally, the fantastic trebles round out the Astro A50's audio ensemble by ensuring sibilants and cymbals are well-levelled, thus avoiding ear-piercing surprises in the middle of your listening pleasure. Whether you're playing video games, listening to music, or watching your fifth episode of The Mandalorian in a row, the A50 Wireless always manages to sound fabulous.
As for its microphone, it offers some of the best recording quality in the gaming headset market. It's a vast improvement over its previous generation as voices this time around come across incredibly defined and remarkably full. This makes it perfect for competitive games that require a lot of talking, like Dota 2 and Overwatch. It's also great for video chat and voice conferences as well. While the headset itself does a poor job of noise isolation, the mic actually handles noises extremely well by effectively separating ambient sounds from speech. The Command Center app also offers four different microphone profiles for you to choose from depending on the noise level of your surroundings.
What's it like to use?
Despite its edgy design, the Astro A50 Wireless is exceptionally comfortable thanks to its roomy earcups, gracious amounts of supple padding, and evenly distributed weight. It grips your head just tight enough to allow you to go for hours upon hours of gaming or binge-watching without causing any discomfort. Unfortunately, this looser level of grip makes the headset ill-suited for activities that require a wider degree of motion like walking or exercising.
The buttons offer a satisfying click when pressed and their layout is well-placed and fairly easy to wrap your head around. The controls are mostly gaming-oriented, like the buttons that manipulate the volume levels between in-game sounds and voice chat, and the flip-to-mute feature that silences your mic when you have it raised.
There's also a button dedicated to cycling between your presets which you can customize through the Astro Command Center app. While we're on the subject, the Command Center's UI is refreshingly straightforward, making it easy to see all the features the headset has to offer. I just wish there were more options to play with, like surround sound customization or the ability to deactivate the pesky auto-off feature which automatically shuts off the A50 Wireless if it remains stationary for too long. The feature sounds good on paper but is disastrous for users who simply sit really still during their gaming or viewing sessions.
The headset's base station is perhaps its most stand-out feature, allowing users to charge the headset wirelessly even while in use. Our favourite thing about the dock is how it provides nifty visuals of the different statuses of the A50, such as its battery level, whether it's connected to your PC or console, which preset you're currently on, and whether or not you're rocking the Dolby surround sound. With Astro throwing in such a great charging station with their premium headset, other top brands need really should start following suit.
Aesthetics
I'm not gonna lie, the Astro A50's on-the-nose gamer design isn't for everybody. It's monochrome, bulky and angular all around, with rods on both its sides connecting the earcups to the headband.
For some reason, the rods have ruler-like notches along its sides that are either functional or there to give it more of a heavy-duty vibe. Astro seems to love slapping their labels on anything they can, whether it's their brand name, model, or logo, you'll find one of them wherever you look.
The flat, perforated boom mic is neither retractable nor detachable, meaning it remains very noticeable even if you point it upwards. This pretty much cements the headset's overall design as a gaming one since nobody's about to walk around town sporting a mic on the side of their head.
On the plus side, its earpads are magnetic, making them easy to snap off and replace in case they're damaged or if you just want to swap them out for the comfier synthetic leather ones that come with the A50 Mod Kit. Personally, I like the look of my gaming headsets to be on the subtler side. But if you prefer a more avant-garde peripheral that looks like it was designed by Skynet, then you're going to love the Astro A50 Wireless.
Final Thoughts
The Astro A50 Wireless' excessively gamer look may scare away some people, but that really shouldn't stop you from giving it a real shot. Underneath its futuristic exterior lies a remarkably comfortable headset with sound quality so good that it would give the best in the industry a run for their money. Not to mention the highly functional base station and top-notch microphone.
Price reduction
We all know this is a lot to spend on a gaming headset, but the Astro A50 Wireless is one of the few that truly makes the price feel justified.
FAQs
Yes, the Astro A50 headset is certainly one of the best gaming headsets in the market. They offer excellent all-round performance, especially in the audio and comfort departments, and therefore offer very good value for money.
Last update on 2023-12-11 / Affiliate links / Images from Amazon Product Advertising API
It depends on what you're looking formin a gaming headset. The Astro A50 are excellent, but if you want something at the absolute top end, then take a look at the SteelSeries Arctis Pro Wireless. It's probably a better all-round headset, but doesn't come cheap.
Yes, the Astro A50 is a better gaming headset that the A40 in our view. The A50 offers wireless connectivity which is just so convenient, and also offers better audio quality and all-round performance.
No, the Astro A50 does not have any form of active noise cancellation (ANC). However, they do block some external sounds due to the nature of their design.
Full Spec List
| | |
| --- | --- |
| PRIMARY SPECIFICATIONS | |
| Microphone: | 6.0mm uni-directional, voice isolating |
| Ear Coupling: | Over-Ear |
| Drivers: | |
| Wireless: | Up to 30ft |
| Standby Battery Life: | ~ 20 months |
| Wireless Frequency: | 2.4GHz |
| Battery Type – | Lithium Polymer, single cell ­­ |
| PHYSICAL SPECIFICATIONS | |
| Weight w/o Cable: | |
| TECHNICAL SPECIFICATIONS | |
| Transducer Principle: | Open Air |
| Frequency Response: | |
| Characteristic SPL: | |
| REQUIREMENTS | |
| Windows 10 | |
| Windows 8.1 | |
| Windows 8 | |
| Windows 7 | |
| Mac | |