ⓘ We are reader-supported and may earn a small commission at no additional cost to you if a purchase is made through one of our links.
SteelSeries has made quite the name for itself in the gaming scene, developing different kinds of high-end peripherals from keyboards to mousepads – all specifically designed for the video game circuit. They aren't novices when it comes to headsets either, having released their share of well-received gaming headsets like the Arctis 7 and the more recent Arctis 9x. In this SteelSeries Arctis 7 review, we're going to find out how well this wireless headset fares three years down the road, and whether or not it's still worth picking up today.
SteelSeries Arctis 7 Review
Design & Build -

9/10

Features -

8.9/10

Sound Quality -

8.2/10

Mic Quality -

8/10

Battery Life -

8.6/10

Comfort -

8.5/10

Total Value -

9/10
SteelSeries Arctis 7 Review Summary
If you can get past the disappointing bass and how unsteady the headset is when in motion, the SteelSeries Arctis 7 has some excellent features. It's one of the coolest wireless gaming headsets around and is comfortable and sturdy to boot. Its sound quality is more than enough to elevate your gaming experience, especially considering how well the surround sound works. And to top it all of, it's got a battery life that puts most of its competition to shame. If a mid-range wireless gaming headset is what you're after, you'll be hard-pressed to find one that beats the Arctis 7.
Pros
✓ Sleek and stylish design
✓ Flexible yet sturdy
✓ Very comfortable
✓ Excellent battery life
✓ Good sound and mic quality
Cons
✗ Lacklustre Bass
✗ Easily dislodged
✗ Surround sound can only be accessed through the app
Pressed for time and can't get through the entire review? Just click any of the links below to skip ahead to that section.
What is the SteelSeries Arctis 7?
SteelSeries' Arctis line refers to their gaming headsets both wireless and wired. The SteelSeries Arctis 7 is a wireless headset variant that caters to gamers looking for high-quality audio for their PCs and consoles without the hassle of a cord getting in the way. It is SteelSeries' first truly wireless headset, though the Arctis 3 did have a Bluetooth edition. While it was first introduced in 2017, this gaming headset was updated last year with slight changes to the design and minor improvement to wireless range among other things.
The Arctis 7 can be classified as a mid-range wireless headset with its acceptable $179 price tag and offers gamers stellar sound quality, low-latency connection, a capable microphone, and lengthy battery life. Its design is a good blend of classy and chic and is perfect for people who are looking to veer away from gaming headsets that are just too edgy or busy-looking.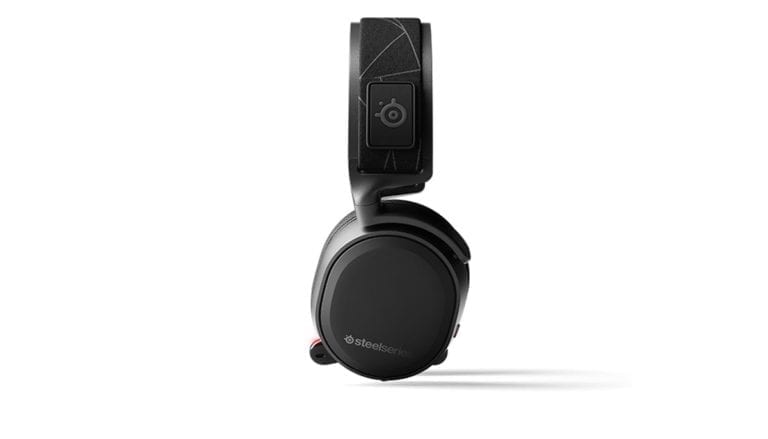 SteelSeries Arctis 7 Features
Battery life
SteelSeries' Arctis 7 sports an excellent battery life of up to 24 hours on a single charge which obliterates the already impressive 16 hours of the Sennheiser GSP 670. This, of course, depends on a variety of factors so a 20-hour estimate would be more realistic but still very impressive.
Stand/Carry case
Aside from the cords and detachable boom mic, the Arctis 7 doesn't come with any freebies so don't go expecting a shiny stand or case.
Active/Passive Noise cancellation
The Arctis 7 isolates noises as well as you'd hope without the help of Active Noise Cancellation technology and can satisfactorily block out minor ambient sounds at home or when you're out and about. Just don't count on it to drown out the blaring sounds of your morning commute.
Software
Just like the other headsets in the SteelSeries roster, the Arctis 7 utilizes the SteelSeries Engine 3 software suite, allowing you to fiddle with the device's audio range and output as well as toggling the 7.1 surround sound. While having to install the accompanying software just to enable the surround sound feature isn't the worst thing in the world, it can still be a drag especially for console gamers looking for a plug and play experience.
Connectivity
The headset features wireless connectivity through a USB dongle that works perfectly fine with a PC, Playstation 4, and docked Nintendo Switch. It also comes with a 3.5mm cord that you can use to establish a wired connection with any of your devices. Bear in mind, however, that you'll be missing out on some software-related features and different audio channels that are specific to wireless.
Sound Quality
While the Arctis 7's bass is competent enough, it's easily its weakest trait as the bass isn't as pronounced and boosted as it is in some rival headsets. In video games, explosions and ambient rumble sounds may come across as underwhelming, especially for audiophiles who prefer deep, punchy bass. Music-wise, the bass comes across okay but isn't as defined as some would like, particularly to those who enjoy bass-heavy music like Hip-Hop, R&B, and EDM.
The mids are excellent, though some of the lower ranges can cause muddled audio on account of the lacklustre bass. Trebles are fine for the most part, but there are some inconsistencies when it comes to low and mid-treble. Dips in the low-treble could reduce the clarity in video game voice-overs and song vocals, while the spike in mid-trebles may cause higher pitch syllables to sound shrill. Overall, the Arctis 7 isn't the best gaming headset when it comes to audio quality but is competent enough to provide the average gamer with a great listening experience.
Microphone
The headset's mic offers solid recording quality and is Discord-certified, meaning it automatically processes your voice in a way similar to how the app would. It also comes with remarkable noise-cancelling that's capable of distinguishing your voice from loud sounds in your environment as if you were in a gaming event or internet cafe.
Surround Sound
The Arctis 7 features exceptional 7.1 surround sound technology, bringing games that properly support 3D audio to life. it's especially useful in shooter titles like Escape from Tarkov and PUBG where you can place your enemies through the noises they make and the direction they're coming from.
What's SteelSeries Arctis 7 like to use?
As with most of the SteelSeries headsets, the Arctis 7 is exceedingly comfortable thanks to its signature adjustable velcro strap and supple earcups that don't trap much heat. Unfortunately, it doesn't handle movement very well and moderate twists and turns may be enough to dislodge it from your ears, let alone getting up and walking around. This is particularly disappointing since its a wireless headset and the freedom to move around should've been one of its upsides.
The headset works perfectly fine right out of the box and connecting it to your device of choice is painless thanks to the USB dongle. If you want to fine-tune your audio a little bit more, the accompanying SteelSeries Engine 3 is user-friendly and shouldn't give you much trouble. Sadly, if you want to enjoy the surround sound feature, you have no choice but to download the app to enable it.
Operating the Arctis 7 is simple enough. On the bottom of the left earcup, there's a volume dial, microphone button, and three ports:  a four-pin port, a Micro USB port, and a 3.5mm port. On the bottom of the right earcup lies the power button and a dial dedicated for switching between supported audio channels. The retractable mic can be extended from the left headphone and reaches around 10 cm in length.
Since the Arctis 7 utilizes a 2.4GHz wireless RF USB dongle, its flexibility and range of devices are more limited compared to Bluetooth capable headsets. In return, however, you can enjoy almost zero latency which is absolutely perfect for online gaming with friends.
Aesthetics
Unlike most gaming headsets, the Arctis 7 doesn't go out of its way to make itself look like it's meant for video games. There's no elaborate RGB lighting or edgy, futuristic design. Just a couple of sleek, oval-shaped earcups and its trademark adjustable suspension headband that oozes style. The porous, over-sized earcups are comfortably padded to easily accommodate larger ears and provide ample airflow to avoid discomfort. While most of the headset is designed to be remarkably flexible, it's also surprisingly sturdy and more than capable of withstanding the occasional bump or drop.
Final Thoughts
The SteelSeries Arctis 7's has a lot to offer for a headset at its price range. Its low-key yet stylish design will appeal to gamers looking for a more toned down gaming headset, and its comfortable fit, lengthy battery life, and above-average sound quality make extended gaming sessions a delight. Shooter fans will adore the surround sound feature which can come increasingly handy in competitive matches. Even though its mediocre bass profile may turn off audiophiles and its lack of stability limits its use away from a couch or desk, the Arctis 7 remains one of the best mid-range wireless gaming headset options around.
Last update on 2023-12-11 / Affiliate links / Images from Amazon Product Advertising API