ⓘ We are reader-supported and may earn a small commission at no additional cost to you if a purchase is made through one of our links.
Since the Xbox One utilizes its own form of connectivity, tech companies usually end up creating special variants just for the console, like the Turtle Beach Stealth 600 Gen 2 Xbox One edition. SteelSeries also wanted in on the action, which is why they came up with the SteelSeries Arctis 9x – a premium wireless headset that was built primarily for the Xbox One/Xbox Series X/S but works on PCs too.
SteelSeries Arctis 9x Review
Design & Build -

8.1/10

Features -

8.2/10

Sound Quality -

8.9/10

Mic Quality -

8.3/10

Battery Life -

8.8/10

Comfort -

7.7/10

Total Value -

8.3/10
Summary
The Arctis 9x is simply one of the best, if not THE best, wireless gaming headset designed specifically for current and next-gen Xbox consoles.
Between its premium sound quality, eye-catching design, functional controls, and lengthy battery life, there really isn't all that much more you can ask for. Just don't expect much of a PC experience. Is it expensive? Sure. Is it worth every penny? Definitely.
Pros
Marvellous sound quality

Trademark Arctis design is still awesome

Very comfortable

Rugged build

Great microphone

One of the longest-lasting batteries around

Robust software support
Cons
Cons:
Kinda pricey

Connecting wireless to your PC requires you to buy an Xbox Controller Adapter

Fit might be too snug for people with large heads

Bad noise isolation
But how well does it fare against the far cheaper Stealth 600? And is it worth your hard-earned cash if you're also part of the master race? We're looking at its ins and outs to see just how good it really is, in this SteelSeries Arctis 9x review.
Short on time and can't read through the entire review? Click any of the links below and you'll skip right to that section:
What is the SteelSeries Arctis 9x?
Just like the previous entries in SteelSeries' Arctis lineup, the Arctis 9x is essentially the Xbox variant of their Arctis 9 wireless headset. Since the Xbox requires a different kind of connection compared to PCs and PS4s, tech companies continuously have to come up with special editions that cater specifically to Microsoft's variety of consoles.
Connectivity aside, the Arctis 9x features the stellar audio fidelity and loveable design that the SteelSeries is known for, along with one of the best batteries we've seen in a wireless headset.  It doesn't come cheap, however, as its $200 price tag puts it in the same room as the fantastic Razer Nari Ultimate, and double the price of the beloved Turtle Beach Stealth 600. The Arctis 9x sports a look that's easy to love and fairly similar to the other headsets in the SteelSeries roster, though it's a tad on the wilder side.
Features
Connectivity
The Arctis 9x connects directly to your Xbox consoles in the same way its controllers do – via Xbox Wireless. Unfortunately for PC gamers, you'll need to purchase the Xbox Controller Adapter separately if you want to connect wirelessly since this version of the headset doesn't come with a transmitter. Alternatively, you can connect to PCs and smartphones via Bluetooth or 1/8" audio cable.
Battery life
One of the best things about this headset is its amazing battery life which can last up to 28 hours of continuous use. This beats out the Arctis 7's impressive 24-hour runtime by quite a bit. It also takes only 2 hours to charge it back to full power.
Noise Cancellation
The Arctis 9x doesn't come with any form of active noise cancelling and its isolation capabilities are mediocre at best. It struggles to block out moderately loud voices in the same room and planes flying overhead will sound just as loud as if you weren't wearing a headset at all.
Accessories
If you were hoping for some nice freebies you're going to be sorely disappointed, as this headset only comes with the peripheral itself and its USB to micro-USB charging cable. The wireless transmitter that came with the original is notably missing since this version was built to synergize with the Xbox Wireless feature.
Surround Sound
This variation of the headset utilizes Windows Sonic Spatial Audio which is Microsoft's version of virtual surround sound.
Software
As with all of its more recent headsets, the Arctis 9x makes use of the intuitive SteelSeries Engine software which allows you to experiment with equalizer levels, create your own presets, adjust your mic volume, and manage your different profiles. There's also an option to stop the Bluetooth from automatically turning on whenever you fire up the headset. Perhaps its only flaw is that it gives you no control over the Windows Sonic Spatial Audio.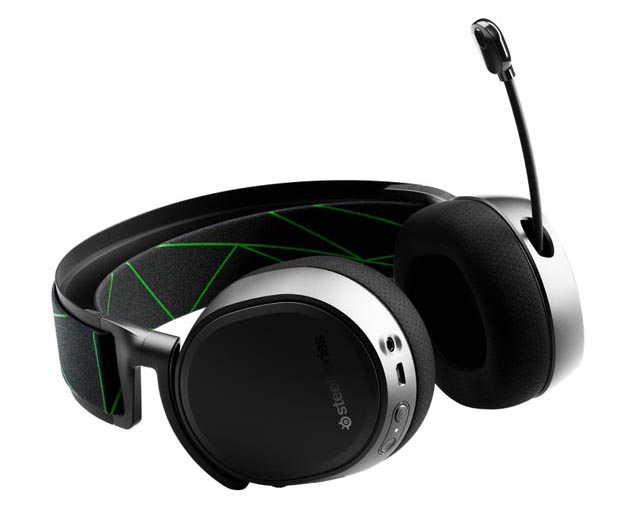 Sound Quality
Luckily for the Arctis 9x, its best feature is the remarkable audio quality that makes it one of the best-sounding headsets for Xbox consoles. Its bass profile boasts great accuracy as lower frequency sounds come across full and punchy. Thuds may not feel as resounding as you'd like and you won't get as much rumbling as you would with more bass-heavy headsets, but it still sounds fantastic whether you're playing your favourite shooter or watching a good ol' action flick.
Its mids are crystal clear, rendering vocals and instruments almost perfectly, and its phenomenal trebles tie everything together nicely, with voices, sound effects, and the musical scores sounding individually distinct and precise.
The Arctis 9x's microphone offers excellent recording and has your voice sounding nice and clear. You might sound a little crisper than you're used to which is likely be part of the way the headset separates in-game audio from your vocals. The mic's noise isolation is also exceptional as it's able to block out ambient noises in even rowdier environments.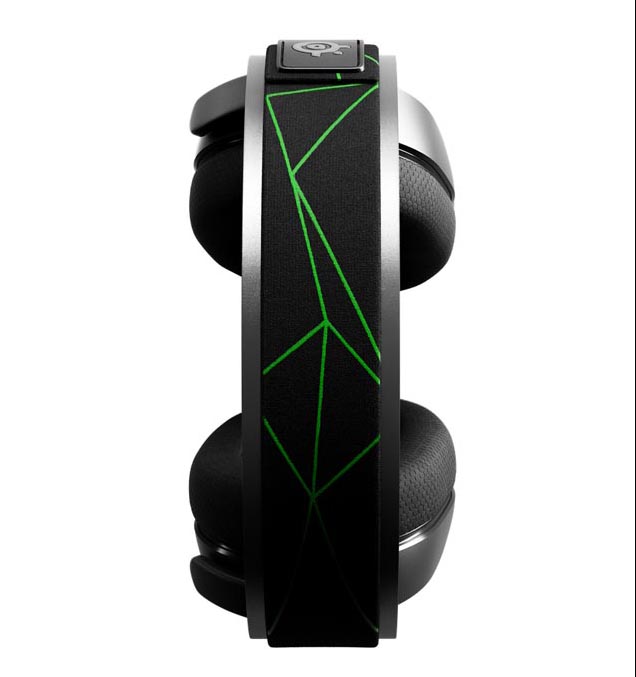 What's it like to use?
Since the Xbox doesn't need a USB dongle or wireless transmitter, connecting your headset to the console is even easier than most. Just press the connect button on your console then hold the power button on your headsets for a few seconds and you should receive a prompt telling you that the pairing was successful. As a bonus, you can simultaneously connect to your smartphone via Bluetooth and listen to music or continue a phone call while you're playing.
The Arctis 9x comes with a healthy amount of buttons, all of which are placed in convenient locations on the left and right earcups. The power button doubles as the equalizer preset control and you also have a dedicated button for muting your mic. There are two wheels that control volume and channel mixing while the Bluetooth button serves multiple purposes, including answering and dropping calls and pausing and playing music. This shows you that SteelSeries built the headset for more than just gaming and really intended it for casual use as well.
They didn't skimp on comfort either, as the large earcups fit a variety of ear shapes and sizes and are well-padded yet permeable. As with other Arctis models, the ski-goggle headband feels great but only if it fits your head well. If your head is a little on the larger side, the headset might feel a bit too snug since the headband's elasticity is limited. In return, you get a satisfactorily stable experience that can withstand moderate movements without much trouble. Just don't go using it in the gym or for your daily jog.
Aesthetic
If you've seen one Arctis headset, you've seen em all. Kidding aside, the Arctis 9x looks a lot like the Arctis 7 which is completely fine considering its design was one of its best features. Its oversized oval earcups are connected to arched swivels that end in hollow square shapes. This is where the ski-goggle style headbands run through, making an adjustable loop that's more rigid on top but flexible on the bottom and secured together by a velcro flap.
The microphone is pliable and retractable so you can easily move it around or get it out of your way when needed. It's a great-looking design that's youthful and fresh but isn't so loud that you'd avoid using it outdoors. It also happens to be very sturdy thanks to its well-built earcups and the metal sheet that runs through the top of the headband.
Final Thoughts
Xbox fans rejoice, as SteelSeries manages to usher one of the best console-compatible headsets around over to Microsoft's beloved consoles. The Arctis 9x connects seamlessly through Xbox Wireless and brings a top-shelf audio experience, tremendous battery capacity, and the distinguished build and design that made the Arctis line so famous in the first place.
Be warned, however, that the headset's connectivity is quite clumsy on PC and you'll have to buy a Controller Adapter just to make it work. But if you're on the lookout for the best wireless headset for your Xbox One or Xbox Series X/S, the SteelSeries Artics 9x is surely a frontrunner.
SteelSeries Arctis 9x
Integrated Xbox Wireless connectivity: Connect directly to your Xbox Series...
Bluetooth: Simultaneously connects to Bluetooth and Xbox to mix in music...
Clearcast Microphone: The Arctis mic uses a bidirectional design, the same...
Award winning sound: The award winning soundscape of Arctis emphasizes...
Last update on 2023-12-11 / Affiliate links / Images from Amazon Product Advertising API