ⓘ We are reader-supported and may earn a small commission at no additional cost to you if a purchase is made through one of our links.
Razer is no stranger to premium peripherals, garnering a reputation for developing cutting-edge gaming tech and top-of-the-line devices at prices generally higher than their competitors.
CHECK TODAY'S PRICE HERE: See at Amazon
Razer Basilisk Ultimate Review
Design & Build -

8.2/10

Buttons -

8.4/10

Click Latency -

8.6/10

Battery Life -

8/10

Comfort -

8.2/10
Summary
Aside from its incredibly steep asking price, there's pretty much no reason not to recommend the Razer Basilisk Ultimate. Whether its performance, looks, toughness, or extra controls, this mouse has got you covered. The awesome optional charging dock is just the icing on the cake.
Pros
Top-notch performance and a ton of buttons
Eye-catching design that's both comfortable and tough
Optional charging dock is both gorgeous and functional
Excellent battery life
Cons
Costs an arm and a leg
Sniper button might be tough to reach for smaller hands
Razer Synapse 3 offers no support for macOS
In this Razer Basilisk Ultimate review, we're breaking down one of their most luxurious wireless mouse models that features the best tech the brand has to offer along with a plethora of buttons.
But is it really worth spending a small fortune on considering all the great alternatives out there? Can Razer justify its sky-high price tag with its mix of bleeding-edge performance and a catchy aesthetic? Let's find out, shall we?
Can't spare the time to read the whole review? Just click any of the links below and you can skip right to that section.
What is the Razer Basilisk Ultimate?
Razer's Basilisk line of gaming mice features the brand's proprietary optical sensor as well as a higher degree of functionality through a greater number of buttons. Our recent review of the Razer Basilisk V2 showed an outstanding wired mid-range mouse that may be a little on the expensive side but manages to dazzle with its good-looks, extra controls, and top-notch performance.
The Basilisk Ultimate takes it a step further by doing away with the pesky cord in favour of first-rate wireless tech and adding extra customizable RGB zones for a better light show. Razer even sweetened the deal by throwing in an optional charging dock which is a nice touch.
As expected from a luxury Razer device, the Basilisk Ultimate is one of the most expensive wireless gaming mice we've come across, sporting a price tag that's a lot higher than the already pricey Logitech G502 LIGHTSPEED.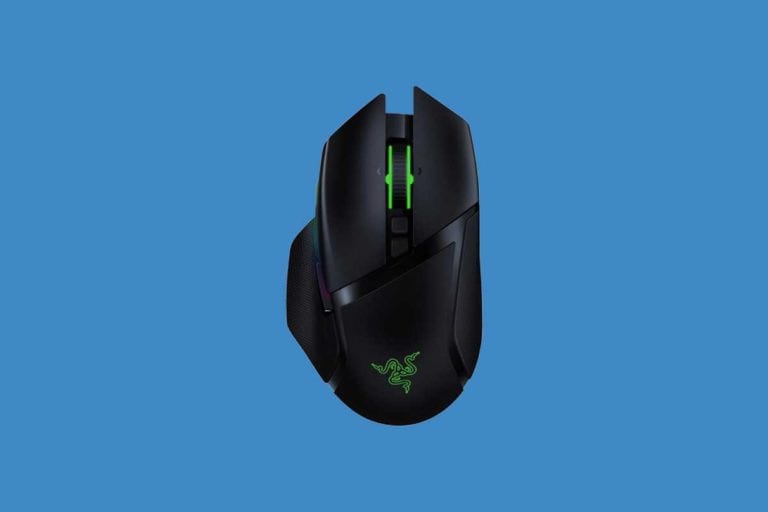 Features
Sensor
The Basilisk Ultimate features Razer's signature Focus+ optical sensor that boasts a fantastic 20,000 DPI and a remarkable 1000 Hz polling rate, making it an amazing choice even for games that demand the most cat-like reflexes.
Connectivity
It connects primarily via its wireless USB receiver that can either be plugged in directly to your PC or to the optional charging dock which can be used as an extension. If you fancy a wired connection to charge as you game, the mouse also comes with an excellent 1.8-metre long USB cable.
Buttons
This mouse boasts a total of 11 programmable buttons that include a left and right wheel tilt as well as a Hypershift button that offers gamers another set of programmable controls.
Battery Life
At full charge, you can get around 100 hours of continuous use without RGB functionality and approximately 36 hours with the lights turned on which is remarkable. This is a fair bit longer than the already impressive Corsair Dark Core RGB Pro SE.
Software
Razer's Synapse 3 companion software is one of the best there is and allows you to painlessly customize all of the Basilisk Ultimate's features, including the programmable buttons, pointer sensitivity, RGB lights, and custom profiles.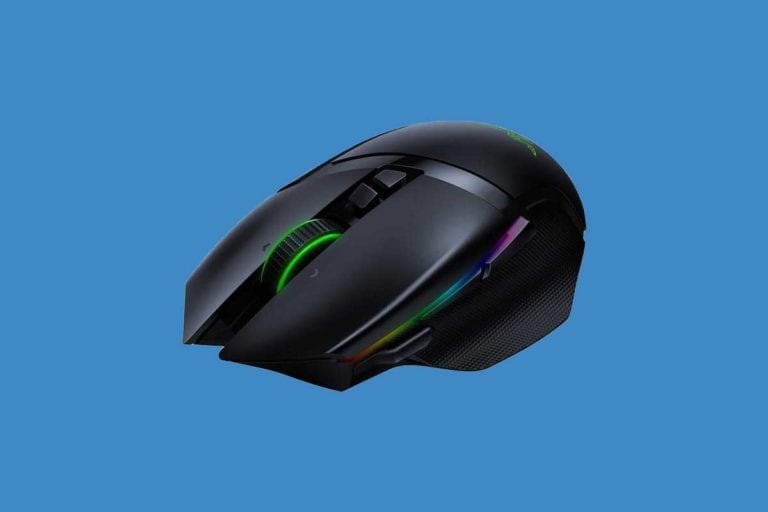 Design and comfort
Razer's Basilisk models have always been know for their wonderfully comfortable form factor and the Basilisk Ultimate is no different. It's essentially identical to the Basilisk V2 and Basilisk X HyperSpeed with its slanted design and oversized thumb rest, but with a more luxurious-feeling texture on the thumb portion.
The mouse's shape and smart button placement make it excellent for both palm and claw grips no matter your hand size, though smaller mitts may have a hard time reaching the sniper button if you prefer the latter grip style.
Unlike the Logitech G502 and Corsair Dark Core Pro SE which both come with optional weights, the Razer Basilisk Ultimate offers no such thing but its cableless weight of 107g should be optimal for most gamers anyway. It's crafted out of high-grade plastic that's built to last and is tightly assembled with no noticeable wobbly sections or loose parts.
As looks go, this mouse is one of Razer's louder offerings thanks to its more angular design and asymmetrical highlights. But it's all tastefully put together down to the everpresent triple-snakes logo and gorgeous RGB strips on either side of the mouse wheel. If you like your mice a little more "gamer" looking, the Basilisk Ultimate is as handsome as they come.
If you choose the variant that includes the charging dock, which we definitely recommend, you'll be treated to a lowkey trapezoidal cradle that has its own RGB strip lined along its bottom portion.
What's it like to use?
Setting up the Basilisk Ultimate is as easy as plugging in the wireless USB receiver and switching on the peripheral. It's intuitive enough right out of the box, but you'll want to install the user-friendly Razer Synapse 3 app to fine-tune the mouse's sensitivity and customize its bevy of programmable buttons and RGB array. Thanks to its onboard memory, all your settings will be saved in case you decide to switch PCs.
Unfortunately, the software is only compatible with Windows, so if you're using a Mac you'll need to do all your customizing on a Windows PC first then save your settings. A bit of a hassle, sure. But at least there's a workaround.
When it comes to performance, the Basilisk Ultimate gives one of our personal favourites – the G502 LIGHTSPEED – a run for its money. The Razer Focus+ sensor's 20,000 DPI may be a little lower than the HERO 25K, but it's still insanely high and should be more than enough for any gamer, pros included, to fully utilize.
Its impeccable 7ms click latency is even more impressive than the G502 LIGHTSPEED's speedy 12ms and should have no discernable difference in delay to a wired peripheral. As performance goes, the Basilisk Ultimate is as first-class as they come.
The buttons are all arranged to be easily accessible (save for the sniper button in small hands) and offer the right amount of tactile feedback when pressed. The inclusion of a HyperSense button that allows for a second set of customizable controls adds a whole new level of functionality to an already impressive repertoire.
When we put the mouse to the test with a few rounds of Call of Duty: Warzone, movement and aiming felt extremely precise and satisfying. Switching between the sensitivities of an assault-type weapon and a sniper rifle was seamless and simple thanks in part to the nifty sniper button and, of course, the mouse's exceptional sensor precision.
Final Thoughts
The Basilisk Ultimate is an extravagant piece of gaming equipment. Quite possibly one of the most expensive gaming mice on the market, in fact. But it's not because of any gimmicks or elaborate designs. It's simply magnificent at what it does.
Armed with one of the best sensors on the market, amazingly low click latency, a gorgeous but tough design, and all the buttons you can ask for, there really isn't much this mouse can't do. If you can swing the extra cash, the Razer Basilisk Ultimate is easily one of the best wireless gaming mice on the planet. Just make sure to cop the fabulous charging dock along with it.
Last update on 2023-12-11 / Affiliate links / Images from Amazon Product Advertising API