Throughout the years, Razer has become a status symbol of sorts in the gaming world. Owning one cemented your place as a serious gamer, or at least one with a lot of money.
Razer hardware often stands at the higher end of the spectrum and is nearly always accompanied by a pretty hefty price tag. With more and more high-quality peripherals flooding the market at increasingly reasonable prices, however, Razer can't exactly afford to stay all-premium all the time.
CHECK TODAY'S PRICE HERE: See at Amazon
30 Second Review: Razer Basilisk V2
Design & Build

Features

Total Value
Summary
The original Basilisk was an excellent gaming mouse in its own right, but its younger sibling one-ups it in nearly every way. The Razer Basilisk V2 immediately catches your eye with its striking design and follows up with the highest degree of comfort and an overwhelming level of customization.
The programmable buttons satisfy your need for extra mouse controls no matter what kind of game you choose and the mouse's overall performance lives up to Razer's illustrious name. It's too bad left-handed gamers are missing out on one of the best mid-range gaming mice on the market today.
Pros
✓ One of the most comfortable gaming mice out there
✓ Programmable controls are functional and well-placed
✓ Razer Synapse 3 adds a high level of customization
✓ Basilisk V2 is a handsome looking mouse
✓ Works well with pretty much any genre of video game
Cons
✗ Right-handed only design
✗ $79.99 for a wired mouse might be a little steep for some
The Razer Basilisk V2 is a gaming mouse that sits firmly in the mid-tier range, providing gamers with the top-notch gaming experience that Razer's expected of without emptying your wallet. In this Razer Basilisk V2 review, we're going to find out what changed from the original and whether or not the newer generation still lives up to the lofty Razer name.
Can't stay for the full review? No problem! Click on any of the links below and it'll take you straight to that section:
What is the Razer Basilisk V2?
As you may have guessed, the Razer Basilisk V2 is the follow-up to the Razer Basilisk which was released back in October 2017. The newer model features more than just small tweaks, however, as Razer decided to revamp the outdated design to favour agility, lightness, and customisability.
As with all of Razer's hardware, the Basilisk V2 was built purely with gaming in mind and its impressive number of customisable buttons makes it a great fit for all kinds of games. You can use the extra buttons to map your item shortcuts in League of Legends for more seamless usage or bind them to your individual spells in Witcher 3 to switch on the fly. Or even set them to control your armour shards and extra equipment in Warzone. The possibilities are endless.
As midrange mice go, the Basilisk V2 is relatively reasonably priced at $79.99. That's 10 bucks pricier than the fan-favourite Razer DeathAdder V2 and in the same ballpark as the renowned Logitech G502 Hero, and noticeable cheaper than the wireless Logitech G502 Lightspeed. Lookswise, the Basilisk V2 stuck with a similar form factor as its predecessor but gave it a more modern, futuristic spin. The result is an edgier design that looks great but still manages to remain true to the trademark Razer aesthetic.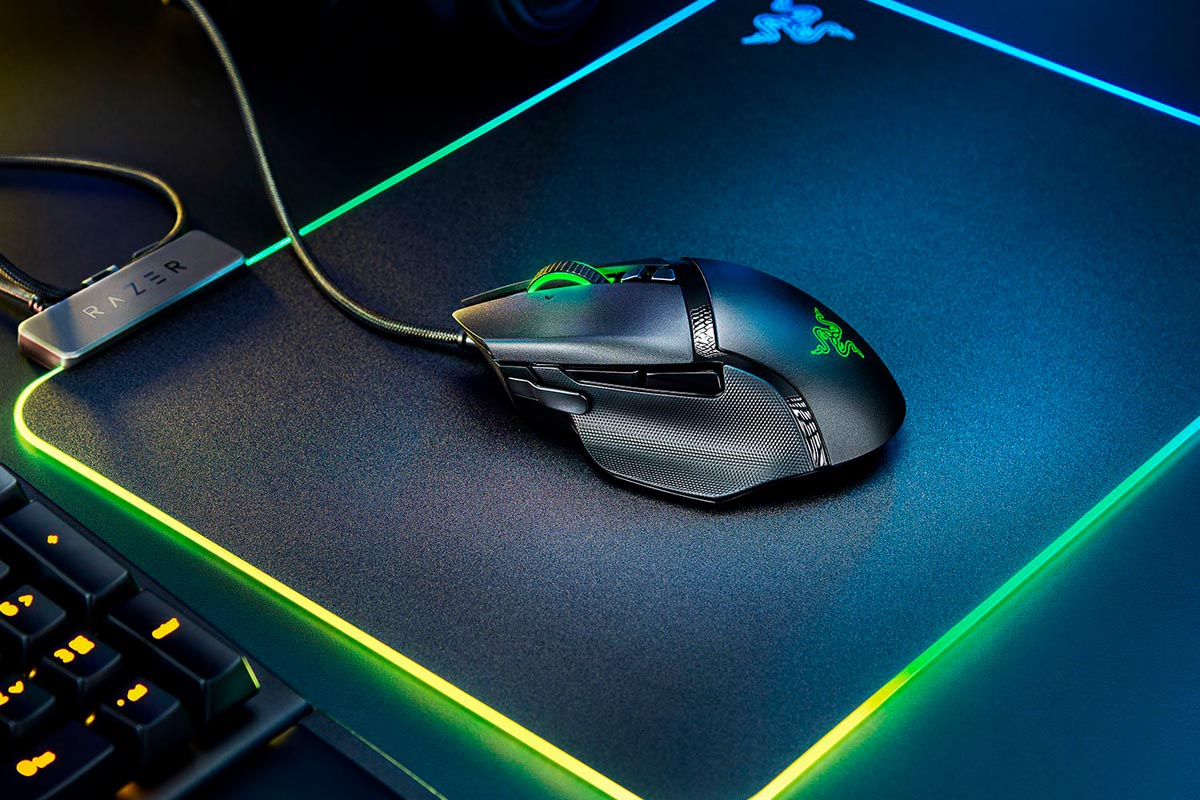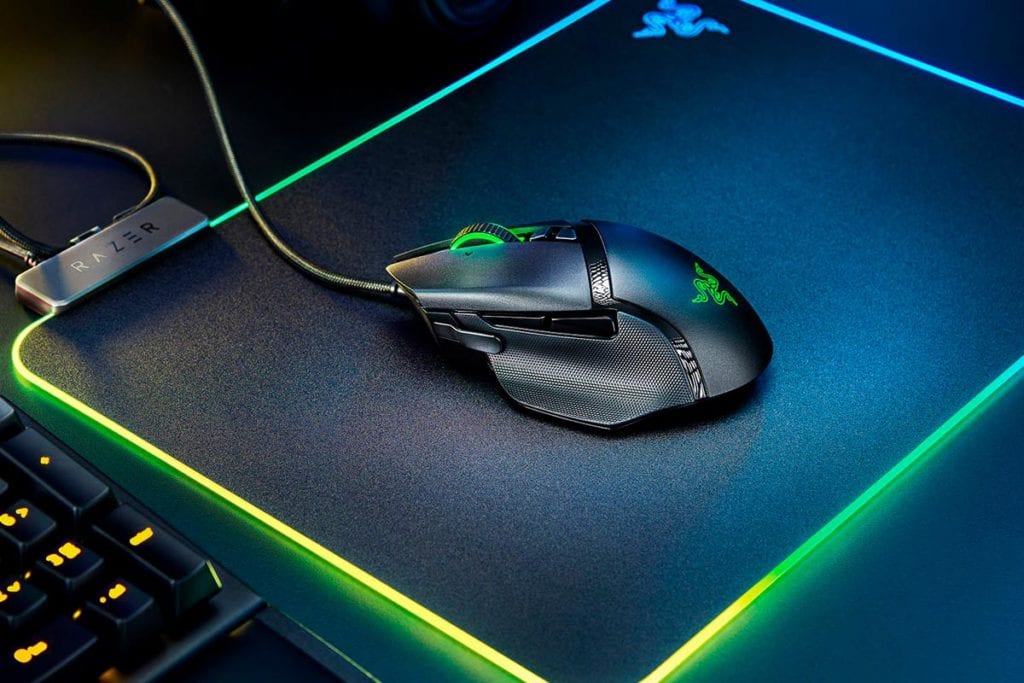 Razer Basilisk V2 Features
Sensor
The Basilisk V2 rocks the brand's proprietary Razer Focus+ optical sensor that boasts a 99.6% resolution accuracy and smart tracking technology that automatically calibrates according to different surfaces in tune with your hand movements to maintain a consistently high level of performance. You're also getting a sky-high 20000 DPI and an insane 650 IPS. The Razer Focus+ just can't be beaten. Its polling rate is as high as you can ask for from a gaming mouse, sitting at 125, 500 or 1,000 Hz.
Connection
This mouse utilizes a wired USB connection that features a 2.1-metre long braided Razer Speedflex cable for minimal drag.
Buttons
If buttons are what you're after, the Basilisk V2 doesn't disappoint. With 11 programmable buttons at your disposal, you can map as many actions as you need whether you enjoy shooters, MMORPGs, or anything in between.
RGB
The Basilisk V2 features light strips that flow through both sides of the scroll wheel as well as the tri-serpent Razer logo that all glow brightly across the 16.8 million colours of the spectrum. They also include a variety of lighting patterns and are fully compatible with Razer Chroma, which means they can be synced with other devices that also use the program.
Software
Using the Razer Synapse 3 application, you can save up to 5 different sensitivity levels between 100 to 20000 CPI which you can cycle through using the CPIswitch. You can also use the app to configure the polling rate and all the programmable buttons that come with the Basilisk V2. Razer Hypershift is a nifty feature you can manipulate here as well, allowing you to switch to different profiles when you press down a specific button.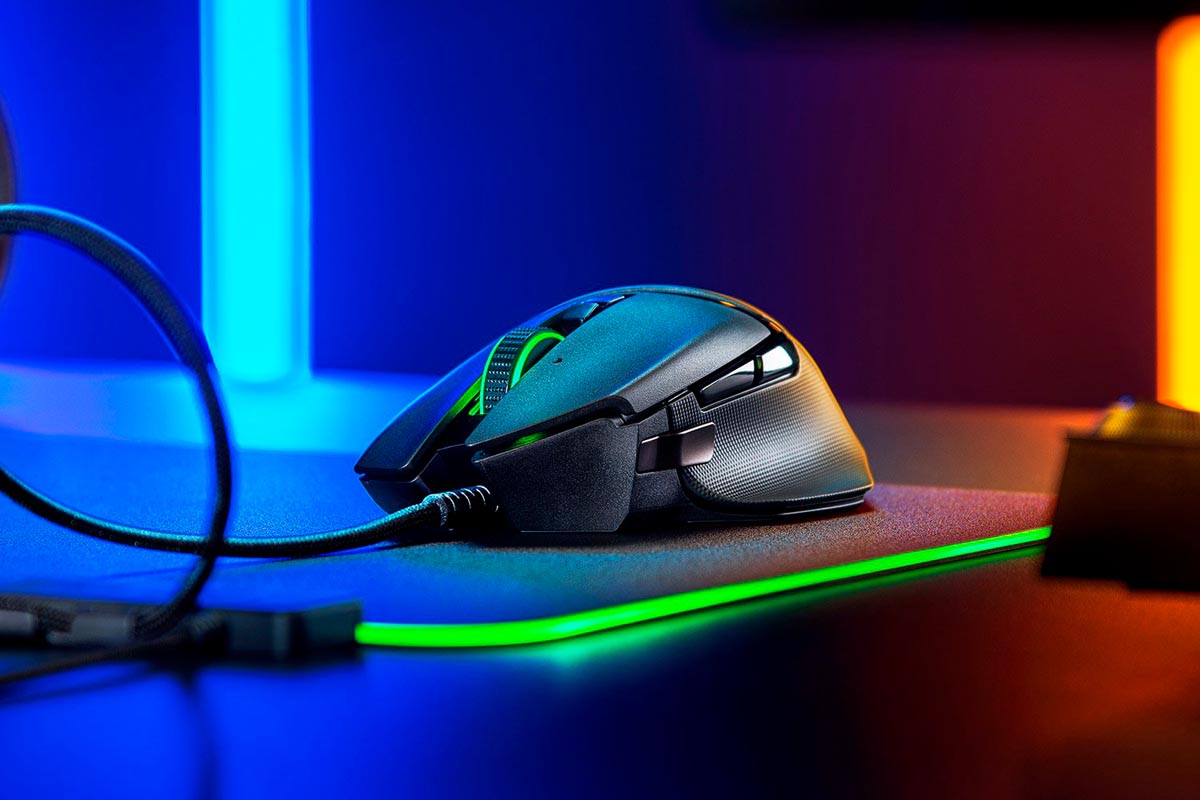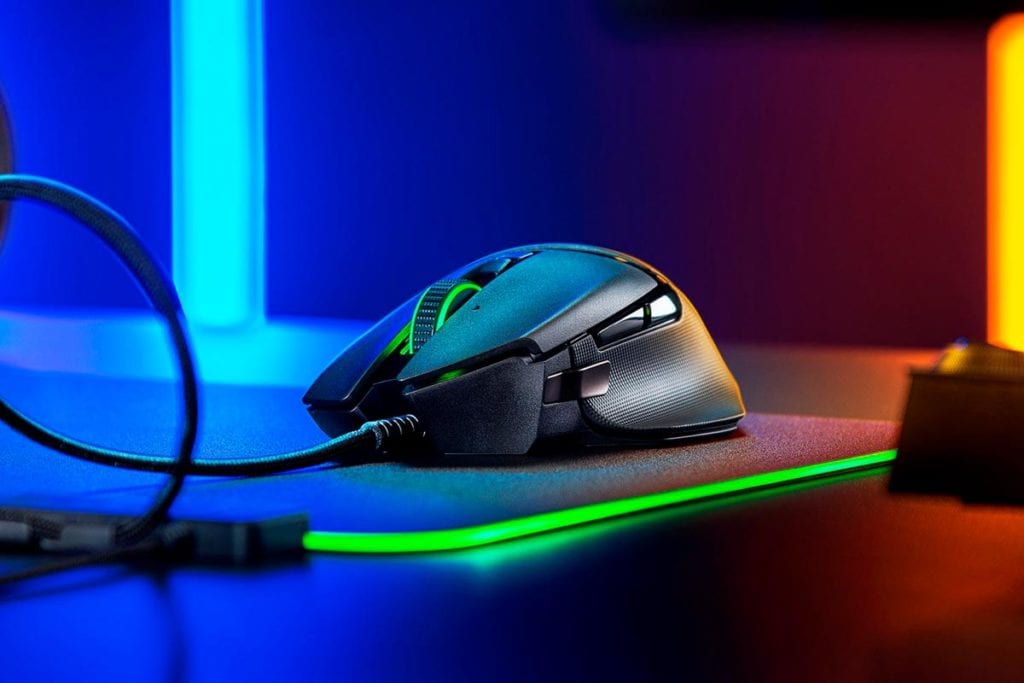 Design & Comfort
Sorry left-handed Razer fans. The Basilisk V2, like its predecessor, is a right-handed only mouse and that's made painfully obvious by the large textured thumb rest on its left side. The mouse buttons are sharper towards the top compared to the previous model and there's now a slanted lined that cuts through the mouse towards its centre. It's one of the more modern-looking Razer mice thanks to its multiple textures and angular design, but its jet black colour and signature logo keep up the trademark Razer aesthetic.
Personally, I prefer the look of the Basilisk V2 over the Deathadder V2 on account of its fresher, edgier design that doesn't push the envelope too far.
Its shape and textured thumb groove make it wonderfully comfortable to use even during extended hours of play. Button-placement is functional and well-thought-out, making it easy to hit any of the controls reliably without having to alter your hand position.
There's even a dedicated wheel that lets you determine the amount of resistance you want your main scroll wheel to have. The Speedflex cable is an awesome touch as well, minimizing the annoying cable drag that may cause your cord to snag on certain textures or parts of your table. Razer obviously had comfort in mind when they were conceptualizing this beast.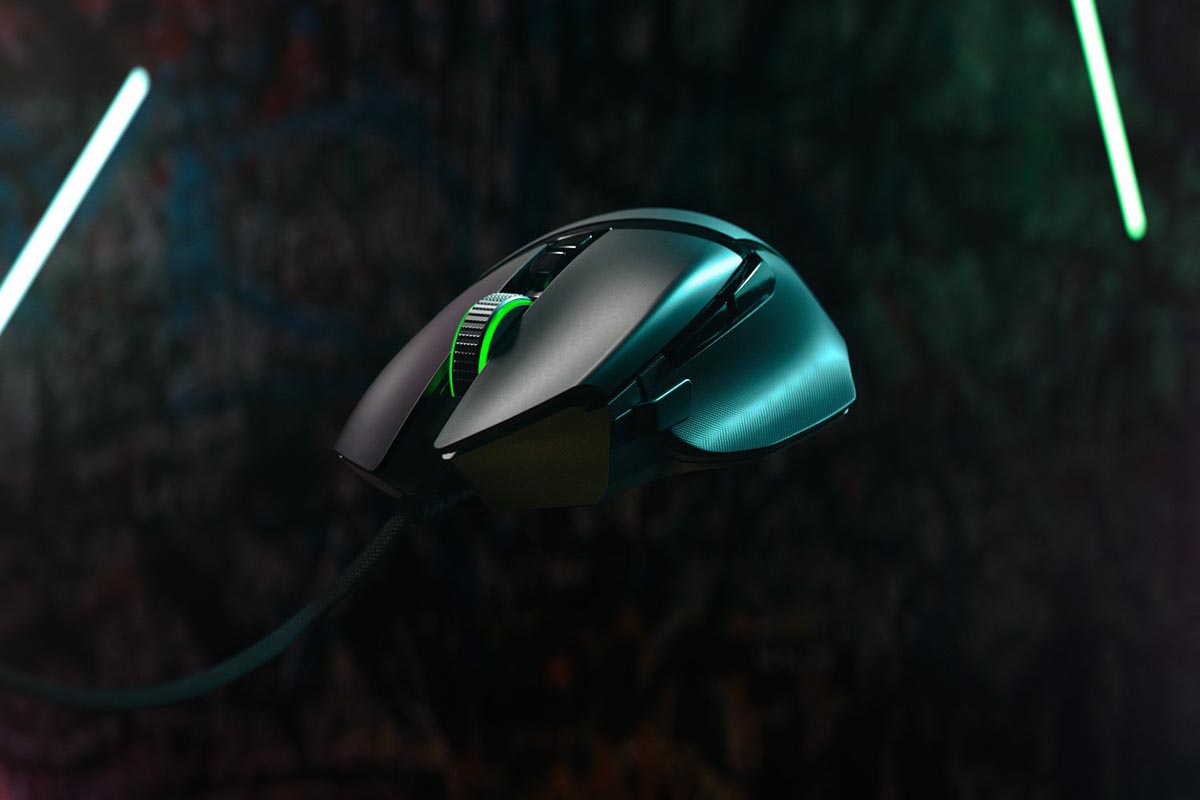 What's it like to use?
The Basilisk V2 works great right out of the box, though you'll want to install the Razer Synapse 3 app to configure your sensitivity presets and the host of programmable buttons. It's also great for customizing your light show. It's a deceptively light mouse that glides effortlessly across a multitude of surfaces and is made all the more comfortable by its well-placed thumb groove and palm rest.
The controls are spot-on thanks to the thoughtful button placement and I didn't have any trouble accessing them even during the most intense moments. While playing Bulletstorm: Full Clip Edition, I assigned one of the side buttons to activate my whip which made pulling enemies towards me and executing combos an absolute blast.
It's an incredibly fast-paced game but the Basilisk V2 kept up splendidly and I was easily able to slow things down with the dedicated DPI button which is the perfect sniping companion. I also tested the mouse with a few rounds of Dota 2 and I found the extra controls especially useful for binding the active items in my inventory. Mouse movement was smooth and crisp, making landing spells and moving through the terrain extremely satisfying.
Final Thoughts
There's a reason why Razer sits atop the gaming peripheral food chain and that's put on full display with the Basilisk V2. Outstanding performance mixed with first-class comfort and an elegant yet functional design leaves little to gripe about with this bad boy. And the programmable buttons add a whole new layer of customization that makes it suitable for all kinds of games.
Razer Basilisk V2
Product Type: Computer Input Device
Package Quantity: 1
Country of Origin: China
Focus plus 20K DPI Optical Sensor: Offers an on the fly sensitivity...
Its price might be a little on the high side for a midrange gaming mouse, but it definitely earns those extra bucks. It's just a shame that left-handed people got snubbed due to its right-handed design.
Last update on 2022-05-24 / Affiliate links / Images from Amazon Product Advertising API