ⓘ We are reader-supported and may earn a small commission at no additional cost to you if a purchase is made through one of our links.
With the best cordless impact wrenches in your hand, no nut or bolt can get in your way. Cordless impact wrenches have become a favourite among gearheads because they are portable and pack a lot of power. Moreover, impact wrenches are versatile, so they are not only used in the automotive industry but can as well assist those in the construction sector.
Impact wrenches can loosen tightly fastened lug nuts in seconds. They are equally efficient when it comes to removing rusty fasteners. While they are powerful, most impact wrenches are exceptionally lightweight and will help you get the job done with minimal strain. At the same time, they have great features that will provide you with a frustration-free user experience.
TL; DR: The #1 Streaming Light for Most People
And unlike pneumatic and corded impact wrenches, cordless impact wrenches are highly manoeuvrable. As such, your movements won't be limited by compressor hoses and power cords when working with battery-powered impact wrenches. Additionally, cordless impact wrenches deliver high torque and will allow you to work quickly, thus saving your time.
If you are in a hurry, click the links below to skip to the product that piques your interest:
The Best Cordless Impact Wrenches to Buy in Australia
1. Best Overall Cordless Impact Wrench: DEWALT 20V MAX XR Brushless High Torque 1/2″ Impact Wrench
Taking the top spot in our review list of the best cordless impact wrenches is the DEWALT 20V MAX XR Brushless High Torque 1/2 due to its high efficiency. Plus, it features a variable speed system, so it can help you tackle a range of tasks.
It has up to three speed settings that you can choose from when working with different fasteners. That being said, you can set the motor to run at 400 RPM,1200 RPM, or 1,900 RPM. With an impressive maximum fastening torque of 700 foot-pounds, this cordless impact wrench can greatly assist you when taking on heavy-duty tasks.
Moreover, the materials from which it is constructed are of superior quality, so you won't have to worry about it breaking while you are working. You will be happy to know that the DEWALT 20V MAX XR can withstand a six-foot to eight-foot drop, making it a suitable option for automotive repair shops and construction work.
It can also be a great addition to your home garage's tool kit since it can come in handy when handling DIY projects. This impact wrench has a breakaway torque of 1,200 foot-pounds, so stubborn bolts and nuts won't stand a chance against it. The grip area is ergonomically designed to give users optimum control in all scenarios.
To make it even better, the DEWALT 20V MAX XR Brushless Impact Wrench is equipped with a ½-inch anvil for enhanced performance. In addition to this, it is fitted with an LED light that will illuminate poorly lit spaces. This means you can use the impact wrench in low light conditions without hurting yourself or damaging the equipment that you are working on.
The brushless motor requires minimal maintenance compared to its brushed counterparts. But most importantly, it allows for instantaneous speed control even when the impact wrench is operating at maximum torque. Nonetheless, this cordless impact wrench does not come with a charger and battery, so you will have to buy them separately.
On the bright side, it is compatible with 20V batteries from other DEWALT tools, meaning you won't have to buy the accessories if you already own equipment with similar power requirements.
---
2. Best for Most People: Makita DTW700Z 18V Brushless 1/2 Inch Impact Wrench
The Makita DTW700Z 18V Brushless 1/2 Inch Impact Wrench has almost the same features as the DEWALT 20V MAX XR, making it the second-best option that we recommend for heavy-duty use.
However, the Makita DTW700Z is lighter compared to the DEWALT 20V MAX XR, so it won't weigh you down, especially when tackling large projects that may require you to work for long hours. Additionally, it has a long list of features that will simplify your work when fastening or loosening the commonly used fasteners.
Thanks to its compact design, you will be able to access bolts and nuts that are located in hard-to-reach areas. Makita's cordless impact wrench has both reverse and forward mode, so you won't have to switch to another power tool to get the work done. Furthermore, the forward/reverse buttons are placed near the trigger switch to give you quick and easy access when making adjustments.
The brushless motor on this impact wrench can deliver up to 2,200 RPM, thus providing you with optimum performance. Also, the hammer mechanism can generate a maximum of 2,700 IPM. This makes the Makita DTW700Z an ideal tool for removing rusted fasteners. What's more, it boasts a nut-busting torque of 1,000 Nm. With this feature in place, you won't have a difficult time breaking bolt heads loose.
Since the manufacturer cares about your safety, the Makita DTW700Z 18V Brushless 1/2 Inch Impact Wrench has an in-built electrical brake system that will bring the anvil to an instant stop when you release the trigger switch. And because it has a four-stage drive system, this impact wrench can be helpful when handling light duty to more demanding tasks.
The other feature that we found impressive is the auto-stop function, which can be engaged when the impact wrench is in reverse or forward mode. There is a control panel placed atop the battery bay that will show you the speed and mode that is in use. To top it all up, the handle is texturized to prevent slippage during usage and is also contoured to increase comfort.
---
3. Best Cordless Impact Wrench for Motorcycles: Lagatuns Cordless Impact Wrench
The Lagatuns Cordless Impact Wrench is yet another reliable unit that you can add to your tool kit. You will get a 21V lithium-ion battery and a charger, so you won't have to purchase anything separately.
One thing that we liked about the charger is that it can juice up the battery in about two hours, which is quite impressive since most chargers take longer. We highly recommend this cordless impact wrench to weekend warriors and DIY enthusiasts since it has all the accessories that one may need.
For starters, it comes with a set of sockets that will help you get started. You can attach or detach the accessories in seconds, thanks to the quick-change system. This not only reduces your downtime but will also allow you to accomplish the task at hand in good time.
The Lagtuns cordless impact wrench is both reliable and versatile. And like the Makita DTW700Z, it has an electric brake system that prevents it from stripping fastener heads. The dual-speed system allows users to apply just the right amount of torque to tighten or loosen fasteners.
To make it even more efficient, the Lagatuns Cordless Impact Wrench sports a brushless motor that can run continuously with minimal mechanical and operational noise. Plus, it won't overheat and neither will the moving parts wear out prematurely. The compartmentalised carrying case makes this cordless impact wrench an excellent choice for those who are always on the move.
---
4. Best Cordless Impact Wrench for Beginners: Panasonic EY75A8X57 Dual Voltage Cordless Impact Wrench
Next on our list of the best cordless impact wrenches is the Panasonic EY75A8X57 Dual Voltage Cordless Impact Wrench, which is known for its advanced features. Despite having a high-performance motor, this impact wrench weighs just under two kilograms and will allow you to unfasten or fasten nuts and bolts without breaking a sweat.
In addition to being compact, this cordless impact wrench is counterweighted to give you a balanced grip. As such, you can angle it at different positions without experiencing any problem. On top of that, the handle is rubberized to give you a comfortable grip that is equally non-slip.
Moreover, this unit has a dual circuit system and is compatible with both 18V and 14.4V battery systems. The circuitry system can automatically detect the type of battery that you have attached, thereby allowing the tool to work efficiently with either of the battery packs.
Besides, the battery bay has a slide style design, so you can switch batteries with ease. The three-mode LED light is placed just above the trigger switch for maximum illumination. When it comes to performance, this cordless impact wrench can generate up to 280Nm of torque, which is enough to break loose most fasteners.
The forward and reverse buttons are placed such that you can reach them without losing your grip. Additionally, the battery gauge indicator will help you avoid interruptions in case the battery runs low. This feature will allow you to replace the used battery with a fully charged pack before the tool powers down.
There is a battery sensor that will alert you if the system is overheating. Due to its minimalistic design, you can work with long sockets in cramped spaces with minimal frustration. The housing is reinforced with a bumper to minimize wear, thus increasing the tool's durability.
Apart from that, the entire body is constructed from materials that are resistant to solvents and grease. Attached to the impact wrench is a belt hook that will allow you to attach the tool to your waist, especially when working with multiple tools.
---
5. Best Cordless Impact Wrench for Automotive Use: HiKOKI WR18DSDL (H4Z) 18V 12.7mm Impact Wrench Naked
Despite its position on the list, the HiKOKI WR18DSDL(H4Z)18V 12.7mm Impact Wrench Naked is just as reliable as the tools before it. This equipment has all the features that you may look for in a cordless impact wrench, thus making it a great addition to your toolkit. It has a dual power mode, so you can apply the setting that best suits you.
The save mode can help you conserve battery power and is ideal for low torque applications. On the other hand, the power mode will make all high torque tasks easy. If you want to change the modes, you can use the S/P switch located on the handle. This impact wrench has a straightforward design, meaning it can be used by both professionals and beginners.
It can efficiently loosen or tighten M10-M18 bolts and other fasteners that can fit the attached socket. This is inclusive of M8-M14 high tension bolts. And like all power tools from HiKOKI, this cordless impact wrench has been rigorously tested to ensure you get a tool that is not only powerful but also reliable. It is equally durable and will provide you with long-lasting service.
Furthermore, the cover is made of aluminium for increased rigidity while minimizing the weight. More on the housing, it has multiple vent holes that allow air to flow in and out of the motor unit. Through this, the motor can lose the heat generated during operation, thereby keeping it cool even when put to extensive use.
The HiKOKI WR18DSDL(H4Z) has a maximum fastening torque of 271Nm, which is slightly lower than that of the Panasonic EY75A8X57. However, it can still tighten or remove fasteners smoothly without straining your wrist. When it comes to ergonomics, the slim handle features a soft grip area for reduced fatigue.
Also, the trigger switch is conveniently curved to prevent your finger from slipping as you apply pressure. The motor is factory lubricated to minimize friction, thus reducing wear. On the downside, neither the charger nor the batter is included in the kit. Nonetheless, this impact wrench is compatible with virtually all 18V battery packs from HiKOKI. Alternatively, you can go for multi-volt batteries.
---
How We Researched the Best Cordless Impact Wrenches
In our search for the best cordless impact wrenches, we visited local e-commerce power tool stores owned by Sydney Tools, WestOz Tools, Mitre 10, Total Tools, Toolmart Belmont, etc. We further broadened our search by looking up high-quality impact wrenches on major online marketplaces like eBay and Amazon.
The impact wrenches on our review list were chosen based on maximum torque output, overall weight, and ease of use. To get the information that we needed, we surveyed reviews left by customers and professional power tool testers. This enabled us to compare each tool with the rest while considering the aforementioned factors and other features.
As a result, we were able to remove the impact wrenches that did not meet the criteria for our selection. To ensure that you get impact wrenches that are both efficient and durable, we had to narrow down the list to five products. So what you are seeing is, without a doubt, a list of the best cordless impact wrenches in Australia.
Cordless Impact Wrenches: Buying Guide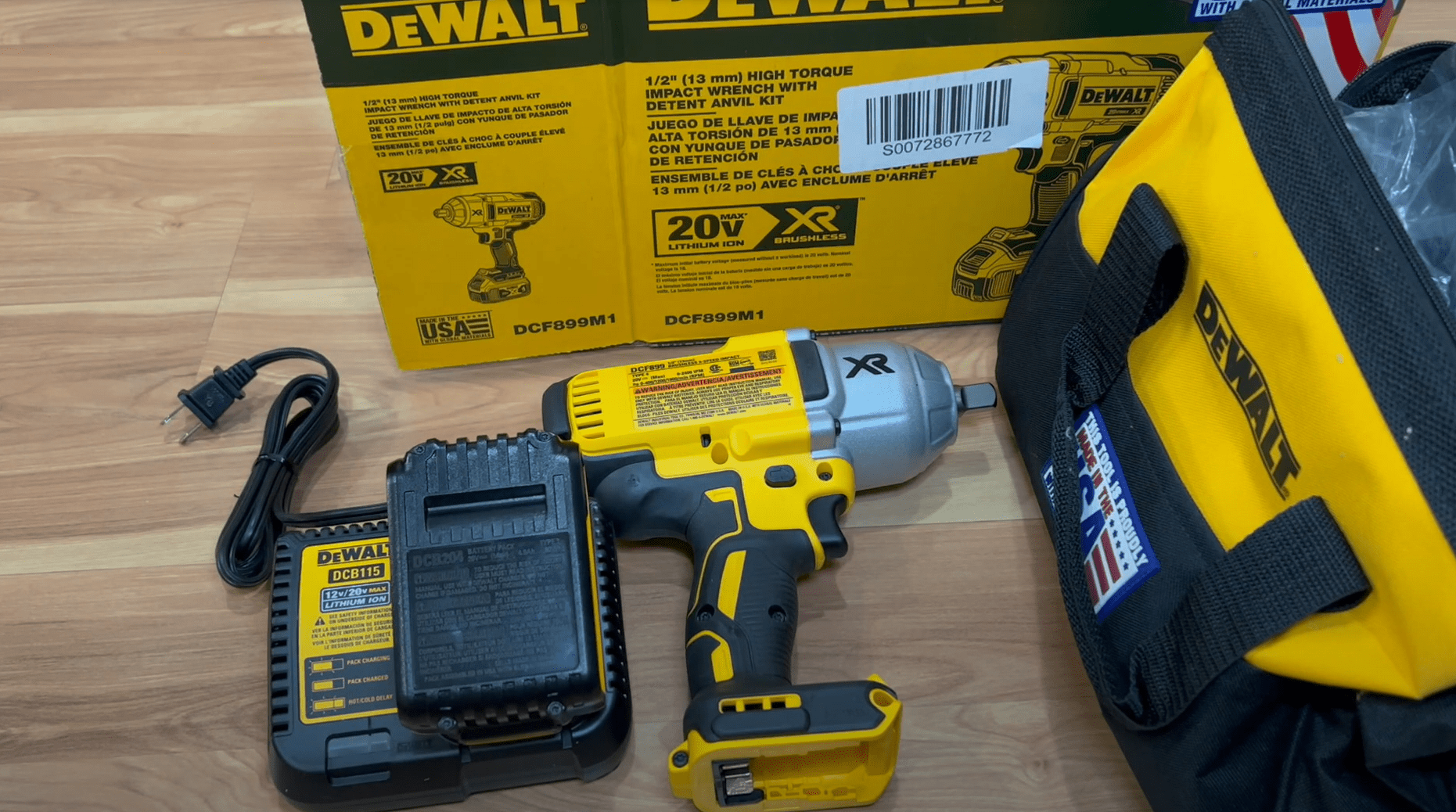 In as much as cordless impact wrenches are designed for the same purpose, they are not equal. Like all power tools, some impact wrenches are more efficient than others because of their build quality, features, specifications, and other factors that may impact performance. Unfortunately, you cannot determine how efficient a given tool is just by looking at it.
Moreover, choosing an impact wrench can prove troublesome since there are countless options to pick from. Additionally, every brand claims it is the best in the market, making it even harder to find a legit product. To make your work easier, we came up with a detailed buying guide that can help you in your search for the best cordless impact wrenches.
As you have seen, we have already listed some of the highly raved cordless impact wrenches that you can find in the Australian market. However, if you still aren't sure which tool to add to your shopping cart, the factors highlighted below can help you choose a cordless impact wrench that matches your needs.
What to Look for When Buying a Cordless Impact Wrench
Impacting Torque
In a nutshell, torque refers to the total rotational force generated by an impact wrench when it is in use. This is probably one of the things that should top your list of considerations since it determines the overall performance of the impact wrench that you choose. Torque is often measured in foot-pounds or inch-pounds.
When buying a cordless impact wrench, ensure that you choose a tool with an appropriate torque rating. As such, you should know the purpose for which you are buying the wrench. With that being said, some tasks may require you to use a high torque impact wrench, while others can effectively be accomplished using low torque impact wrenches. You need to consider the fastening, loosening, and breakaway torque when purchasing an impact wrench.
Most 1/2 Inch cordless impact wrenches in the market can deliver anything between 200 foot-pounds and 1,000 foot-pounds of torque. You should only go for a higher torque rating when tackling demanding tasks. Also, you shouldn't choose an underpowered impact wrench if you intend to loosen or fasten heavy-duty bolts and nuts.
Battery
To get the best from your cordless impact wrench, you need to choose a unit with a high capacity battery. There are different types of batteries with varying voltage ratings. Power tool experts highly recommend lithium-ion batteries since they are stable. In addition to this, they can store more juice and are equally easy to charge.
Many manufacturers equip their impact wrenches with 20V battery packs for increased runtime. Nonetheless, some brands use either 18V or 14.4V batteries. When it comes to choosing batteries, you also need to consider the charging time.
You should go for a battery that can charge to full capacity within a limited duration. This will reduce overall downtime when taking on large tasks.
Socket size
Most standard impact wrenches come with 1/2″ sockets. However, if you are planning on loosening or tightening smaller fasteners, you should consider going for 3/8″.Always ensure that choose an impact wrench with the right size of socket.
Impact per Minute (IPM)
IPM refers to the number of impacts that a cordless impact wrench can make in sixty seconds. Impact wrenches with high IPM can generate strong pulses and will enable you to fasten or unfasten nuts and bolts with the utmost ease.
Weight 
Cordless impact wrenches are preferred because they are portable and flexible. You can only benefit from these features if you go for a lightweight impact wrench. They are easier to maneuver compared to heavy cordless impact wrenches.
Maximum motor speed
The other factor that you should put into consideration is the maximum motor speed. This can be measured by calculating the number of revolutions that the motor makes per minute. Cordless impact wrenches have different RPM rating, which is determined by the specifications of the motor.
Also, most cordless impact wrenches feature variable speed systems that can allow you to customize the motor according to your task requirements.
Size
Impact wrenches come in different sizes. If you are looking for a cordless impact wrench that you can work with in tight spaces, you should buy one with a minimalistic design.
---
You may also be interested in:
Last update on 2023-11-30 / Affiliate links / Images from Amazon Product Advertising API