ⓘ We are reader-supported and may earn a small commission at no additional cost to you if a purchase is made through one of our links.
By using the best cordless electric screwdrivers, you'll be able to finish your DIY projects within the shortest time possible. It does matter whether you are assembling knock-down furniture, installing cabinet hinges, or doing any other task that may require you to fasten or loosen screws. These marvelous machines will help you get the job done.
And unlike manual screwdrivers, cordless electric screwdrivers will enable you to work extensively without straining your forearm muscles. Not only that, but they are also more convenient than corded screwdrivers in that they allow for limitless maneuverability.
TL;DR: The #1 Cordless electric screwdriver for Most People 👇
DEWALT DCF680N2 8V Max Gyroscopic Screwdriver
DEWALT's motion-activated cordless scredriver boasts a high-performance motor that can deliver up to 430rpm, providing you with enough torque to power through most tasks. It also features a two-position handle, LED light, and a quick-change bit holder for user convenience, making this one of the best cordless electric screwdrivers that you can add to your toolkit!
Plus, you won't have to worry about tripping over power cords. The other thing that you will like about cordless screwdrivers is that you can carry them to wherever the job may take you, thanks to their compact design.
Product Name
Makita 7.2V Pen Driver Drill Kit
Bosch Cordless Screwdriver IXO VI Premium
DEWALT DCF680N2 8V Max Gyroscopic Screwdriver
Panasonic EY6220NQ57 Cordless Drill and Screw Driver
HiKOKI DB3DL2(HLZ) 3.6V Li-Ion Cordless Pencil Driver Drill
BLACK+DECKER 3.6V Lithium-Ion Dual Grip Screwdriver
Product Name
Makita 7.2V Pen Driver Drill Kit
Product Name
Bosch Cordless Screwdriver IXO VI Premium
Product Name
DEWALT DCF680N2 8V Max Gyroscopic Screwdriver
Product Name
Panasonic EY6220NQ57 Cordless Drill and Screw Driver
Product Name
HiKOKI DB3DL2(HLZ) 3.6V Li-Ion Cordless Pencil Driver Drill
Product Name
BLACK+DECKER 3.6V Lithium-Ion Dual Grip Screwdriver
Are you in a hurry? If so, you can click on any of the below links to go to a product of your choosing:
The Best Cordless Electric Screwdrivers to Buy Today in Australia
1. Best Overall Cordless Electric Screwdriver: Makita 7.2V Pen Driver Drill Kit
Coming from a brand that is renowned for designing high-grade power tools, the Makita 7.2V Pen Driver Drill Kit may just be the right cordless screwdriver for you. It comes with amazing features that will assist you greatly when installing or removing fasteners.
For starters, it features a dual-speed motor that will allow you to change speeds at will. With this tool, you can fasten screws at 650 RPM or 200 RPM. The former is ideal for low torque applications, while the latter can prove helpful when tackling high torque tasks.
Thanks to its lightweight design, you can work with this screwdriver for long hours without experiencing fatigue. Besides, the soft-grip handle will provide you with maximum comfort throughout the period that you will be working.
To make it even better, the handle is adjustable in that you can use it in the pistol grip or straight-line grip positions. This will give you an easy time when fastening screws in hard-to-reach spots.
Despite having a compact design, the Makita 7.2V Pen Driver Drill Kit is extremely efficient and equally reliable. It delivers maximum torque and will allow you to power through tasks effortlessly. Additionally, this screwdriver is more powerful than its predecessor—the Makita DF010D.
For user safety, this equipment is fitted with an easy-to-use locking lever to prevent accidental startups. Also, there is an auto-stop clutch function that will ensure the fastener is not overdriven into the material that you are working with.
As if that is not enough, this unit features LED lights for user convenience. As such, you will be able to work in low-light conditions without experiencing any problems. However, this cordless screwdriver is somewhat expensive compared to most units in its class. All in all, you will get a powerful screwdriver that you can rely on in all scenarios.
---
2. Best Cordless Electric Screwdriver for Electronics: Bosch Cordless Screwdriver IXO VI Premium
If you are after versatility, the Bosch Cordless Screwdriver IXO VI Premium has got you covered. The attachment interface can accommodate a wide variety of adapters, making this a suitable option for DIYers and professionals alike.
Depending on the task requirements, you can attach a drill adapter, spice adapter, off-set angle adapter, cutter adapter, etc. You should, however, keep in mind that the adapters are bought separately.
When it comes to speed control, the IXO VI Premium performs better than the electric screwdriver just before it. This is because it allows for infinite speed control. Moreover, it has a straightforward design, so just about anyone can use this tool.
To adjust the speed, simply apply pressure on the trigger switch, and you will be good to go. The more pressure you apply, the higher the speed. This feature makes the IXO cordless screwdriver an ideal option for tasks that require precision. It can effectively fasten or loosen screws without damaging the workpiece.
Upon purchase, you will get ten screwdriver bits that can help you get started on your first project. To add to its list of features, this cordless screwdriver is equipped with a dual charging system. You can juice up the battery using the charging station or USB cable. Both are reliable and will help you charge the battery to full capacity in about three and a half hours.
The included LED indicators will provide you with real-time updates about the battery level. In terms of ergonomics, the handle is textured to prevent slippage. With this feature in place, you will have full control of the tool at all times, thus preventing possible injures.
On the downside, the handle is not adjustable, making it difficult to work with at certain angles. Nevertheless, the Bosch cordless screwdriver is a piece that is worth adding to your tool collection.
---
3. Best for Most People: DEWALT DCF680N2 8V Max Gyroscopic Screwdriver
DEWALT is known the world over for its premium quality power tools. Well, the DEWALT DCF680N2 8V Max Gyroscopic Screwdriver is no different since it offers both power and flexibility. This cordless screwdriver will allow you to drive fasteners into plastic, wood, and other light-duty materials without breaking a sweat.
The motor provides you with up to 430 RPMs worth of fastening speed. And like all tools from Dewalt, this unit is constructed from high materials for durability purposes. The chuck won't chip and neither will it come loose during usage.
But most importantly, it allows you to change the screwdriver bits in seconds, thereby preventing unnecessary time wastage. You will be happy to know that this unit has a two-position handle, so you can adjust it to pistol-grip or in-line positions. It will give you quick and easy access to screws that are in tight spots. And because the handle is rubberized, you won't lose your grip when using this tool.
The battery gauge is strategically placed atop the screwdriver to give you a direct view. That way, you won't have to power down the screwdriver when checking the available battery power. The motion-activated speed function not only simplifies your work but will also allow you to fasten screws with the utmost precision.
Unlike most electric screwdrivers in the market, the DEWALT DCF680N2 is gyroscopic meaning you can control the bit by turning the screwdriver to the left or right. Turning the bit to the right will fasten the screw, while a left turn loosens it. This will save you the hassle of using complex switches.
The DEWALT DCF680N2 8V Max Gyroscopic Screwdriver is more on the heavy side, so it may slow you down when used extensively.
---
4. Best Cordless Electric Screwdriver for Home Use: Panasonic EY6220NQ57 Cordless Drill and Screw Driver
Price reduction
Why we like it:
Multi-stage clutch system
Compact body
Adjustable handle
Straightforward design
What customers say:
"I had one of these units about 20 years ago – was surprised to see it's still available. Powerful torque but gentle when it needs to be. Nothing has changed in the 20 years because this is virtually perfect for what I need." –Paul Carmona
If you are looking for a cordless screwdriver that can help you access tights areas, the Panasonic EY6220NQ57 Cordless Drill and Screw Driver may just end your search. Its lightweight design makes it ideal for household projects.
However, its use can also apply when tackling other light-duty tasks. You can set the handle at multiple angles depending on the position of the fastener. The safety lock will prevent the handle from switching positions while you are working.
Both the forward and reverse switches are placed close to the handle to make your work easier when switching between modes. The multi-stage clutch system delivers enough torque without pushing the motor to overdrive.
More on the motor, it is protected by built-in cooling fans that prevent the unit from overheating. This will, in turn, allow you to work continuously without blowing out the circuitry system. It also has uniquely designed brushes that are heat resistant.
In case the battery runs out of power, you can engage the gear lock. This allows you to tighten or loosen fasteners manually as you wait for the battery to juice up. The two-speed gear system makes it even more convenient since you can adjust the speed according to the project requirements.
The main issue with this unit is that it lacks guide lights, making it less reliable, especially when working in poorly lit environments.
---
5. Best Cordless Electric Screwdriver for the Money: HiKOKI DB3DL2(HLZ) 3.6V Li-Ion Cordless Pencil Driver Drill
Why we like it:
Exchangeable battery pack
Flexible design
Adjustable clutch settings
What customers say:
"I have my few years now. The battery is still usable and no noticeable drop in charge (I am not a heavy user). This is the best tool and most used tool I ever bought. Is powerful enough to put furniture together yet at low power it will not strip the screw. I also use it to take apart computers and taking apart my children toys to replace battery. Saved me many hours of my life. I can highly recommend it." –Kevin L.
With up to 5Nm worth of torque, the HiKOKI DB3DL2(HLZ) 3.6V Li-Ion Cordless Pencil Driver Drill provides you with enough power to handle medium to low torque tasks.
The 21-stage torque system will give you an added advantage when working with different types of workpieces. This unit can fasten screws without splintering the material you are working with. The motor can achieve a maximum speed of 600 RPM, allowing users to install fasteners flush into the work material.
Nonetheless, if the task in question does not require a lot of torque, you can set the speed at 200 RPM. This will greatly minimize vibrations, allowing for accurate screw installation when assembling delicate equipment.
The HiKOKI DB3DL2(HLZ) is both versatile and powerful. It can easily drive screws into drywall and less dense materials. Both the reverse and forward switches are conveniently marked to prevent guesswork when changing the bit direction.
Included in the kit are two high-quality lithium-ion batteries that offer an extended run time. When the spindle lock is engaged, you can use this tool like a manual screwdriver. The ergonomically designed handle can be angled or set in-line. Also, the grip area is contoured and textured to maximize traction. That being said, the tool won't slip even when the motor is running at maximum torque.
To increase its durability, this screwdriver is fitted with an overload protection system that keeps the motor in good condition. This cordless electric screwdriver ships with a high-performance charger that can restore the battery power within a limited duration.
It is important to note that this tool is more suited for light-duty tasks, meaning it cannot drive screws through concrete walls, metal, and other materials that fall in the same category.
---
6. Best Cordless Electric Screwdriver for PC Building: Ingco Cordless Screwdriver Power
Why we like it:
Bright LED light for maximum illumination
Comes with a heavy-duty storage box
Lightweight for easy handling
Has a reverse and forward switch for added convenience
What customers say:
"Great product great battery life slightly more torque than I needed but a great all round product 👍🏼"–Paul White
Last but definitely not least is the Ingco Cordless Screwdriver Power. This tool is small but it packs a lot of power. It can help you drive screws into wood, plastic, medium-density fibreboard, and other materials without giving you any problem.
Plus, it won't take up a lot of space in your tool bag. This makes it an excellent choice for handymen who are always on the move. When you buy this equipment, you will get a variety of screw bits that can assist you in different scenarios.
The chuck features a reliable lock that will ensure the attached bit stays in place during usage. Running this screwdriver on a fully charged battery will enable you to remove or install multiple screws without plugging it in for  charge.
And the fact that it weighs just a few grams means you can work for several hours without getting fatigued. To top it all up, all control buttons are placed within the user's reach, so you can even operate the screwdriver using one hand.
However, bear in mind that this cordless screwdriver is designed for light tasks. That being said, it may not be as effective when working with tough workpieces.
---
7. Best Budget Electric Screwdriver: BLACK+DECKER 3.6V Lithium-Ion Dual Grip Screwdriver
If you are on a tight budget, the BLACK+DECKER 3.6V Lithium-Ion Dual Grip Screwdriver is one of the tools that you can go for. The motor on this unit is powered by a 1.5Ah battery that is designed for performance.
It will provide you with uninterrupted run time when tackling tasks that may require you to work for an extended duration. You can choose between the in-line and pistol grip when fastening screws that are hard to reach.
The trigger switch is placed such that you can access it regardless of the position the handle is in. Aside from being compact, this unit is exceptionally lightweight, making it a great option for DIY lovers. It can help you assemble furniture, hang pictures, install drawers, etc.
As it is with most electric screwdrivers, this tool features a dual-mode function that allows users to insert or remove screws without swapping tools. The battery indicator will let you know how much charge is left in the battery. This feature is quite useful since you will never be caught off guard when the battery loses power.
Moreover, the gauge can be helpful when charging the battery pack since it indicates the amount of power in the battery during each charging cycle. The most impressive thing about this screwdriver is the fact that its battery can hold a charge for over a year when it is not in use.
It has a USB charging port, so you won't have to worry about power adaptors. The ergonomic handle will fit nicely into the palm of your hands, thereby leaving no room for slippage. Some consumers complain that the reverse/forward switch is not as reliable.
---
How We Researched the Best Cordless Electric Screwdrivers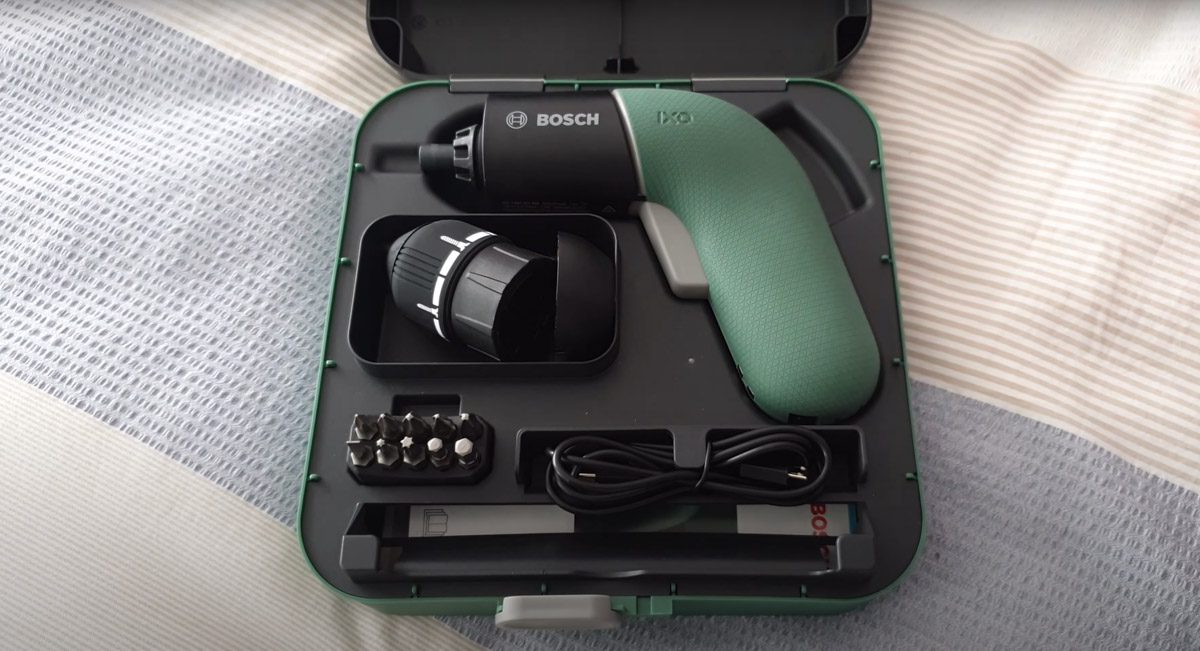 To find the best cordless electric screwdrivers, we looked at what Australia's leading power tool stores have to offer. With that being said, we initiated our search by visiting reputable e-commerce stores owned by Bunnings Warehouse, Sydney tools, Mitre 10, etc.
But that is not all; we dug deeper by visiting major online marketplaces such as eBay and Amazon. And since there were so many products to choose from, we had to narrow down our search to some of the most reputable brands currently available in the market. This made the work easier as we were able to find useful professional reviews and customer feedback under each brand.
In addition to this, we considered the specifications of each tool and made comparisons based on our findings. Some of the factors that we put into consideration include, but are not limited to, speed control, model, battery power, maximum torque, and ease of use. From this, we were able to come up with six of the highly rated cordless electric screwdrivers that we recommend for those in Australia.
Cordless Electric Screwdriver: Buying Guide
Cordless electric screwdrivers are different in terms of size, specifications, and overall performance. There are other factors that you should keep in mind before purchasing these products, thus making the selection process even more complicated. Besides, the market has a plethora of electric screwdrivers, so choosing the right product can be daunting.
Ensure that you go for a product that matches your task requirements. If you are not sure about the type of screwdriver that you want, you should go for a versatile model like the Bosch Cordless Screwdriver IXO VI Premium. This detailed buying guide can help you make the right decision when buying a cordless electric screwdriver
What to Look for When Buying a Cordless Electric Screwdriver
These factors highlighted below will make everything easy for you when shopping for your next cordless electric screwdriver:
1. Battery capacity
This is probably the first thing that you should put into consideration since cordless screwdrivers fully rely on batteries. Additionally, the battery on the screwdriver will determine everything at the end of the day. We bet you wouldn't want your screwdriver to lose power prematurely in between the session.
You should go for large-capacity batteries that can hold a charge for long hours. The charging time also matters a lot since it will reduce your downtime as you wait for the battery to charge. Most batteries in the market can juice up in less than two hours while others can take up to three and half hours, so you should choose wisely.
2. Brand
When it comes to buying power tools, you should source your products from renowned brands to avoid possible complications. Always keep in mind that most brands are not as reliable as they claim to be.
To lower your chances of getting the bad batch, you can buy your cordless electric screwdrivers from reputable brands such as DEWALT, Makita, Bosch, and BLACK+ DECKER. Nonetheless, you still have to be cautious when buying from the suggested brands. Ensure that you take your time to go through the available customer reviews before settling on a particular product.
3. Maximum Torque
In a nutshell, torque refers to the force that causes a given object to rotate. The maximum power output of an electric can be obtained by measuring its torque. High torque screwdrivers can assist you when handling heavy-duty tasks, while low torque units are ideal for household projects that require precision.
It is recommended that you go for a tool that matches the task requirements. Using a low torque screwdriver for heavy tasks may damage the motor and other components. On the same note, electric screwdrivers that deliver a lot of torque can damage delicate work materials.
If you want a screwdriver that can drive fasteners through dense materials, you should buy one with a high torque rating. The BLACK+DECKER 3.6V Lithium-Ion Dual Grip Screwdriver is a good example of a high torque unit.
4. Motor speed
The motor speed is often confused with torque, but the two parameters are inversely related. This means when the maximum output speed is high, the torque reduces and vice versa. Speed can be measured in terms of rotations per minute (RPM).
Most cordless screwdrivers are fitted with powerful motors that can run at speeds of 200 RPM to 650 RPM. A higher RPM makes the screw removal process a cinch. Cordless electric screwdrivers with adjustable speed settings are more convenient than those with the one-speed setting.
5. Weight
When buying a handheld tool, the goal is to go for one that is lightweight. This will allow you to work at an enhanced pace while avoiding mistakes. Some cordless screwdrivers are equipped with large batteries that may slow you down when you are working. This can greatly affect manoeuvrability, thus limiting your movements when using the tool.
6. LED guide light
More often than not, you may find yourself working in poorly lit conditions. Having a screwdriver with bright LED lights will enable you to fasten screws in the right spot. Also, such tools will save you the hassle of using a separate light source.
7. Overall design
Cordless screwdrivers come in different designs, so you need to be careful when making selections. You should particularly pay close attention to the handle since it impacts the tool's performance. Some of the best cordless electric screwdrivers have adjustable handles that you can set in a pistol grip or in-line position.
The in-line grip position is often used when installing or removing fasteners that are overheard. While the pistol grip can help you handle basic tasks. An adjustable handle allows users reach screws that are in awkward spots.
8. Attachments
Attachments consist of screw bits, adapters, and other accessories that you may attach to the screwdriver to increase its efficiency. Depending on the product that you go for, you may or may not get additional screw bits.
Some brands offer value packs that can help you save a few bucks. For example, the CACOOP Electric Cordless Screwdriver Set comes with 24 bits that you can swap according to your needs.
What are The Benefits of Owning a Cordless Electric Screwdriver?
The main advantage of having cordless screwdrivers is that they are portable and flexible. In addition to this, they are compact, so they don't take up a lot of storage space. And since they deliver less torque compared to their corded counterparts, these tools can help you tackle delicate tasks without causing damage to the workpiece.
Of course, please keep in mind your skills level, qualifications, and the risks associated with DIY work. For more information reference this safety document from the Victorian Government.
---
You may also be interested in:
Last update on 2023-12-02 / Affiliate links / Images from Amazon Product Advertising API