When sanding the surfaces of furniture and other wood products, the goal is to get a smooth finish while applying the least amount of effort. With the help of an electric sander, you can effortlessly remove surface imperfections with just a few passes. And since they are multifunctional, you can use them on other materials such as plastic and soft metals.
Sanders can help you power through even the toughest sanding tasks, thanks to the high-performance onboard motors. Most sanders can assist you when removing worn-out paint from surfaces, smoothing jagged joints, and can as well be used for rust removal. They can particularly come in handy when up-cycling furniture or any other material that needs refinishing.
To add to their list of benefits, electric sanders can make tedious DIY woodworking tasks unchallenging. However, you should keep in mind that there are different types of sanders with varying specifications and capabilities. As such, finding the right tool for the job can, at times, be daunting.
In a rush? Click on the below links to skip to the product that has caught your interest:
The Best Electric Sanders to Buy Today in Australia
1. Bosch Cordless Multi Sander PSM 18 LI
Taking the top spot in our list of bestelectric sanders is the Bosch Cordless Multi Sander PSM 18 LI due to its versatility. You can use this sander for a wide range of sanding applications, and the best part is that it has a user-friendly design. This makes it an excellent choice for professional woodworkers, beginners, and DIY enthusiasts.
Additionally, this electric sander is specially designed for sanding hard-to-reach areas. As such, you won't experience any difficulty when sanding corners and jagged edges. Also, the delta tip is rotatable, meaning you can adjust it according to your sanding requirements.
You can swap sanding attachments without using additional tools, thanks to its easy-to-use velcro fastening system. This feature will greatly reduce your downtime, especially when working on surfaces that may require you to switch from one sanding attachment to another.
This sander is not only good at sanding but can as well be used for polishing applications. It removes surface imperfections at an enhanced rate without damaging the work material. When working with delicate materials, ensure that you apply minimal pressure to prevent the sander from digging into the material.
To get maximum results, you shouldn't sand against the grain as this will leave scratch marks on the surface of the workpiece. This sander can prove helpful when working with hardwood and soft metals. For your safety and wellbeing, this electric sander is fitted with a micro-filter dust collector, so you won't inhale harmful particles while sanding and neither will the dust scatter all over the workspace.
Since this sander is cordless, you can manoeuvre it in whichever way that you want without worrying about pesky power cords. It is powered by an 18V lithium-ion battery that will provide you with extended runtimes. And like all Bosch power tools with interchangeable battery systems, this sander features an advanced Syneon Chip, which safeguards the battery against total discharge and overload.
The battery and the charger are, however, not included package. Nonetheless, you won't have to buy both if you have other Bosh tools with 18V systems since theelectric sander is compatible with such batteries.
---
2. DEWALT 20V MAX* XR Palm Electric Sander
The DEWALT 20V MAX* XR Palm Sander is similar to the sander that we've just reviewed in that both units are cordless. It has a compact design, but it is very powerful. Besides, the sander is equipped with a brushless motor, which is known for its efficiency. It delivers high torque per watt without subjecting the moving parts to wear and tear.
Plus, the variable speed system allows you to make adjustments accordingly. The speed dial is conveniently placed away from the palm rest to prevent you from changing the speed of the motor unintentionally while handling the sander. This means the motor will run at the preferred speed throughout the sanding process, proving you with the results that you need.
With this sander, you can set the motor speed anywhere between 8,000 and 14,000 OPMs. The clamping mechanism will ensure the abrasive paper stays in place even when the motor is running at maximum speed. As a result, the workpiece will be sanded evenly, thus delivering a smooth finish. But most importantly, you will have full control over the sander at all times.
In addition to this, the square base will enable you to sand corners with ease. And because it has a low profile design, you can sand close to vertical surfaces without experiencing any problem. Since the battery bay is placed on the rear end, the battery won't get in your way as you manoeuvre the sander.
The switch is dust-sealed to prevent sanding debris from damaging the power unit. This feature increases durability and keeps the sander in top-class condition. The palm rest is not only textured but also rubberised to give you a comfortable grip while working. It will provide you with a slip-free sanding experience even when your palm is sweaty.
This sander comes with a dust bag that will keep your work area clean. On the downside, the bag is rather small, so it will fill up easily when tackling large sanding projects. The good news is that the dust chute is vacuum compatible. As such, you can attach it to a dust extractor of your choice for efficient dust removal.
---
3. Milwaukee M18BOS125-0 M18 Random Orbital Sander
The Milwaukee M18BOS125-0 M18 Random Orbital Sander is a high-performance battery-powered sander that you can count on in virtually all sanding applications. It has multiple speed options that you can choose from and also features a powerful motor that allows for maximum material removal.
Like the sander just before it, the Milwaukee M18BOS125-0 operates smoothly and will provide you with optimum power to get the work done. The sanding pad is precision-engineered to ensure you get a swirl-free finish. This sander is fitted with heavy-duty components for long-lasting service.
Additionally, the overrmold palm grip maximizes user control while minimizing slippage. This sander can remove surface material from workpieces regardless of the position that you place it in. To elaborate, you can sand vertically or horizontally without interfering with the motor.
The overload protection system will allow you to sand the surfaces of hardwood furniture and metals without blowing out the circuitry system. At maximum speed, the motor can deliver up to 12,000 OPM, which is enough to handle most sanding tasks.
You can use this sander for furniture refinishing, drywall sanding, and can also assist you on your next cabinetry project. And because it is counterweighted, the vibrations from the motor won't push the sanding pad off course.
It is powered by a 3.0Ah Redlithium-Ion battery that is sold separately. When fully charged, the battery pack will allow you to sand continuously for approximately thirty-five minutes. This may, however, vary depending on the type of material that you are sanding.
---
4. Draper 65059 Storm Force 50mm Mini Air Sander
Are you in search of an air-powered sander? If so, the Draper 65059 Storm Force 50mm Mini Air Sander can be an excellent addition to your sanding kit. It comes with amazing features that will give you an upper hand when sanding hard surfaces.
For starters, it has great power to weight ratio, making it a suitable option for woodworkers who tackle large projects on a regular basis. Unlike the four sanders that we have reviewed before it and the one just after it, this air sander is not noisy. This means you can operate it in your garage without interfering with the neighbours.
In addition to this, it does not vibrate as much compared to electric sanders. This makes it the ideal tool for sanding work materials that require precision. It can particularly assist you when polishing delicate surfaces.
When hooked to the right air compressor, the sanding pad can remove more material per psi, enabling you to accomplish tasks within the shortest time possible. The velcro adhesive pads allow users to attach or detach the sanding paper in less than a minute. You can apply different sanding speeds using the attached control lever. The lever is strategically placed to allow for one-handed operation.
However, you can only operate this electric sander if you have a reliable air compressor. It requires 3 c.f.m @ 90psi worth of air for it to operate efficiently. The 1/4″ inlet is compatible with most hose adaptors, so it won't limit you in any way when attaching the air compressor. Besides, the air inlet can rotate, allowing for easy manoeuvrability.
Still, it is not as manoeuvrable compared to cordless electric sanders. Also, the hose can get tangled up if proper caution is not taken. And since some of the components are made of plastic, ensure that store this sander in a secure place after each use.
---
5. BLACK+DECKER 120W Mouse Sander Kit with Accessories
We recommend the BLACK+DECKER 120W Mouse Sander Kit with Accessories to woodworkers who handle intricate sanding projects. This electric sander has all the features that you may need to accomplish your tasks in good time. Equipped with a 120W motor, it can polish metal surfaces effortlessly, so you won't have to apply a lot of pressure on the handle.
The grip areas are rubberized to give users maximum control when making passes. As a result, the sander will only go where you want it to go. This is one of the reasons why it is highly recommended for detail sanding. Moreover, it can tackle any polishing tasks that you may throw at it.
When you buy this electric sander, you will get nine accessories that you can use when working on different projects. The attachments inside the kit can help you get started on your first sanding project.
And unlike regular sandpapers, the included sanding sheets are not prone to wear and tear. You can use them multiple times without making replacements. The sanding pad is conveniently shaped to give you easy access when working on corners and other hard-to-reach areas.
If you are having a difficult time removing paint or rust from a given surface, you can go for this sander. And the good thing about it is that it will deliver commendable results in all sanding situations. It is just as effective on metal surfaces as it is on wood, making it an excellent all-rounder.
The other feature that is worth mentioning is the rotatable base. With this, you can adjust the sanding pad to match your needs. Nonetheless, this feature is often used when one side of the sanding sheet is worn out. What happens is that you can rotate the base to gain access to the section of the sanding paper that is more abrasive. That way, you won't have to throw away the sanding sheets before they are fully utilized.
The micro-filter dust collector can trap even the finest dust particles, thereby providing you with a clean work environment. However, the canister is relatively small, so you will have to empty it frequently.
---
6. Draper Storm Force Composite 150mm Dual Action Air Sander
Draper presents you with yet another powerful pneumatic sander that you can use for stock removal and other sanding applications. The Draper Storm Force Composite 150mm Dual Action Air Sander is built for performance, so rest assured it will smooth out all rough surfaces. This sander is larger than the Draper 65059 and is also more powerful.
It can be a great choice for professional craftsmen who work with a variety of materials. The sanding pad is not only wide but is also designed for optimum material removal. It will enable you to polish a large area while exerting minimal effort.
The palm rest is contoured along the edges to prevent slippage when working with the sander. Also, the control lever is placed atop the sander for optimum flexibility. The high-tech speed mechanism will provide you with enough power to handle most sanding tasks.
It will deliver smooth finishes when sanding plastic, wood, metal, etc. The sanding pad is designed in such a way that it cancels most of the vibrations generated during operation. This prevents user fatigue and also provides you with the control that you need to get the desired finish.
This sander features a large exhaust vent that will allow you to attach a dust extractor using the included adapter. You can connect this unit to either portable or central vacuum systems. Additionally, the vacuum adaptor has a swivel design, so it won't limit your movements.
You will be able to manoeuvre the sander without tangling the hose. Apart from woodworking tasks, you can use this sander for autobody refinishing. It can help you prepare surfaces before applying paint and other types of sealants.
---
How We Researched the Best Electric Sanders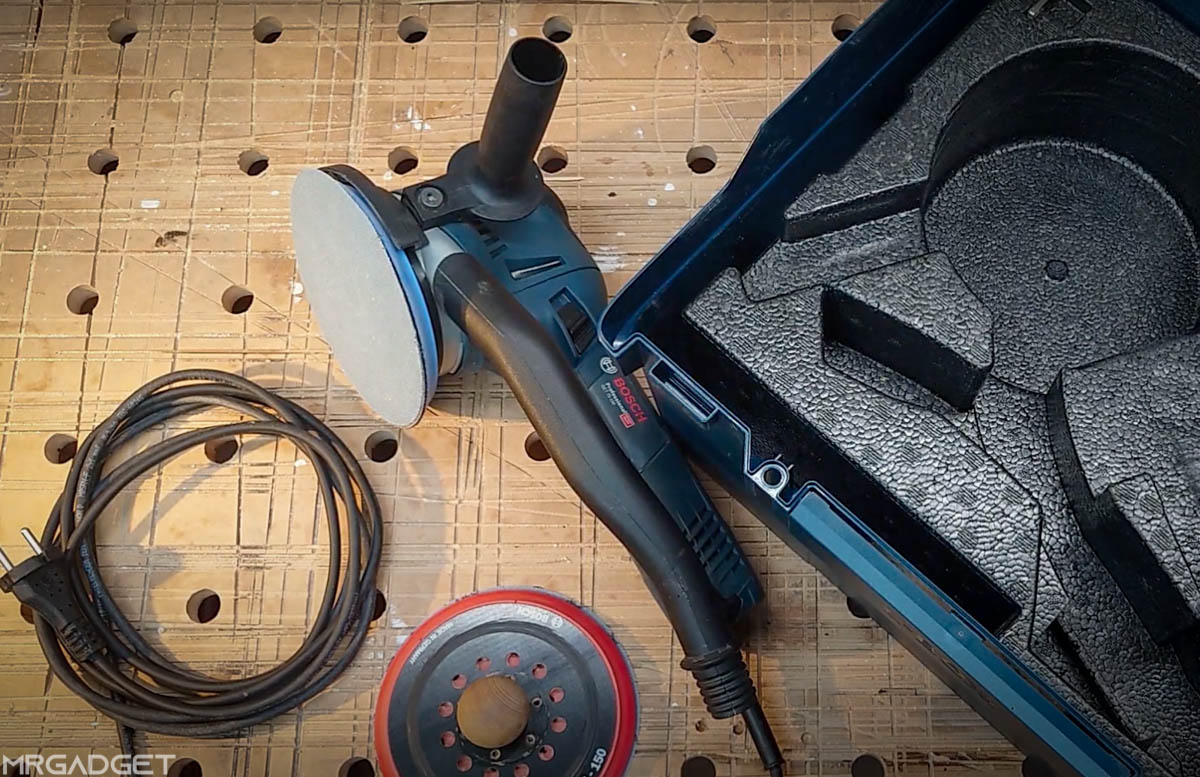 To create this review list, we started by sourcing highly rated electric sanders from Amazon and eBay, taking into account the specifications, power source, and overall performance. We selected several products with every user's needs in mind and also made comparisons to see which of the sanders would suit both beginners and professional woodworkers.
After sifting through the selected electric sanders, we thought it wise to remove products that were of questionable quality. This left us with just a few products, so we had to look for more from local suppliers in Australia. Since quality is paramount when it comes to choosing power tools, we only went for reputable sellers such as Home Timber & Hardware, Total Tools, Bunnings, F & K Power Tools, Sydney Tool, etc.
We also visited professional product review sites to see what the local consumers had to say about each of the sanders. From our search, we were able to add more products to our list, thus giving us six of the best electric sanders that you can purchase in Australia.
Sanders: Buying Guide
There are several factors that you should put into consideration before buying sanders. Besides, the market is flooded with a variety of sanders, so finding the ideal tool may prove difficult.
As it is with most power tools, the first step to finding the right sander for your needs is knowing the different types that are there. Moreover, not all sanders are equal, so you should take your time before confirming your order.
---
Types of Electric Sanders
Palm sanders
As the name suggests, these types of sanders are designed to fit perfectly into the palm of your hands, allowing for precision control. Palm sanders have a minimalistic design and are more suitable for small sanding tasks.
They are also easy to work with, making them a great choice for beginners. With the help of a palm sander, you can tackle refinishing tasks with ease. The DEWALT 20V MAX* XR Palm Sander is a good example of a palm sander.
Belt sanders
Belt sanders are often used in the initial stages of wood preparation. They use coarser abrasives that enable users to remove more material from the workpiece.
Detail sanders
Detail sanders are specially designed for sanding hard-to-reach areas that other sanders cannot access. These sanders have a minimalistic design, so they are very easy to work with. In addition to this, they are exceptionally lightweight and will provide you with a fatigue-free user experience.
The BLACK+DECKER 120W Mouse Sander Kit with Accessories is one of the reliable detail sanders that you can consider buying.
Disc sanders
Disc sanders are somewhat similar to belt sanders because both are used for maximum material removal. These types of sanders are fitted with circular abrasive sheets that can polish materials of different shapes.
Random orbital sanders
Random orbital sanders are a favourite among professional woodworkers and DIYers. They are often used for quick sanding tasks that require precision. The sanding pads on orbital sanders move randomly in a circular pattern, creating a swirl-free finish.
If you are looking for this type of sander, the Milwaukee M18BOS125-0 M18 Random Orbital Sander is the way to go.
What to Look For When Buying an Electric Sanders
As stated earlier, sanders have different specifications and also vary in terms of performance. Below are some of the things that you should take into account when buying sanders:
Power source
Depending on your preference, you can go for cordless, pneumatic, or corded sanders. All three categories are good at what they do. If you are looking to sand for long hours, you should go for air-powered or corded sanders.
On the other hand, cordless sanders are more portable but the only problem is that they have limited runtimes. However, that does not mean they are not reliable.
Speed
Speed matters a lot since it is what will determine the overall performance of the sander. Both corded and cordless sanders are equipped with powerful motors that can move sanding pads multiple times per minute, delivering the sanding effect.
Air-powered sanders are fitted with high-speed mechanisms that perform almost the same way as regular motors. You can measure the speed of a sander in RPMs or OPMs.
Sanding pad
The shape and size of a sanding pad may vary depending on the purpose for which the sander is designed. For example, detail sanders have low profile sanding pads that can allow you to sand corners, while random orbital sanders have circular pads, which are designed for polishing.
Design
Sanders come in different sizes and also have varying specifications. When buying a sander, you should consider the placement of the handle, speed controls, and trigger switch. Additionally, you need to check its overall weight since this can affect performance.
Dust collection
Most sanders come with dust canisters that prevent the sanding residue from scattering in the work area. You can as well attach a vacuum extractor depending on the type of sander that you are working with.
---
You may also be interested in:
Last update on 2022-05-26 / Affiliate links / Images from Amazon Product Advertising API