ⓘ We are reader-supported and may earn a small commission at no additional cost to you if a purchase is made through one of our links.
Angle grinders are not only powerful but also versatile. They can cut through rebar, blockwork, mortar, and other materials. These power tools can also be used for sharpening applications, so it will all depend on the type of blade/disc that you install on the grinder. Angle grinders can assist professionals and DIYers in countless ways, so they can be an excellent addition to your toolkit.
There are different types of angle grinders that you can choose from. However, not all are equal when it comes to performance. For example, corded angle grinders are known to be more powerful than their cordless counterparts, while the battery-operated models are more manoeuvrable than the former.
TL;DR: The #1 Angle Grinder for Most People 👇
Price reduction
Makita DGA504Z 18V Mobile Brushless Slide Switch Angle Grinder
Boasting a no-load speed of 85000rpm and an advanced drive system that automatically increases torque to give you enough power to grind through materials with ease, theMakita DGA504Z can be a great pick for anyone who is looking for a reliable angle grinder!
With that being said, you can go for either depending on your needs and the requirements of the task that you intend to work on. Since we know that selecting power tools can be stressful, we have assorted some of the best angle grinders that you can buy in Australia.
Product Name
Dewalt DCG405FN-XJ DCG405FN Cordless XR Brushless Flathead Angle Grinder
Makita DGA504Z 18V Mobile Brushless Slide Switch Angle Grinder
Bosch Angle Grinder PWS 620-100
WORX WX710 Angle Grinder 860W 100mm
Makita GA5030 720W Angle Grinder
Product Name
Dewalt DCG405FN-XJ DCG405FN Cordless XR Brushless Flathead Angle Grinder
Product Name
Makita DGA504Z 18V Mobile Brushless Slide Switch Angle Grinder
Product Name
Bosch Angle Grinder PWS 620-100
Product Name
WORX WX710 Angle Grinder 860W 100mm
Product Name
Makita GA5030 720W Angle Grinder
The Best Angle Grinders to Buy Today in Australia
1. Best Overall Angle Grinder: Dewalt DCG405FN-XJ DCG405FN Cordless XR Brushless Flathead Angle Grinder
Why we like it:
Electronic brake for user safety
It is cordless
Ergonomically designed
What customers say:
"This is what you can expect from Dewalt, it is a first-class tool. I have found it longer and heavier than my two corded angle grinders. However, the flexibility makes it a worthwhile investment. Very pleased with it and would definitely recommend it." –miscanthus
Our top pick in the list of best angle grinders is the Dewalt DCG405FN-XJ DCG405FN Cordless XR Brushless Flathead Angle Grinder due to its user-friendly design and flathead profile. Since the gear head has a compact design, it will allow you to access tight spaces without it getting in your way. This feature makes the Dewalt DCG405FN-XJ DCG405FN an excellent choice for professionals.
Nonetheless, it can as well assist beginners since it has a straightforward design and is equally lightweight. This is one of the highly-rated cordless angle grinders on our review list, so rest assured that it will help you power through tasks that may require you to use a tool of this kind. The 18V brushless motor can run continuously without wearing out the moving parts. That being said, this unit requires minimal maintenance. It is also not as noisy compared to brushed models.
To get longer runtimes and optimum power, simply slap a 5Ah lithium-ion battery onto this bad boy and you will be good to go. The motor features an advanced electronic clutch that reduces kickback in case the disc is pinched by the workpiece. For user safety, this angle grinder is fitted with a reliable electronic brake system that will bring the wheel to a quick stop when needed. The Dewalt DCG405FN-XJ DCG405FN takes 125mm grinding/cutting wheels and also has a protective guard to prevent possible injuries.
But, that is not all; the no-volt release feature prevents the motor from starting up when installing a new battery pack. With a no-load speed of 9,000 RPM, this equipment can be used for grinding, polishing, cutting, and deburring applications. In addition to this, the motor compartment is meshed to prevent the ingress of dust and other debris, thus prolonging the durability of the angle grinder.
The side handle provides the operator with maximum control in all applications. Plus, you can set the auxiliary handle on the left or right side depending on the placement of the work material. Besides, the grip areas have rubber overmold to increase user comfort, while the slide switch reduces fatigue. Nonetheless, this model does not come with a charger or battery. Like most power tools from this brand, it accepts 18V battery packs from other Dewalt tools that use the same battery system.
---
2. Best for Most People: Makita DGA504Z 18V Mobile Brushless Slide Switch Angle Grinder
Taking the second spot on our list is the Makita DGA504Z 18V Mobile Brushless Slide Switch Angle Grinder. And like the Dewalt DCG405FN-XJ DCG405FN, this angle grinder is cordless. It won't limit you when making manoeuvres and neither will it weigh you down when tackling tasks. Additionally, it is designed with both your needs and safety in mind.
This unit has a range of great features that will dramatically change how you polish surfaces, grind metals, and cut other materials. For starters, it is equipped with a high-performance brushless motor that will provide you with up to 8,500 RPM. To add to its efficiency, the motor operates smoothly even when the wheel is under load. The auto torque drive system automatically increases the speed of the motor, thus providing you with optimum performance.
There is a battery gauge on the rear end that will show you the amount of power left in the battery. This allows users to swap drained battery packs with new ones before the motor powers down in between the cutting session. The current limiter safeguards the motor against overload, especially when taking on heavy-duty tasks. This angle grinder weighs 2.5 Kg without the battery, so it won't slow you down even after attaching the battery.
The thumb switch has a lock-on button for user convenience. Once engaged, the motor can run continuously, allowing you to work extensively without straining. More on the power switch, it is strategically placed, so the user can comfortably operate this tool using one hand. The guard is fully adjustable, so you can position it according to your grinding needs. It is worth noting that the motor starts at low torque but gradually picks up speed when you power on this angle grinder. This prevents it from jerking upon start-up.
On top of that, the tool is counterweighted to allow for easy handling when grinding tough materials. Furthermore, the side handle will simplify your work as you guide the grinding disc through the work material. You will be happy to know that this unit won't overheat, meaning you can keep it running for a long duration without blowing out the motor or circuitry system. We highly recommend this angle grinder to users who handle DIY projects on a regular basis.
---
3. Best Angle Grinder for Metal Work: Bosch Angle Grinder PWS 620-100
Unlike the two power tools reviewed above, the Bosch Angle Grinder PWS 620-100 is a corded model that can deliver up to 11,500 RPM. This angle grinder offers maximum flexibility, thanks to its adjustable gear head. It has a slim body that provides you with a firm grip during usage.
This tool only weighs 1.6 Kg, making it the lightest angle grinder on our review list. It can be used by both beginners and professionals alike. The 620 Watt motor will provide you with enough power to cut through tiles, metal pipes, stone, etc. It can come in handy when handling refurbishing tasks around your home.
Aside from grinding and cutting, you can use this angle grinder for sanding applications. Simply attach a wire brush to the angle grinder spindle to get the best results from your tool. You can use it when removing rust or paint from surfaces. This unit is somewhat different compared to most angle grinders in the market in that it does not require you to use a hex key when changing blades. However, you'll have to use a wrench when adjusting the wheel guard.
The power switch is conveniently placed on the side and is also ridged to prevent slippage. You won't have to worry about this tool slipping from your hands because it has a large auxiliary handle for enhanced control. And since the handle has a screw-in design, you can detach or attach it without using any tool. You also have the option of installing it on the side that best suits you.
Included in the kit is a 100 mm disc that can get you started on your first grinding task. The materials used in making this angle grinder are of good quality, so you can buy it knowing that it will provide you with long-lasting service. Plus, it feels good in the hands. The fact that it is corded means you can grind for long hours without stopping.
Moreover, the motor won't heat up since the tool is vented at multiple points to increase airflow. As you can see, the Bosch PWS 620-100 has virtually all the features that you may look for in an angle grinder. It is versatile, powerful, durable, and also reliable. The only problem with this angle grinder is that it does not come in a carrying case.
---
4. Best Angle Grinder for Cutting Stone: Makita GA5030 720W Angle Grinder
Why we like it:
Vacuum compatible
Convenient slide switch
High-performance 720W motor
What customers say:
Makita is a very well respected and excellent brand. I bought this to cut down some concrete paving slabs and grind down 2 metal spikes in the garden. This machine made light work of both…" –Mark Pritchard
If the DGA504Z 18V didn't impress you, we hope that the Makita GA5030 720W Angle Grinder will. This angler grinder is more powerful than the second product on our review list and will allow you to work with a variety of materials, including the heavy-duty type. The 720-watt motor will provide you with an impressive 11,000 RPM worth of grinding speed.
In addition to this, the motor won't stall or overheat when the angle grinder is in use because the components have great heat resistance. This tool comes with essential accessories such as a wrench, side handle, and wheel. Additionally, the Makita GA5030 can take on just about any grinding task that you may throw at it. It is equally efficient when it comes to polishing, cutting, and sanding.
The oversized auxiliary handle gives users full control over the tool. Also, the side handle is angled such that you can grind close to the workpiece without it blocking you. The barrel grip is ergonomically designed to enhance user comfort in all scenarios. This corded angle grinder can work with discs that have a diameter of 125mm. The 2.5m power cord allows for great manoeuvrability.
Nonetheless, it can easily get tangled if proper caution is not taken. And since you have to plug it into an electrical outlet, you may have to use an extension cord when working outdoors. This unit is not as heavy compared to most corded angle grinders. It is easy to work with, so you won't have to worry about anything while grinding.
The bevel gears are meticulously designed to increase the tools overall durability. This means they won't wear out easily even when the tool is used to tackle demanding tasks regularly. The slim gear head will enable you to access acute angles, especially when grinding surfaces that are sandwiched between two sheets of metal.
Besides, this angle grinder comes from a brand that has been making power tools for decades, meaning it is less likely to disappoint. One of the drawbacks of using this angle grinder is that it does not allow for quick blade changes. The wheel fastening system is rather complex and requires you to use additional tools when swapping discs. All in all, the Makita GA5030 720W is an angle grinder that is worth buying.
---
5. Best Budget Angle Grinder: BLACK+DECKER 100mm Angle Grinder
Featuring a 900-watt motor, the BLACK+DECKER 100mm Angle Grinder is also another powerful tool that can provide you with commendable results. This unit is professionally designed to provide you with optimum performance in all grinding applications.
With the right disc, this angle grinder can cut metal rods, conduits, granite, just to mention but a few. It can also sharpen blades and other cutting tools. All the parts are durably built to ensure you get an angle grinder that you can fully count on.
The two-position auxiliary handle provides users with a slip-free grinding experience, while the easy-to-use spindle lock allows for quick disc changes when working with different materials. As such, you won't waste a lot of time attaching the wheel that you intend to use.
You can easily adjust the guard by hand, so the sparks won't fly in your direction. Apart from that, the guard will shield you from broken disc fragments, thereby preventing injuries. The rear handle of the tool is contoured to give you a solid grip.
This angle grinder is suitable for both light-duty and heavy-duty tasks, so it can assist you in countless ways. You can even use it for grout removal and other polishing applications. Despite being powerful, this angle grinder is very affordable and can be an excellent choice for those on a tight budget.
In fact, it performs better than some high-end angle grinders. The motor will provide you with balanced performance regardless of the position that you place the angle grinder in. It will enable you to grind materials at different angles without damaging the adjacent surfaces.
---
How We Researched the Best Angle Grinders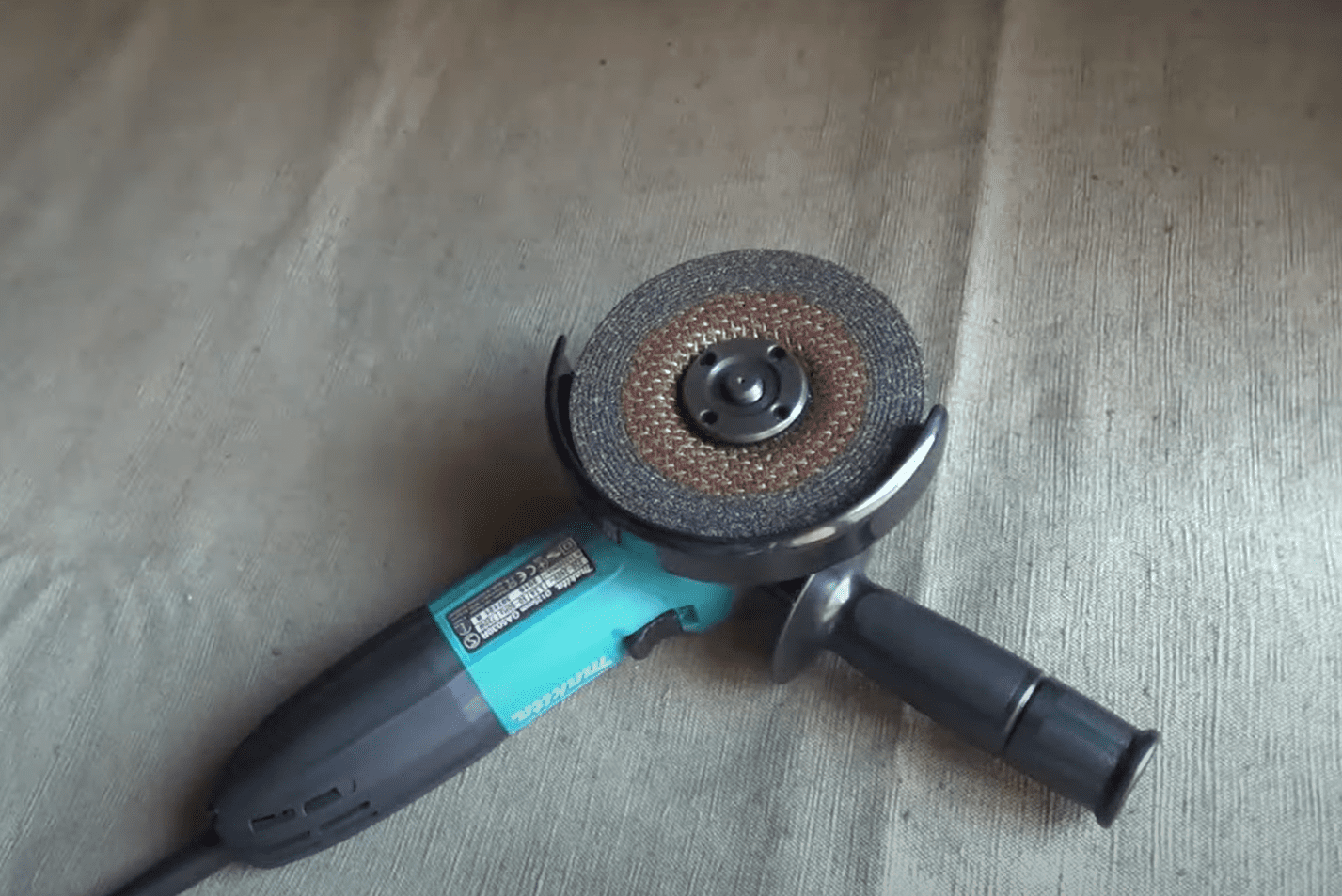 We initiated our search by visiting local online retail stores in Australia like Total Tools, Bunnings Warehouse, Mitre 10, Sydney Tools, etc. Additionally, we scoured through eBay and Amazon to find highly rated angle grinders. We made our selections based on customer reviews from the above-listed sites.
Also, we only went for angle grinders from top-rated brands. After comparing the selected brands, we scaled down our search by considering specific features. The selection criteria that we employed allowed us to compare and contrast the angle grinders that we had picked. Some of the factors that we considered include speed, ergonomics, power source, user safety, size, and weight. Through this, we were able to exclude some of the tools that fell short in one way or another.
At the end of the day, we were only left with five top-rated angle grinders. The list is inclusive of both corded and cordless angle grinders, so you can choose either depending on your needs. One thing is for sure, we thoroughly analysed all the angle grinders that made it to our final list. As such, you can place an order for any of the products having full assurance that you are indeed buying the best angle grinders available in Australia.
Angle Grinder: Buying Guide
Angle grinders are powerful, versatile, and easy to work with. This does not, however, apply to all angle grinders since the tools are designed by different manufacturers and also have varying specifications. As such, the performance of each angle grinder may vary depending on its overall build quality, features, ease of use, etc. Before buying an angle grinder, ensure that you have a checklist of some of the features that you'd want.
As you already know, the market is flooded with a range of angle grinders, so having a checklist can help you narrow down your search. Additionally, there are several factors that you should consider before choosing an angle grinder. Always go through the customer reviews to ensure the tool that you are buying can deliver good results.
We understand that this can be time-consuming and also exhausting. And that is why we did all the heavy lifting, so all that is left is for you to choose any of the angle grinders that we have listed above. Still, there are things that you should take into account before picking the tools that we have selected for you. This is primarily because our review list consists of a variety of angle grinders with different capabilities.
Types of Angle Grinders
Cordless Angle Grinders
These types of angle grinders are powered by high-capacity battery packs. The main advantage of using battery-powered angle grinders is that they allow for limitless manoeuvrability.
Additionally, they are highly portable, meaning you can carry them from one job site to the next without worrying about the availability or absence of power outlets.
The Dewalt DCG405FN-XJ DCG405FN Cordless XR Brushless Flathead Angle Grinder and the Makita DGA504Z 18V Mobile Brushless Slide Switch Angle Grinder are some of the best cordless models that you can consider purchasing.
Corded Angle Grinders
Unlike cordless angle grinders that have limited runtimes, corded angle grinders can operate continuously because they get an endless power supply from electrical outlets. This makes them ideal for large tasks that may require the operator to work for long hours.
However, the power cord may limit your movements since you have to stay around the outlet. Also, the cord can get tangled.
Air-powered Angle Grinders
Commonly known as pneumatic angle grinders, these tools are different from corded and cordless angle grinders in that they use motors that run on pressurised air. We have not included pneumatic angle grinders in our review list because we dint find any that met our selection criteria.
What to Look For When Buying Angle Grinders
Now that you are familiar with the different types of angle grinders that are available in the market, it's time to get down to specifics. Here are some of the things that you should put into consideration when buying an angle grinder:
Power source
Depending on your needs, you can go for corded, pneumatic, or cordless angle grinders. Each category has its pros and cons, so ensure that weigh your options carefully before selecting the tool.
Size and Weight
Some angle grinders are larger and also weigh more than others. If you go for a unit that is too heavy, it may weigh you down. Size also matters a lot since it will determine whether or not you'll have access to tight spaces.
The Bosch Angle Grinder PWS 620-100 is both lightweight and compact, making it ideal for everyday use.
Disc size
Most grinders use 100mm to 230mm discs. Smaller discs are suitable for tight spaces or when tackling tasks that require precision. On the other hand, larger discs can assist you when tackling heavy-duty tasks.
Moreover, some angle grinders are size-specific, so they cannot accept discs that are larger than the recommended size limit. To avoid complications, ensure that you double-check the size specifications of the angle grinder that you want to buy.
Speed
In angle grinders, speed is measured in terms of the number of revolutions that the motor makes in sixty seconds. This is often referred to as revolutions per minute (RPM). Most angle grinders have an RPM rating of 3,500 to 11,000 RPM.
Angle grinders with high RPM ratings can cut through materials quickly compared to this with low RPM. Nonetheless, running the motor at maximum speed for a long duration can cause the disc to overheat.
Wheel guard
The wheel guard is an essential component in an angle grinder since it protects you from sparks and broken disc fragments. For your safety, you should go for an angle grinder with an adjustable wheel guard.
That way, you can rotate the guard to shield you at all times regardless of the position that you are in.
Handle
You should buy angle grinders with ergonomic handles to reduce fatigue. Most brands offer soft-grip handles that will provide you with optimum comfort. Also, ensure that the angle grinder has a multi-position auxiliary handle.
---
You may also be interested in:
Last update on 2023-11-30 / Affiliate links / Images from Amazon Product Advertising API