ⓘ We are reader-supported and may earn a small commission at no additional cost to you if a purchase is made through one of our links.
Over time, your clothes will start to show signs of wear and tear. You may start seeing pilling and ugly lint bobbling, which can be very unappealing. When this happens, you may decide to just throw them out and give them away to charity. However, this means you'll need to buy new ones and spend more money than you have to. Thankfully, there are now fabric shavers to help save your favorite sweaters and other pieces of clothing.
A fabric shaver is one of the most effective ways to remove pills, thread, lint, and pet hair. It shaves the pills and pulls the knotted fibers off the surface of a garment, making your clothes and even furniture look good as new. The problem is, finding the right and efficient fabric shaver can be a daunting task. So to help you out, here's a list of the top 7 fabric shavers in Australia.
TL;DR: The #1 Fabric Shaver for Most People 👇
Price reduction
Philips Fabric Shaver
It may not technically be the best fabric shaver on this list, but considering its price it offers the best value for money and will still do a more than good enough job at removing lint and fuzz from your clothing. 👚
Product Name
Magictec Rechargeable Fabric Shaver
Fiboomerang Fabric Shaver
Philips Fabric Shaver for Removing Fabric Pills
Material
Plastic, Acrylonitrile Butadiene Styrene
Plastic, Acrylonitrile Butadiene Styrene
Product Name
Magictec Rechargeable Fabric Shaver
Material
Plastic, Acrylonitrile Butadiene Styrene
Product Name
Fiboomerang Fabric Shaver
Material
Plastic, Acrylonitrile Butadiene Styrene
Product Name
Philips Fabric Shaver for Removing Fabric Pills
The Best Fabric Shavers to Buy in Australia
1. Pritech Fabric Shaver
Why we like it:
Easy to clean and use
Efficient and powerful
Long battery life
What customers say:
"I initially bought it just to fix some spots on a fabric couch that my cats decided to scratch. It made the couch look brand new as if my cats never touched it. Now, I use it for everything! I never have any fuzzies hanging around on my clothes anymore." – S+MV
With its efficiency, ease of use, convenience, and value for money, the Pritech Fabric Shaver is our top choice for the best fabric shaver. Featuring a 5W motor that can pin at nearly 9000RPM and 3-leaf 400T3 stainless steel blades, this device is faster and more powerful than many lint shavers in the market. With it, you won't have any problems in general garment care, emergency quick fixes, and restoring your clothes or furniture.
This fabric shaver does not require a lint roller after use. Utilizing a 360 cyclone convection and a large vane fan, it creates a strong cyclone-like effect that allows it to easily vacuum and collect any loose thread and hairball that it trims. It's USB rechargeable, which makes it portable and perfect for travel. This also means that you won't need to buy and stock up on batteries. It can last up to 60 minutes and take only 2 hours to fully charge.
Another thing we like about this device is the unique magnetic design between the body and shaver foil. This allows it to be assembled and disassembled in just a second. Meaning, cleaning and replacing the blade will be much easier. It has a safety feature as well, which turns off the shaver when the blade cover or collection container is loose or open.
Now, what's great about the Pritech Fabric Shaver is that you can use it on a wide range of fabrics. Offering 2 speed settings and 3 shave heights, it can be used on clothes, upholstery, covers, curtains, and just about anything else. Aside from removing lint and fuzz, it can also be used to remove animal hair from surfaces.
---
2. Philips Fabric Shaver
If you are planning to remove lint and pills on large items, then the Philips Fabric Shaver is a great choice. It has a large blade surface, which means it covers a larger area at once. Thus, making it perfect for not only clothes but for furniture, beddings, and blankets as well. This also means that you can make fewer strokes to make your clothes and other items look new again.
With 3 sizes of holes in its mesh, this fabric shaver can handle all sizes of fabric pills and remove them from the fabric. Its container, which is where the shaved pills go, is also easy to remove and empty. A cleaning brush is included as well, so cleaning the device is easier and faster. Plus, it comes with a height adjustment cap. Meaning, you can use it even on the most delicate garments.
The Philips Fabric Shaver is battery powered, meaning you'll always need and purchase two AA batteries to keep using it. That said, if you don't want additional expenses, then this may not be the product for you. Thankfully, 2 Philips batteries are already included in the package, so you don't have to worry about the first pair of batteries. It is compact and lighter than other shavers as well, which makes it easy to carry around and use at anytime and anywhere.
---
3. Magictec Rechargeable Fabric Shaver
The Magitec Rechargeable Fabric Shaver is not only sleek and good-looking but it is also built to last. Made with a heavy-duty ABS plastic shell and SS mesh cover, it is very durable. Its back portion can also be used as a garment brush, allowing you to remove fuzz, dust, lint, dandruff, and pet hair on pants, shirts, jackets, and more. It features 3 razor-sharp blades as well, which can cut through all the loose threads, lint, and fuzz balls on surfaces.
What's great about this fabric shaver is that it is USB rechargeable and you can also keep it plugged in while in use. Not only that, but it also offers multiple charging options. You can charge and directly plug it into a power bank, laptop or desktop, smart IC charger, and car charger. As a plus, it only takes 2 hours to fully charge and lasts up to 60 minutes – all while consuming very little energy.
This device has a safety shut-off feature, which automatically turns off the device when the blade cover is loose or open. It is equipped with a 65mm mesh too, allowing it to tackle almost all loose thread and loop sizes. This includes fine particulate pill, particulate lint, and intensive fuzz. But what we really like about this shaver is its effortless cleanup. Not only does it have larger lint storage, but it has a strong suction as well. So all lint and fuzz will be drawn and collected by the container seamlessly.
Unfortunately, the Magitec Rechargeable Fabric Shaver does not offer adjustable height and speed options. So it may not be ideal for delicate fabrics. It's quite pricey too compared to other similar products. In fact, it's the second most expensive shaver on our list. But considering its portability, design, and functionality, this is a great fabric shaver.
---
4. Conair Battery Operated Fabric Defuzzer
No products found.
The boasts 3 adjustable depth options, giving you a customized fabric shave experience every single time. This also allows this device to safely remove pills, lint, and fuzz from any type of fabric, including your most delicate garments. With it, you can surely make your old clothes appear like new again.
From its name, this fabric shaver is battery-operated. So you'll have that regularly added expense to consider. However, if you are looking for something convenient and a shaver that you can use frequently and travel with, then this is a great choice. It is compact and light, weighing only 0.4 lbs or a little over 181g. It has a comfortable grip handle as well, which allows easy control and prevents hand fatigue.
Another neat feature of the is its large shaving head. Measuring 17/8 inches or 54 mm, it can cover a large surface area at once. So you can finish the task faster with fewer strokes. Plus, this makes it ideal for use on sofas, beddings, blankets, and other large items. Its lint container, however, tends to fill up very quickly. So you may have to empty it more frequently.
---
5. Fiboomerang Fabric Shaver
Why we like it:
Simple and easy to use
Rechargeable
Cute and portable design
What customers say:
"It's easy to use and comfortable in your hand. Never have to look for batteries. I used other fabric shavers before and they never lasted very long as they were always flimsy, this one is great." – Helen Letchford
What's unique about the Fiboomerang Fabric Shaver is its shape and design. Unlike others, which are handheld gun-like, this shaver looks more like a mini speaker. Also, it doesn't have a handle and it's smaller than most shavers on the market. It is USB rechargeable, making it perfect for travel. It does, however, take about 3 hours to fully charge. But once it's full, you can use it for up to 60 minutes.
This device is simple and pretty easy to use. It features a one-key operation and it can be charged by directly plugging it into an outlet, your laptop or desktop, car charger, smart IC charger, or power bank. It also has transparent lint storage so you'll know exactly when to empty it. Plus, it's easy to remove and it comes with a cleaning brush for quick cleaning.
The Fiboomerang Fabric Shaver has 3 sharp blades and 3 mesh sizes on the cover, which means it can quickly remove lint without damaging the fabric. It also features a protection switch, which stops the machine when the cover is loose. However, it doesn't offer different speed or height settings. So it may not work as fast and as efficiently on other types of fabrics.
---
6. Popchose Fabric Shaver
Our last pick for the best fabric shavers in Australia is the Popchose Fabric Shaver. With a 5W motor that can spin at nearly 9,000 RPM, this machine is incredibly powerful and efficient. It is equipped with 6-leaf 400T3 stainless steel blades, too. So it can remove lint, fuzz, and pills easily.
This machine has multiple protection features to ensure the user and the fabric are safe. It has a 50% enlarged bionic-honeycomb mesh that prevents loose yarns from getting pulled out further or sucked into the machine. It also has safety switches, which turn off the device if the mesh cover is loose. And unlike others, it has charging protection that automatically stops the shaver from charging when it's full.
Now, this fabric shaver is USB rechargeable, making it very convenient. It only takes 2 hours to fully charge and can last up to more than 60 minutes. It also has a comfortable handle for better control and grip while removing lint and pills. Plus, it has a large lint collecting tray and a large shaving head, which measures 2.7 inches or almost 69 mm. This makes it perfect for clothes as well as fabric cushions, and other large household items.
What we love about the Popchose Fabric Shaver is that it comes with a lot of additional useful items. For instance, it includes removable electrostatic brushes, which can be used to completely remove lint, fluff, bobbles, and even pet hair on fabrics. It also has a cleaning brush for easier cleanup. Moreover, it comes with 2 replacement 6-blade heads when the old ones get dull. On the downside, however, this shaver doesn't have different height options. It also is pricey and is the most expensive product on our list.
---
How We Researched the Best Fabric Shavers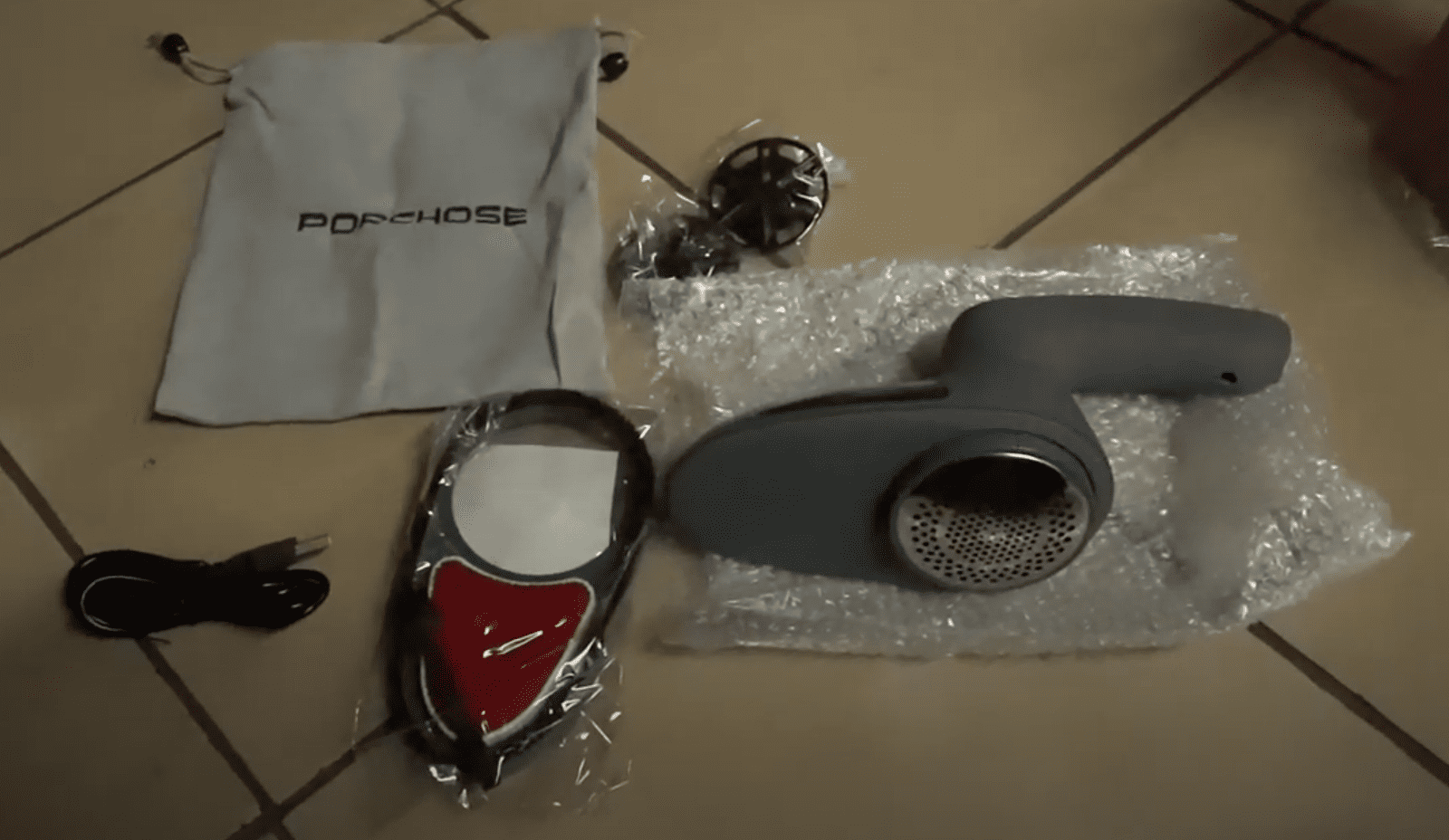 To find the best fabric shavers in Australia, we checked and scoured all major and independent retailers as well as leading online marketplaces. This led us to more than 20 of the best-selling fabric shavers in the market. To narrow it down to the best of the best, we first considered the reviews and read on what customers, critics, and other blogs had to say about each product. We then spent hours and hours comparing products according to their efficiency, functionality, design, and value for money.
After trimming down our list, we were left with only the 7 best fabric shavers. We then analyzed each product and ranked them accordingly. But whichever one you go with, whether it be the first or the last, we guarantee that it is of the highest quality and fully capable of removing unwanted signs of wear and tear.
Fabric Shavers: Buying Guide
Fabric shavers are quite easy to find in Australia. However, with the many brands and models to choose from, it can be challenging to decide on which one to go with. This becomes even harder when you don't know what you are looking for. So to help you out and make sure you'll make an informed decision, here's everything you need to know about buying a fabric shaver.
What to Consider When Buying a Fabric Shaver
Type: There are two types of fabric shavers: manual or electric. Your choice should depend on your needs and the type of fabric you are planning to use it for. A manual fabric shaver is ideal for thin and delicate materials since it goes easy on fabrics. It's also a good choice if you're looking for something cheaper and does not require frequent charging. However, it takes longer to remove unsightly lint balls and pills and it requires more effort and labor from you. On the other hand, if you are looking for the quickest and most efficient way to make your clothes look perfect again, then an electric fabric shaver is your best choice.
Power Source: If you prefer an electric fabric shaver, you should also consider its power source. For instance, if you are looking for more portability and ease of use, then you are better off with a battery-powered unit. However, avoid those that can only last for up to 15 or 20 minutes, especially if you're planning to use it on large items as it may stop working before you can get the job done. On the other hand, if you want continuous power without any time limitation, best to go with a corded fabric shaver model.
Adjustable Height/Depth: The best fabric shaver should work on various types of fabrics and having an adjustable height or depth is one feature to ensure this. With such a feature, you can increase the cutting height when dealing with thick fabrics and reduce it on thin fabrics. This will also help prevent nicking, snagging, and will protect delicate fabrics.
Adjustable Speed: A fabric shaver with an adjustable speed will also work better in different types of fabric. For the best results, you'll need a slower setting on thick fabrics and a faster speed on thin fabrics.
Shaving Head: Fabric shavers are offered in various shaving head sizes, which are typically around 1.5 to 3 inches in diameter. The larger the head, the more efficient it is on large items like furniture and blankets.
Blade Design: The more blades a fabric shaver has, the faster it is in removing lint balls and the more efficient it is on thick fabrics. A good choice is between three to six blades.
Handle: When shopping around for a fabric shaver, look at the handle. Ideally, it should have a textured grip that's comfortable to hold and finger grooves, so you don't have to be constantly squeezing the shaver and tire your hand. Having a good handle will also give you better control.
Additional Features: Other features that can be helpful include a large lint collector so you won't have to empty it too often and spare blades to replace the old ones when they get dull. Some models also offer additional storage features such as a case or storage bag to protect the unit and keep all parts safe and organized at all times.
What are the Benefits of a Fabric Shaver
Sweaters, hoodies, coats, and other types of clothes will fuzz and pill eventually, regardless of their quality. This makes them look worn out, old, and not as good-looking as they used to. While you could always manually pick every individual pill you see, this would take forever. Not to mention that pulling on the fabric can further loosen the threads and cause more pilling. Here's where a good fabric shaver comes in.
With a fabric shaver, you can remove lint, pills, and loose threads without tugging or damaging the fabric. It will help you restore your favorite sweaters and other pieces of clothing and make them look fresh and new. Even better, you can do all these in just a few minutes.
What's great about owning a fabric shaver is that you can use it on many items. While it is mostly used on clothes such as sweatshirts, sweaters, and knit fabric, including wool, angora, merino wool, and cashmere, you can also use it on beddings, blankets, couches, furniture, and furnishings. So if you're having guests over, you can run it on your accent pillows, tablecloths and runners, couch, and seat cushions to make them look better. This is a must for those who have pets as it will prevent pet hair from sticking on your guests' clothes.
A fabric shaver works well with upholstery too, which makes them ideal for car use. See, the constant friction caused by sliding in and out of the seats creates pilling, which makes the interior of your vehicle look worn out and untidy.
Now that you know more about fabric shavers and what to look for, the only thing left to do is choose which one to buy. And we're hoping that through this guide, you can find the right one for you and your needs.
---
You may also be interested in:
Last update on 2023-12-02 / Affiliate links / Images from Amazon Product Advertising API