ⓘ We are reader-supported and may earn a small commission at no additional cost to you if a purchase is made through one of our links.
Whether you are going to work, attending a meeting, or going out on a date, your clothes are one of the first things that people will notice about you. And like it or not, it will affect how others will see you. For instance, wearing a creased and wrinkled shirt may make you seem unkempt and sloppy. It can also give others the impression that you don't care about your appearance.
The problem is, keeping your clothes wrinkle-free can be quite a task. Not everyone has the time or the patience to take out their iron, set up the ironing board, and spend five minutes on a single shirt. Some fabrics, especially the delicate pieces, can't sustain the heat of an iron, too. Thus, making it harder to remove the wrinkles… unless you have a garment steamer.
TL;DR: The #1 Garment Steamer for Most People 👇
Price reduction
With this nifty device, you can easily and quickly remove wrinkles from your clothes or garments without having to worry about damages to the fabric. It can do wonders on silky blouses, suit jackets, flowing skirts, sequined clothes, and other items that are difficult to press with a traditional iron. Plus, it's more convenient since you won't need to take out an ironing board or do any heavy pressing. However, with so many brands and models in the market, choosing which one to go with can be a headache. So to help you out and make your search easier, we made a list of the best garment steamers you can buy in Australia.
Product Name
Black + Decker 1300W Handheld Steamer
Philips Steam and Go Plus Handheld Clothes Steamer
Sunbeam SG1000 Power Steam Handheld Garment Steamer
Kambrook KSS120GRN Swiftsteam Garment Steamer
Product Name
Black + Decker 1300W Handheld Steamer
Product Name
Philips Steam and Go Plus Handheld Clothes Steamer
Product Name
Sunbeam SG1000 Power Steam Handheld Garment Steamer
Product Name
Kambrook KSS120GRN Swiftsteam Garment Steamer
The Best Garment Steamers to Buy in Australia
1. Best Overall Garment Steamer: Rowenta DR8120 X-Cel Powerful Handheld Garment and Fabric Steamer
No products found.
We chose the   as our top pick for the best garment steamers because it heats up fast, generates a lot of steam, and also has amazing features that put it a step ahead of most garment steamers that we evaluated.
It has an impressive maximum 26 g/min steam output on the "Super Turbo Level" and just 40 seconds heat-up time, which makes it perfect when you are in a rush. This high steam power also allows you to easily de-wrinkle large or thick items. And for your delicate clothing, there's a "Delicate Level", which blows out a gentler 20 g/min of steam flow.
So no matter the type of fabric, you can always expect excellent results. This device has a 190 mL removable water tank that's easy to refill. When full, it can provide you with up to 10 minutes of continuous steam. Not only that, but it also works with regular tap water.
As such, you can still use it even if distilled water isn't readily available. Another thing that we like about the Rowenta X-Cel is its steam locker, which makes steaming easier since it saves you the hassle of keeping a finger on the trigger all the time.
What's great about this steamer is that it uses a heated soleplate technology, meaning there's no condensation. So you can wear clothes immediately. On top of that, it is multifunctional. With its 3-meter long cord, you have total accessibility and will have no problem using it with your drapes, couch, pet's bed, and other furniture.
It also comes with 3 accessories, including a fabric brush for heavy fabrics, a steam bonnet for delicate, and a crease attachment for jackets and pants. A door hook is even included, allowing you to easily hang your clothes anywhere for steaming.
Sure, the is pricier than the other garment steamers in the market. But with its functionality, ease of use, and efficiency, it is hard to beat.
---
2. Best Garment Steamer for Suits: Conair Handheld Garment Steamer
No products found.
The is yet another reliable unit that you can consider buying. With its 1110-watt steam system, it performs like an iron, providing you a freshly pressed look every time.
We recommend this Conair garment steamer for suits due to its effectiveness when it comes to removing creases on fabrics such as cashmere, cotton, wool, silk, to mention but a few. It also has a fairly large water tank, allowing you to use the device for up to 15 minutes straight.
However, the steamer takes about 75 seconds to heat up, which is longer compared to most of the garment steamers that we tested.
On the plus side, it features 2 steam settings as well and a 3-in-1 attachment that includes a silicone band that pulls the fabric taut for easier steaming, a bristle brush for heavy fabrics, and a fabric spacer to protect trims and delicate fabrics.
You can also use this device to keep your curtains, upholstery, and other home textiles smooth and fresh. To top it all up, the grip area is ergonomically curved for user comfort, so you can use this garment steamer extensively without experiencing any problem.
---
3. Best Garment Steamer for Linen: TEFAL Pure Tex Handheld Garment Steamer
If you're looking for a steamer that does more than just remove wrinkles from clothes and other fabrics, the TEFAL Pure Tex Handheld Garment Steamer is worth looking into.
We recommend the TEFAL Pure Tex for steaming linen because of its high steam output. This garment steamer features a number of add-ons that set it apart from other garment steamer products.
For starters, this device has 4 main functions that you can use at any time. It can sanitize fabrics by killing off any bacteria on it with its strong steam function. This steamer can also remove creases and wrinkles while steaming. Another function that you can use with this device is its fragrance diffuser, and it even has a cleaning function that helps you remove lint and other surface dirt from textiles.
How does this garment steamer do all that? It achieves such usefulness with the help of four different pads that can be easily attached to the steamer head with a magnetic fixture. Use the right attachment for the job you need to perform and you're good to go!
To remove lint and surface dirt, the reversible pad with lint remover is what you need. The microfibre head, which is on the other side of the lint-removing pad, is what you can use when you want to iron out wrinkles and creases.
For sanitising and bacteria killing action, the mesh steam head is what you need. If you want to add your favourite perfume to a shirt or even a stuffed toy, spray the diffuser pad with your preferred scent, insert in the padded mesh pad, and steam away.
This handy and portable garment steamer also has other great features that make it a great appliance to have on hand. It has a quick heating system that lets you steam and remove creases on clothes in as little as 25 seconds. It's also lightweight, and is designed for easy grip, making it easy to use.
And with a long 2.5 metre power cord, you can steam and iron long swathes of fabric like curtains and sheets with minimal effort. If you are in search of a high performance garment steamer for shirts and other clothes, the TEFAL Pure Tex is the way to go!
---
4. Best Garment Steamer for Curtains: Russell Hobbs 2-in-1 Garment Steamer
Price reduction
Why we like it:
Steams and irons at the same time
Has different accessories for different steaming and ironing tasks
Comes with own carrying bag
Long power cord allows for effortless steaming/ironing of longer fabrics
What customers say:
"Found Russell Hobbs 2-in-1 Steamer Supreme light weight and very easy to use. Can use while hanging clothes or on a ironing board for heavier garments if required. Highly recommended."– Tracy
Wrinkled curtains, especially when you have visistors can be such a hassle, not to mention embarrassing. You don't have to suffer judgmental stares and whispers regarding your rumpled curtains when you have the Russell Hobbs 2-in-1 Garment Steamer on hand.
This garment steamer can also work wonders on your clothing since it gets rid of creases, wrinkles, unwanted fold lines, and more. If you look at the design of this device, you will notice that it has a head shaped like a miniature iron. This is because it works to remove wrinkles on clothes two ways – by ironing your clothing on an ironing board and by steaming the wrinkles away.
The ingenious design, with the traditional-looking clothes iron shape and the long steamer handle, helps you do any of the two to get perfectly creaseless apparel. Its long handle stays firmly in your grasp as you move the iron up and down as well as left and right to get rid of any wrinkles you don't want.
Even when you're in a hurry, this steamer/iron can work wonders on your clothing since it heats up and generates steam in just 45 seconds. Before using, simply fill the water tank with clean water.
The tank can hold up to 170ml of water and the iron can give you 20g/min of continuous steam with the help of steam trigger lock, allowing you to steam clothing, curtains, and other fabrics for over 7 straight minutes without having to constantly press the steam button.
This steamer/iron also has a few accessories that allow you to iron a wide variety of fabrics safely. These include an attachment for use with delicate fabrics, a brush for upholstery, and an attachment for use with curtains and other hanging fabrics.
The Russel Hobbs 2-in-1 Garment Steamer also operates on what's called one temp technology, removing the age-old dilemma of deciding what temperature to use when using an iron. What's more, it also helps you remove up to 99.9 percent of bacteria on your clothing, leaving you with wrinkle-free and ultra-clean clothes!
---
5. Best for Most People: Philips Steam and Go Plus Handheld Clothes Steamer
The Philips Steam and Go Plus Handheld Clothes Steamer is perfect if you need to de-wrinkle your clothes on the go or when traveling. It only weighs 0.95 kg and is very convenient since you don't have to take out the ironing board.
Most people like this garment steamer because it can steam vertically or horizontally and on any surface. However, while its lightweight and compact design offers more portability, it also has some drawbacks.
For instance, it has a significantly smaller water tank of 70 mL, so we had to refill it up to three times to get the work done. Running at 1300W with up to 24 g/min steam output and with a heat-up time of 45 seconds, it is also slower and less powerful than the Rowenta X-Cel.
But take note, with such specs, this device is still efficient and fast enough than most garment steamers in the market. What we like about the Philips Steam and Go Plus Handheld Clothes Steamer is that it is incredibly easy to use.
Just plug it in, press the trigger, and watch creases and wrinkles disappear. You can safely use it on all ironable fabrics and garments even the delicate ones like silk without worrying about burning. It also comes with a brush accessory for your thicker clothes like jackets or coats and a glove for extra protection.
---
6. Best Garment Steamer for Home: Sunbeam SG1000 Power Steam Handheld Garment Steamer
With a 300 mL water tank capacity, the Sunbeam SG1000 Power Steam Handheld Garment Steamer can hold the more water than any other garment steamer in our list. This provides you with up to 18 minutes of continuous usage.
Meaning, you can steam and get the job done quickly since you don't have to keep stopping to refill the water tank. With a bigger water tank, this may not be the best garment steamer for travel, but is definitely a top pick for regular home use.
This device also has a fast heat-up time of 40 seconds, 1400 wattage, and a high continuous steam flow rate at 23 g/min. So with it, you will have no problem getting the wrinkle-free results you want. Plus, it's affordable too.
Like most of the steamers that we evaluated, the Sunbeam SG1000 Power Steam Handheld Garment Steamer has two steam settings: Low and High. This means you can use it on different types of fabrics.
It also comes with 4 accessories, allowing you to use it with delicate fabrics, lint removal, heavier fabrics, and more.
---
7. Best Budget Garment Steamer: Kambrook KSS120GRN Swiftsteam Garment Steamer
If you're looking for a garment steamer that's simple and budget-friendly, then try the Kambrook KSS120GRN Swiftsteam Garment Steamer. It has a generous 250 mL water tank, which provides you with enough continuous steam to finish your task without having to fill it up constantly.
In addition to this, it is simple and very easy to use. Just press the trigger and you are good to go. It is also lightweight, compact, and comfortable to hold.
Plus, it includes a detachable fabric brush. With this device, you can remove creases from fabrics and linens or freshen up upholstery.
If you do go with the Kambrook KSS120GRN Swiftsteam Garment Steamer, don't use it in a horizontal position. It is designed to be used only in an upright position on hanging fabrics. There's no option to change the steam output rate as well.
---
How We Researched the Best Garment Steamers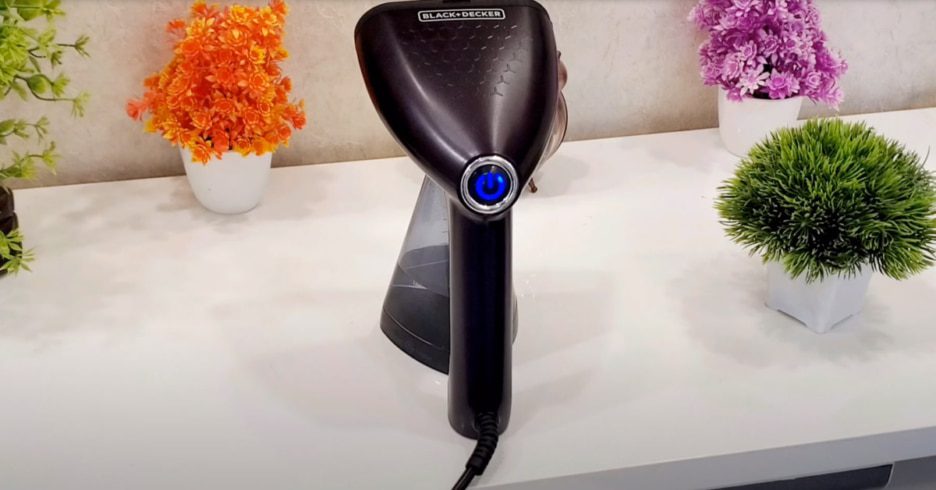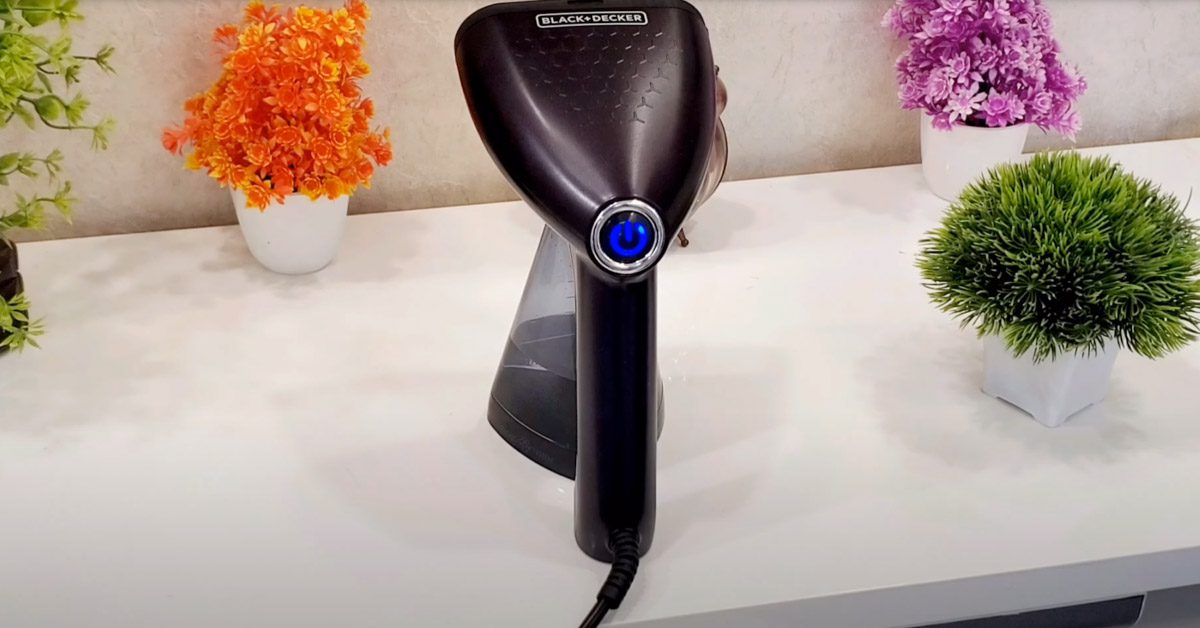 Our team spent about seven weeks researching and testing the best garment steamers we could find in Australia. The test models were evaluated for steam output, ease of use, and overall performance.
We tested the garment steamers on different fabrics such as polyester, cotton, linen, and satin. To evaluate the performance of the test models on the mentioned fabrics, we noted how long each steamer took to de-wrinkle the clothes.
Additionally, we timed the garment steamers during start up to see how long they take to heat up. We also checked the steamers for leakages since it's a common problem with most models on the market.
And because these are hand-held tools, we had to evaluate how easy they are to use by checking if the grip points are ergonomically designed.
We used each garment steamer for an hour and only stopped for 2 or 3 minutes to refill the tanks. Through this, we were able to check if there is any discomfort when the steamers are used for an extended duration.
But we didn't stop there, we compared the garment steamers, taking into account the capacity of the water tanks and included accessories.
Garment Steamers: Buying Guide
A garment steamer is a great addition or alternative to a traditional iron. But with the many options available, choosing which one to buy can be a challenge. It can also be confusing, especially if you don't know what you are looking for and what exactly you can get from a garment steamer.
So to help you make an informed decision and ensure you'll get your money's worth, here's everything you need to know about garment steamers.
What to Consider When Buying a Garment Steamer
Below are some of the factorrs that you need to think about when shopping for the best garment steamer:
Steam Output / Steam Flow Rate
Typically measured in grams per minute, a device's steam output will give you an idea of how quickly and efficiently it can remove creases. The higher the number and the stronger the flow of steam, the faster it will be.
Heat-up Time
One of the reasons why many prefer a steamer to iron is that it makes the whole process faster. That said, it shouldn't take forever to heat up and be ready to use.
Power
Measured in watts (W), power will determine the steam flow rate and speed of heating. It will also let you know how gentle a product's steam is.
Ease of Use
Look for a garment steamer that's easy to use. Are the controls simple enough? Consider also how balanced it is and whether or not it is easy to hold. These features will make sure you are comfortable while using the product.
Water Tank
Check for a garment steamer's water tank capacity. This will determine how long it will run before needing a refill. A larger water tank means you don't have to refill it as frequently. You should also consider how easy it is to fill and empty.
Adjustable Steam
A garment steamer with adjustable steam output option is a huge advantage. This will allow you to set the right amount of steam depending on the type of fabric you are steaming.
Accessories and Attachments
When buying a garment steamer, consider getting one that comes with accessories like brushes, crease attachments, etc. This will make the unit more efficient, convenient, and versatile.
What are the Benefits of Garment Steamers
There are many instances when a garment steamer is more beneficial than traditional iron. When you are dealing with soft, delicate fabrics, and items that are tricky to iron, then you are better off with a steamer. This includes wool, wool blends, and synthetic wool-like fabrics.
It is also ideal for silk, silk blends, cashmere, satin, and jersey. With a steamer, there is no hot metal that will directly come in contact with the fabric. So it is unlikely to crease, burn, or damage your clothes. 
Garment steamers also offer more convenience than iron. No need to take out your ironing board or prepare another space where you can safely smoothen out your clothes.
You can just hang the garments and easily steam them anywhere you want. This is also perfect for draperies since you don't have to take them down to treat them. And since these devices are lightweight and require very little space, storing is such a breeze, too.
Unlike in ironing, there's no "technique" needed to use a steamer. You don't have to move the clothes around the board correctly, select the right temperature for the fabric, and learn how to press certain sections. It is quick and easy, anyone can do it.
Finally, garment steamers offer more uses than traditional iron. For one, it can be used to kill bed bugs. According to a study in 2011, a temperature of 48.3 degrees Celcius (118.94 degrees Fahrenheit) is lethal to adult bed bugs and 54.8 degrees Celcius (130.64 degrees Fahrenheit) for eggs.
Many of the garment steamers in the market can heat up above these levels. Steaming is also a safe way to kill bacteria, dust mites, and others. So not only can you use a garment steamer to clean and refresh your clothes, but you can use it for your household items as well, including your curtains and furniture.
And there you have it. With this buying guide, you are now ready to make an informed decision and choose which of the best garment steamers you should buy.
---
You may also be interested in:
Last update on 2023-11-30 / Affiliate links / Images from Amazon Product Advertising API