The best electric toothbrushes improve dental hygiene, minimize effort, and add a high-tech approach to tracking oral health. There are a plethora of different electric toothbrushes to choose from so we've put together this list of the best electric toothbrushes to make your life a bit easier.
How We Picked the Best Electric Toothbrushes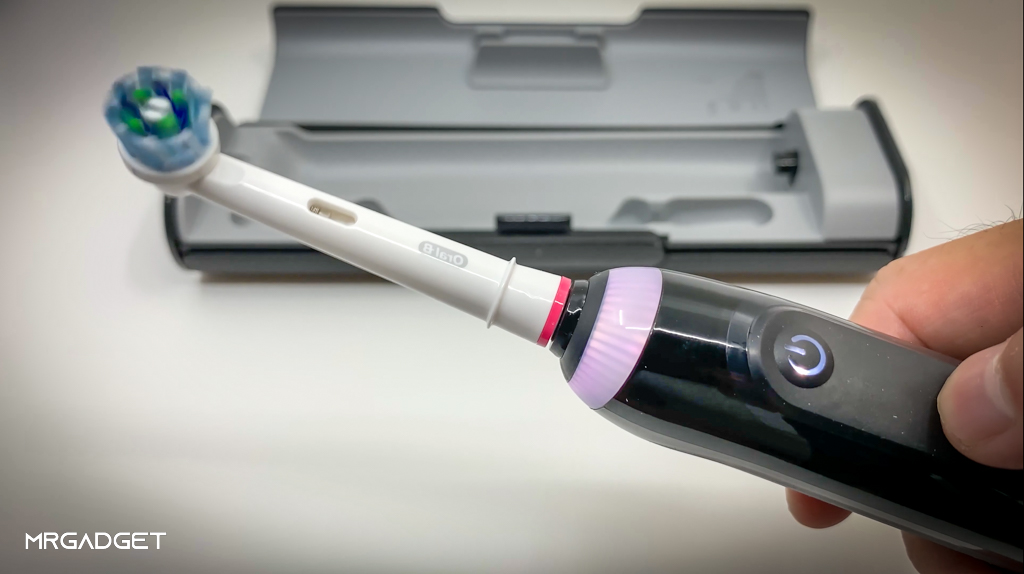 With so many different options to choose from and with every brand claiming their new model is the best thing since dental floss, it was a tall order putting together this list.
We looked at every major dental brand, retailer, crowdfunding product, and more to identify an initial list of 34 different electric toothbrushes. We then compared them against one another using their specs, features, and pricing to determine the best within each price range.
The result is the 6 electronic toothbrushes that you see below.
The Best Electronic Tooth Brushes in Australia
So without further ado, let's hop in and take a look at each of the models we chose. If you feel like we missed anything, please do let us know in the comments.
1. Philips Sonicare DiamondClean Smart Sonic Electric Toothbrush
The Philips Sonicare DiamondClean Smart Sonic Electric Toothbrush is our number 1 pick for the best electric toothbrush because of its undeniable quality in every area. Yes, it costs a fair bit of money, but you get what you pay for with this toothbrush.
This is a premium product in every sense. The aesthetic is sophisticated and exudes class, the build quality is immediately apparent, and the feature list is extensive. There are 5 separate cleaning modes; Clean, White+, Gum Health, DeepClean+, and Tongue Care, each of which does a brilliant job at its respective tasks. This truly is a do-it-all toothbrush and one that's actually capable of doing everything perfectly.
Philips has taken an educational approach with this electric toothbrush and its brilliant companion app. The app includes a plethora of diagrams and tips that help improve your dental hygiene. This philosophy is also present in the toothbrush's hardware, with things like pressure-sensing technology that monitors the amount of pressure being applied to the teeth.
Too much pressure can cause damage and not enough reduces the cleaning efficacy. But don't worry, the toothbrush reacts in real-time, and will reduce the stroke speed to protect the teeth. A purple indicator light lights up during this time and will only turn off once a healthy amount of pressure is used. Very fancy stuff indeed, and stuff that has a real impact on dental health.
The app itself deserves its own review because it is very extensive and extremely useful. We absolutely love it because it's not just a marketing ploy to justify the steep price, but a genuinely useful tool that makes brushing your teeth more akin to a dental checkup than a mindless twice-daily task.
So if you really do want the best electric toothbrush on the market, this is without a doubt the guy to buy!
---
2. Oral-B Genius 9000 White Electric Toothbrush
The Oral-B Genius 9000 White Electric Toothbrush takes the second spot on this list thanks to its excellent feature list in combination with a much more affordable price point. This is best the electric toothbrush for the majority of people simply due to its value for money. Yes, it lacks some of the incredible features presented by the Philips we just looked at, but it does have all of the important things.
This innovative toothbrush will clean your teeth more thoroughly than brushing with a manual toothbrush. With features like Position Detection, it will ensure that you brush all around your mouth equally to properly clean teeth and gums. Intelligent Oral-B Genius 9000 electric toothbrush helps you to brush like your dentist recommends, with customizable features and advanced technology.
In total, there are 6 different cleaning modes that provide a comprehensive dental suite and ensure complete dental and oral hygiene. Just like the Philips DiamondClean, this guy has a built-in pressure sensor to protect teeth enamel.
So if you're looking for one of the best electric toothbrushes available in Australia, you've certainly found one. It may not be the best, but this is arguably the best value-for-money electric toothbrush around!
Phenom
---
3. Philips Sonicare ProtectiveClean 5100
The Philips Sonicare ProtectiveClean 5100/ is similar to the Oral-B Genius 9000 in many ways but at a slightly higher price point and with a bit more quality. The immediate difference is the aesthetic. Its sleek navy blue appearance really does give it a unique look compared to a lot of the other brushes out there.
Looks aside, the cleaning functions are excellent. The ProtectiveClean 5100 has three separate cleaning modes; Clean, White, and Gum Care. Each of these offers varying levels of intensity, with Gum Care being the most gentle. And this is where pressure-sensing technology is key. To ensure the appropriate amount of pressure is being applied to protect the gums, the toothbrush will automatically slow down if it detects too much pressure – very cool
Another cool feature is the automatic detection of when the bristles wear out. The toothbrush will track the amount of use and if it exceeds the recommended amount, it will alert you to purchase new brush heads. And it doesn't just measure the frequency, but also the intensity. So, if you're brushing like a mad mad, it will recognise that the bristles need replacing sooner as well.
---
4. Xiaomi Mi Smart Electric Toothbrush T500
The Xiaomi Mi Smart Electric Toothbrush T500 is for the budget-conscious among us. Of course, at such a low price point you will miss out on the premium features found elsewhere, but if you want to dip your toe into the electric toothbrush market, this is a good bet.
It has a simple yet elegant aesthetic that wouldn't look out of place in any bathroom. On the surface are indicator lights that light up when using any of the three cleaning modes. The three modes are Gentle, Standard, and Favourite. They're pretty self-explanatory, but simply put, they apply a different number of brush strokes per minute.
There is a companion app, but it's nothing like the Sonicare app and does have some connectivity issues. This isn't an electric toothbrush for those who are serious about making a meaningful change, but rather more of a test run before you spend 150+ dollars. This is also an excellent travel toothbrush thanks to its affordability and USB charging.
---
5. Oral-B Pro 2000 Black Electric Toothbrush
The Oral-B Pro 2000 Black Electric Toothbrush is a quality mid-range rotary electric toothbrush that delivers excellent cleaning without the price tag. It has a slim yet ergonomic design that's comfortable to use and a long battery life that lasts a little over two weeks.
Surprisingly, at this price point, there is included pressure sensing which will help protect your teeth and gums. The companion app will track and monitor aspects of cleaning as well as brush maintenance.
There are only 2 cleaning modes; normal, and sensitive, but how many do you really need or expect at this cost? You can cycle through the modes with the click of the button, but the toothbrush will also remember the last mode uses, which is a small but appreciated conveneience.
This really is a quality rotary electric toothbrush with a cleaning ability that exceeds its pricepoint. The inclusion of pressure sensing is great and the overall quality is readily apparent.
---
6. Sonicare ProtectiveClean 4300
The Sonicare ProtectiveClean 4300 is another excellent mid-tier electric toothbrush from Philips. As with almost all Sonicare models, there is a premium feel to it and it's very evident here.
There is just one cleaning mode that breaks the trend from other electric toothbrushes, but ultimately it comes down to quality, not quantity. However, within this one cleaning mode, there are two levels of intensity, which qualifies as two separate modes, really.
There is a built-in pacer that will measure the time spent brushing each quadrant of your teeth and alert you when you need to move on to the next area. This is great for dental hygiene as it ensures comprehensive coverage.
There's also a built-in pressure sensor that will vibrate when too much pressure is used. So, although this electric toothbrush is affordable, it still packs a serious set of features.
---
Electric Toothbrush: Buying Guide
Electronic toothbrushes are feature-rich products with a lot of health benefits and claims from manufacturers. This guide will help you choose the best electric toothbrush for your needs and put some of the claims to the test by referencing scientific studies.
This isn't a guide on teeth cleaning, but please refer to this guide from the Australian government for an approved method.
What are the Benefits of Electric Toothbrushes
Here we look at the claimed benefits of owning an electric toothbrush by referring to studies related to the claimed benefits:
Are Electric Toothbrushes Better at Cleaning Teeth than Traditional Brushes?
The short answer is yes, there are numerous studies supporting the claims made by the manufacturers. For example, this study concludes the following:
This data suggest that the rotary electric toothbrush is more effective than conventional toothbrushes for removing plaque and controlling gingivitis in adolescents during orthodontic treatment with fixed appliances.
*Please note that this study references rotary brushes.
Another study concludes something very similar:
Electric toothbrushes are more effective in plaque removal than manual brushing in closely supervised trials. There is clinical evidence that a small rotating brush rather than a side to side motion is more effective
Are Rotary Electric Toothbrushes Better than High-frequency Electric Brushes?
Yes, this is shown in numerous studies, with one study concluding the following:
The oscillating/pulsating power toothbrush (Oral-B ProfessionalCare 7000) was more effective than the high-frequency power toothbrush (Philips Sonicare Elite) at plaque removal and improvement of gingival condition, with no greater potential for causing gingival abrasion.
Do Electric Toothbrushes Help People with Rheumatoid Arthritis?
Yes, it has been shown that electronic toothbrushes have helped improve the dental hygiene of those with rheumatoid arthritis. This study concluded the following:
The use of an electric toothbrush was slightly more effective than a manual brush.
What to Look For in an Electic Toothbrush?
Here are some of the key points you should consider before buying an electric toothbrush:
The Different Types of Electric Toothbrushes
There are a few different types of electronic toothbrushes, so let's take a quick look at them:
Vibration
A vibrating head that applies extra movement to the tooth.
Oscillating
An alternating movement that moves from side to side to help deliver a better clean.
Rotating
A spinning brush that helps clean the tooth.
There is no outright better type of electric brush, but some of the studies mentioned in our buying guide reference rotating more often.
Features
Electric toothbrushes are usually packed with features, let's discuss some of the most important ones:
Pressure sensor
The pressure sensor is one of the most useful features since it both protects your teeth and gums, as well as the brush heads themselves. Some brushes will vibrate with too much pressure, others will show an indicator light, and some only track it through the app. We would recommend one with a light.
Speed
The ability to vary the speed easily is a useful feature for those who want to deliver varying intensities in different parts of the mouth or have the ability to adjust in the case of ulcers or other issues.
Timer
A lot of electronic brushes include timers that will alert you when you have brushed for the recommended time in a certain quadrant of the mouth.
Range of Brush Heads
The brush is arguably just as important as the toothbrush itself. It's best to speak to your dentist, but different brushes are better for certain people with medical issues.
Battery Life
The longer the battery life is, the better. It's that simple. Just be aware of the charging ports. USBs are universal but some brands use a proprietary charging port which is annoying.
---
You may also be interested in:
Last update on 2022-01-19 / Affiliate links / Images from Amazon Product Advertising API