ⓘ We are reader-supported and may earn a small commission at no additional cost to you if a purchase is made through one of our links.
By using the best blood pressure monitor, you can accurately measure the force in your arteries with every beat that your heart makes. Regular monitoring of your blood pressure levels can help you avoid a range of health problems. But most importantly, blood pressure monitors can assist in the early diagnosis of high blood pressure, commonly known as hypertension.
It's not only hypertension that you should be worried about since you can also get low blood pressure (or hypotension). Getting an early diagnosis for these complications means you will have an upper hand when it comes to blood pressure management. When buying an oscillometric machine, ensure that you pick one that will provide you with accurate systolic and diastolic values.
TL; DR: The #1 Blood Pressure Monitor for Most People 👇
We understand that this can at times be difficult since all blood pressure monitors are advertised as accurate. To make your work easier, we've compiled a list of the 6 best blood pressure monitors in Australia. We hand-picked these devices based on long hours of research, so you can choose any that has the features that you need. If you are in a hurry and unable to read the entire article, the below quick links can take you straight to the product that you are interested in:
The Best Blood Pressure Monitors to Buy Today in Australia
1. Best Overall Blood Pressure Monitor: Withings BPM Connect Wireless Blood Pressure Monitor
We chose the Withings BPM Connect Wireless Blood Pressure Monitor as our top pick for the best blood pressure monitors due to its high level of accuracy, user-friendly design, and auto synchronisation feature.
You will be happy to know that this device is clinically approved and provides feedback based on the standards of the European Society of Hypertension (ESH). It comes with an upper arm pressure cuff that is designed with your comfort in mind and also features a rechargeable battery for user convenience.
This oscillometric device can accurately measure your systolic and diastolic blood pressure at a go, thus providing you with instant feedback. It can also monitor your heart rate in real-time. Best of all, it colour codes the feedback based on your blood pressure level. This way, you can easily interpret the results even without using the numbers.
With BPM Connect, you can monitor the blood pressure of up to eight users, making it an ideal option for the whole family. You can synch this device with your smartphone via Bluetooth or Wi-Fi, allowing for quick and easy blood pressure monitoring.
Alternatively, you can monitor your BP directly from the LED screen. To make it even more convenient, this device allows you to share your blood pressure readings with your doctor. However, this feature is only available for iOS users at the moment.
The other thing that we liked about this blood pressure monitor is that it's lightweight and compact, meaning you can take it with you just about anywhere. This makes it a great choice for people with hypertension or those on medication for the same.
It can help you detect nocturnal hypertension, white coat hypertension, and masked hypertension. For accurate results, measure your blood pressure two or three times and then average the values to get the final reading. Our only gripe is that you have to create a Withings account to enjoy all the features offered by this device.
---
2. Best Blood Pressure Monitor for iPhone and Android: QardioArm Smart Blood Pressure Monitor
With an accuracy level of +/- 3 mmHg, you can fully rely on the QardioArm Smart Blood Pressure Monitor when it comes to measuring your BP. It shares several features with the BPM Connect, but the only difference is that this model supports both Android and iOS systems.
In addition to this, the manufacturer provides you with a free companion app that will enable you to monitor your blood pressure from your phone or compatible smartwatches. The cuff can fit people with an arm circumference of 22cm to 37cm, so ensure that you confirm the measurements before making your order
What's more, the QardioArm blood pressure monitor can display data in the form of graphs, charts, and values. But it doesn't end there, you can save the readings from each monitoring session for later analysis. As such, you'll be able to keep your blood pressure in check at all times.
Like most oscillometric machines in its class, this blood pressure monitor automates the monitoring process, so all you have to do is insert your upper left arm through the cuff, pair the monitor with your device, and monitor your pressure levels. Besides, it comes with easy-to-follow instructions that will guide you through the entire process.
Aside from your BP levels, this device can measure your heart rate. To add to its list of features, it has a built-in irregular heartbeat detector that will let you know if the electrical signals controlling your heart are not working as they should.
By using the data sharing function, you can easily send your blood pressure readings to your doctor and family members. The QardioArm device also has a geo-tracking function that you can use should you find yourself in an emergency.
---
3. Best for Most People: Omron Basic Upper Arm Automatic Blood Pressure Monitor
Omron is widely known for making some of the best oscillometric devices, and the Omron Basic Upper Arm Automatic Blood Pressure Monitor offers the same level of quality and accuracy associated with the brand.
This device has unique features that you won't find on most blood pressure monitors. For starters, it has a body movement detector that will alert you if the readings are not properly taken. With this feature in place, you can always repeat the monitoring process when the body is at rest.
And like the unit just before it, it features an irregular heartbeat detector that can pick up heart arrhythmias. Because it also has a hypertension indicator, you can easily tell if there is a problem with your blood flow.
To add to this, it uses IntelliSense technology, so rest assured you will get accurate readings. The in-built memory can save the last blood pressure reading for future reference. This device will automatically inflate the cuff to the most ideal level for precise BP measurement.
The HEM-7121J will notify you if your blood pressure is not within the recommended range, making this one of the best blood pressure monitors that you can consider buying. With a cuff size of 22cm to 42cm, this device can fit medium to large circumference arms. The monitor requires 4 AA batteries which are included in the kit.
---
4. Best with Wireless Connectivity: FirstMed Bluetooth Digital Blood Pressure Monitor
The FirstMed Bluetooth Digital Blood Pressure Monitor is just as efficient as the Omron HEM-7120 but is somewhat better since it has companion apps that will allow you to sync it with Android and iOS devices.
You can connect it to compatible devices through Google Fit or Apple Health. This digital blood pressure monitor will enable you to monitor and store your BP readings by date. Much like the first blood pressure monitor in the list, this model can classify the readouts depending on how high or low your blood pressure is.
Also, the back panel is set at an angle to give you a direct view of the LCD display. The irregular heartbeat indicator can greatly assist you when monitoring your pulse. Additionally, the pressure sensors on this gadget can effectively detect deviations in your blood pressure.
When used correctly, you will get medically accurate readings every time. It even has a guest mode that can prove helpful when you don't want to save the readings. The FirstMed Digital Blood Pressure Monitor has a straightforward design, so it won't frustrate you as you monitor your BP levels.
It is equally easy to set up and also comes with a detailed user manual that'll simplify your work. If you are looking for a high-quality blood pressure monitor that is reasonably priced, this may just be what you need.
---
5. Best Value Blood Pressure Monitor: Frontida Health Digital Blood Pressure Monitor
Easily measure your pulse rate and BP with the Frontida Health Digital Blood Pressure Monitor. This unit is intelligently designed to ensure you get accurate blood pressure readings.
It not only has a simple design but is also easy to operate. The wide colour display will provide you with consistent readouts, provided that you fit the cuff correctly. More on the cuff, it can accommodate large arms with a circumference of 22cm to 42cm.
This blood pressure monitor can store up to two user profiles, so you won't have to erase your data when somebody else wants to use it. Plus, it will keep your last 199 blood pressure readings, thus making it an excellent choice for anyone who is looking to monitor their blood pressure regularly.
Simply press the MEM button to access your previous readings. As with most oscillometric devices, we recommend that you take multiple readings and then average the values to get your final BP measurement.
Besides the readouts, the display indicates the battery level, so you will never be caught off guard in case the batteries run out of juice. Like the FirstMed Digital Blood Pressure Monitor, this device is approved by the Therapeutic Goods Administration of Australia (TGA).
With that being said, you can go for it knowing that you are buying a BP monitor that is both accurate and reliable. To get the best out of this blood pressure monitor, ensure that you follow the instructions provided by the manufacturer to the letter.
---
6. Best Blood Pressure Monitor with Voice Broadcast: ZXTD Blood Pressure Monitor
Despite its position in our list, the ZXTD Blood Pressure Monitor is one of the best oscillometric machines that you can add to your kit. It has a two-user memory and can store up to 198 measurements, allowing each user to keep 99 blood pressure readings from different sessions.
The intelligent pressurisation system will let you know whether you have hypertension, hypotension, or an irregular pulse. You can measure all the parameters with the touch of a button, thanks to the monitor's simple interface.
And unlike most blood pressure monitors, this device has a voice broadcast function for your convenience. The AI will read the reports to you when you are done taking the measurements. This feature puts the ZXTD Blood Pressure Monitor a step ahead of most units.
It can particularly help those with age-related macular degeneration, glaucoma, and other eye complications. More to this, the device will give you tips on how you can accurately monitor your blood pressure.
The included cuff is firmly stitched to ensure its stays in one piece throughout the period that you will be using this device. According to the manufacturer, the cuff has antibacterial properties, making it safe for everyone. There is also a blood pressure colour scale that will give you a summary of your blood pressure levels.
However, bear in mind that the cuff can only fit into upper arms that measure 22-32cm. More importantly, the screen displays the values in large font, so you won't experience any problem reading the measurements.
---
How We Researched the Best Blood Pressure Monitors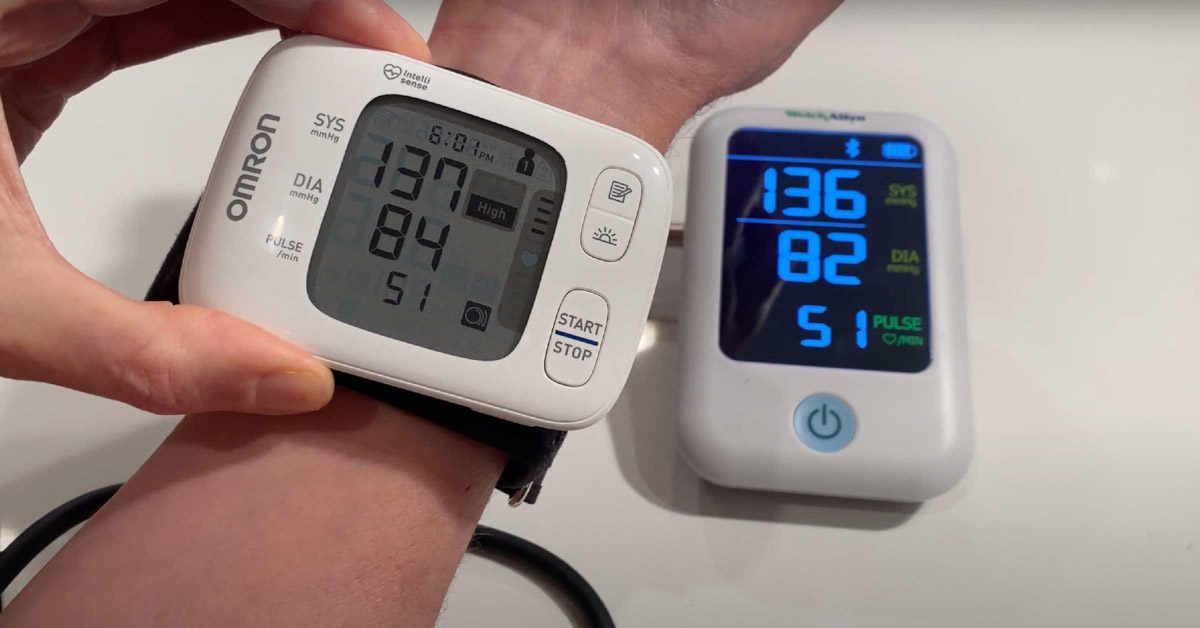 We commenced our search for the best blood pressure monitors by consulting Choice—one of Australia's most trusted consumer advocacy groups for tips on what makes a good blood pressure monitor. Additionally, we visited ProductReview.com.au to identify the top-rated and best-selling blood pressure monitor brands in Australia.
But that is not all; we read through several research articles, including those on the Australian Institute of Health and Welfare (AIHW) and the American Heart Association (AHA) websites. The info that we got from these sites gave us a good starting point during the selection process.
We then picked 14 blood pressure monitors from 8 different brands and later assessed the devices based on Ease of use, Cuff size, Accuracy, Reading time, Type, Cost, Battery type, and Features. Through this, we were able to do away with 8 blood pressure monitors, leaving us with six products that we raked based on our research findings and the customer reviews and product ratings on Amazon Australia.
Blood Pressure Monitor: Buying Guide
If you are looking to buy the best blood pressure monitor, you shouldn't pick the first one that comes your way. These pieces of equipment are not only built different but also vary in terms of accuracy, features, and build quality. That said, you should see to it that you pick a reliable oscillometric device that can help you measure your blood pressure with utmost accuracy.
We highly recommend that you only go for physician-approved blood pressure monitors. However, even these are often not easy to choose since there are a number of things that you need to take into account. For this reason, we thought it wise to create this buying guide to help you find the best blood pressure monitors Australia has to offer.
What to Consider When Buying a Blood Pressure Monitor
When it comes to blood pressure monitoring, you should avoid cheaply made monitors that are likely to give you an over or underestimation of your blood pressure. Additionally, ensure that the BP monitor that you intend to buy has all the features that you need. Here are some of the factors that you should consider when shopping for a blood pressure monitor:
Type
First and foremost, you need to familiarise yourself with the different types of blood pressure monitoring devices that are out there and how they work. Blood pressure monitors can be categorised based on the body part to which they are attached during the monitoring process. Depending on your budget and preference, you can buy arm blood pressure monitors, wrist blood pressure monitors, or finger blood pressure monitors.
Arm-based blood pressure monitors are preferred by health experts and cardiologists for at-home monitoring due to their accuracy. If you know a thing or two about blood pressure monitoring, then you must be aware that you can only get accurate readings if the arm is properly levelled with the heart. The good thing about arm blood pressure monitors is that they make the levelling easy since the cuff is attached to the upper arm. This will increase your chances of getting accurate blood pressure readings.
Finger and wrist-based blood pressure monitors can come in handy if your arm is too big to fit into the cuff of an arm monitor. The only problem with wrist and finger-based blood pressure monitors is that they are more likely to give you inaccurate results because the wrists and fingers sit below the level of the heart. As such, chances are you will get an overestimation of diastolic and systolic values.
Cuff size 
The cuff size is probably one of the most important factors that you need to think about when choosing a blood pressure monitor. To accurately monitor your blood pressure, ensure that you use an oscillometric device with a cuff that can fit your wrist or upper arm without being too tight or loose. If the cuff is too tight, it may add a few mmHg points to the actual value, resulting in an overestimation of blood pressure.
According to the American Heart Association (AHA), adults with an arm circumference of 22cm to 26cm should use a 12x22cm cuff. If your arm is 27cm to 34cm, a 16x30cm cuff will do, while those with 35cm to 44cm arms can benefit from a cuff size of 16x36cm. People with large arms that measure 45cm to 52cm should use blood pressure monitors with 16x42cm cuffs. Some blood pressure monitors feature adjustable cuffs that offer a universal fit for most arm sizes.
Accuracy
When it comes to the accuracy of a blood pressure monitor, several factors come into play. As we mentioned earlier, the results that you get can easily be affected by the position of your arm and the size of the cuff. Aside from these, the overall design and performance of the monitor will determine the mmHg readings.
Knowing which blood pressure monitor is accurate is not always easy, so we recommend that you buy these devices from trusted brands. You can also check for accuracy by comparing the readings on your BP monitoring device with those on your doctor's pressure monitor. You need to do this periodically to ensure the blood pressure monitor is providing you with accurate readings.
Features
Not all blood pressure monitors are the same in terms of features. Some of these devices have additional bells and whistles that can assist you in various ways. It is therefore your responsibility to ensure the device you are buying has all the functionalities that you need.
Most modern-day blood pressure monitors have built-in memory that can store your BP readings. This feature can particularly assist those who are on hypertension medication as you'll be able to monitor your progress.
Some models can average your data to give you the most accurate results. A good number of blood pressure monitors in this guide feature onboard irregular heartbeat detectors and blood pressure classification charts for user convenience.
Ease of use 
You should buy a blood pressure monitor with a straightforward design to avoid complications when monitoring your vitals. Digital blood pressure monitors are a favourite among most people because they are easy to operate. In addition to this, they display detailed readouts that will simplify your work when interpreting the results.
Ensure that you read through the instructions provided by the manufacturer before using your blood pressure monitor. This not only takes out the guesswork from the monitoring process but also provides you with a frustration-free user experience.
Reading time
The reading time varies from one blood pressure monitor to another. You should consider purchasing a BP monitor with a shorter reading time because you will be able to take multiple readings within a limited duration.
With a shorter monitoring time, you can collect multiple measurements and average the readings to get medically accurate blood pressure values.
Cost
The cost of buying a blood pressure monitor can range anywhere between $50 and $450, with some costing more or less. Ensure that you compare prices before settling for a particular option because the cost of these machines often varies depending on the features, brand, and quality.
To get the best results, you should invest in a BP monitor that suits your needs. Also, it is not always a good idea to buy cheap blood pressure monitors.
Battery type
Most blood pressure monitors use either AA or AAA batteries, while other models are fitted with rechargeable batteries. Both rechargeable and disposable batteries will provide you with great results, so you can pick any that is within your budget.
Health Benefits of Monitoring your Blood Pressure
Monitoring your blood pressure regularly can be life-saving. If you have high blood pressure, you should make this a habit whether you are at home or in the office. Keeping tabs on your blood pressure levels can help you avoid serious health complications such as stroke, erectile dysfunction, heart and kidney diseases, to mention but a few.
According to data collected by the Australian Bureau of Statistics National Health Survey between 2017 and 2018, one in every three people above the age of 18 has hypertension in Australia. Findings from this research also show that men are more likely to get high blood pressure than women at a similar age.
The bad thing about high blood pressure is that it is often detected when the condition has already worsened. This is primarily because most people don't find it necessary to measure their blood pressure from time to time. To avoid some of the health problems highlighted above, ensure that you monitor your blood pressure as often as you can. The blood pressure monitors in this guide can help you get started.
---
You may also be interested in:
Last update on 2023-12-11 / Affiliate links / Images from Amazon Product Advertising API