ⓘ We are reader-supported and may earn a small commission at no additional cost to you if a purchase is made through one of our links.
The best forehead thermometers are in high demand since the spread of the COVID-19 pandemic. It's not uncommon to need your temperature taken whenever you enter certain establishments, whether it's banks, restaurants, malls, and other areas. After all, a high body temperature is one of the main symptoms people look out for when it comes to infection and one of the best ways to monitor this is through a quality forehead thermometer.
It's a good idea to extend this process beyond just a requirement to enter stores and make it a habit of regularly taking your temperature readings to ensure that you're at normal body warmth. We've all been there. You come home from a long day of work or errands and start to feel feverish the moment you get home and sit on the couch. It could be the fatigue or it could be you getting in your own head, but it doesn't hurt to be on the safe side and just get your temperature read.
TL;DR: The #1 Forehead Thermometer for Most People 👇
Forehead thermometers are often TV remote or gun-shaped doohickeys that are capable of getting an accurate read of your body temperature simply by pointing it at your temple from a short distance away. Most top-notch models accomplish this in no more than a second and return a precise read every time. But how can you tell which models are good and which aren't worth your time? To help you figure that out, we've put together a list of the best forehead thermometers that you can buy from Australia.
[/amazon]
The Best Forehead Thermometers Available to Buy Today in Australia
1. iHealth Forehead Thermometer
The iHealth Forehead Thermometer is a rather plain-looking device. It's a gun-shaped model that's mostly white with some black highlights and sports a few buttons on the side and a trigger for getting a reading. The display is one of our favourite things about it, as it not only clearly shows important information, but it also flashes in three different colours to indicate just how safe your current temperature is.
Green with a happy face means you're sporting a normal body temperature, orange with a neutral face means your temperature is slightly elevated, and red with a sad face indicates that you're facing a full-blown fever. It's both a functional and fun way of displaying readings that even kids can understand and enjoy.
It doesn't just work on body temperature either. It's also great for measuring the temperature of objects like a bottle of milk or a cup of baby food, making it an excellent device to have for moms who are caring for infants. The battery icon doesn't give out an accurate read of the remaining power which is a bummer, but the iHealth Forehead Thermometer remains one of the best forehead thermometers around nonetheless.
---
2. Vicks No Touch 3-in-1 Thermometer
Vicks has been around since the late 1800s and has become a household name for over-the-counter medication. It's an incredibly well-trusted brand, which is part of what makes the Vicks No Touch 3-in-1 Thermometer so attractive.
Just like the Iprovèn forehead thermometer, this device boasts a Fever InSight Colour Display System that changes the colour of the screen depending on the range the body temperature reading falls under. It's a remote control shaped device that's perfect for checking the temperature of infants since it's capable of doing so even while they're asleep and it can measure the warmth of food and baths as well.
It's a bit slower than some of the other forehead thermometers out there and the readings aren't always as accurate as one would want, but the Vicks No Touch 3-in-1 Thermometer remains an excellent forehead thermometer especially when it comes to various aspects of raising infants.
---
3. Anthsania Forehead Thermometer
The Anthsania Forehead Thermometer is another gun-style forehead thermometer that's highlight features include its remarkably speedy temperature readings times and its ability to switch results units between Celsius and Fahrenheit. Another nice touch is how the device beeps whenever the readings are at critical levels.
Also, the display includes a battery indicator that actually works properly which is a huge plus. Other than that, the device has some of the other features found in the previous entries in this list, like the multi-coloured display and its ability to measure temperatures at a decent range.
There's some discrepancy between the included instructions and the actual product and it's not quite as accurate as using an old-school thermometer, but does little to stop the Anthsania Forehead Thermometer from being a superb temperature measuring device.
---
4. Braun Thermoscan 7 IRT6520 Thermometer
Braun is one of the most renowned names in household electronics, developing a variety of products ranging from electric razors and toothbrushes to irons and coffee machines. Their Braun Thermoscan 7 IRT6520 Thermometer is a quality device that's a bit different from the other entries so far. It's not exactly a forehead thermometer, though, as it goes in through the ear in order to take temperature measurements.
A cool feature is that it comes with a nightlight that helps you take readings in the dark – a nifty addition if you want to use the device on your sleeping kids without waking them up. There's also an age-adjustable fever guidance system that you can tweak to get the right indicators depending on the age of the user.
Ear-type thermometers aren't the most convenient of the bunch and temperature readings are a bit on the erratic side. But these aren't deal breakers and the Braun Thermoscan 7 IRT6520 Thermometer is still one of the best ear thermometers around.
---
5. Ritalia® Digital Thermometer
The Ritalia brand has garnered various accolades as far as baby thermometers are concerned, which bolsters confidence in how good their other temperature-measuring devices are. The Ritalia® Digital Thermometer is one of their best-selling products, offering temperature readings in a second or less, as well as innovative Accuscan Technology that guarantees a more accurate reading than the majority of its rivals.
You can also use it on more than just foreheads, as it was designed to be just as accurate on liquids and other objects that may require heating. It works great on adults and kids and boasts a pretty stylish design as thermometers go. It's a pretty pricey little gizmo that might not be the best choice if you're trying to save a buck, but if you can spare the cash, the Ritalia® Digital Thermometer is as good as they come.
---
How We Researched The Forehead Thermometers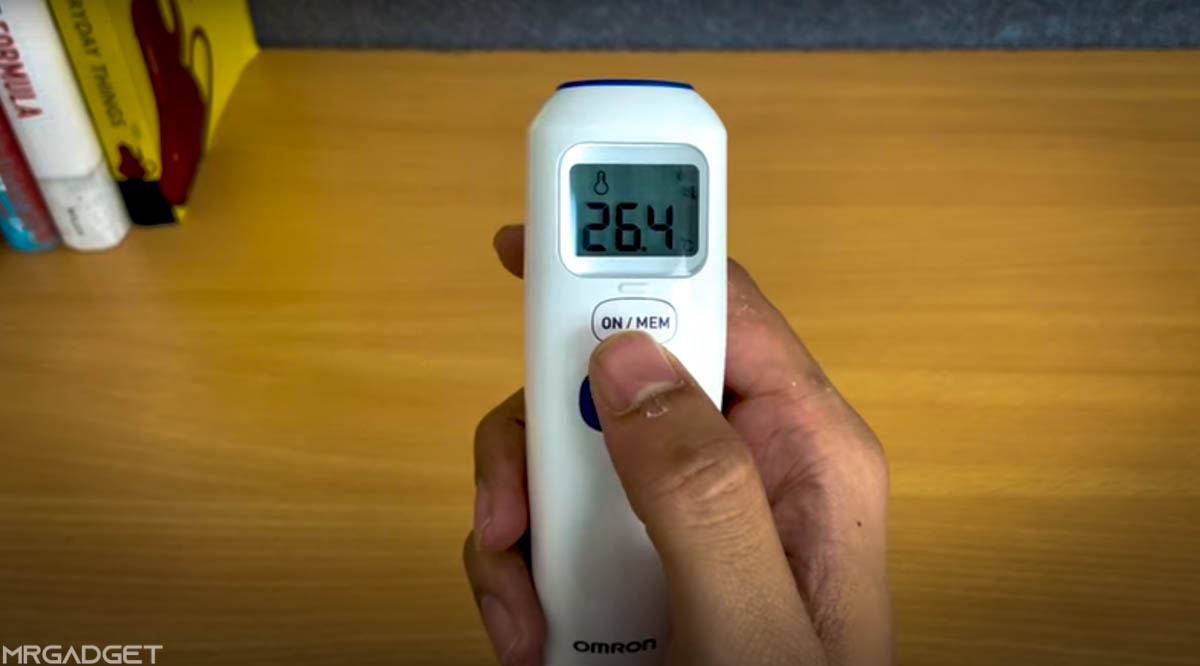 There are more than a few forehead thermometers in the market, though that comes as no surprise if you consider the companies that decided to capitalize all they can from the ongoing pandemic. To come up with a list of the very best of them, we looked up dozens of different models across popular e-commerce sites like eBay and Amazon, along with some local platforms often frequented by Australians.
We read through pages upon pages of customer reviews and feedback and we even took into account some articles from professional critics and posts from established healthcare/tech blogs. To streamline the list, we kept comparing the initial forehead thermometer models we chose, weeding out the ones that remained at the bottom of the barrel. Eventually, we were left with the top six and we're confident in saying that any of the products on this list are of top-notch quality and are sure to meet or exceed expectations.
---
Forehead Thermometers: Buying Guide
Forehead thermometers come in all sorts of shapes, forms, and colours, a lot of which try to throw in an extra feature or two to set it apart from the pack. Most of these devices look so much like one another and their base functions are similar too, making it extra difficult to distinguish the good from the bad and the mediocre. Reviews aren't necessarily a good indicator either, as they're often subjective and vary widely.
The best way to make an informed decision is to learn more about forehead thermometers in general. That way, you can better understand all the features they throw at you in description boxes and you can find out exactly what it is you're looking for. Here are some of the most important characteristics you should be on the lookout for when choosing a forehead thermometer:
Accuracy
A lot of forehead thermometers come with a lot of bells and whistles, but when it comes down to it, they just might not be up to snuff at actually making temperature readings. Here's where user and professional reviews come in handy. It doesn't have to be perfect, but you'll want to pick a model that will at least give you a consistently accurate enough reading to let you know if your temperature is elevated.
Device Shape
Forehead thermometers generally come in two different styles – the gun type and the remote control type. If you're planning on using the devices regularly, it's important that you pick out a shape that you'll find more comfortable.
Brand
While it's not exactly a definitive indicator of quality and efficacy, investing in a model from a reputable name is a lot more likely to end in satisfaction compared to taking your chance on an obscure product. The company would have more resources and experience to develop a better device, so it's usually worth considering the brand name.
Measuring Speed
Despite the difference usually just being a second or two, it can make a big difference if used regularly especially on a fidgety toddler or infant. Of course, faster is always better, so you should do your research regarding just how fast the device you're eyeing can take temperatures.
Extra Features
Forehead thermometers often add some handy features that make the device a bit more convenient and catchy, like a multi-colour display that lights up in different shades depending on the temperature reading or a guiding laser that can help you aim the product more effectively. If you find yourself torn between two quality devices, the extra features can sometimes be the deciding factor that sways you in either direction.
---
You may also be interested in:
Last update on 2023-12-11 / Affiliate links / Images from Amazon Product Advertising API