ⓘ We are reader-supported and may earn a small commission at no additional cost to you if a purchase is made through one of our links.
Tokit Omni Cook Summary
Summary
If you'd like to streamline your culinary experience and trim the fat from your kitchen, then the TOKIT Omni Cook might just be the perfect cooking companion for you. With its wealth of different uses, unlimited access to delicious recipes, an automated cooking system, and an easy-clean mechanism, this little guy has everything you need in a multipurpose kitchen appliance. As long as you can afford it, that is.
Order now to take advantage of early-bird discounts.
Pros
Lots of culinary modes
Automated cooking is a huge help in preparing meals
Self-cleaning system takes much of the hassle out of cleaning up
Poor kitchen skills got you down? Or maybe you're just sick and tired of how cluttered all your appliances look, strewn about all over the place. Either way, if you're looking to revamp your entire cooking experience, then the TOKIT Omni Cook might just be the guy for the job.
This multi-purpose appliance aims to be the ultimate kitchen assistant, offering tons of different modes, a laundry list of recipes, a streamlined cooking process, and an intuitive touch-screen to control it all. Question is, can this little gizmo walk the talk? Or is it just another entry in the ever-expanding list of mediocre kitchen gadgets? Stick around and find out, in this TOKIT Omni Cook Review.
Don't have the time to get through the entire review? Just click any of the links below and we'll take you right to that section.
Overview
TOKIT is a Hong Kong-based tech company that focuses on creating cutting-edge kitchen appliances which entice people to dip their toes in the wonderful world of cooking. Their latest invention – the TOKIT Omni Cook – aims to be an all-in-one appliance that can help you prepare, cook, and even decide what meals you want to make for the day.
It's got loads of different culinary modes to work with, a self-handling cooking process, an expansive database of recipes to browse through, and a touchscreen to make navigating the device that much easier. It also includes an automated cleaning feature to make tidying up less of a hassle and the appliance itself will save you a oodles of space given how compact it is.
Features
Various Culinary Modes
From kneading to ice shaving and steaming to mincing, the TOKIT Omni Cook offers more than 11 culinary modes from the get-go, with potentially more on the way given the device's endless expansion capabilities. This versatility comes in handy when you're preparing a multiple-course meal at home. For example, while you're smoking salmon in the electric smoker, you can use Omni to make your salsa, blend your dessert ingredients, and steam your veggies. It's great for multi-tasking.
Automated Cooking
Having a tough time preparing meals or perhaps you just fancy precision cooking? The Omni Cook helps you prepare perfect dishes every time with its automated cooking system, which includes pinpoint temperature control, timers, and even detailed cooking instructions.
Expansive Recipe Database
No more racking your brain about what to make for dinner. With this appliance, you'll get unlimited access to a continuously growing database of scrumptious recipes. Just choose the dish you want to make and the Omni Cook will tell you how to prepare it as simply as possible.
Self-cleaning Feature
Most people will agree that cleaning up is hands down one of the most troublesome things about preparing a nice meal. Well, with the TOKIT Omni Cook's auto-cleaning mode, you'll never have to stress out about it again. Just pour in some water and detergent then set up the cleaning mode and let the device take care of the rest.
Handy Touchscreen Display
The future is filled with touchscreen controls and the Omni Cook is no exception. With a 7-inch panel built right into the appliance, operating the Omni Cook, preparing your favourite dishes, and cleaning up after it's all said and done couldn't be easier.
Compact Design
The Omni Cook has the functionality of dozens of different appliances and it comes in a neat little package that hardly takes up any space. That way you can clear out all those redundant appliances that are needlessly taking up room and replace them with a single gizmo that's easy to put away once you're done using it.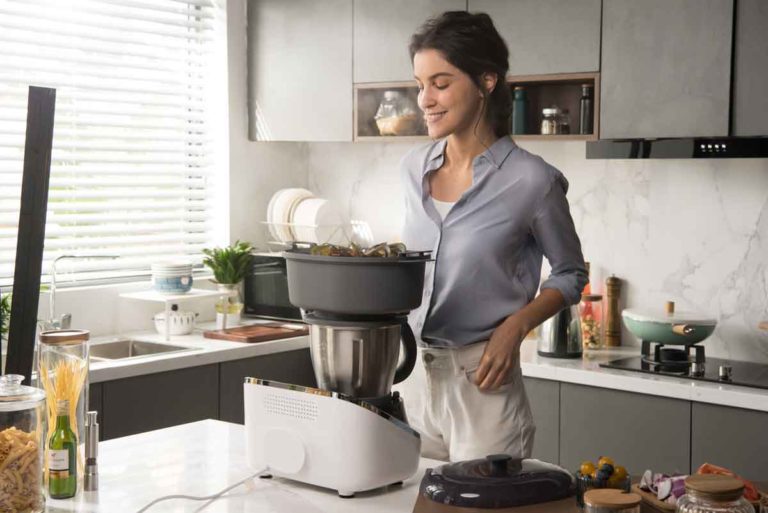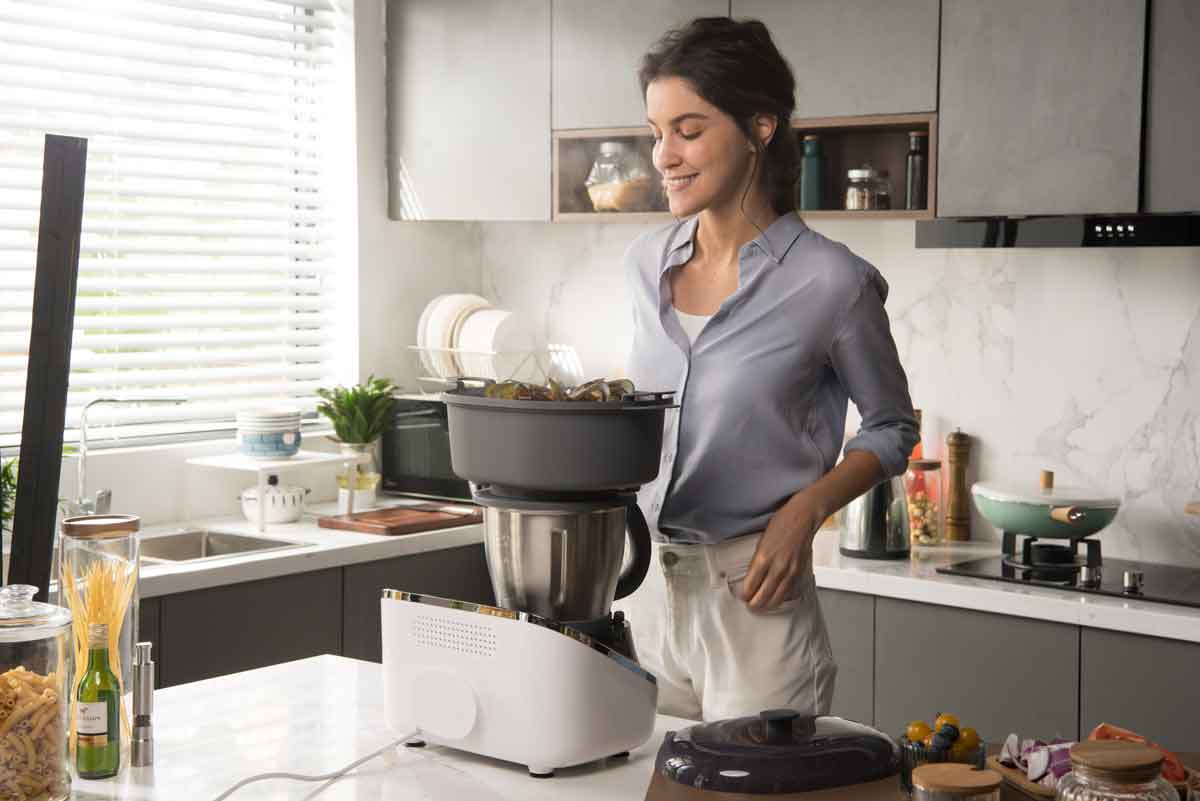 Specs
Product Name
TOKIT Omni Cook
(EU Version)
TOKIT Omni Cook (UK Version)
TOKIT Omni Cook(US Version)
Region
European Union
UK / Singapore / Malaysia / Hong Kong
United States / Canada
Rated Voltage
220 – 240 V
220 – 240 V
120 V
Total Rated Power
1500 ~ 1700 W
1500 ~ 1700 W
1500 W
Rated Volume
2.2 L
2.2 L
2.2 L
Product Dimension
355 x 244 x 364 mm
355 x 244 x 364 mm
355 x 244 x 364 mm
Rated Frequency
50 ~ 60 Hz
50 ~ 60 Hz
50 ~ 60 Hz
Net Weight
7.4 kg including host and pot
7.4 kg including host and pot
7.4 kg including host and pot
Build & Design
The TOKIT Omni Cook is made out of a mix of stainless steel and sturdy reinforced plastic, all of which are food-grade and remarkably heat-resistant. So if it's health and longevity you're after, this appliance has that in spades. Looks-wise, the Omni Cook sports a sleek modern design, with its glossy black top panel and white base.
The touchscreen panel looks great sitting on the right side of the appliance and the mixing bowl gives off an aura of toughness on account of its silvery exterior and thick grey handles. It's a handsome machine as culinary appliances go and it'll look fabulous on pretty much any kitchen top.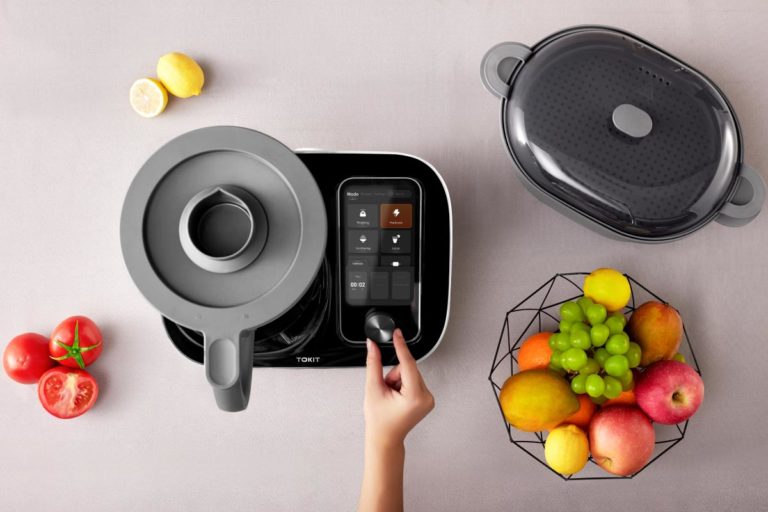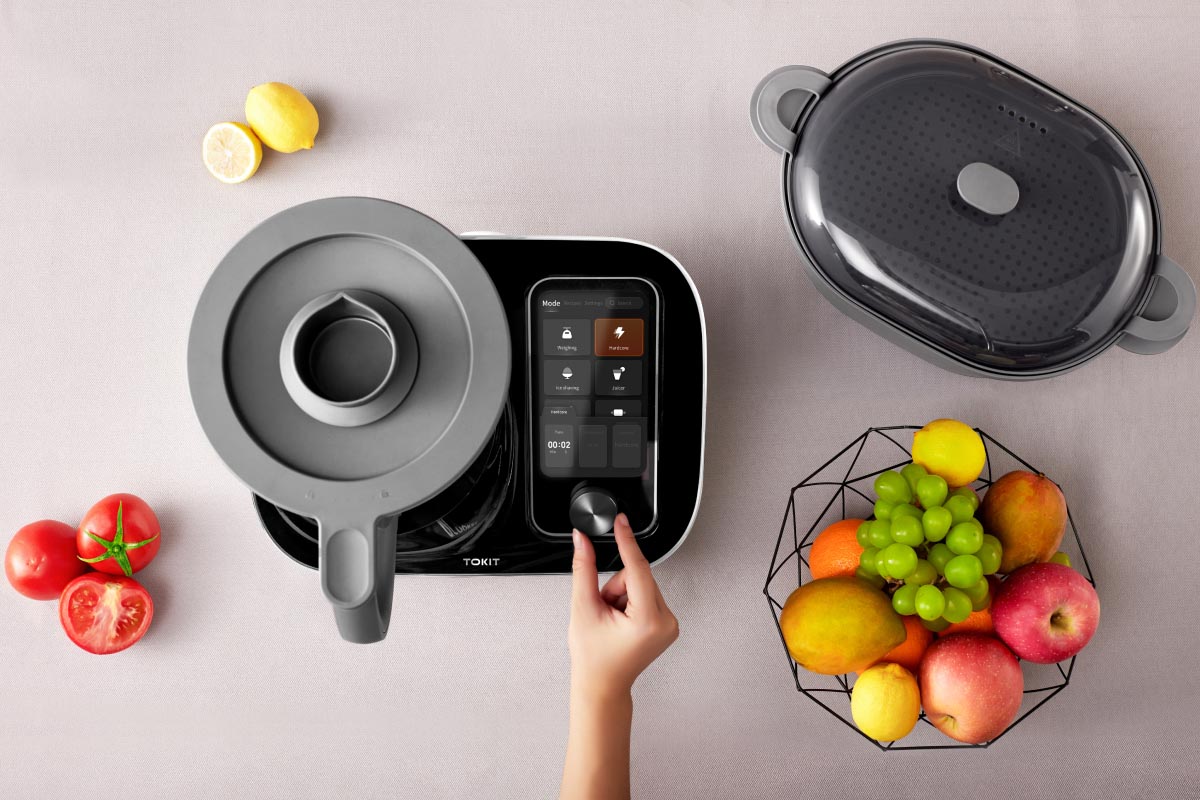 Conclusion
The TOKIT Omni Cook truly is a multipurpose kitchen appliance, offering more culinary uses than one can even remember. It'll effectively replace the majority of the electrical equipment in your cooking space and includes the added feature of helping you figure out what to cook and how to cook it.
As if that weren't enough, the Omni Cook is even capable of taking care of the hard parts of cleaning up, leaving you to just rinse the mixing bowl and put it away. It's fairly small to boot, so it won't take up much space in the kitchen, and the touchscreen panel makes the machine remarkably easy to operate. Be prepared to shell out a pretty penny, however, as the TOKIT Omni Cook doesn't come cheap. But given how it does the job of many other appliances, it effectively earns its steep price tag.