ⓘ We are reader-supported and may earn a small commission at no additional cost to you if a purchase is made through one of our links.
Summary
Start cracking pepper and not your wrist with the Pepper Cannon. Able to produce 10X more than other grinders around, this mill can give you the same amount of freshly ground pepper with fewer cranks.
Pros
High pepper output
Consistent grind
Easy to use, refill, and calibrate
MANNKITCHEN's Pepper Cannon is a reinvented pepper mill that's designed to make peppering easier. Introduced as "the Pepper Mill for Pepper Lovers", it is said to give out 10 times the amount of pepper compared to top-rated mills. Sounds like a lot of pepper, right? So how can that be good for you? Well, let's find out with this review.
Can't read the entire thing? No problem. Just click on any of the links below to skip to that section:
Overview
The Pepper Cannon was one of the most successful crowdfunding campaigns of 2020. Launched in November on Kickstarter, it was able to raise a whopping US$1,104,732 of funding. It was then offered on Indiegogo through Indemand, where it continues to make more money even to this day. In fact, it has already received another million through the platform. Safe to say, there's a lot of people who see a need for a better pepper grinder.
So what made the Pepper Cannon such a hit? Well, now, you don't have to crank as much to get the same amount of pepper from an average grinder. If it took 70 cranks to pepper your steak, you only have to do 7 with the Pepper Cannon. Great, right? This saves you time and pain from all that cranking.
But here's the thing, the Pepper Cannon is pricey. With an MSRP of US$199, it's miles away in terms of price from many of the top pepper mills around including the Peugeot Paris u'Select Pepper Mill, Unicorn Mills Magnum Plus, and Fletchers' Pepper Mill. It is not, however, the most expensive pepper grinder in the market. The Pepper Cannon is still cheaper than Peugeot's 31.5-inch pepper mill, which costs US$235, and their massive 43-inch larger-than-life pepper mill which costs US$1,250.
You may also be interested in the ChopBox Smart Chopping Board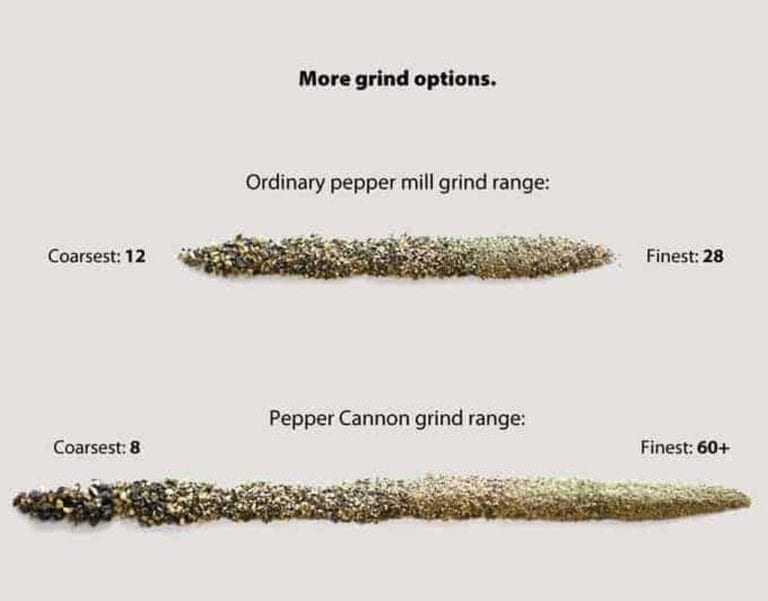 Features
More Pepper Output
The Pepper Cannon can produce more freshly ground pepper quantities. In fact, it can give out 10 times more than even the top-rated pepper mills around. While that may seem a lot at first, you can decrease the coarseness to get your desired amount of pepper. Meaning, you can pepper your eggs with just half a crank instead of 5.
More Grind Options
Another neat feature of MANNKITCHEN's Pepper Cannon is that it can produce pepper in the 8 to over 60 mesh sizes while others are only capable of 12 to 28. This means you'll have just the right pepper size, depending on what you are cooking. From pepper that's coarse enough for roast beef or stocks to the finest powder for sauces and dressings, this grinder can do it all.
More Consistency
Most pepper mills have their grind adjusters on the rotating top where they can easily move without you knowing. As a result, some of the larger pepper can pass through, giving you an inconsistent ground pepper. But in the Pepper Cannon, the grind adjuster is designed on the base. So it's more likely to stay in the setting you chose and provide you a more consistent grind.
More Convenient
The Pepper Cannon promises effortless filling. It doesn't have the same design as others where you have to remove the adjustment nut, remove the top, put them all back, and recalibrate. Instead, you just have to push down a button to pop off the top and you can refill. Then simply press back the top into place and you're all done.
We also love that you can use Pepper Cannon with just one hand. There's a cup in the base that you can easily remove, grind a bunch of pepper into, and pepper away. This will come in handy if you need to season meat or fish since you don't have to wash your hands midway or hold the pepper mill with a bloody or fishy hand.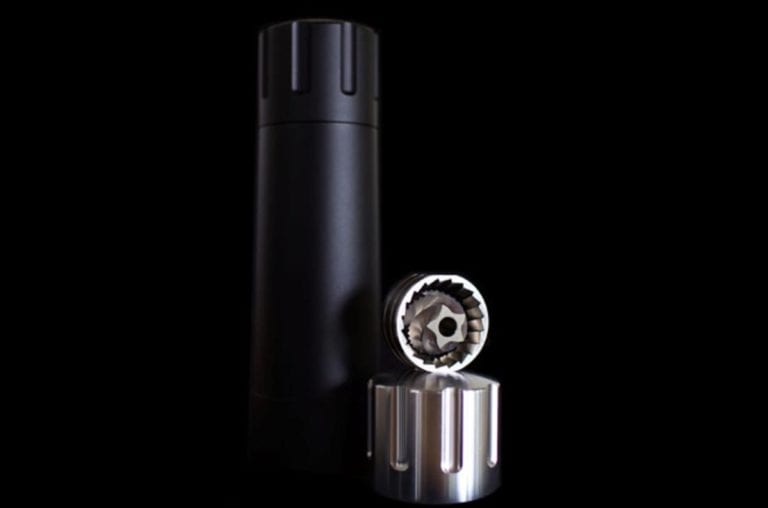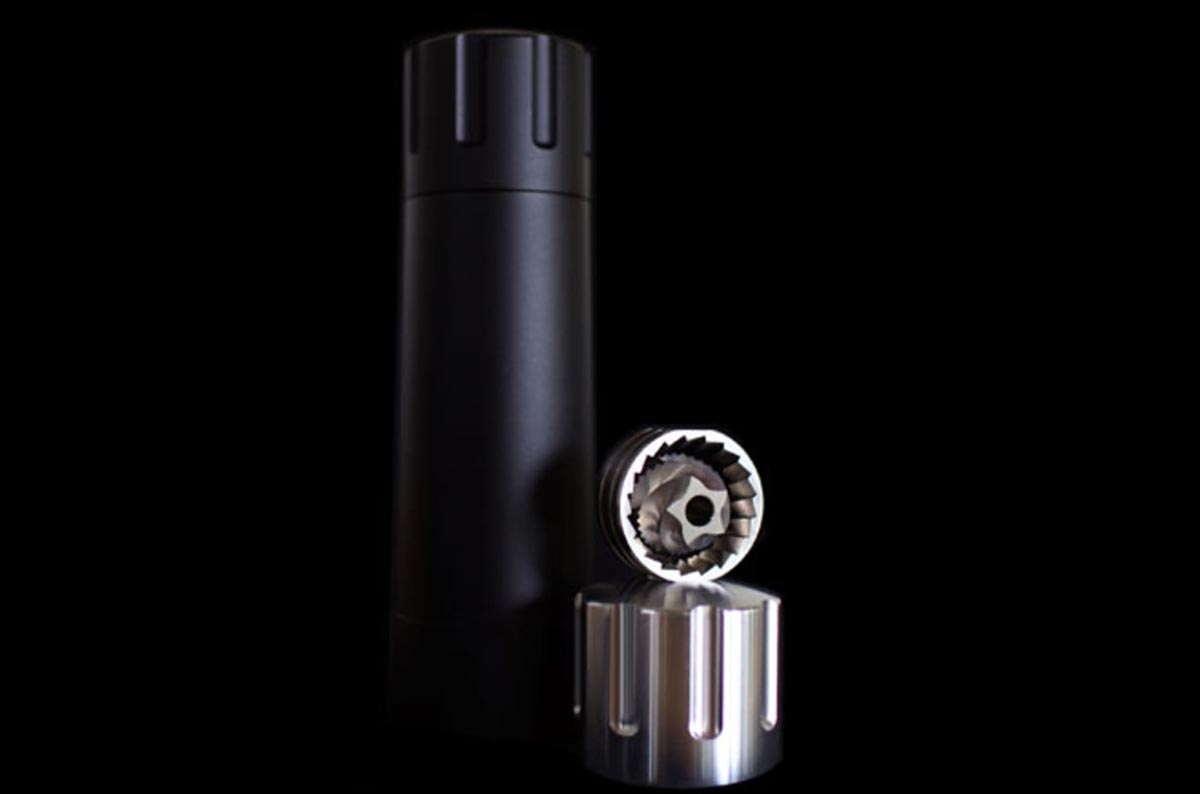 Specs
Height
7.25 in (185 mm)
Weight
1.07 lb (485 g)
Dimensions 

Top Diameter: 2 in (50 mm)
Height: 7.25 in (185 mm)
Base Diameter: 2.2 in (55 mm)

Pepper Capacity
½ cup (2.3 oz)
Base Cup Capacity
⅓ cup (1.25 oz)
Material
Aerospace-grade aluminum
Pepper mills today are usually made of wood, plastic, or glass. But Pepper Cannon is made with metal, particularly aerospace-grade aluminum. So it doesn't break or deform easily like plastic, does not retain moisture like wood, and will not shatter and degrade pepper like glass. This construction allows it to produce exceptional quality pepper while at the same time making it durable and strong.
Design
In terms of aesthetics, the Pepper Cannon has a smooth anodized black finish and solid metal construction. At first touch, you can immediately tell it's of quality. It is sleek with a very simple design that will surely go well in any kitchen.
Sure, it's not made of some exotic materials and it doesn't have any unusual shape. It's not made by a famous designer or brand and it isn't tall like some of the high-priced pepper mills. But for what it lacks in form, it certainly makes up for in function. And that's all that matters, right?
Final Thoughts
Pepper Cannon no doubt outperforms even the best pepper mills today. It is more convenient, consistent, and has more speed and grinding options. It's just "more" in every aspect – albeit, even in price.
Yes, there are tons of pepper mills that are way, way cheaper than the Pepper Cannon. But if you can save your wrist from doing hundreds of cranks a day just to get the same results, then it's totally worth it. Because in terms of performance, the Pepper Cannon is as good as it gets.
Last update on 2023-12-02 / Affiliate links / Images from Amazon Product Advertising API