ⓘ We are reader-supported and may earn a small commission at no additional cost to you if a purchase is made through one of our links.
Not everybody has the extra time or money to head down to a spa and get a nice foot massage and soak, especially given how the ongoing pandemic situation discourages most people from enjoying those kinds of services. Luckily enough, you can get a quality foot pampering experience from the safety of your own home by getting yourself a top-notch foot spa.
They come in various shapes, sizes, and features, though they're all commonly deep basins that you fill up with water and require an electrical outlet to power up. They usually also come with water jets or motorized massage rollers and you can crank up the water temperature for a more relaxing time.
TL;DR: The Number #1 Foot Spa for Most People 👇
Conair Active Life Waterfall Foot Spa
If you're looking for a foot spa that ticks all the boxes without breaking the bank, then this is the one.
It will heat, massage, and exfoliate your feet brilliantly in its large capacity reservoir!
There are also bubbles and a waterfall for added relaxation. What more could you want?! 🙌
There are lots of brands out there that have tried their hand at these kinds of devices, some of which are great while others are pretty lousy. The thing is, they can get pretty expensive and the last thing you want is to sink some serious coin into a product that will just end in disappointment. To help you make a choice that you definitely won't regret, we've put together a list of the very best foot spas that can be purchased from Australia.
Product Name
Ovitus foot Spa with Heat and Massage and Bubbles
Niksa Foot Spa Bath Massager with Heat and Bubbles
Conair Active Life Waterfall Foot Spa with Lights and Bubbles
ACEVIVI Foot Spa Bath Massager with Massage Rollers
Medical King Foot Spa Massager
Product Name
Ovitus foot Spa with Heat and Massage and Bubbles
Product Name
Niksa Foot Spa Bath Massager with Heat and Bubbles
Product Name
Conair Active Life Waterfall Foot Spa with Lights and Bubbles
Product Name
ACEVIVI Foot Spa Bath Massager with Massage Rollers
Product Name
Medical King Foot Spa Massager
The Best Foot Spas Available to Buy Today in Australia
---
1. Best Overall Foot Spa: Ovitus foot Spa with Heat and Massage and Bubbles
Why we like it:
Heating, bubble jets, and massage rollers
Easy to use
Allows spa materials
What customers say:
"It's such a live-saver for my family, since our feet are always sore from standing all day at work, after we bought this and tried it, it was such a comforting experience, nothing beats a foot message after work. The product is also very easy to clean, which also saved us a lot of trouble. Definitely recommend this one!" – Wilson Huang
Our first entry is from a relatively obscure brand, but that does nothing to take away from how exceptional it is. The Ovitus foot Spa with Heat and Massage and Bubbles features 16 shiatsu rollers for a deep, satisfying foot massage, as well as bubble jets and consistent heating between 35 and 47℃.
Using the apparatus is delightfully simple, as it only takes one button to start and stop the machine and the several other settings are clearly displayed on the face of the device. It's also built to accommodate various spa materials, such as bath salts and flower petals, providing a more spa-like feel.
It's a bit lacking in the way of massage modes, the bubble jets could use more strength, and it sports a pretty hefty price tags, but the Ovitus foot Spa with Heat and Massage and Bubbles still easily manages to be one of the best foot spas around.
---
2. Best Foot Spa for Large Feet: ACEVIVI Foot Spa Bath Massager with Massage Rollers
Why we like it:
Excellent design
Quick heating
Various foot spa features
What customers say:
"I recommend this model for anyone who wants to pamper themselves at home. Very simple design and easy to tuck away in closet. A variety of modes, heat levels, bubbles, massages wheels and even a mood light. I use the timer for 30 minute use and look forward to using this every week especially when flip-flop season comes, the skin on your feet will always be soft and clean." – brian
The ACEVIVI Foot Spa Bath Massager with Massage Rollers is a top option for those with large feet.  It's a multipurpose foot spa that combines acupuncture and shiatsu, as well as red light, bubble jets, and a heating system. This unit is a little under 40cm tall, giving you lots of depth to soak your feet in, and there are rollers on the bottom of the device to make it easier to move around.
There are three massage modes to choose from that target various parts of your feet and it comes with a rotatable pedicure stone that can help you get rid of pesky calluses. Once you're done with your spa session, this model has a self-draining system that allows it to effortlessly clean out the water.
It's worth noting, however, that this machine is fairly expensive, so budget-minded users might want to steer clear, and the bubble jets are a bit weaker than one would hope for. If those things don't bother you, then the ACEVIVI Foot Spa Bath Massager with Massage Rollers is one of the top premium foot spas around.
---
3. Best Value for Money Foot Spa: Niksa Foot Spa Bath Massager with Heat and Bubbles
Why we like it:
Decent price
Has a red light feature
Includes heating, bubbles, vibrations, and removable massage rollers
What customers say:
"I purchased the foot spa because I have neuropathy. I have a foot massager that works great but I wanted to add warm water to my arsenal against numb tired feet and I can't be happier with Foot Spa. I was also pleasantly surprised that it can handle bath salts and essential oils. The combination of the rollers, vibration and warm water has the effect of waking up my feet." – Kindle Customer
Unlike our first entry, the Niksa Foot Spa Bath Massager with Heat and Bubbles sports non-motorized massage rollers that you can enjoy at your own pace or just completely remove if you're just looking for a soak. You get a good water temperature range and streams of oxygen bubbles, along with some relaxing vibrations.
It also allows various different spa materials and it includes a soothing vibration function to help you unwind further. There's even a red light feature that's known for promoting increased cell growth and skin regeneration. Moreover, if you run into any trouble with the device, Niksa offers 24//7 customer service that is always at your beck and call.
It has a few downsides, however. The rollers aren't of the greatest quality and the device raises the water temperature but then shuts the heater off causing the water to eventually cool which isn't great. Disadvantages aside, the Niksa Foot Spa Bath Massager with Heat and Bubbles is an exceptional foot spa that's a fair bit cheaper than our first choice.
---
4. Best Portable Foot Spa: Medical King Foot Spa Massager
Price reduction
Why we like it:
Portable size
Budget price
Solid features
What customers say:
"I purchased this to give home pedicures to myself and my family, however, the first use was actually for my dad who has arthritic feet. He was experiencing a lot of pain so I had him soak his feet in there with some epsom salt and within 20 min he was finally feeling relief. So this actually offers uses other than just pedicures." – Renee Zamboni
The Medical King Foot Spa Massager has the usual bells and whistles you get with most foot spas, but you get it at a budget price tag while maintaining a solid level of quality. It sports a dual bubble jet system for optimum relaxation and there's a vibration feature to help loosen up your feet further.
You also get some nice extras, like a pedicure stone that helps get rid of calluses and dead skin, as well as some massage rollers that you can rub the bottom of your feet on. Plus, its size is just portable enough to allow you to take the device on trips without it giving you too much hassle.
There are a few caveats, however. The rollers aren't exactly the most comfortable and the device's small size means it may prove uncomfortable for people with bigger feet. But if you're after a budget foot spa that doesn't skimp on the quality, then you should definitely consider the Medical King Foot Spa Massager.
It provides stellar quality at an affordable price.
---
5. Best for Most People: Conair Active Life Waterfall Foot Spa with Lights and Bubbles
Why we like it:
Waterfall design
Several attachments
Toe-touch buttons
What customers say:
"The bubbles feel amazing, the light is cool as hell, the waterfall make sure is that your whole foot is just getting like the attention it deserves! Like I don't think any machine maintains heat but duck it, just add more hot water and stop being lazy!" – sydney
The Conair Active Life Waterfall Foot Spa with Lights and Bubbles is a bit different from the first two items on this list. As its name suggests, it pours in water like a waterfall for a rather different experience and you can push all the controls using your feet, making it easy to access the different settings without having to sit up and bend down.
It comes with three attachments to choose from – a scrub brush, a pumice stone, or a soft-touch massager– all of which can be removed at any time. There are also massage rollers that you can use to knead the bottom of your feet and you can enjoy some catchy LED lights while you're enjoying your foot spa.
The rollers aren't the best quality and don't feel particularly relaxing, and the apparatus isn't capable of maintaining heat while in use which is disappointing. But if you can get past its few flaws, the Conair Active Life Waterfall Foot Spa with Lights and Bubbles is one of the best waterfall foot spas you could possibly buy.
---
6. Best Budget Foot Spa: Lyeef Foot Spa
Our final entry also happens to be one of the more innovative options on this list. The Lyeef Foot Spa is a collapsible model that folds into itself until it's nice and flat. This makes it exceptionally easy to bring along on trips or to work and it takes up a lot less space than most of its competition. You can just slide it under your couch or bed or you can effortlessly stuff it into your closet.
Despite being super portable, it doesn't give up too many features. You still get three different heating modes, bubble jets, and massage rollers. In addition to that, it's incredibly simple to operate, allowing you to start up the machine with the button on the device or you can use the included remote to work it without even getting up.
It's not as steady as other models on account of its collapsable nature and its temperature settings aren't particularly impressive, but the Lyeef Foot Spa is easily the best portable foot spa around.
---
How We Researched The Foot Spas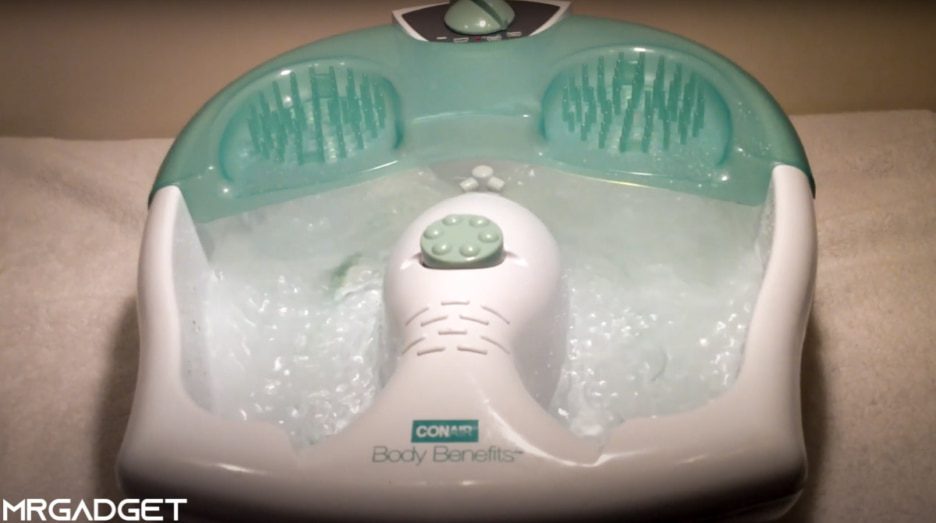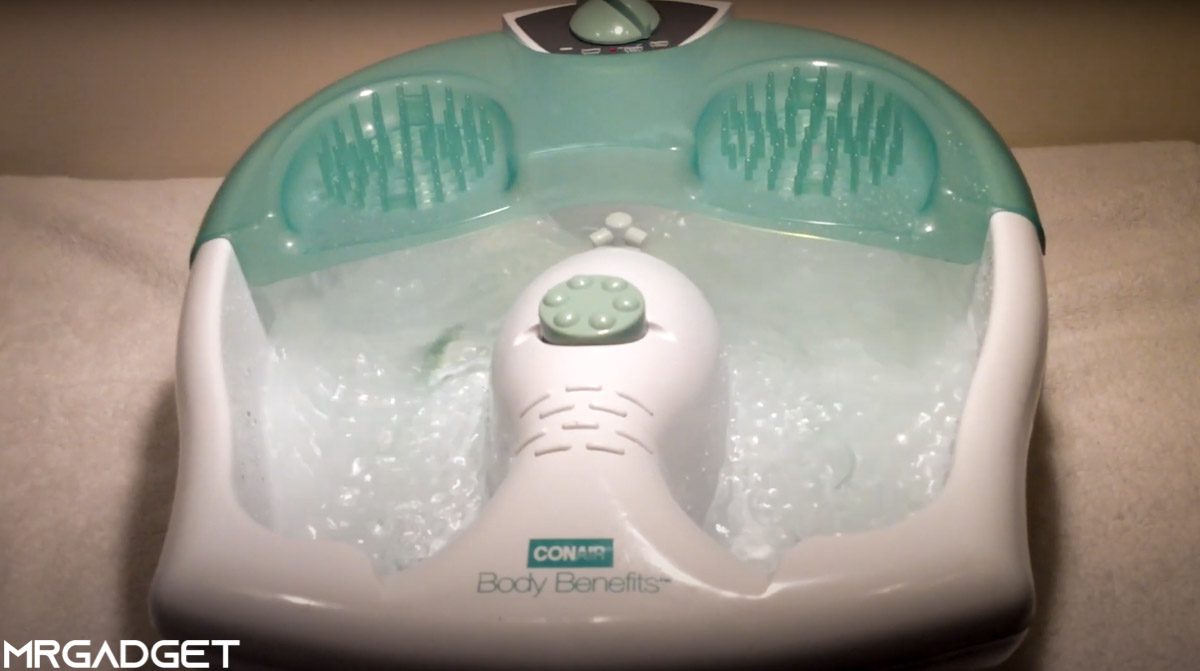 We started building our list by checking out popular products on the leading e-commerce websites, like Amazon and eBay. We also made sure to sift through notable local sites for some of their best-selling foot spas. The things we took note of included innovative features, designs, and overall customer feedback.
Furthermore, we looked up reviews by professional critics and wellness websites to find out what their impressions were. We ended up with quite a long list, so we discussed it amongst ourselves and began dropping lesser entries until we were left with what we consider the six greatest foot spas around.
We made a conscious effort to vary our picks as much as possible, whether it's in regards to size, budget, brand, and more. Whichever product you decide to go with, you can be absolutely certain that you're investing in an excellent foot spa that won't disappoint.
Foot Spas: Buying Guide
Foot spas can be pretty difficult to tell apart. They often sport the same basin-type look with a bunch of buttons thrown in and temperature settings to choose from. They also generally include a wealth of different extra features that can be a bit confusing for unfamiliar shoppers browsing through foot spa models for the first time.
What to Consider When Buying Foot Spas
To help you distinguish quality foot spa models from mediocre ones, we've put together a handy little buying guide that'll get you acquainted with all the important characteristics you should be familiar with when picking out a device. This will boost the chances of you investing in a foot spa model that you can meet your expectations.
Temperature Control
One of the main things people love about foot spas is the feeling of dunking your feet into a warm, relaxing tub of water. Most models have heating capabilities but some of them only have set temperature settings that you can just shuffle through. Some foot spas, however, allow you to set the exact temperature you want your water to be, which is a welcome step up.
Size
Foot spas come in different shapes and sizes. That said, ensure that your feet can comfortably fit inside the unit in question before confirming your order. Most brands will provide you with a size chart that ca help you pick the most ideal spa.
Bubble Jets
Another cool feature that foot spas often have is built-in jets that shoot out oxygen bubbles to gently massage your feet and provide you with an overall more relaxing experience. This oxygenation also has the added benefit of promoting healing pain relief.
Portability
While most people want to have their foot spas situated in their home or office semi-permanently, some people prefer a more portable design, especially if they're nursing a medical condition or injury. Some models are built to be smaller than the average or feature a collapsible design, allowing you to transport the machine with greater ease.
Massagers
It's not uncommon for foot spas to have massage rollers lined up along the bottom of the device. They're there so you can give yourself a gentle foot massage as the spa works on getting your feet nice and relaxed. Some models allow you to remove the rollers as you please.
Extra Features
Foot spas may contain some handy extra features that are not exactly vital but are certainly nice to have around. For example, some models have a red light feature that helps with cell growth and regeneration, or may also include pedicure attachments that you can swap in and out whenever you want. Certain foot spas even include a vibration function that people are sure to enjoy.
Benefits of Using a Foot Spa
Foot spas have been proven to have a very positive effect on comfort and overall well-being when done regularly. In fact, an article published in 2014 by Harvard Medical School explained that getting foot massages consistently has been found to greatly improve blood circulation and muscle stimulation, which often results in pain alleviation and tension reduction. Here are some of the possible health benefits of using foot spas:
Pain Relief
Lots of people suffer from pain in their feet and ankles, whether it's from old age, a medical issue, or a previous injury that keeps acting up. A foot spa is a great way to ease those aches and pains and helps you relax in the process.
Blood Pressure Regulation
Your heart has to constantly work hard to pump blood back from your feet to the rest of your body. By using a foot spa, you can improve the blood circulation in your feet, lowering the blood pressure required to circulate your blood.
Workout Cooldowns
Are your feet tired out from an intense workout at the gym? A nice soak in a quality foot spa can help alleviate muscle fatigue by relaxing the muscles in your feet. That way, you not only feel great, but you'll be ready to get back to the gym in no time.
Dealing With Foot Problems
If you're constantly plagued by foot problems, such as bunions, corns, and calluses, you can use the foot spa's mix of heated water, massage rollers, and pedicure features to help you on your road to recovery.
---
You may also be interested in:
Last update on 2023-11-30 / Affiliate links / Images from Amazon Product Advertising API