ⓘ We are reader-supported and may earn a small commission at no additional cost to you if a purchase is made through one of our links.
Whether it's work, exercise, or fun, it's hard to get motivated when your legs are tired and cramping. Normally, you could just head down to your favourite massage parlour and have a professional knead those sore muscles till you're nice and satisfied. Given the pandemic situation, however, close-quarter activities like these are harder to come by and people are less comfortable being touched by strangers – which is why a quality leg massager is the next best thing.
Leg massagers generally look like bracers you fit around your legs that vibrate and knead to simulate massages done by actual fingers. They sometimes also come with extra features, like heating and compression and can usually be used on feet as well.
TL;DR: The #1 Leg Massager for Most People 👇
Renpho Leg Massager with Heat
Renpho has done an excellent job creating a leg massager that is very effective,  comfortable to use, and affordable.
If you're looking for a leg massager to help alleviate aches and pain, look no further! 🙌
The thing is, since the rise of COVID-19, convenient products like these have been selling like hotcakes and many brands both new and old are trying their hand in the massager market. To help figure out which products are great and which to avoid, we've come up with a list of the absolute best leg massagers that are available to Aussie residents.
Product Name
Renpho Leg Massager with Heat
Rechargeable Leg-Massager for Circulation with Heat
RENPHO Leg Massager for Circulation
Comfier Foot and Calf Massager, Shiatsu Foot Massager Machine
Product Name
Renpho Leg Massager with Heat
Product Name
Rechargeable Leg-Massager for Circulation with Heat
Product Name
RENPHO Leg Massager for Circulation
Product Name
Comfier Foot and Calf Massager, Shiatsu Foot Massager Machine
The Best Leg Massagers Available to Buy Today in Australia
1. Renpho Leg Massager with Heat
Why we like it:
Feels like a real massage
Easy to put on and take off
Multiple massage modes that hit the entire leg
What customers say:
"The massage is very effective especially after a long working day. I stand most of my working hours. I can tell that my whole body's circulation is much better after the massage. The heating element is rather slow to start but it's not too hot and just comfortable. It is great that there are different modes to choose from, my favorite is No1 with medium intensity. " – Michelle
Renpho has made quite a name for itself in the massaging device space, offering models for your feet, back, neck, and more. The Renpho Leg Massager with Heat focuses on the entire leg and is capable of massaging your thighs, calves, and feet. The cool thing is you can target each body part separately or do them all at once, and the massage itself is as close to real human fingers as it can get.
It's also incredibly easy to slip on or off, which is great considering how long the product is. The massager caters to a variety of leg types since the velcro straps can be used to give you the perfect fit. And if you feel like getting your leg extra relaxed, you can turn on the heat function and work up a bit of a sweat. You'll have three modes to play with and three varying intensities, so all you have to do is find the perfect combo for you.
It has a few faults, including its bulky size and the mess of wires, not to mention how the cords could have been a bit longer. But these are just small shortcomings in an otherwise fantastic product. If you want a model that can massage your entire leg, then the Renpho Leg Massager with Heat is definitely a top-notch pick.
---
2. Rechargeable Leg-Massager for Circulation with Heat
Why we like it:
It's rechargeable
It includes a remote control
Has a 2-hour battery life
What customers say:
"This is a cordless leg massager. It is very convenient to operate. There are 3 working modes and 3 levels of massage intensity. The massager is automatically turned off in 20 minutes, so I don't need to set the massage time because it will end automatically. This is an airbag compression massager. I can feel that when the massage starts, my legs are covered, and then inflated and deflated." – Regina Riley
The Rechargeable Leg-Massager for Circulation with Heat by Comerelax bears a similar design to the Renpho Leg Massager but without the foot portion, as it only reaches until just above the ankle. The cool thing about this model is that it's both cordless and rechargeable, with a battery life that maxes out at around 2 hours.
It also comes with a rechargeable controller that you can use to operate the device with minimal hassle. You have three different massage modes to choose from – soothing, strong, and pulsation – and you can set each of the modes to low, medium, or high intensity. The device uses aircompressional technology to perform the massages, resulting in a soothing and satisfying experience.
It's easy to put on or take off this device yourself and it includes an auto-off feature that powers done the product after around 20 minutes. It's completely cordless, however, as the device needs to be connected to the battery pack and controller via a USB cable, so people expecting a true wireless experience may be disappointed. Also, the instructions aren't as comprehensive as one would like.
Minor grievances aside, Comerelax's Rechargeable Leg-Massager for Circulation with Heat is one of the best rechargeable leg massagers around.
---
3. RENPHO Leg Massager for Circulation
Why we like it:
It includes a carrying case
It's comfortable and easy to use
Works on both legs and arms
What customers say:
"I have tried all 3 intensity settings with 3 being the most pressure. I use the no 2 setting as it's the right pressure for me. I have also used the 3 massage settings and usually use the no 1. The remote is simple to use. The USB power cord is quite long and it's comfortable to use when sitting or lying down. The material quality is good. I Like the 20 min timer as a safety mechanism and the carry bag." – BT
For the fourth spot, we're going back to the RENPHO Leg Massager for Circulation, one of their smaller massage options that target more specific body parts. While it was mainly intended for calves, thighs, and feet, you can also wrap it around your arms. It utilizes air compression for massaging and features an auto-shutdown feature that kicks in after twenty minutes.
You can switch between three different massage modes depending on what you need and you can even dictate the intensity between low, medium, and high. It's easy to adjust the device's fit since it's lined with velcro and the remote allows you to mess with the settings without having to switch positions. And to top it all off, it comes with a carrying case which is awesome.
The sensation is less like a real massage and more like alternating compressions, which may be a letdown to some people. Also, the power cable is a USB-A to a power outlet which is a pretty awkward design and tough to replace in case it gets lost. If these things don't bother you, then the RENPHO Leg Massager for Circulation is an excellent leg and arm massager that you can take on the go.
---
4. Comfier Foot and Calf Massager, Shiatsu Foot Massager Machine
Why we like it:
Massages feel great
You can adjust the angles
Easy to clean
What customers say:
"My foot is 10.5, this one works real good, very powerful. Lots of options, Different ways to massage and vibration is equally as powerful. The three different modes provide a range of intensity. From gentle and slow to strong and continuous kneading, I love it!" – charles r halasz
Our final entry sports a different design than the other devices so far. The Comfier Foot and Calf Massager, Shiatsu Foot Massager Machine trades in the elastic build and velcro straps for a more situated design that's planted firmly on the ground. You grab a seat and plant your feet and legs into it, then sit back and enjoy the rubdown.
The device is fitted with eight silicon pads to provide a more authentic massaging experience and it comes with three modes at two different levels of intensity. There's also a vibrating massage that has its own three modes of function. The angle of the device can be adjusted too, allowing you to achieve the most comfortable position possible.
Furthermore, massager is easy to clean, as you can easily pull off the sleeves and throw them into the washer. It's not really designed for larger legs and it's not nearly as mobile as the other entries on this list, but if you're looking for a floor-based leg massager, then the Comfier Foot and Calf Massager, Shiatsu Foot Massager Machine is the guy for you.
---
5. Comfier Cordless Foot and Leg Massager with Heat
Why we like it:
It's cordless
It's incredibly easy to use
Great customizable massage settings
What customers say:
"It is so user friendly and effective. I suffer from venous insufficiency which means my valves don't return blood upwards so massage is my best tool. Other leg massagers do not do as good as this one, plus with them you are dealing with cords, hoses, ac adapters, etc. This Comfier leg massager is a pleasure to use and my legs feel so much better." – C. Alexander
The Comfier Cordless Foot and Leg Massager with Heat looks like a boot that opens up along the side and reaches up until the knee when fastened. Its highlight feature is the fact that it's cordless and battery-powered, allowing you to use it anywhere in the house or take it on trips. Every charge nets you around an hour and a half's worth of massaging.
It's also super easy to use on account of how it's designed. You just force open the velcro flap, slip your foot and leg in, then close it back up as tight as you want it. You get three massage modes with just as many intensities as the device uses air pockets to work your muscles from the top of your calves all the way down to your toes.
The massager also boasts a warmer feature to help heat up your leg and foot before or after a massage for some added relaxation. Despite its one-size-fits-all design, this device struggles with particularly large-sized legs and some users have reported discomfort in the ankle area. If these missteps don't affect you, then the Comfier Cordless Foot and Leg Massager with Heat is the optimal choice if you're looking for a cordless solution to massage your tired legs and feet.
---
How We Researched The Leg Massagers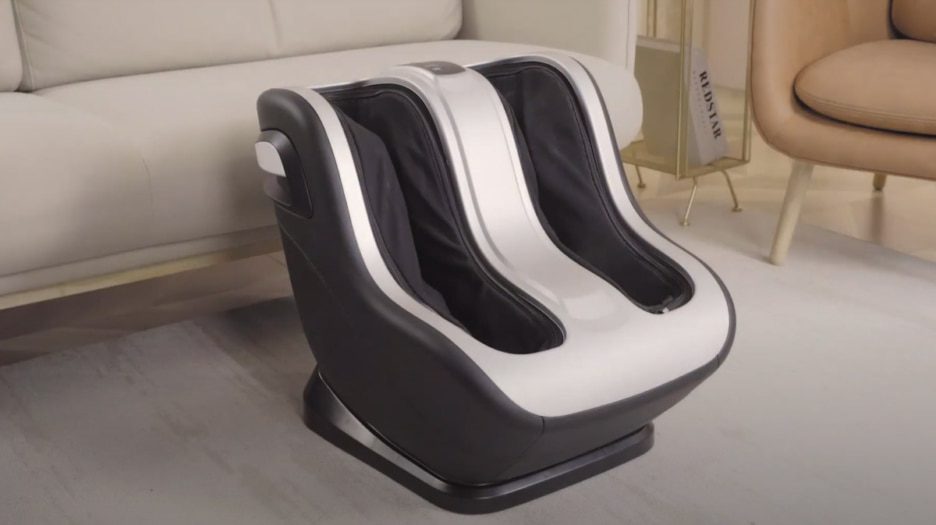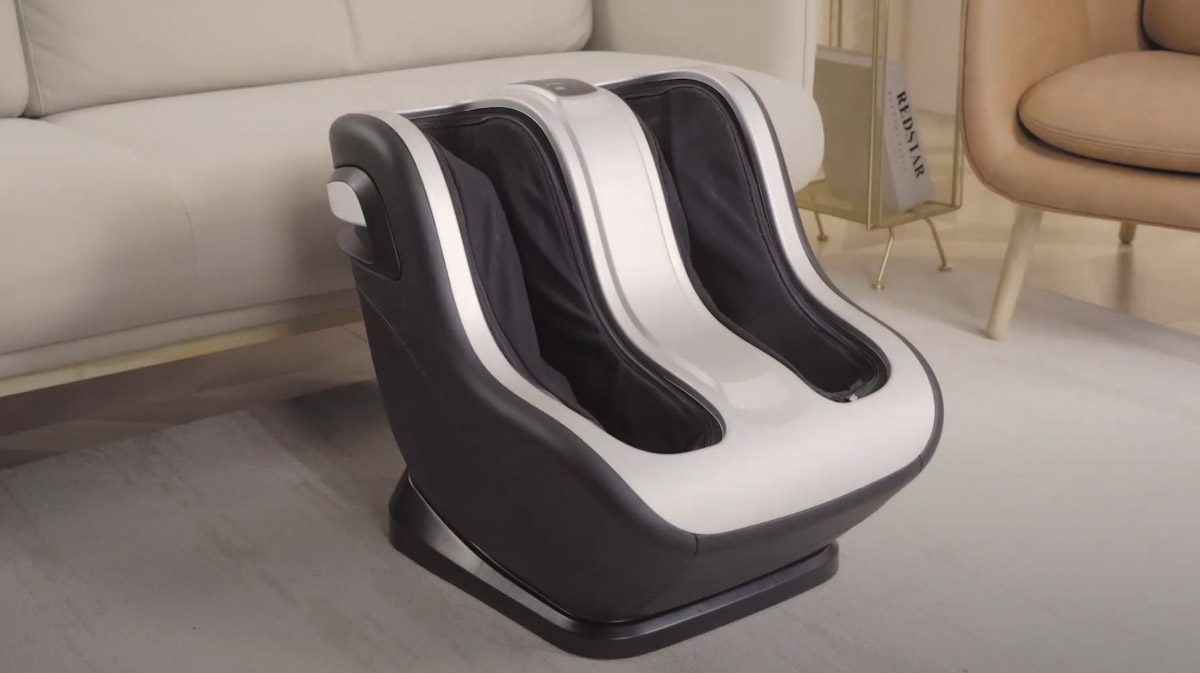 In our search to find the best leg massagers in the business, we looked through online marketplaces like eBay and Amazon and popular local internet retailers such as Myers and Kogan. We investigated the most popular models and we sifted through pages upon pages of customer feedback. We also considered professional reviews and tech blogs for their top-rated leg massaging products.
Once we built an initial list, we started comparing the models with one another, slowly bumping items off the list until we were left with the top five. These five massagers proved themselves to be ahead of the pack in terms of massage effectiveness, innovation, comfort, and popularity. Whichever you end up picking, you're guaranteed to have a satisfying massage experience that'll leave your leg muscles thoroughly relaxed.
Leg Massager: Buying Guide
Leg massagers come in all kinds of shapes and sizes and they also come in varying massaging types. With all the new models popping up in the market and budget brands dropping extra affordable products to entice the masses, figuring out which leg massager you should go with can prove to be a difficult task indeed. There aren't a lot of reviews out there for these kinds of products either, making your decision that much tougher.
The first thing you should do before shopping for leg massagers is to figure out what are the characteristics, components, and features that are most important in the product. That way, you'll understand all the text in the product description sections and you'll be able to make a more informed choice.
Power Orientation
While most leg massagers need to be plugged into a wall outlet to function, certain models are battery-powered and just need to be charged before use. If you plan to mainly keep the massager at home or in the office and you have a nice chair situated near a power socket, then you might not mind getting one with a power plug. But if you want to take it with you on trips, then you'll probably want to look for one that works through a battery.
Massager Type
Leg massagers perform the massages through varying methods. Some of them use air compression technology to pump pockets full of air and those pockets are the ones that do the work to help relax your muscles. Others utilize silicon pads or rubber balls to do the kneading, making for a more authentic massage feel. It's worth figuring out which of the two works best for you before finally investing in a product.
Device Design
Leg massagers can have vastly different designs. The Renpho Leg Massager with Heat, for example, wraps around your leg and foot for a tighter grip and can be used in pretty much any position. The Comfier Foot and Calf Massager, Shiatsu Foot Massager Machine, on the other hand, has an open front that you just slip your foot and calf in and it has to be planted on the ground at all times. You should plan out the position you plan on using the device in so you can choose the style accordingly.
Heating
A lot of massagers come with a heating function that further relaxes your muscles for a more effective massage. Not all massagers have this, however, so if this feature is important to you, then you better do your homework and find out if the model you're eyeing has it.
Portability
Bulkier leg massagers are obviously not meant for travel, so you need to consider the size of the device if you plan on taking it on trips. Though there are some variants that come with a travel bag, making it easier to transport even if the model is larger in size.
---
You may also be interested in:
Last update on 2023-11-30 / Affiliate links / Images from Amazon Product Advertising API