ⓘ We are reader-supported and may earn a small commission at no additional cost to you if a purchase is made through one of our links.
The best massage chairs provide massages on par with a specialist. They're incredibly comfortable, use dozens of different massaging techniques, and do it all from the comfort of your own home! You've probably seen some of these chairs at big shopping centers or at the airport, but you can also have them at home!
I don't know about you, but I'm always looking for a little pick me up. And nothing does the trick like some relaxing massages! It's nice to know that even though we're all busy people with hectic schedules and tons of things on our plates (not just dinner), there are still ways in which our bodies can be pampered at home – without having an expensive therapist or deep tissue session every week. The right massage chair will take care of tense muscles AND boost your mood instantly.
TL;DR: The #1 Massage Chair/Pad for Most People 👇
Comfier Shiatsu Back Massage Chair
If you're looking to ease the knots in your back at a very reasonable cost, then look no further than the Comfier Shiatsu Back Massage Chair. With 5 types of deep massage modes and a soothing heat function, you'll back will feel like brand new before you know it!  🤗
So, without ado, let's jump into the list of the best massage chairs in Australia.
Best for Most People
Comfier Shiatsu Neck & Back Massage chair
AUSWY Electric Massage Chair Armchair
Best for Elderly People
Advwin Electric Massage Chair and Recliner
Best for Athletes
HOMASA Full body Massage Chair
Artiss 8 Point Massage Office Chair
Massage Locations
Shoulder, Back, Waist, Thighs
Shoulder, Back, Waist, Hip
Back, Shoulder, Thigh, Leg, Lumber
Head, Neck, Back, Lumber, Shoulder, Thigh, Calf, Feet
Best for Most People
Comfier Shiatsu Neck & Back Massage chair
Massage Locations
Shoulder, Back, Waist, Thighs
Massage Locations
Shoulder, Back, Waist, Hip
AUSWY Electric Massage Chair Armchair
Best for Elderly People
Advwin Electric Massage Chair and Recliner
Massage Locations
Back, Shoulder, Thigh, Leg, Lumber
Best for Athletes
HOMASA Full body Massage Chair
Massage Locations
Head, Neck, Back, Lumber, Shoulder, Thigh, Calf, Feet
Artiss 8 Point Massage Office Chair
The Best Massage Chairs to Buy Today in Australia
1. Best Overall Massage Chair: HOMASA  Full body Massage Chair
Why we love it:
38 Airbags for Your Bod
LCD Control
Full Body Scan
Shiatsu Heating
What customers say:
"Chair good value for money. Heat on back is great. Very relaxing. Foot massage great. Tricky to get head/neck pillow in right place but once you work it out all good. Can have one or all massage on at once." – Mel
The HOMASA Black Full body Massage Chair is our top pick for the best massage chairs to buy in Australia because its sturdily built and also offers a long list of features that you can benefit from. This is a life-changing chair that delivers a full body massage from your neck to your feet, using a range of tried and tested massage techniques.
All our testers praised it for its high level of comfort, ease of use, and ability to support the entire body. When you sit in this massage chair, you will feel like it's embracing you, thus delivering a calming effect even before the massage function kicks in.
It employs rolling, kneading, tapping, and shiatsu techniques to provide a massage on par with a professional masseuse. In addition to this, the HOMASA  Full body Massage Chair uses 38 airbags to provide acupressure across the entire body, including the head to help promote better blood flow and circulation.
And if you needed more reasons to buy this massage chair, there is a heat function that applies a gentle warmth through the chair to add an extra layer of relaxation. Finally, there is the zero gravity feature which mechanically rotates the chair back 180 degrees to remove stress on the vertebrae and create a feeling of weightlessness.
With this many features, from a trusted brand in the space, it's hard to find a better massage chair!
---
2. Best Massage Chair for Back Pain: Livemor 3D Electric Massage Chair
Price reduction
Why we love it:
Extensive SL Track
Very wide range of massage programs
Automatic body scan
Bluetooth speakers and light
What customers say:
"It is very good, arrived the next day. full body massage was as described by the seller. it is very nice and comfortable. happy with the massage chair" – Grace
Sit back and let your body get lost in the Livemor 3D Electric Massage Chair. Thanks to its 3D  roller track that follows the shape of your spine and the 178 degrees of recline, you'll be hard-pressed to find a more comfortable back massage anywhere.
That being said, it can effectively relieve back pain when used correctly. Besides, this massage chair is fitted with a 130cm SL track that spans from your neck  all the way to your hamstrings. And if you're worried that your body type isn't suited to this type of massage chair, then Livemor has you covered.
During testing, it offered maximum comfort to both big and small-bodied persons.There is also an automatic body scanning function that detects the shape of your body to deliver a customised and consistent massage pattern that hits the right spots every time.
Meticulously designed so each seat can adapt to various heights and shapes, this magnificent massage chair also has a feature list far too long to list here.
Some of the highlights are its 6 full-body massage programs, heated massage function, zero gravity ability, and a plethora of different rollers, acupressure, and anything else massage-related! In short, it has everything one may look for in a high-end massage chair.
---
3. Best Massage Chair for the Money: Advwin Electric Massage Chair and Recliner
Why we love it:
Comfortable Lifting Design
8 vibration massage nodes
Heated
Extremely comfortable
What customers say:
"Fast shopping. Very easy to assemble and operate. My mum finds it very comfortable and great value for money. She has swollen legs and loves that she can elevate her legs whilst watching TV to help reduce swelling and pain in her leg. " – Brenda F
Moving away from the expensive specialist massage chairs to introduce the Advwin Electric Massage Chair and Recliner. This guy may not have all of the bells and whistles found in some of the specialist chairs, but not everyone needs something that extravagant or wants their chair to blend in with the rest of the furniture.
Well, this massage chair ticks a lot of the boxes you would want to be ticked for a massage chair while functioning excellently as a normal armchair in your living room.
The massage functions are basic but effective. There are 8 massage points from the neck/head to the lower legs that deliver a relaxing and tension-removing massage.
On top of this, there is a heat function. We however noticed that this model doesn't get as warm as more expensive massage chairs that we've listed before it. It still warms the body nonetheless.
And if you have trouble getting out of the chair, there is a lifting function that leans the chair forward to make it much easier. Finally, the chair can recline back 140 degrees to remove stress on the lower back and create unbeatable levels of armchair comfort.
---
4. Best Massage Chair for Comfort: Artiss Electric Lounge Massage Chair
The Artiss Electric Lounge Massage Chair is for those who prefer the luxury that leather offers.  Well, this guy only offers PU leather, but it's still high quality and certainly something to be enjoyed.
Users rave about the comfort of this chair as well as its massage functions. The fabric is soft, the padding is thick, and it can recline back 135 degrees or lean forward to help people out of the chair.
If There are two drink holders, one in each arm and a side pocket to keep everything you need within arms reach.
So if you want to up your armchair game, the Atiss Electric Lounge Massage Chair could be the purchase for you. The combination of comfort, design, and messaging ability is hard to beat, especially at the very reasonable price it's being sold at!
---
5. Best Massage Chair for Office: Artiss 8 Point Massage Office Chair
Why we love it:
8-point massage
Six vibration modes
S-shape contoured backrest,
Excellent value for money
What customers say:
"Bought this as a Christmas gift for our daughter. She really loves it. She likes the high back and the support and the massage function is great though it would have been helpful to have a longer lead." – Niicola Saad
The Artiss 8 Point Massage Office Chair is the best massage chair if you spend a lot of time working in your home office and want to prevent or help treat a bad back. We're spending more time than ever at our desks and our backs are paying for it.
The Artiss 8 Point Office Massage Chair helps us out by deeply massaging trouble areas of the back, the shoulders, lumbar and lower back. It does this with 8 massage points, 6 vibration functions, and a heat function.
Aside from the excellent massage aspects, the chair itself is high quality, with a sturdy metal frame, an s-chape contoured seat, and comfortable padded materials throughout.
It comes in 4 different colours, black, white, amber and beige. So no matter your office aesthetic, this won't look out of place.
---
6. Best for Most People: Comfier Shiatsu Back Massage Chair
Why we love it:
5 types of deep massage modes
Soothing heat function
Vibration function
Incredibly comfortable
Machine washable
What customers say:
"This is an awesome product for the price.It has been such a relief to use and get a controlled massage on my back. The heat setting is magnificent for loosening up tight muscles and the massage can be as deep as you need it to be. I particularly like that I can set it to focus on a particular spot and if it doesn't quite hit that spot I can move the massager around til it does. No cons that I have found at this stage so 5 stars all the way." – Navras
If you're looking for a massage chair  pad that offers full-body relaxation without breaking the bank, then look no further. The Comfier Shiatsu Neck & Back Massage chair is the epitome of relaxation and delivers an authentic massage experience at a small fraction of the cost of the more premium massage chairs seen further down in this list.
It is a favourite among most people because its versatile and somewhat portable. We love this massage chair pad thanks to its undeniable effectiveness at relieving tension and aches from your neck, shoulders, back, waist, and thighs.
With the press of a few buttons, you've selected from one of the five massage modes (Shiatsu, Finger Pressure, Kneading, Rolling, or Spot Air Pressure), or a combination of them!
The Shiatsu neck and shoulder massage feature uses 4 high-quality massage nodes, with two directions and adjustable node placement for a tailored massage experience on par with an in-person massage.
If you want to target your back then take advantage of the 3D Shiatsu back massage that uses an innovative inward and outward motion technique to directly target the knots in your back.
The air massage feature is a wonderful addition that helps improve blood flow and relax the waist, thighs, and hips, which certainly don't get enough love from most people.
In fact, it is often these areas that can be the root cause for issues further up the spine. There are 3 levels of intensity to choose from to help you find the perfect level of intensity.
To top it all off, the heat function adds a suitable yet welcoming feeling of relaxation throughout your back to further relax the muscles and make the entire massage process more effective and relaxing.
So if you're in the market for a massage chair pad that can do it all, with excellent build quality that doesn't cost and arm and a leg, then consider the Comfier Shiatsu Neck & Back Massage chair!
---
7. Best Shiatsu Seat Massager: Renpho Back and Neck Massage Seat
Why we love it:
Adjustable neck kneading
Heat therapy
Vibration mode
Breathable and washable fabric
Great build quality
What customers say:
"Wow, I was really surprised by how genuine the quality of the massage was. As somewhat of an expert on this matter 🙂 I'm amazed at how the Renpho hits those spots that I consider quality therapists are able to find. The seat massager was an unexpected and pleasant bonus… Not a negative, but the only way this could be better was if it could be easily used in a car seat. Then again, I'd probably fall asleep." – Daniel O'Toole (Amazon Customer)
The Renpho Back and Neck Massage Seat is also another excellent option that you can add to your list, thanks to its combination of excellent massage functions and value for money.
And don't just take our word on the quality of this product, with over 3,100 reviews at an average of 4.2, people are clearly loving it! This massage chair pad delivers spine soothing deep tissue shiatsu massage, making it a great choice for everyone with back pains.
The unique feature offered by this massage chair is the adjustable neck kneading feature, which typically isn't found on similar products and can be incredibly useful for the taller people among us.
A somewhat common complaint about this type of product is that some people find the kneck section of the massage chairs are not properly aligned, which is what this feature solves.
Aside from the unique neck massage features, there is a range of other high-quality massage features. The customised back massage uses 4 massage heads with 8 rotating nodes that rotate while also moving up and down the spine.
The result, a deep and effective back massage that relieves tension and promotes healthier blood flow.
There's also a very nice heat function, which amplifies the effectiveness of the massage by relaxing the muscles prior to and during the massage. Think hot stone therapy followed by a relaxing massage. And to top it all off the seat can vibrate with three different levels of intensity to help relax your buttocks and things.
The only thing lacking with this massage chair is an acupressure feature which is found in the Comfier Massage Chair covered above, but this is still a top product and you should certainly consider the Renpho Back and Neck Massage Seat
---
How We Picked the Top Massage Chairs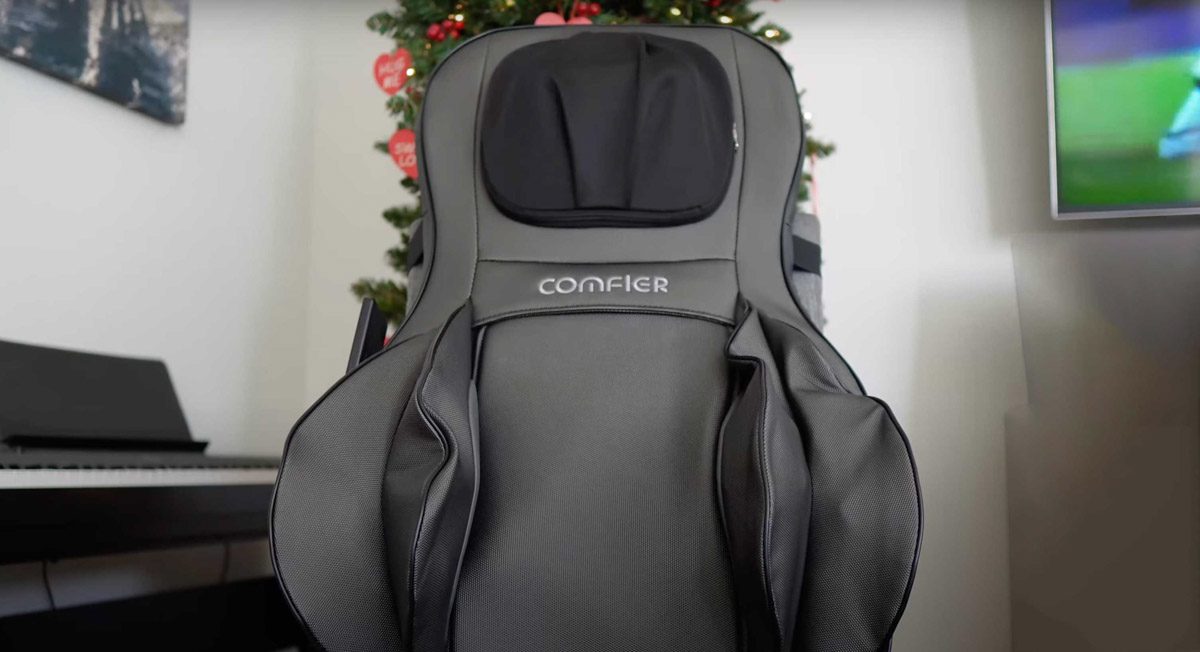 We spent close to a year researching and testing the best massage chairs Australia has to offer. And because massage chairs are all about comfort, we had to ensure we got everything right.
With the help of our team and a panel of volunteer testers, we were able to rigorously test the massage chairs for comfort, stability, durability, and ease of use. Additionally, we considered the customisation options, design, size, and the type of massage each test model had to offer.
Our team tested different types of massage chair to ensure everyone finds something that matches their lifestyle and comfort needs. Two of the test models that we assessed are not actual chairs but seat cushions.
We noticed that they are exceptionally versatile since you can place them on just about any seat for a soothing deep tissue massage. As part of the assessment, we tried the Comfier Shiatsu Neck & Back Massage chair and Renpho Back and Neck Massage Seat on the ErgoTune Supreme V3 and the results were amazing.
Both fit nicely and offered full back support without slipping. However, we had to remove the head and backrest on the V3 to create space for the massage cushions. We also tested them on our sofa and armchair to see if they delivered the desired level of comfort.
Additionally, we gave two of our team members the seats for three months to see how they perform in the real world. They collected enough data (everything from massage intensity to overall design) to help us compare these seats with the other test models.
As for the other five chairs, we first tested them in our office in Melbourne and later called in a panel of volunteers, consisting of people who had some experience using massage chairs. We asked the volunteers to sit on each chair and tell us how they feel.
In addition to this, we gave them instructions to try out all the available features and recline positions to test for stability. This was done over a period of seven months, after which we compiled all the data and ranked the massage chairs based on how they performed and our overall findings.
Massage Chairs: Buyer's Guide
Before you drop some serious coin on a massage chair, do yourself a favor and give this massage chair buying guide a read. There's a fair bit to breakdown so we've done our best to make things clear and simple!
Key Considerations
Price
Some of these massage chairs are very expensive, but you do get what you pay for. As a general rule, the more you pay the better the massage. So you have to ask yourself, why am I buying a message chair, and is it worth the investment? Well, if you have some serious issues, then yes. But if you just want something for the occasional message then you probably don't need to drop $2000 and can get away with a cheaper model.
Style
The top massage chairs look pretty out of place in most peoples' living rooms, so keep that in mind. They still look awesome but typically have quite a futuristic aesthetic and are quite bulky. So you have to weigh up the form and function.
There are massage chairs that look just like a traditional armchair, so perhaps this type of model is best if you're concerned about it looking out of place.
Massage Type
There are almost an endless amount of different massage techniques used by professional masseurs, unfortunately, massage chairs don't quite have the same repertoire but the best ones can deliver a wide range. Massage chairs are also unable to determine what the best type of massage would work best for you so you want to buy a chair that has the biggest variety of techniques available.
Heat Function
Applying heat to muscles helps relax muscles and promotes better blood circulation. When you combine these benefits with a good massage the impact is more than the sum of their parts. Almost all massage chairs have this function, so don't miss out.
The Benefits of Massages
There are well-known benefits to massages that can be achieved even through the use of artificial massage devices like massage chairs and pads. Below are some of the main benefits as shown through rigorous scientific methodologies.
Positive Effects on Fibromyalgia Symptoms
According to a 2010 meta study titled "Massage therapy for fibromyalgia symptom" there are modest benefits and state the following:
All reviewed studies showed short-term benefits of massage, and only one single-arm study demonstrated long-term benefits.
Positive Benefits on Blood Pressure and Heart Rate
A 2008 study published in The Journal of Alternative and Complementary Medicine titled "The Effect of Deep-Tissue Massage Therapy on Blood Pressure and Heart Rate" describes the benefits of deep tissue massages and states the following:
average systolic pressure reduction of 10.4 mm Hg (p < 0.06), a diastolic pressure reduction of 5.3 mm Hg (p < 0.04), a mean arterial pressure reduction of 7.0 mm Hg (p < 0.47), and an average heart rate reduction of 10.8 beats per minute (p < 0.0003), respectively.
And Myriad Other Benefits
HealthDirect, the Australian Government's free health portal describes a myriad of other benefits associated with massages, ranging from muscle aches to anxiety and depression. For a full rundown of how massages can help you, then click through the HealthDirect here.
---
You may also be interested in:
Last update on 2023-11-30 / Affiliate links / Images from Amazon Product Advertising API