ⓘ We are reader-supported and may earn a small commission at no additional cost to you if a purchase is made through one of our links.
The best massage guns relieve back pain, muscle soreness and are the perfect fitness tool for targeted and precise muscle recovery and injury prevention. Maybe you're an athlete, trainer, or someone who just loves to work out and looking for something that can help with your post-workout recovery or improve your overall performance? If that's you? Then it might be time to invest in a good ol' handheld massage gun.
Massage guns have quickly become the latest fitness trend – and for good reason. Through the rapid and repeated bursts of pressure to specific points in your body, or also known as vibration therapy, these devices can help loosen up tight and sore muscles. They can also stimulate blood flow and help increase recovery. Even better, these handheld devices allow you to enjoy the benefits of a professional massage without leaving the comforts of your home, making an appointment, or spending expensive fees for a session.
TL;DR: The #1 Massage Gun for Most People 👇
Price reduction
RENPHO Massage Gun
This is an effective, versatile, and very affordable massage gun that doesn't skimp on quality. It's very well made, includes a good carry case, and includes 5 different massage heads.
So if you're looking for a solid massage gun at a great price, then take a closer look at the Renpho. 😎
However, with the hundreds or even thousands of handheld massage guns in the market, it can be challenging to find the right one for you. So to save you the trouble and help you make the right decision, we came up with a list of the best massage guns you can buy in Australia.
Best for Serious Athletes
TheraGun Pro
Best for Most People
RENPHO Massage Gun
ACHEDAWAY Pro Massage Gun
Best Budget Massage Gun
BBamk Massage Gun
BOB AND BRAD Deep Tissue Percussion Massager Gun
Best for Serious Athletes
Best for Most People
ACHEDAWAY Pro Massage Gun
Best Budget Massage Gun
BOB AND BRAD Deep Tissue Percussion Massager Gun
The Best Handheld Massage Guns to Buy Today in Australia
The best massage guns for different uses, budgets, and muscle types:
1. TheraGun Pro
Price reduction
Why we like it:
Unparalled massage functions
Top-nottch build quality
OLED screen
Rotating arm and ergonomic multi-grip
What customers say:
"I bought this for my partner while I was pregnant as he gets a really sore back and neck. Instead of giving him regular massages, he could either do a very quick Theragun session himself or I could do one in 5-10 mins with no effort vs the 45-minute massages with lots of effort." – Sophie Di Falco
The TheraGun Pro takes the number one spot on our list of the best massage guns thanks to its unparalleled massaging ability and build quality.  Compared to other percussion massagers, it has a 16mm amplitude and can reach 60% deeper into your muscles, hitting your skin a whopping 40 times per second and going deeper into your muscles. As a result, you can enjoy the maximum recovery effect and experience true deep muscle treatment.
Featuring 6 attachments and an ergonomic rotating arm, which can be adjusted to 4 positions, the Theragun Pro allows you to reach and target different problem areas with ease. It also comes with 2 interchangeable and rechargeable lithium batteries with 150 minutes of battery life each. So you can charge one while using the other and never run out of power.
Another thing you'll love about the Theragun Pro is its OLED screen, which allows you to monitor your speed. It also features smart app integration, allowing you to set the speed between 1750 to 2400 percussion per minute (PPMs), store 3 preset treatments, and run personalized routines based on your behavior and preferences.
Sure, the TheraGun Pro is more expensive than most massage guns today. But for its power, quality, smart features, and ease of use, it's highly worth it.
---
2. RENPHO Massage Gun
Price reduction
Why we like it:
Very long battery life
20 adjustable speed settings
Simple and user-friendly interface
Comes with a carrying case
What customers say:
"My chiropractor recommended me getting a massage gun for home use. This gun is fantastic … quiet, easy to use, great battery life, and with so many attachments I can easily work on all parts of the body. Definitely, a must-have item to help with sore muscle and joints." – Suez
If you're looking for a cheaper massage gun but with almost the same features as the Theragun Pro, then the RENPHO Massage Gun is a great choice. It offers a deep tissue massage without creating too much noise. In fact, at the highest speed setting, which is at 20, the massage gun produces approximately 63.5 dB noise level. Meaning, it will only be as loud as a normal conversation.
With a 2000mAh capacity, the RENPHO Massage Gun also has very long battery life. It can last up to 8 hours on a single charge, giving you long hours of use. You don't even have to wait for it too long since it only takes 2 to 3 hours to fully charge.
The RENPHO massage gun includes 6 different heads to fit all your needs. It has a ball head for your quads, glutes, joints, and extreme muscles; a bullet head for deep tissues, joints, trigger points, and small muscles; a U-shaped head for your spine, shoulder, neck, and soft tissues; air cushioning soft head for sensitive muscles; and a hammerhead for all parts of your body.
Overall, the RENPHO Massage Gun offers incredible value for money and is arguably the best value for money massage gun available in Australia. It may lack some of the more refined features found in the Theragun, but for a much lower price point, it's hard to complain.
---
3. ACHEDAWAY Pro Massage Gun
Why we like it:
Quiet operation
Great carrying case
Powerful motor
What customers say:
"Being a professional athlete means that I am constantly needing to find new ways to recover quickly from intense training workouts. I have used other massage guns in the past, but I personally believe that Achedaway has made the best one!xq" – Steele Johnson, 2016 Olympic Silver Medalist
Equipped with a powerful motor, the ACHEDAWAY Pro Massage Gun can ramp up to 1500 to 3250 PPM, which is more than enough to provide you professional massage treatment for your muscles. It also has 5 adjustable speed levels, so you can set it according to your needs.
Like RENPHO and Theragun Pro, the ACHEDAWAY Massage Gun also has different massage head attachments. But unlike the two, it only has 5 instead of 6. But don't fret. Its heads are still enough to provide you with a full body massage.
The ACHEDAWAY Pro Massage Gun also has long battery life. It can last up to 3 to 5 hours per charge, which is shorter than RENPHO's massage gun but very long battery life nonetheless. It also comes with a sturdy case, so you can carry it around wherever you want to go.
---
4. BBamk Massage Gun
Why we like it:
30-speed levels
Long battery life
LCD Touch Screen
What customers say:
"This has been life-changing. I was introduced to this from my Osteo. I suffer from Chronic Pain and Fibromyalgia and thought maybe this would not be good for me. Wrong it's amazing, lightweight, super easy to use. It has many levels to use which is also fantastic. I can truly recommend this product and this brand." – Nikki Correia
The Bbamk Massage Gun has an amplitude of 12 to 16mm, which is far from the 8 to 10mm amplitude of average massage guns in the market. As a result, it can reach your deep muscles further and send you waves of relaxation and relief throughout your body.
With a max of 4800 RPM, the ALDOM Massage Gun is extremely powerful. It also features 30-speed levels, which gives you more options than Theragun Pro, ACHEDAWAY, and RENPHO. This allows you to change and find the best pressure and speed settings according to your pain and needs. Additionally, this handheld massage gun is equipped with a 2400mAh lithium-ion rechargeable battery. On a single charge, it can last up to 6 to 8 hours, so you don't have to worry about the battery running out.
We'd also like to mention the Bbamk Massage Gun's LCD display and noise level. With a rated 30 to 50 dB noise level, it is quieter than most of the massage guns around. The LCD display, which shows the speed and battery levels, also make this device easier to use and control.
Overall, with its excellent features, long battery life, affordable price, and so many speed levels, the ALDOM is an easy choice for one of the best handheld massage guns you can buy today.
---
5. BOB AND BRAD Deep Tissue Percussion Massager Gun
Price reduction
Why we like it:
Affordable
Lightweight and portable
Charges with USB-C
What customers say:
"Had severe shoulder and neck pain from working at a desk. I paid a lot of money on massages with no improvement. Purchased this product and was basically cured immediately. I have used the product every few days and now I rarely use it due to the benefits I've received. Everyone needs one of these." – Mads
Made and designed by real physical therapists, the BOB AND BRAD Deep Tissue Percussion Massager Gun has all you need from a massage gun. It has a max speed of up to 3200 RPM and 5 massage heads, which are suitable to target different parts of your body. It also has a 2500mAh large capacity battery, so you'll never run out of power whenever you need a massage. To make it even better, it charges with USB-C for fast charging.
But what truly sets the BOB and BRAD Massage Gun is its portability. Weighing only 1.5 lbs or 680g, it is one of the most portable and lightweight yet powerful massage guns on the market. It's also made with an ergonomic silicone handle design for easy grip and maximum comfort. And if you're worried about the product's safety, don't be. Its battery is packed with multiple software and hardware protection functions, including over-voltage, short-circuit over-temperature, and over-current.
Sure, the BOB AND BRAD Deep Tissue Percussion Massager Gun don't have as many massage heads or speed levels as the others on the list, but overall, it's still an excellent choice if you're looking for something more compact, portable, and affordable.
---
6. BURNNOVE Massage Gun
Price reduction
Why we like it:
8 massage heads
99 adjustable speed levels
Powerful but quiet
What customers say:
"I had a baby 5 months ago and started yoga recently. I usually have sore muscles after every exercise in 36 hours. My dear husband got me the massage gun and it helps reduce my muscle soreness. My mostly used massager head is Big Fork for buttocks & thighs.
The massage gun is very quiet and I love using it while watching a movie. The battery is excellent too, can work up to 10 hours. I was surprised it came with a very nice case to keep everything in one place. Absolutely happy with the purchase." – JoYnWell
The BURNNOVE Massage Gun has the most massage heads and speed levels on this list with 8 interchangeable massage heads and 99 adjustable speeds. So with this massage gun, you're more likely to find the best setting to suit your needs. To top it all off, it has a 35 to 45 dB noise rating even at a max of 3300 RPM. This means you can use it not only at home but also at the office or gym without disturbing others.
What's also great about BURNNOVE Massage Gun is its 2550mAh battery capacity. Sure, there's no option to swap batteries, and the 4 to 5 hours waiting time for it to fully charge is quite long. But once it's done charging, you can already use it for up to 10 hours on the lowest gear.
If you are looking for a smaller massage gun that can deliver quite the same power and minus the hefty price tag, then you won't regret choosing the BURNNOVE.
---
7. EVIEUN Massage Gun
Why we like it:
Affordable
Small, handy, and portable
Quiet
What customers say:
"Absolutely love this massage gun!! I have a chronic illness which I have for life. My body really aches everyday. I needed something to help relieve any of the tension. This gun is a game-changer.
I also suffer from bad PMS pain. This gun has relieved a lot of back pain and cramping" – Sarah
Are you looking for the cheapest yet quality massage gun? If so, then consider the EVIEUN Massage Gun. Compared to the others on this list, this handheld device is the one with the lowest price tag. It also has the least massage heads (4) and levels of intensity (4). But make no mistake, it is still very much effective as a percussion therapy device.
The EVIEUN Massage Gun can produce up to 3200 RPM of pressure to your sore and tensed muscles without making any noise. Rated with a 30 to 48 dB noise level, it is super quiet. It is also equipped with an LG 2600mAh Li-ion battery, which can last up to 4 hours.
While it may not have the best or most advanced features, for its price and effectiveness, the EVIEUN Massage Gun is definitely a steal.
---
How We Researched the Best Handheld Massage Guns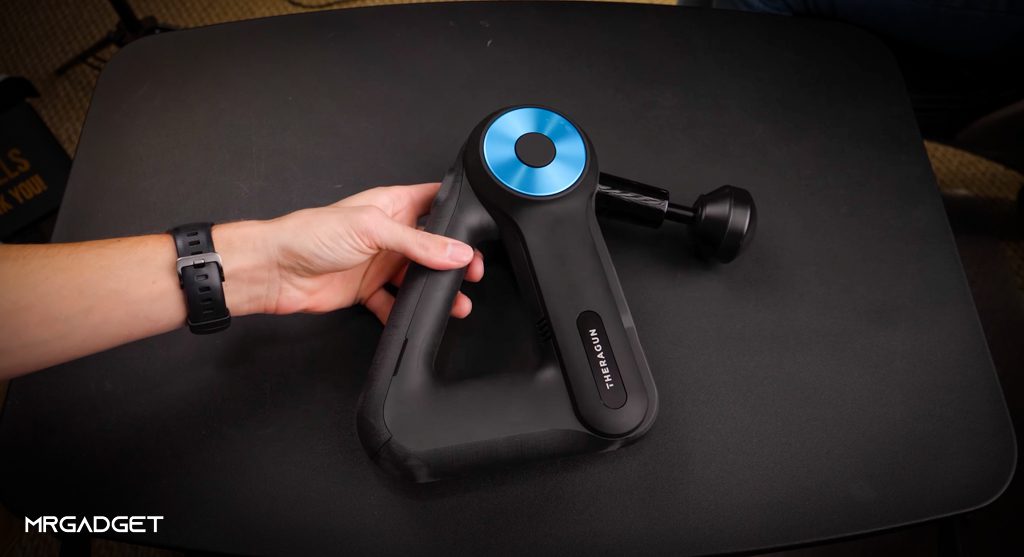 Since massage guns have become very popular, there's no shortage of local and online stores where you can buy them in Australia. There's Lexco, Rebel, Kogan eBay, Catch, Amazon and more. Now, to find the very best ones, we looked at each of these stores and narrowed it down to the best-selling, and most highly reviewed massage guns on the Australian market. And we didn't stop there! We also went through the reviews to find out what buyers think of each product.
To know and understand the products extensively, we also read up on what professionals and blogs had to say about them. From there, our team discussed and decided upon ourselves on which ones to keep and which ones to cut, bringing us to our top seven.
Considering the features, price, and functionality, we ended up with a list of only the highest quality handheld massage guns. So whichever one you go with, we guarantee that it will be exceptional and able to provide you the relief and relaxation you are after.
Handheld Massage Guns: Buying Guide
Before spending your hard-earned money on a massage gun, you should first know what to look for and the benefits of owning one. To help you out, here's everything you should know about handheld massage guns.
What to Look for When Buying a Handheld Massage Gun
Power and Speed: Handheld massage guns today offer various speed and power settings. These are important features to look for as not all muscle groups can withstand the same pressure. For instance, you will need to use a lower setting on more sensitive areas, including the calf and hamstring.
Ease of Use: It's important to look for a massage gun that's easy to use. While flashy screens and smart features seem fancy, they can be difficult to understand.
Multiple Detachable Heads: If you're going to buy a handheld massage gun, make sure to look for something with multiple detachable heads. This provides you versatility and the precision you need to target specific parts of your body.
Portability: Massage guns can vary greatly in weight. Some are lighter and smaller while others tend to be a bit heavier. But if you're planning to carry around your massage gun at the gym, office, or while traveling, then you may want to look for a lighter option.
Ergonomics: You'd want a massage gun that allows you to reach the areas you want to massage without having to twist and contort your body. You'd also want something easy to hold and control.
Amplitude: The amplitude of a massager is the distance covered by the device's head as it moves back and forth. The higher the number, the harder the punch you'll get and the deeper the massage gun will work.
Noise: Some massage guns are too noisy, which makes them unpleasant to use. So make sure to read a product's specifications and customer reviews to avoid overly loud massage guns.
What are the Benefits of a Handheld Massage Gun
Pain is inevitable – no matter what you're doing. You get it from working out, sitting in front of your computer too long, running, lifting weights, exercising, and even doing errands. Now, to relieve pain, one of the most reliable ways is to get a massage. But the problem is, regular massages can be too expensive. And here's where handheld massage guns come in.
Massage guns have powerful motors and the ability to reach deeper into muscle tissues, which most typical vibration massagers don't. As a result, it is better at providing deep muscle massages, which can help relieve pain, release stress and tension, enhance muscle recovery, and even improve your range of motion. It's also a great device to help you wind down and relax, especially when you're feeling exhausted.
Some of these claims are outlined below in scientific journals:
One such study evaluates the effectiveness of percussion massge guns in rehabilitating lower limb mobility. The study[1] concludes the following:
Thirty-nine included studies were used in this literature review. It was found that handheld percussive massage devices are the most effective method of increasing lower limb range of motion compared to foam rolling and other self-myofascial protocols. The use of handheld percussive massage devices directly after exercise reduces delayed onset muscle soreness.
A Korean
study
[2] titled "
Effect of Local Vibration on Triceps Surae Flexibility Compared to Static Stretching
" concludes that:
The application of local vibration using a massage gun for five minutes on the triceps surae could improve its flexibility as much as the application of static stretching. A massage gun for the application of a local vibration stimulus may be effective, simple, portable, and comfortable.
Another
study
[3] from 2014 titled "
To Compare the Effect of Vibration Therapy and Massage in Prevention of Delayed Onset Muscle Soreness (DOMS)
" concludes the following:
Vibration therapy and massage are equally effective in prevention of DOMS. Massage is effective in restoration of concentric strength (1 RM). Yet vibration therapy shows clinically early reduction of pain and is effective in decreasing the level of LDH in 48 hours post exercise periods
These handheld devices also increase blood flow to the painful area, flushing out metabolites like calcium and lactic acid, which are what cause muscle contractions and pain after workouts. That said, using massage guns can help your sore muscles recover faster.
Another benefit of using a massage gun is that you are in charge. You get to target the painful area, self-massage, and apply the exact pressure you need, and adjust as necessary.
And there you have it. Now that you know a bit more about handheld massage guns, you'll know how to differentiate such devices better. All that's left is to find the right massage gun for you.
You May Also Be Interested In:
---
References
[1] Martin, J. (2021, January 13). A critical evaluation of percussion massage gun devices as a rehabilitation tool focusing on lower limb mobility: A literature review. SportRxiv Preprints, 2.
[2] Park, S. (2020, August 31). Effect of Local Vibration on Triceps Surae Flexibility Compared to Static Stretching. The Journal of Korean Physical Therapy. The Korean Society of Physical Therapy.
[3] Imtiyaz S, Veqar Z, Shareef MY. To Compare the Effect of Vibration Therapy and Massage in Prevention of Delayed Onset Muscle Soreness (DOMS). J Clin Diagn Res. 2014;8(1):133-136. doi:10.7860/JCDR/2014/7294.3971
Last update on 2023-11-30 / Affiliate links / Images from Amazon Product Advertising API