ⓘ We are reader-supported and may earn a small commission at no additional cost to you if a purchase is made through one of our links.
The best hand massagers deliver a comprehensive and therapeutic hand massage that helps alleviate injuries or chronic hand pain. They are able to massage the hand, palm, fingers, and wrist while applying gentle heat for the ultimate massage experience.
If you're like us and you spend a good amount of time typing or using a mouse, you've probably experienced some level of discomfort at some point. Well, if that is the case, perhaps a hand massager could be the perfect self-care gift.
TL;DR: The #1 Hand Massager for Most People 👇
Price reduction
Breo iPalm520s Electric Hand Massager
This is an incredibly well-reviewed hand massager that combines acupressure, heat therapy, and kneading to deliver a quality massage across the entire hand and fingers.
It's definitely worth checking out if you have some aches and pains and want some relief. It also has quick delivery, unlike most other hand massagers on this list. 🙌
The Best Hand Massagers in Australia
Let's jump in and take an in-depth look at the best hand massagers Australia has to offer!
1. Best overall: Breo iPalm520s Electric Hand Massager
Price reduction
Why we like it:
Combines air pressure and heat application
Massages the entire hand and fingers
Suitable for hands of all sizes
Promotes improved blood circulation
What customers say:
"I bought this product about a week ago. It massages the hand and wrist, takes away the pain which allows me to go back to sleep. Since I started using it it has been getting better. I like this prodcut so much that I searched to find a way to share my positive experience. Great product" – Leslie
The Breo iPalm520s Electric Hand Massager  is your personal reflexologist. Its intelligent design uses sophisticated programming to control the pressure levels (3 available) and adjusts it to distribute even amounts of kneading on both on the outer palm and inside between the fingers.
Whether you're a touch typist or someone who sits with hands on the keyboard most of the day, this palm-sized massager has over 300 acupoints that will release muscle tension and improve micro-circulation. In addition to its five adjustable speeds, it also eases back pain from prolonged sitting positions by stimulating reflex zones on your hand and fingers.
With infrared technology that warms your body to 35-42C, it reduces hand fatigue, soreness, and numbness as well as promotes blood circulation.
This is a do-it-all hand massager that's well worthy of its number 2 spot on the list of the best hand massagers to buy in Australia.
2. Best heat function: Comfier Wireless Hand Massager with Heat
No products found.
The is the ultimate wireless hand massager for those who want hand massages on-demand and wherever they want. It uses a combination of air pressure and heat to promote better blood circulation to get rid of knots are reduce inflammation.
The Comfier Wireless Hand Massager is one of the more affordable options on this list, especially for a wireless variant but it still maintains the majority of the premium features found in the more expensive models. There are 3 different pressure modes as well as 3 different levels of intensity. You'll be able to find the perfect combination for you!
Unlike some other hand massagers, there's more than enough room for most people to comfortably spread the hand to get a comprehensive hand massage. Whereas some others only have enough space for closed fingers.
And don't just take our work for it, there are over 2600 reviews with an average of 4.5 stars on Amazon!
---
3. A good option: HoMove Hand Roller Massager
No products found.
The feels just like real human hands kneading your sore muscles away. The 5 unique vibration, heat, and compression programs include a soothing "Extreme" level that loosens up even the tightest joints. With its stay-cool exterior, you'll never have to worry about burning yourself or ruining clothes while relaxing in comfort at home!
This easy-to-use hand massager comes equipped with deep-kneading kneads, light tapping on the pressure points on the hands, and more! Great for athletes, golfers, tennis players, travel enthusiasts.
---
4. Best portable: CINCOM Rechargeable Hand Massager with Heat
Why we like it:
Small portable unit
3 massage modes and 3 levels of intensity
60-90 minutes of use on a single charge
What customers say:
"I ordered this product for myself. I have some arthritis in my hands, as a nurse, this affects my work daily. I have tried creams and over the counter medications, but this massager has really improved my mobility better than any other modality I have tried over the years. My husband also has some carple tunnel type problems, he used the hand massager, and was very impressed. I now have to take it away from him so I can use it." – Lenb
The CINCOM Rechargeable Hand Massager with Heat  is the perfect device to help you relieve tension and pain from sore muscles. The massage options can be adjusted to different strengths, so you'll always feel refreshed after using it. Choose the efficiency of your massage by changing between settings for soft, medium, or hard pressure.
The specially designed dimples not only allow for more targeted treatment of knots on the hands but also stimulate nerve reflex flow by massaging sensitive points all-around joints including those in fingers – great for relieving joint pain. This product will help relieve muscle swelling, stiffness, tightness—and even carpal tunnel syndrome!
Stop feeling stiff again with this comfortable massager that's easy on your own body's pressure points while giving.
---
How We Picked the Best Hand Massager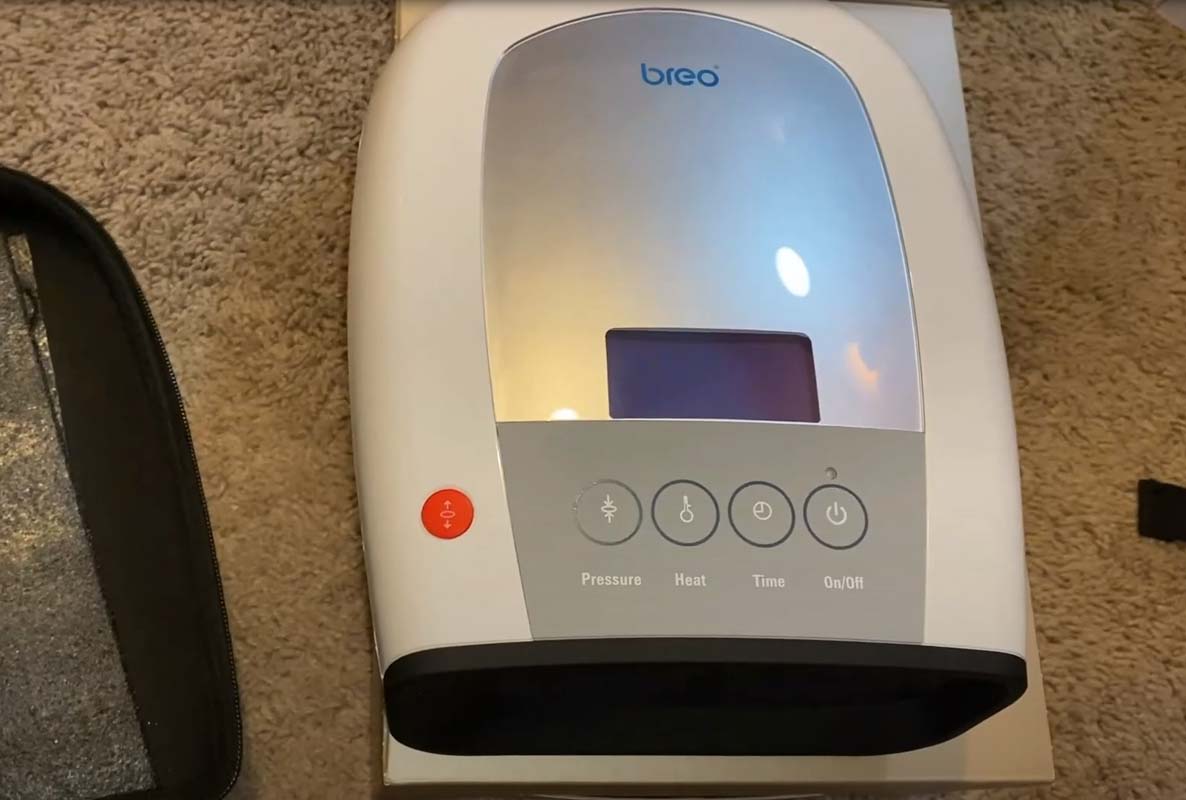 We wrote this list after dozens of hours of researching different hand massagers from different manufacturers across Australia. In total, we looked at 19 different hand massagers and compared their features, specs, and price points to bring you the list you see below.
We look specifically at their massaging methods (pressure only vs acupressure), the heat function, and their ability to comprehensively massage the entire hand.
Hand Massagers: Buying Guide
Before you spend money on a hand massager we want to tell you bout some of the important things you take into account.
What Are The Benefits of Using  Hand Massager
There are many claimed benefits to using a hand massager, some of which we will address by referring to the scientific literature on this subject. Manufacturers make some bold claims about the efficacy in reducing certain health issues, but how true are they?
Do Hand Massagers Reduce Anxiety?
According to a study in the Journal of Medical Investigation, it has been shown that there is a real reduction in the level of anxiety and increased feeling of relaxation:
"The significant increase in the pNN50 and the significant decrease in the heart rate meant the intervention of massage increased the autonomic nervous activity, improved the parasympathetic nerve activity and reduced the sympathetic nerve activity. This means the subjects were considered to be in a state of relaxation."
Do Hand Massagers Reduce Hand Pain?
It has been demonstrated in the study "Hand pain is reduced by massage therapy" that there is a reduction in hand pain, among other positive outcomes through the continued application of hand massages. The conclusion from the study states:
The massage therapy group versus the control group had less pain and greater grip strength after the first and last sessions, and their anxiety and depressed mood scores decreased more than the control group. Over the four-week period the massage group had a greater decrease in pain and a greater increase in grip strength as well as lower scores on anxiety, depressed mood and sleep disturbance scales.
Key Considerations
Massage Method
Different hand massagers use different massage techniques to alleviate hand pain. Some use a pressure-only system that compresses the hand and helps promote blood flow. Others use a mechanical approach that can apply pressure to specific parts of the hand. If you have a specific area of the hand that requires treatment then you should buy a hand massager that is able to target it.
Heat Application
Some hand massagers are able to apply gentle heat to better relax the muscles and promote better blood circulation. With so many different muscles and joints in the fingers, hand, and wrist, there is a lot of benefit to buying a heated hand massager.
Battery Life and Run Time
If you want a hand massager that doesn't need to be connected to mains, you will want one that has good battery life. There's no point in having a 30-second hand massage so choose one that has a large enough battery to keep the message going for a reasonable period of time.
---
You may also be interested in:
Last update on 2023-11-30 / Affiliate links / Images from Amazon Product Advertising API