ⓘ We are reader-supported and may earn a small commission at no additional cost to you if a purchase is made through one of our links.
The best beard trimmers not only save you a ton of time and money on frequent trips to your local barber, but they also make achieving your favourite bearded look a cinch. You may not have the skill and years of experience a seasoned barber does, but a top-notch trimmer sure can help you feel like you do.
So do yourself a favour and save yourself some major coin by fixing up your facial hair from the safety of your own home. And the timing couldn't be better, given how the ongoing pandemic encourages us to stay from crowded places like a bustling barbershop.
TL;DR: The #1 Beard Trimmer for Most People 👇
The Best Beard Trimmers Available to Buy Today in Australia
1. Best Overall Beard Trimmer: Philips Multigroom Series 7000
We chose the Philips Multigroom Series 7000 as  our top pick for the best beard trimmers in Australia due to its large capacity battery, rich assortment of combs, and convenient carrying case.
None of the beard trimmers that we tested came close to offering what the Philips Multigroom offers. This undeniably high-quality trimmer ticks every single box by combining high-quality blades and  excellent ergonomics. There's literally nothing this beard trimmer cannot do.
The proprietary DualCut technology doubles the number of blades compared to what most competitors offer, which not only helps this unit cut through hair with ease, it also lengthens the lifespan of the blades.
Also, the blades are self-sharpening by ever so slightly rubbing against each other. This high-precision beard trimmer can adjust in terms of both the height of the blades and the width by using a number of attachments. That being said, creating fine lines, contouring and details is no trouble at all and can easily be performed by anyone.
The battery charges quickly and has a huge five-hour runtime on a full charge.  On top of this, it's water-resistant, meaning you can use it in the shower. The rubber grip is comfortable and will prevent the trimmer from slipping out of your hand.
More to this, the included travel case is excellent and surprisingly high-quality. There's room for all of the attachments but is still small enough to warrant space in your suitcase or bag.
Overall this is an excellent product that fully deserves the number 1 position on this list of the best beard trimmers. So if you're looking for something to level up your beard trimming game, you've found it!
---
2. Best Beard Trimmer for Short Beard: Wahl Professional ProLithium Series Beret Cord
Our list of best beard trimmers  just wouldn't be complete without an entry from Wahl – a name that's been around since the early 1900s. In our opinion, the Wahl Professional ProLithium Series Beret Cord sits atop their impressive repertoire of trimmers, delivering precise cuts that will enable you to trim your beard whichever way you like.
It has a slightly small trimmer head and performs well when used for cutting short beard. Steve used it to edge his beard and the results were beyond amazing.
The gentle yet sharp razors on this trimmer makes it the device of choice for trimming thin beard, giving you more reason to pick one up if you're a professional barber who wants to give your clients the best beard trimming services.
It's quite the looker too, with an elegant brushed metal finish and a few black highlights. However, this is not a cheap machine by any means, but that's the price of admission for a trimmer with a powerful motor, chrome-plated blade, and a fast-charging battery that will get you fully juiced in about an hour.
For professional barbers who are interested in a fantastic all-around beard trimmer, the Wahl Professional ProLithium Series Beret Cord comes highly recommended. It's also great for personal use if you don't mind spending a bit more.
---
3. Best for Most People: Philips BT5515/15 Beard Trimmer Series 5000
Our number three spot goes to Philips BT5515/15 Beard Trimmer Series 5000 – a high quality, no-fuss device that has won the hearts of many with its advanced features, self-sharpening blades, waterproof design.
It boasts 40 different hair length settings that will help you cut your beard to the exact length that you want.  The battery life is equally great and offers up to ninety minutes of trimming time. However, we noticed that battery life may vary depending on the setting that is in use.
If you happen to run out of power in between the shaving session, you can comfortably use the BT5515/15 while it's plugged into an outlet. And like most of the beard trimmers that we tested, it comes with a solid array of attachments for your trimming needs.
It has a nifty little screen that helps you keep track of your leftover battery and the device comes with a small stand that keeps the little guy upright while charging. It may not have the bells and whistles found in some of the other entries in this list, but this no-nonsense trimmer achieves what it sets out to do and it does so at an attractive price point.
---
4. Best Value Beard Trimmer: Braun Beard Trimmer BT3240
The Braun Beard Trimmer BT3240 is the sportier-looking of the bunch, with its glossy finish and light-blue highlights. Similar to the Philips BT5515/15, this device has an impressively wide range of length adjustments to choose from and its sharp blades ensure each of those settings work like a charm.
You also get some nice swag when you purchase one of these, including a Gillette pro-glide shaver and a handy little travelling pouch. The trimmer itself, as well as its attachments, are all fully washable, though it's worth noting that the machine isn't waterproof so you'll want to avoid dunking it in water or taking it with you to the shower.
The BT3240's battery lasts for about 1 hour 10 minutes on a full charge based on the report that our tester provided. This puts it in the same performance range  as the Philips BT5515/15. While this isn't anything to phone home about, it's still better than most trimmers on the market and offers great value for money, considering the attachments that it comes with.
To top it all off, it features self-sharpening blades that will remain razor-sharp when used properly We don't have an exact estimation as to how long the blades will last, but they were plenty sharp for the period that we tested this beard trimmer.
If you are after value for money and a catchy look is important to you, then the Braun Beard Trimmer BT3240 might be right beard trimmer for you.
---
5. Best Beard Trimmer for Stubble: King C. Gillette Beard Trimmer
Coming from one of the world's best manufacturers of beard trimmers, the King C. Gillette Beard Trimmer is also another excellent option that you can consider adding to your beard trimming kit.
It features sharp blades that hold an edge well, allowing for effortless trimming of coarse beard and stubble. This beard trimmer can safely trim facial hair close to the skin without cutting you. It performed exceptionally well when William used it to cut his stubble beard.
When you buy this beard trimmer, you will get three combs that will help cut your facial hair to the desired level. The ingeniously designed stubble comb makes the King C. Gillette Beard Trimmer the best stubble beard trimmer on the list.
In addition to this, it boasts a powerful motor that is designed to last. It is powered by a NiMH AAA battery that will provide you with up to 45 minutes of trimming time. Although the battery is advertised to give 50 minutes of continuous runtime, our tester  just could get it to clock the last 5 minutes.
Aside from the combs, there's a small cleaning brush that will help you keep the trimmer in top class condition. The grip area is ergonomically contoured to give you a comfortable grip and also textured to prevent slippage.
Thanks to its portable design, you can take this beard trimmer with you when traveling without experiencing any problems. The one-touch switch makes it very easy to use. As such, it won't matter whether its your first time using a beard trimmer, this unit will simplify the whole process for you.
---
6. Best Beard Trimmer for Long Beard: Brio Beardscape Beard And Hair Trimmer
Last but not least on our list of best beard trimmers is the Brio Beardscape Beard And Hair Trimmer/. And although it comes from a newcomer in the trimmer/electric razor space, the Brio Beardscape is an exceptional trimmer that features a ceramic blade that's allegedly four times stronger than its average stainless steel counterpart.
One of our testers attests that the blade on the Brio Beardscape is indeed reliable. Plus, it held an edge well throughout the testing period and delivered clean cuts each time. It made the trimming of Tom's overgrown beard a cinch, thanks to the included length guards and razor-sharp ceramic blade.
There's also a very cool display and button configuration that makes it a dream to use and ensures you always know the type of trim you'll get. This is backed up by solid all-around build-quality which can be felt all the way from the ceramic blades and throughout the body.
It's also a handy little thing that's easy to fit in your luggage for those out-of-town business trips or vacations. It's a bit pricey compared to the previous entry in this list and the guards can be a bit finicky when you're attaching and detaching them, but those are just minor downsides to an otherwise great trimmer.
For those in the market for a razor-sharp blade and an unbeatable battery, make sure to give the Brio Beardscape Beard And Hair Trimmer a closer look.
---
How We Researched the Best Beard Trimmers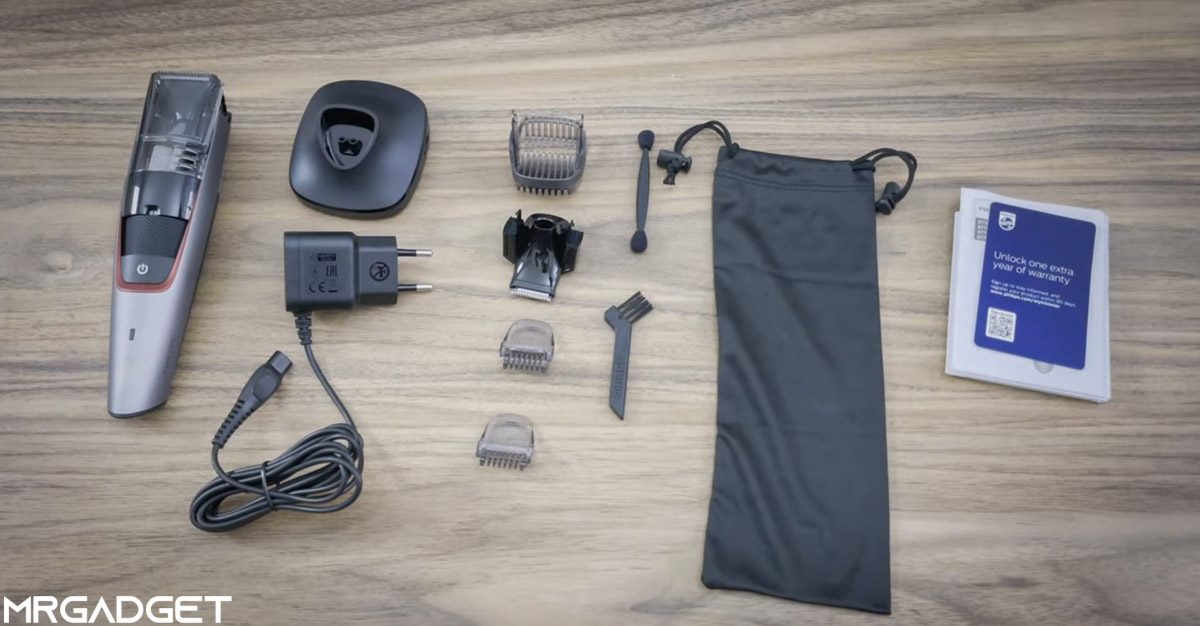 Our review team spent close to 8 months researching and testing the best beard trimmers in Australia. I know it's a long time, but we had to wait for our panel testers to regrow their beard after each trim.
We had 6 of our friends test the beard trimmers, after which we compared the test models based on performance and efficiency. As for our testers, we instructed them to assess the beard trimmers based on how close each unit can cut facial hair without hurting the skin.
But most importantly, the beard trimmers were tested to see how well they cut dry or wet facial hair. Additionally, we tested the beard trimmers for versatility and ease of use.
Bear in mind that those who tested these beard trimmers had facial hair of different textures. This enabled us to test different aspects of the beard trimmers that we had picked.
For each beard trimmer that we tested, we had our friends cut their facial hair at different lengths. This allowed us to identify models that are better suited for trimming short beard, stubble, long beard, and body hair.
We also took into account the features, cutting length settings, ergonomics, and battery life.
Beard Trimmer: Buying Guide
Choosing the right beard trimmer for you isn't just about finding the device with the best ratings or biggest name. Before investing your hard-earned coin in a piece of equipment that you'll likely be using regularly for the foreseeable future, you should really take some time to know what you're getting into.
What to Look for When Buying a Beard Trimmer
Here are a few things to consider when shopping around for a quality beard trimmer:
The Cheapest Machine Isn't Always The Best Deal
A dirt-cheap trimmer that looks too good to be true often is. Beware of obscure products that promise a whole lot for next to nothing, as you'll most likely end up with a low-quality trimmer made with inferior materials that'll break down in no time. Worst case scenario is you purchase a machine that could damage your skin. Do yourself a favour and invest in something safe that lasts.
Know Your Beard Type
Not all beards were created equally. Some men prefer a nice little stubble while others enjoy rocking a thick, Viking mane. Different trimmers have different strengths and weaknesses, so it's best if you find out which machine suits the type of beard you plan on sculpting.
Keep Your Lifestyle in Mind
The life you lead should also be a major factor in deciding your trimmer of choice. Find yourself travelling frequently? Then you'll probably be better off with a more compact machine that's easy to carry around and works wirelessly. Always in a rush and don't have the time to properly clean your trimmer? Perhaps a device with a self-cleaning dock is the best for you.
Versatility is Never a Bad Thing
You may be happy with your mustache now, but who knows? You might end up rocking a full beard in the future. That being said, it's worth thinking ahead and getting yourself a trimmer that's capable of doing a variety of things.
Don't Underestimate the Importance of a Good Battery
Imagine this, you're running late for work and you look in the mirror and find that your face is in need of a bit of a trim. You're halfway done when your trimmer runs out of steam. You plug it into an outlet but you remember that the machine takes forever to charge. Tough break. That's why it's worth investing in a trimmer that not only has a lengthy battery life but also charges relatively quickly. It also certainly wouldn't hurt if the trimmer can be used while charging.
Between our buyer's guide and our list of the best beard trimmers to buy in Australia, you should be all set to find the right beard trimmer for you.
---
You may also be interested in:
Last update on 2023-12-02 / Affiliate links / Images from Amazon Product Advertising API