The best beard trimmers not only save you a ton of time and money on frequent trips to your local barber, but they also make achieving your favourite bearded look a cinch. You may not have the skill and years of experience a seasoned barber does, but a top-notch trimmer sure can help you feel like you do.
So do yourself a favour and save yourself some major coin by fixing up your facial hair from the safety of your own home. And the timing couldn't be better, given how the ongoing pandemic encourages us to stay from crowded places like a bustling barbershop.
TL;DR: The #1 Beard Trimmer for Most People 👇
How We Researched the Best Beard Trimmers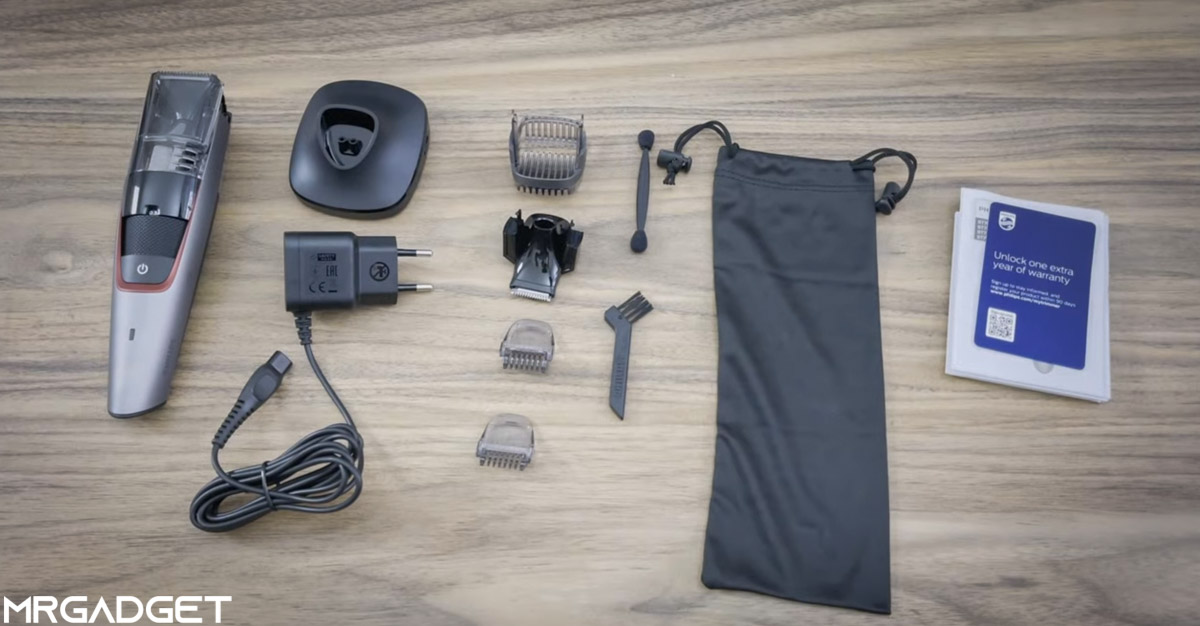 To bring you guys the very cream of the crop, we sifted through dozens of online marketplaces and websites, from Amazon and MyDeal to more specialized retailers like Shaver Shop.
It's no surprise that we thoroughly researched products from industry heavy-hitters like Braun and Phillips, but we also made sure to take in-depth looks at some newer and lesser-known brands like Hatteker and Brio to make sure that our list was made up of nothing but the best.
After taking into account the professional reviews, valid user critiques, and our personal impressions, we managed to whittle down our list to the seven beard trimmers that reigned supreme over all else. What you're about to see are the only trimmers serious beard aficionados should consider copping.
The Best Beard Trimmers Available to Buy Today in Australia
1. Braun Electric Razor Series 9 9390cc
It was a tough call, but in the end, we thought the Braun Electric Razor Series 9 9390cc deserved the top spot on our list. Not only does its smart sensor allow it to adapt to a multitude of different hair lengths and styles, but this trimmer also guarantees an incredibly close shave.
It's incredibly gentle on the skin as well, so people with sensitive skin won't have to worry about any pesky irritation. Tired of setting yourself up for a nice shave, only to find out that your trimmer is out of juice? Worry not! The Series 9 9390cc happens to have one of the best batteries we've ever seen in a trimmer, one-upping its predecessors to allow you to shave more and charge less.
The charging station also doubles as a cleaning dock, making maintenance a wonderfully simple thing whether you enjoy shaving wet or dry. It may not sport as premium a design as some of the others on this list and its charging/cleaning dock does take up a bit more real estate than one would like, but these minor missteps don't stop this trimmer from being the best of the bunch.
If a knock-out battery, exceptional shaving experience, and functional dock are high on your list of features, then the Braun Electric Razor Series 9 9390cc sure as heck won't disappoint.
---
2. Philips Beard Trimmer Series 5000
Our number two spot goes to Philips BT5515/15 Beard Trimmer Series 5000 – a quality, no-fuss device that does exactly what you expect a beard trimmer to do. Its 40 different hair length settings ensure that you get your beard the exact length you like it and its great battery allows up to 90 minutes of continuous shaving with every charge.
It's a wireless trimmer, which is always handy, but if you happen to run out of power mid-shave, the cool thing is you can actually use the device while it's plugged into an outlet. The Philips BT5515/15 comes with a solid array of attachments for your different needs and its waterproof nature makes it easy to clean up after use. All of you have to do is run it under a tap.
It has a nifty little screen that helps you keep track of your leftover battery and the device comes with a small stand that keeps the little guy upright while charging. It may not have the bells and whistles found in some of the other entries in this list, but this no-nonsense trimmer achieves what it sets out to do and it does so at an attractive price point.
If you're looking for a straightforward trimmer that's a bit friendly on the wallet yet still provides a world-class shaving experience, the Philips BT5515/15 Beard Trimmer Series 5000 is your man.
---
3. Brio Beardscape Beard And Hair Trimmer
Next on our list is a product from a relative newcomer in the trimmer/electric razor space. The Brio Beardscape Beard And Hair Trimmer is an exceptional trimmer that features a ceramic blade that's allegedly four times sharper than its average stainless steel counterpart.
There's also a very cool display and button configuration that makes it a dream to use and ensures you always know the type of trim you'll get. This is backed up by solid all around build-quality which can be felt all the way from the ceramic blades and throughout the body.
It's also a handy little thing that's easy to fit in your luggage for those out-of-town business trips or vacations. It's a bit pricey compared to the previous entry in this list and the guards can be a bit finicky when you're attaching and detaching them, but those are just minor downsides to an otherwise great trimmer.
For those in the market for a razor-sharp blade and an unbeatable battery, make sure to give the Brio Beardscape Beard And Hair Trimmer a closer look.
---
4. Philips Multigroom Series 7000
The Philips Multigroom Series 7000 leans into a sleeker design than the ones that have appeared before it on this list, with its straightforward, silvery exterior. It comes with a mess of different attachments, including ones for varying hair length, as well as a nifty nose hair trimmer and a precision foil shaver head.
Its battery life is awesome, offering up to five hours of use on a full tank of gas. The Multigroom Series 7000 is also completely washable, trimmer and all, making it remarkably easy to clean the device and its attachments after use. Just splash it with some water after your trim and there won't be any annoying bristles or tight parts that are tough to clean.
If you have one of the older models and are contemplating an upgrade, you'll be glad to know that the Series 7000 is not only quieter and more effective than its predecessors overall, but it's also miles better in terms of battery life.
Whether you're shopping for an upgrade or are on the lookout for the best multifunctional trimmer around, the Philips Multigroom Series 7000 is an easy choice.
---
5. Braun Beard Trimmer BT3240
The Braun Beard Trimmer BT3240 is the sportier-looking of the bunch, with its glossy finish and light-blue highlights. Similar to the Philips BT5515/15, this device has an impressively wide range of length adjustments to choose from and its sharp blades ensure each of those settings work like a charm.
You also get some nice swag when you purchase one of these, including a Gillette pro-glide shaver and a handy little travelling pouch. The trimmer itself, as well as its attachments, are all fully washable, though it's worth noting that the machine isn't waterproof so you'll want to avoid dunking it in a body of water or taking it with you to the shower.
The BT3240's battery lasts for 80 minutes on a full charge, putting it in the same neighbourhood as the Philips BT5515/15. While this isn't anything to phone home about, it's still better than most trimmers on the market. To top it all off, it features self-sharpening blades that are said to remain razor-sharp throughout its lifetime.
We don't know about a lifetime, but it was plenty sharp when we used it and the user reviews suggest that time doesn't change that fact. If longevity is your game and a catchy look is important to you, then the Braun Beard Trimmer BT3240 might be just the ticket.
---
6. Wahl Professional ProLithium Series Beret Cord
A "best beard trimmers" list just wouldn't be complete with an entry from Wahl – a name that's been around since the early 1900s. In our opinion, the Wahl Professional ProLithium Series Beret Cord sits atop their impressive repertoire of trimmers, offering a precise cut that's incredibly quiet in spite of its powerful motor.
The soft-sounding buzz makes it the device of choice when cutting children's hair, giving you more reason to pick one up if you're a professional barber or just have a few rugrats at home that you do the haircuts for. It's quite the looker too, with an elegant brushed metal finish and a few black highlights.
It's not a cheap machine by any means, but that's the price of admission for a trimmer with a powerful motor, chrome blade, and a fast-charging battery that will get you fully juiced in just about an hour.
For professional barbers who are interested in a fantastic all-around trimmer, the Wahl Professional ProLithium Series Beret Cord comes highly recommended. It's also great for personal use if you don't mind spending a bit more.
---
7. Hatteker Electric Shaver 2 in 1 Rotary Shaver for Men
Rounding out our list is the Hatteker Electric Shaver 2 in 1 Rotary Shaver for Men, by far the cheapest beard trimmer on our list, but that's not to say it doesn't pack all the necessities a bearded gentlemen needs.
While it does come with the standard bladed trimmer head, its stand-out attachment is the excellent 3D rotary head that's fairly uncommon for machines at this price point. You'd usually get a foil head and even then the trimmer would likely be pricier.
Another highlight feature is the Hatteker Electric Shaver's charming LED display that shows battery percentage, a cleaning indicator, and the travel lock status. The whole thing is waterproof too, so you can enjoy a dry shave or a wet one with shaving cream or gel.
Its 45-minute battery life certainly sits on the bottom of our list, but this trimmer makes up for it by boasting a nifty quick-charge feature. If you've been itching for a quality beard trimmer but are working on a budget, it doesn't get any better than the Hatteker Electric Shaver 2 in 1 Rotary Shaver for Men.
---
Beard Trimmer: Buying Guide
Choosing the right beard trimmer for you isn't just about finding the device with the best ratings or biggest name. Before investing your hard-earned coin in a piece of equipment that you'll likely be using regularly for the foreseeable future, you should really take some time to know what you're getting into.
What to Look for When Buying a Beard Trimmer
Here are a few things to consider when shopping around for a quality beard trimmer:
The Cheapest Machine Isn't Always The Best Deal
A dirt-cheap trimmer that looks too good to be true often is. Beware of obscure products that promise a whole lot for next to nothing, as you'll most likely end up with a low-quality trimmer made with inferior materials that'll break down in no time. Worst case scenario is you purchase a machine that could damage your skin. Do yourself a favour and invest in something safe that lasts.
Know Your Beard Type
Not all beards were created equally. Some men prefer a nice little stubble while others enjoy rocking a thick, Viking mane. Different trimmers have different strengths and weaknesses, so it's best if you find out which machine suits the type of beard you plan on sculpting.
Keep Your Lifestyle in Mind
The life you lead should also be a major factor in deciding your trimmer of choice. Find yourself travelling frequently? Then you'll probably be better off with a more compact machine that's easy to carry around and works wirelessly. Always in a rush and don't have the time to properly clean your trimmer? Perhaps a device with a self-cleaning dock is the best for you.
Versatility is Never a Bad Thing
You may be happy with your mustache now, but who knows? You might end up rocking a full beard in the future. That being said, it's worth thinking ahead and getting yourself a trimmer that's capable of doing a variety of things.
Don't Underestimate the Importance of a Good Battery
Imagine this, you're running late for work and you look in the mirror and find that your face is in need of a bit of a trim. You're halfway done when your trimmer runs out of steam. You plug it into an outlet but you remember that the machine takes forever to charge. Tough break. That's why it's worth investing in a trimmer that not only has a lengthy battery life but also charges relatively quickly. It also certainly wouldn't hurt if the trimmer can be used while charging.
Between our buyer's guide and our list of the best beard trimmers to buy in Australia, you should be all set to find the right beard trimmer for you.
---
You may also be interested in:
Last update on 2022-05-18 / Affiliate links / Images from Amazon Product Advertising API