ⓘ We are reader-supported and may earn a small commission at no additional cost to you if a purchase is made through one of our links.
Whether you prefer a clean, shaved head or enjoy styling your haircut with a nice fade, having the best hair clippers can help save you tons of time and money by eliminating the need for weekly trips to your pricey barber. It might not cut out the need for a professional haircut entirely depending on your style, but it'll certainly help you maintain your cut for longer on your own.
So take the plunge and treat yourself to some quality hair clippers so you can start getting your hairstyle right from the safety of your own home. There couldn't be a better time to pick one up either, given how the ongoing pandemic discourages people from visiting crowded areas anyways.
TL;DR: The #1 Hair Clippers for Most People 👇
The Best Hair Clippers  to Buy Today in Australia
1. Best Overall Hair Clipper: Wahl Hair Colour Pro Hair Clippers
To kick off the list, we chose the Wahl Hair Colour Pro Hair Clippers – a quality entry from one of the oldest and most trusted brands in the grooming space. This machine is not only built with longevity in mind, but it also performs with the best of them and is delightfully easy to use.
Wahl's thrown in some really useful color-coordinated guides that help ensure a perfect cut every single time. The lades themselves feel great on the skin and are sure to cut through even the rowdiest of hair types without any trouble. It has one of the best – if not THE best – non-professional clipper motors in the market and it comes at a surprisingly reasonable price point which is always a great thing.
The lack of included ear tapers will surely be missed by some and the machine may be a bit too heavy for certain users, but the combination of performance, build quality, and value make the Wahl Hair Colour Pro Hair Clippers our go-to favourite overall. If you want near-salon quality clippers without breaking the bank, this is the way to go.
---
2. Best Hair Clipper for Buzz Cut: Philips Multigroom Series 7000
Next on the list is an entry from Phillips – a brand that's considered a household name in the grooming niche. The Philips Multigroom Series 7000 opts for a more elegant design that's sleek and eye-catching thanks to its handsome metallic finish.
It truly lives up to its "multigroom" name, as this machine comes with all the attachments you'll ever need to keep your facial, head, and nose hair in check. In fact, this little guy also made it to our Best Beard Trimmers to Buy in Australia list. When used correctly, it will provide you with neat buzz cuts every time.
If you're one to travel often or just generally hate having a pesky cord get in the way of your trim, you'll be glad to know that this device is not only wireless, but it has one of the most impressive batteries we've ever seen in a clipper/trimmer. A full charge will net you up to five hours of grooming which is pretty nuts.
And unlike other machines that can be a pain to clean, the Multigroom Series 7000 is completely washable including the attachments, so all you have to do is run it under a tap for a few seconds and it'll be clean as a whistle. It's also quieter than most, so you can also use it to trim your kid's hair even if they spook easily.
For people seeking a one-stop-shop for their grooming needs and would like it to be a cord-free experience to boot, the Philips Multigroom Series 7000 just can't be beat.
---
3. Best Hair Clipper for Men: SUPRENT Waterproof Hair Clippers
The SUPRENT Waterproof Hair Clippers is a more affordable entry from the relative newcomer that boasts a waterproof build with an IPX6 rating. This means that you can use it while you're in the shower and cleaning up the machine couldn't be easier.
We recommend this hair clipper to men who like to try out new hair styles because  it features a precision dial that will allow you to adjust the cutting length according to your needs
The LCD screen near the bottom part of the clipper is pretty cool too, showing you your battery charge level, the speed setting you're currently on, and charge and oil indicators to let you know when your device is in need of some quick maintenance.
The battery lasts around three and a half hours which is very impressive as far as wireless hair clippers go and the motor is strong yet quiet so you won't have to worry about making too much noise while you're in the middle of grooming.
It's not the best choice for longer hairstyles on account of the limited hair length combs and the button placement is a bit awkward, but the SUPRENT Waterproof Hair Clippers certainly is an excellent all-around machine that is designed for men.
---
4. Best for Most People: Philips Hair Clipper Series 9000
The next entry on our list is occupied by another Phillips clipper – the Philips Hair Clipper Series 9000. Unlike the Multigroom Series 7000, this machine ditches the timeless silvery look for a more futuristic style, complete with catchy glowing lights.
The design isn't purely aesthetic, however, as the clipper feels great in your hands even during long drawn out haircutting sessions. It features superb self-sharpening titanium blades that can easily mow down the toughest of hair while remaining razor-sharp even after years of heavy use. And this is one of the reasons why most people prefer it over other hair clippers with a similar design.
The Series 9000 is perfect for people who like their hair relatively long since the clipper allows for a wide variety of hair lengths. It allows adjustments between 1mm to 42 mm which is a length that few clippers manage to accommodate.
You'll get a couple of hours of juice with every charge which isn't particularly impressive on its own, but the device reaches maximum battery capacity in just one hour. Fast-charging like that can come in incredibly handy, especially for people who travel often.
Newbies to self-haircuts beware, however, as the attachments that come with the Series 9000 are quite flexible, so leaning into your scalp too hard can cause your cut to be a bit shorter than you expect. That being said, you'll want to do a few practice runs before you start planning some serious grooming.
If you're in the market for a wireless hair clipper that cuts like a dream and can accommodate longer hair lengths, the Philips Hair Clipper Series 9000 might just be the right pick for you.
---
5. Best Value Hair Clipper: SUPRENT Professional Cordless Hair Clippers
Suprent may not be as popular a brand as the others on this list, but they've come up with some impressive products since they were founded in 2015. Their UPRENT Professional Cordless Hair Clippers especially piqued our interest, with its bold all-metal finish and classic design.
It's wireless so you won't have to worry about tripping over any cords, and it's good for up to four hours of use on a single charge which is fantastic. The blades are stainless steel and self-sharpening, allowing it to regularly cut through tough hair for years without the threat of becoming dull.
It has a nifty little screen near the bottom of the clipper that shows you how much battery life is left in the tank, as well as indicators for maintenance oil and charging status. You can expect a decent variety of well-made combs in the box, along with a little brush and a bit of maintenance oil to keep your clippers in tip-top shape.
Planning on cutting children's hair with these clippers? Then you're in luck. This machine is a fair bit quieter than most and the blades were designed with safety in mind, making it a great choice for both you and your kids. If you've been disappointed by the bigger brands and are down to try something new, SUPRENT Professional Cordless Hair Clippers is a great place to start.
---
6. Best Waterproof Hair Clipper: Philips Washable Hair Clipper Series 5000
Phillips steals yet another spot on our list of best hair clippers, showing why the name is so trusted when it comes to your grooming needs. The Philips Washable Hair Clipper Series 5000 is one of the brand's more affordable offerings, sporting a fairly unorthodox form and catchy colourway.
This clipper gives you a wealth of length adjustments to choose from, allowing you to go anywhere between 0.5 mm to 28 mm. It's wireless so it's great to take with you on business trips and vacations and the machine and its attachments are all waterproof, making clean-up a breeze.
You'll get just under an hour and a half's worth of trimming time on a single charge which isn't too bad and the machine is wonderfully easy to use right out of the box.
However, our testers reported that it's a bit bulky and unwieldy and lacking in the attachments department, but the Philips Washable Hair Clipper Series 5000 is an absolute steal at its affordable price tag.
---
7. Best Budget Hair Clipper: Remington Power-X Series X4 Hair Clipper
If you want to master the art of cutting hair in the comfort of your own home without breaking the bank, the Remington Power-X Series X4 Hair Clipper will help you do that.
This high-quality hair clipper comes with a number of features that make at-home hair cutting an easy and even enjoyable endeavour. All our testers said its exceptionally lightweight and glides smoothly when cutting hair.
When you use the Remington Power-X hair clipper, you have full control over how you cut your hair. The blades that are used in this clipper are Japanese grade and are made of steel.
These are also self-sharpening, which means you don't have to worry about dull blades since these sharpen with each use, giving you superior cutting performance every single time.
This clipper has three comfort glide combs that help you choose the length of each cut you make. Choose from the long, medium, and short glide combs in this set, with each one featuring 10 length settings for you to choose from. This gives you 30 length settings from these three different combs combined.
You can also use this device without any of the combs, giving you up to 33 cutting lengths in 1mm incremental settings. These cut settings can be set via the Precision Control Dial Wheel. Just turn the dial to choose the length of your cut and start trimming your hair with minimal effort and utmost precision.
Another feature worth mentioning here is the removable blade cartridge. This allows you to easily clean your blades after each use. It also has an anti-slip grip, so you can be confident that while you're cutting your hair, this clipper won't fall from your grasp.
You can use this clipper on battery mode, however if you feel you will take longer in styling your hair, you can always use it with its power cable attached. If you choose to use it cordless, the battery can last an hour on full charge. It also lets you know when the battery is running low since it has an LED indicator that alerts you to when you need to charge your clipper.
---
How We Researched the Best Hair Clippers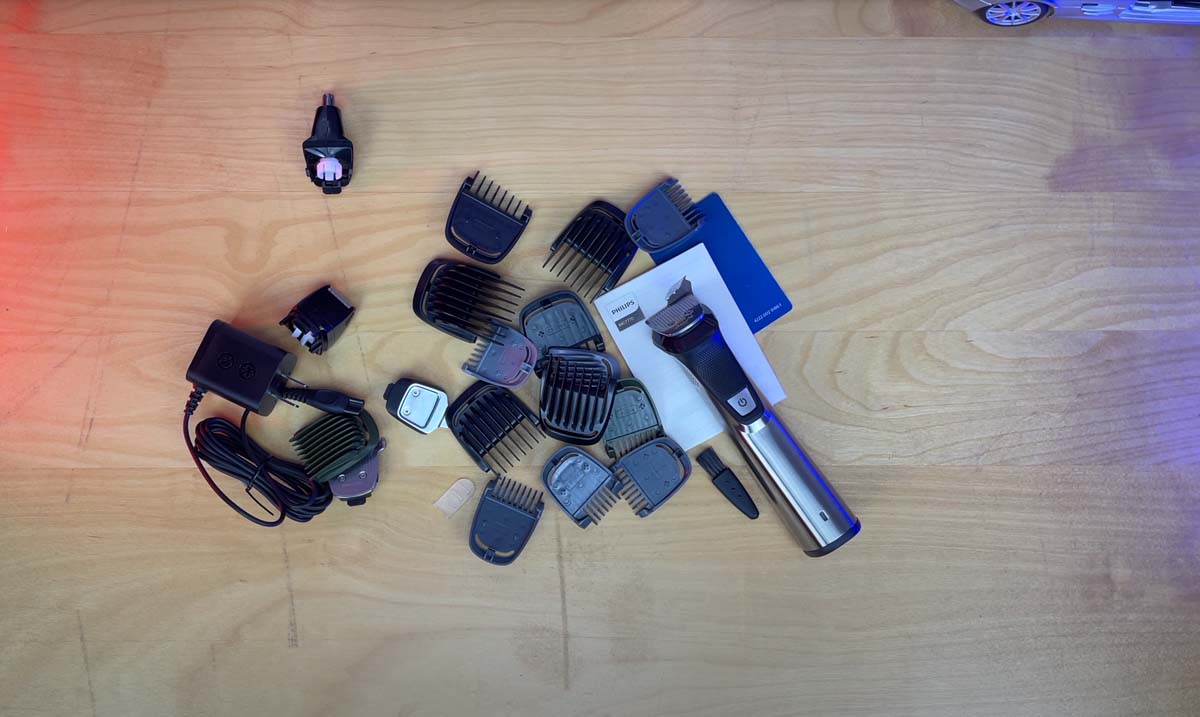 We spent about three weeks researching the best hair clippers in Australia. Our team spent another five months testing the products we had chosen.
The procedure used in testing these hair trimmers is similar to the one we used when we tested beard trimmers. We randomly chose testers (some of our team members and their friends), consisting of people with different hair lengths, texture, and type.
Also, we asked the panel to try out each test model, taking into account motor power and blade sharpness. For this step, they assessed how easily the hair clippers cut hair without the trimmer head jamming or getting clogged.
Additionally, we instructed the testers you attach the guide combs and check how the hair clippers perform when cutting hair at different lengths.
And because all the test models were cordless, we asked each tester to evaluate battery performance by noting how long the hair clippers can run on a full charge.
They also took note of the charging time. We also tested for ergonomics by comparing the grip areas and assessing ease of manoeuvrability.
Hair Clipper: Buying Guide
Finding the right hair clipper can be a daunting task given the seemingly endless number of machines you'll find scattered across different marketplaces and websites. Before you take the plunge and potentially sink some major cash on your grooming device, it's best that you familiarize yourself with the characteristics you should be looking out for.
What to Consider When Buying a Hair Clipper
Here are some of the things you should keep in mind while you're shopping around for a top-notch hair clipper:
Know Your Motors
Certain motors are better at dealing with specific hair types than others, so it's worth learning more about which motor is best for you or your family's hair. Generally, hair clipper motors can be broken down into three different types: pivot motors, magnetic motors, and rotary motors.
Magnetic motors are generally not as powerful as their counterparts, though they tend to provide a higher blade speed. As a result, they're best for straightforward grooming on hair that isn't particularly difficult. Pivot motors offer a slower blade speed but stronger power-wise, making them the better choice for thicker or damp hair.
Finally, there's the rotary motor which sports the most power out of the three. It works with pretty much any kind of hair, regardless if it's damp or dry, so you can never really go wrong if you land on a hair clipper with this kind of motor.
Find The Right Blade Sizes
While blade sharpness certainly is important when choosing your hair clipper, it isn't the only thing you should be paying attention to. Clipper blades come in varying sizes which dictate the length of the hair that's left on your head. That being said, you should know the minimum and maximum length the machine can accommodate, especially if you like your hair a bit longer than most clippers allow.
The Philips Hair Clipper Series 9000 is a great example of this. Its length increments range from 1mm to 42 mm, with its maximum length being far longer than what most hair clippers would cater to. People who prefer their hair a bit on the longer side would love that fact.
Included Accessories Are More Than Just Freebies
The extra items included in a hair clipper's kit can be essential to some people so they should never be taken lightly. Not all of them include ear tapers, for example, or the combs that are thrown in may not be the length you're looking for. Perhaps you were expecting a nose hair trimmer and scissors as well, only to find out that the included accessories were not what you were hoping for.
Wired or Wireless
While some people don't mind being tethered to an outlet whenever they trim their hair, others can't stand it and much prefer the freedom of going wireless. You should also take into account your lifestyle. After all, a person who travels often would benefit greatly from a wireless hair clipper since you can't always count on having a well-placed socket whenever you need to touch up your hairdo.
Proper Maintenance is Key
You should know exactly what kind of maintenance your hair clipper entails in order to maximize the machine's efficacy and longevity. Do the blades need sharpening? How often? You can't forget to lubricate it often either, so as to lessen the friction between the blades and your hair which could lead to painful pulling sensations during your trimming sessions.
In addition to better performance, lubricating prevents the blades from rusting, thus ensuring that your blades last that much longer. Over-lubrication should be avoided as well and you should get rid of any excess oil before running the clipper through your hair.
Know Your Skill Level
Ease of use is another important factor that's often overlooked by buyers. If you're a newcomer when it comes to using a trimmer, you'll want to look for a more straightforward hair clipper that's focused on being comfortable and easy to use. Professionals, on the other hand, will want something with a bit more flexibility and bells and whistles.
Understanding What a Taper Lever is and What it Does
Even complete newbies to hair clippers will have likely noticed that little lever situated on the side of the machine. However, most people never bother asking what it really does. Simply put, manipulating the level up or down dictates how close/short your cut will be. This applies even when you have a guide comb fitted on your clippers. The comb may advertise a specific length, but that length can still vary depending on which direction the taper lever is pointing to.
Figure Out What Haircut You Intend to Sport
Some hair clippers are better at achieving certain hairstyles than others, so it's worth doing the research to make sure that you're getting the right one for the hairstyle you intend to rock. A clean-shaven head, for example, requires a hair clipper that cuts very close to the skin.
Crew cuts, on the other hand, need a clipper that boasts numerous length increments so you can get that fade just right. Whether or not you intend to use the clippers to cut your kids' hair is another thing worth considering. Children don't do well with loud machines, so you'll want to pick one that not only suits the hairstyle that you want to give them, but you'll want it to be quiet to boot.
---
You may also be interested in:
Last update on 2023-12-11 / Affiliate links / Images from Amazon Product Advertising API