ⓘ We are reader-supported and may earn a small commission at no additional cost to you if a purchase is made through one of our links.
With the best budget gaming headset, you will enjoy quality audio, crystal clear vocals, and other amazing features that can take your gaming experience a notch higher. However, finding an ideal gaming headset that is cheap is not always easy. Thankfully for gamers, headset tech has progressed enough that brands are now creating affordable gaming headsets without sacrificing quality.
There's nothing quite like a great gaming headset to finally complete your dream gaming setup, adding that satisfying sense of immersion to the whole experience. The only problem is that most headsets are geared toward video games and tend to cost a good bit of cash. But that's not to say there aren't high-performance headsets that come at a pocket-friendly price.
TL; DR: The Best Budget Gaming Headset for Most Australia 👇
Our team has put together a list of the best budget gaming headsets that we think will tickle your fancy. Don't have enough time to go through the entire list? Just click any of the links below and it'll take you right to the headset that you want:
The Best Budget Gaming Headsets to Buy Today in Australia
1. Best Overall: SteelSeries Arctis 1 Wired Gaming Headset
The SteelSeries Arctis 1 remains an excellent gaming headset even by today's standards and also happens to be the cheapest of the bunch thanks to its wired nature and streamlined design.
If you thought buying a great headset would set you back more than a hundred bucks, think again. The Arctis 1 is not only dirt cheap compared to most gaming headsets on the market but also offers fantastic sound quality with intense, punchy bass that's well above its budget price point.
Also, it comes with a remarkable microphone that captures your voice naturally and in a detailed manner. It can effectively isolate background noises, thus providing you with quality audio. Plus, the mic is detachable, so you can always remove it when listening to your favourite tunes.
The headset's lightweight yet comfy build and low-profile design are perfect for gamers who prefer a more subtle-looking headset that doesn't scream "gamer" and can be used in public without looking funny.
In terms of durability, the Arctis 1 features a steel-reinforced headband, so don't expect it to break. It is also nicely padded to give you the level of comfort that you need when gaming for long hours.
To make it even better, this wired headset is compatible with a range of gaming systems. It can work on PS4, PS5, and Xbox, and can as well be used for PC gaming. This peripheral will deliver high-quality audio in all scenarios, allowing for an immersive gaming experience.
If you are on a tight budget, the SteelSeries Arctis 1 is one of the best wired gaming headsets that you can buy. As you have seen, it offers great features and is equally durable, making it a great choice for all gamers.
---
2. Best for Most People: Razer BlackShark V2 X
Razer is known for its premium quality headsets, with a few of them costing an arm and a leg. But that doesn't mean they don't make affordable headset models. Their Razer BlackShark V2 X is essentially a wired, watered-down version of the extremely popular BlackShark V2 but manages to keep most of its best features intact.
The BlackShark V2 X features Razer's trademark audio quality that's heavy on the bass and accurate on the mids, providing you with crystal-clear vocals and eardrum-rumbling action sequences. Moreover, it features 50mm drivers that are designed to enhance your gaming experience.
For a budget headset, the BlackShark V2 X boasts a surprisingly accurate 7.1 surround sound that feels wonderfully atmospheric when used in gaming. Its low-key design is a welcome departure from Razer's often loud aesthetics and will likely suit the taste of people who enjoy less on-the-nose gaming headsets.
Attached to the headset is a high-performance cardioid microphone for enhanced voice pickup. The microphone is bendable, so you can adjust it according to your needs. Weighing less than 300g, this is one of the most lightweight headsets that you can add to your gaming kit.
It will allow you to stay in the game for an extended duration without experiencing fatigue. But that is not all; the earcups are fitted with breathable cushions to give you a comfortable gaming experience. As such, your ears won't get sweaty even after wearing the headsets for several hours.
The BlackShark V2 X offers passive noise cancellation, thereby allowing you to concentrate on the game. And like the SteelSeries Arctis 1, it uses a 3.5mm audio jack, meaning it can work on all major gaming systems. You can even plug it into your tablet or smartphone.
---
3. Best for Surround Sound: Corsair HS45
Don't want to empty your wallet on a pricey pair of headset? Well, the Corsair HS45 may just be the right gaming headset for you.
As a follow-up to the beloved HS-60, this headset has all the features that made the original so great minus the pesky cord. Its exceptionally well-balanced sound design offers powerful bass, precise mids, and excellent highs that come together seamlessly to provide a marvellous gaming experience, no matter the genre.
Like all gaming headsets in its class, the HS45 uses 7.1 surround sound technology that offers fairly accurate positional audio and a wider sound stage. A feature that's quite rare for a wireless headset at this price range.
The custom-tuned neodymium drivers on this gaming headset will deliver crystal-clear audio in all gaming scenarios. Additionally, it features a high-performance unidirectional microphone that effectively captures speech in real time.
And like most gaming headsets with a similar design, the mic on this peripheral has noise-cancelling properties, so you won't have to worry about background noises.
For your convenience, the manufacturer has placed the mute button and volume control dial on one of the earcups to give you quick access. This way, you can disable the mic or adjust the volume in an instant. The mute LED indicator will let you know if the mic is muted or active.
To add to this, the earcups are fully adjustable and also have memory foam cushions for maximum comfort. The included USB dongle is compatible with both PS4 and PC gaming systems. It offers a low-latency wireless connection, so the audio won't lag during gameplay.
The frame of this headset is partially made of aluminium to increase durability. A rugged, comfortable, and stylish design that's playfully edgy but not at all overdone.
Unless you're gaming on an Xbox (which is incompatible with the Corsair HS70 on account of the wireless USB dongle), there's little reason not to give this wireless gaming headset a closer look.
---
4. Best Value: Logitech G533 Wireless Gaming Headset
If the Corsair HS70's looks are a little too loud for your preference or you'd rather pick up a wireless gaming headset that comes with better software support, the Logitech G533 Wireless Gaming Headset makes for an amazing alternative.
Sitting on a similar price tag as the product that we've just looked at, this headset is one of the best options that you can consider buying. Its spectacular audio quality that's highly customizable, which isn't that surprising considering it's a Logitech headset.
Equipped with 40 mm drivers, this gaming headset allows for lossless audio transmission, thus providing you with clear sound. The attached microphone is just as reliable, so rest assured you will be heard.
Like the headset just before it, this peripheral comes with a rechargeable Li-ion battery that offers extended gameplay. The G533's subtle yet sleek design that's just as comfortable as it is durable.
Besides, its Logitech G Hub software support offers tons of extra features like a stellar graphic equalizer, control mapping for one of its buttons, and in-depth surround sound customization.
And the fact that it is wireless makes it even more convenient since you'll be able to move freely without being restricted by cables. This gaming headset does not weigh much, but it is not as lightweight compared to the Razer BlackShark V2 X. Still, it won't weigh you down when gaming.
Since the microphone is retractable, you can adjust it out of the way when you are not using it. If you want an inexpensive wireless gaming headset that's at its prime on PC but functions great with your consoles, the Logitech G533 is the way to go.
---
5. Most Versatile: SteelSeries Arctis 3
The SteelSeries Arctis 3 may not be the cheapest entry on our list, but it's still astonishingly affordable for what it has to offer. Whether your gaming preference leans towards Xbox, smartphone,  Playstation, or PC, this guy is worth a look.
It offers flexible connectivity options that pretty much allow the headset to connect to anything with a headphone jack. Similar to the Corsair HS70 Pro, it has a wireless range of 12 metres. Moreover, its wireless adapter has a switch that alternates between Xbox and USB, meaning you'll be able to use it with Microsoft's consoles.
With the on-ear controls in place, you will be able to make quick adjustments when customising the volume. Plus, the breathable earcup cushions will keep your ears cool and comfortable throughout the period that you'll be gaming.
The headband is designed in such a way that it can contour over your head without applying pressure on specific points. Also, it ensures the weight of the headset is equally distributed to increase user comfort. The bidirectional ClearCast microphone delivers studio-quality audio while cancelling background noise.
When it comes to compatibility, the Arctis 3 can work on Macs, and PS4, just to mention but a few. This unit features a retractable mic that you can tuck away should there be a need to do so.
If for some reason you didn't like the SteelSeries Arctis 1, the Arctis 3 may just end your search. And the best part is you won't be paying through the teeth for it. All things considered, we think it's one of the best all-around wireless gaming headsets on the market.
---
How We Researched the Best Budget Gaming Headsets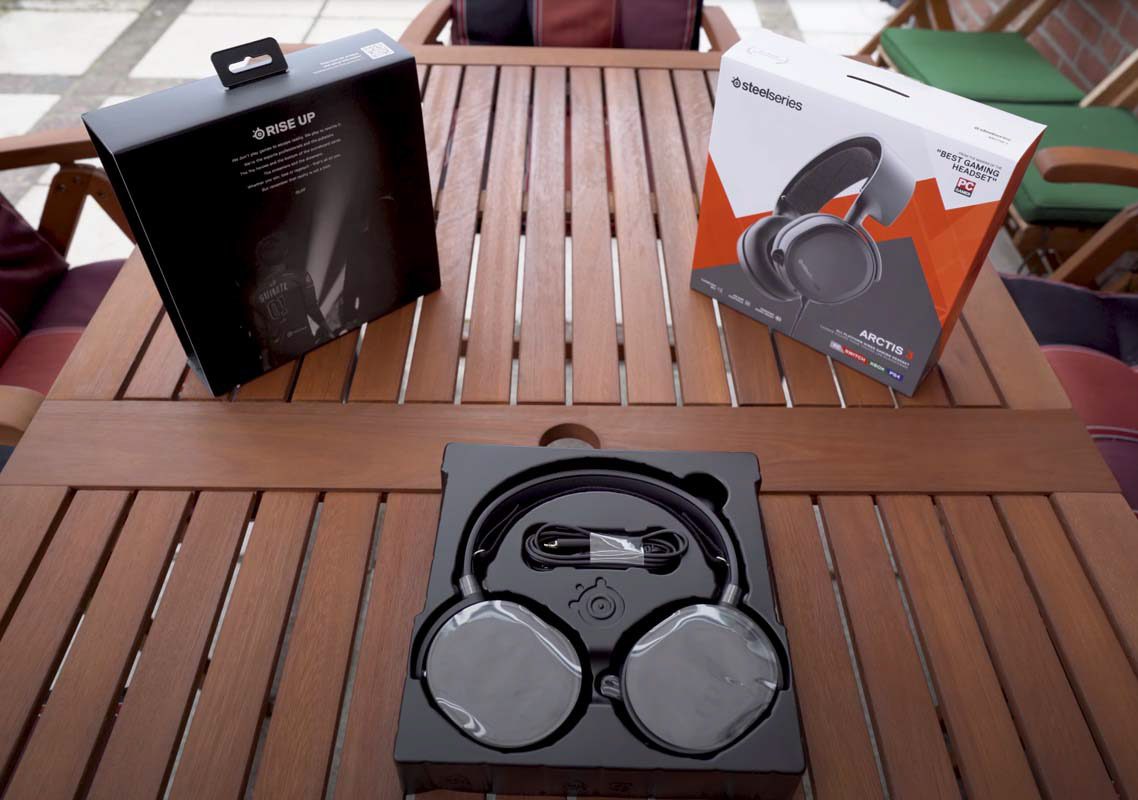 To create a list of the best budget gaming headsets, we spent hours reading independent customer reviews on Amazon and local e-commerce stores such as MyDeal, Harvey Norman, and The Good Guys. This allowed us to identify the headset brands preferred by Australian gamers.
We only considered budget gaming headsets from Corsair, SteelSeries, Logitech, and Razer since they are known for making high-quality gaming peripherals. Our first list of products had 8 gaming headsets but we had to do away with 3, leaving us with 5 of the best budget gaming headsets Australia has to offer.
The five products were chosen based on Sound isolation, Mic quality, Compatibility, Comfort, Connectivity, and Build quality.  We then ranked the gaming headsets based on how they perform in different areas.
Budget Gaming Headsets: Buying Guide
As the famous adage goes, "Cheap is expensive". As much as this may be true in most cases, there are instances where you can acquire a high-quality product at an extremely low price. When it comes to buying a gaming headset, always keep in mind that price does not equate to quality.
Many models of gaming headsets are overpriced, but they are not as reliable. As you have seen from our product selection, most budget gaming headsets have the same features as high-end models.
As a matter of fact, some of the affordable gaming headsets that we have picked for you perform better than their expensive counterparts.
What to Consider When Buying Budget Gaming Headsets
Below are some of the factors that you should think about when shopping for a budget gaming headset:
Sound isolation
If you are looking to get an immersive gaming experience, you should consider buying a gaming headset with high-quality earcups that are well-sealed. This not only prevents sound bleed but will also block out unwanted ambient noise.
As such, you will only hear what is coming from the headset, allowing you to enjoy all the sound effects.
Mic quality
A good gaming headset should offer quality audio and clear vocals. You should, therefore, see to it that you buy a headset with a high-performance microphone.
To get the best results, it is advisable that you go for a headset with a cardioid microphone. Additionally, the mic should have noise-cancelling capabilities to block background noise.
Comfort
We bet you wouldn't want to buy a pair of gaming headsets that wraps too tight around your head or one that hurts your ears.
That being said, you need to check if all the contact points on the headset are padded. Also, the cushions on the earcups should be breathable to prevent the build-up of sweat after long hours of gameplay.
We recommend that you pick a gaming headset with an adjustable headband as this will give you the freedom to adjust the unit based on the size of your head.
Compatibility
Before buying a budget gaming headset, you need to check if the peripheral in question can work with your gaming system. If you intend to use the headset for PC gaming, ensure that the headset software is supported by the computer's operating system. You can always go through the product specifications to learn more about your gaming headset's system requirements.
Build quality
It is not easy to tell whether a gaming headset is durably built just by looking at the specs. To avoid buying flimsy peripherals, ensure that you only consider budget gaming headsets from reputable brands.
As you may have noticed, our review list consists of gaming headsets from renowned brands such as SteelSeries, Razer, Logitech, and Corsair.
All the aforementioned manufacturers have a good track record when it comes to making gaming headsets, so you can go for any of the products without worrying about anything.
Connectivity
You can buy wireless or wired budget gaming headsets, so it will all depend on your preference. The good thing about wireless gaming headsets is that they allow you to move around without being restricted by cables.
Still, you have to stay within range to avoid a signal drop. Wired gaming headsets are just as reliable and also offer lag-free gaming. If you are after versatility, you need to pick a budget gaming headset that offers both wireless and wired connectivity options.
---
Last update on 2023-11-30 / Affiliate links / Images from Amazon Product Advertising API