ⓘ We are reader-supported and may earn a small commission at no additional cost to you if a purchase is made through one of our links.
There's no quicker way to take care of the overgrown grass in your yard than a quality lawn mower. But traditional lawn mowers aren't without their flaws. They're extremely noisy, have a lot of parts that need constant maintenance, emit strong smells, and require you to regularly handle gasoline which can be messy and a hassle.
Electric lawn mowers, on the other hand, will help you tend to your lawn in a much quieter fashion, without the need for regular fuel filter changes and having to deal with oil and gas. They're also a lot better for the environment compared to their gas-powered counterparts and they start up right away. So next time you're shopping for a high-powered gardening tool, consider picking up one of the best electric lawn mowers in the market.
TL;DR: The #1 Electric Lawnmower for Most People 👇
These kinds of mowers have been quickly dominating the market in recent years and there are now quite a few interesting and innovative models to choose from. To help you figure out which one's a good fit for you and your yard, we've come up with a list of what we think are the best electric lawn mowers that you could possibly buy in Australia.
The Best Electric Lawn Mowers to Buy Today in Australia
1. Best Electric Lawn Mower for Large Yard: Bosch Advanced Rotak36 Cordless Brushless Lawnmower
Topping our list of best electric lawn mowers is the Bosch AdvancedRotak36 Cordless Brushless Lawnmower – a premium cordless electric variant that sports the brand's proprietary ProSilence noise reduction system that promises a quieter trimming experience that your neighbours are sure to be thankful for.
It also features its LeafCollect cutting system that stores plant debris as it mows, making for a far neater process and significantly less clean-up after.
Furthermore, you can look forward to a beast of a motor that can power through even thicker yards and it comes with ergonomic handles to make the entire mowing that much more comfortable. This makes ideal for mowing large and overgrown lawns.
Be warned, however, that this model doesn't come cheap – which isn't too surprising considering it's a Borsch – and a few users complained about its less-than-premium plastic build.
But if you can spare the coin and are looking for a top-notch electric lawn mower that's chock-full of useful features, then the Bosch AdvancedRotak36 Cordless Brushless Lawnmower is one of the best.
---
2. Best Electric Mower for Medium sized Lawns: Sun Joe MJ401C-P RO 28-Volt Cordless Push Lawn Mower
The Sun Joe MJ401C-P RO 28-Volt Cordless Push Lawn Mower has all the features that you may look for in a cordless electric lawn mower. It is powerful, lightweight, durably built, and ideal for mowing small to medium-sized lawns.
Additionally, it comes from one of the best lawn mower brands, so you can go for it knowing that you are getting a high-quality machine that will help you get the job done without experiencing any problems. The fact that it is cordless means you can make limitless manoeuvres without being restricted by pesky power cords.
Also, the MJ401C-P RO is fitted with a steel blade that holds an edge well. As such, you won't have to worry about the blade going dull. With a cutting swath of approximately 35cm, this unit will allow you to mow small to medium-sized lawns within the shortest time possible.
To add to its list of features, it comes with a 40-litre grass catcher that will ensure your lawn is left neat after each pass. There is also a discharge chute for user convenience. You will be happy to know that this electric lawn mower features an adjustable deck.
Depending on your needs, you can adjust the cutting height up to three positions for customised cuts. This unit requires a 28V battery, which is included in the package, so you won't have to buy it separately.
---
3. Best for Most People: Bosch Lawn Mower ARM 37
For the third spot, we're going back to Bosch with the Bosch Lawn Mower ARM 37. This model is corded so it's more limited in mobility compared to the previous entries, but that also means that it's more cost-effective and won't require constant charging.
The mower is also adept at clearing out the grass around edges, making it less likely for you to need a whipper snipper to take care of stray blades of grass in areas that are generally hard to reach by most lawn mowers. You can also get an extra kick of power thanks to the Powerdrive motor, giving you an extra 1400W that'll help you mow down even tougher lawns.
Having a cord might be a deal-breaker for some and the overall build of this model could have been sturdier, but the Bosch Lawn Mower ARM 37 is an excellent choice for people who want to save a buck but still invest in a quality brand.
---
4. Best Electric Lawn Mower for Small Yard: American Lawn Mower Company 50514 11-Amp Corded Electric Lawn Mower
No products found.
Equipped with a high-performance 11-Amp motor, the is one of the best units that you can use on small lawns.
It can effectively cut long grass and weeds, making this one of the most versatile electric lawn mowers that you can buy.
With up to 5 cutting height settings to choose from, this machine gives you the option of mowing your lawn in whichever way that you like. You can easily cut the grass to the ground or give it a nice trim with the flip of a switch.
And like all lawn mowers in this guide, this unit is very easy to roll around, so you won't have a hard time manoeuvring it from one spot to another. It has the same cutting width as the Sun Joe MJ401C-P RO and also comes with a grass bag.
More on the bag, it has an indicator that will let you know the level of grass that has been cut. This allows for easy disposal when the grass catcher is full. The other thing that we liked about this electric lawn mower is that it has a mulching system.
When used correctly, the cut grass will add valuable nutrients to your lawn. If you are looking for a high-quality corded electric lawn mower, this may just end your search.
---
5. Best Electric Lawn Mower for Light Mowing:Swift 40V Brushless Cordless Lawnmower
The first thing you'll notice about the Swift 40V Brushless Cordless Lawnmower is its catchy bright appearance. It's a mix of white and different shades of grey, with some tasteful baby blue highlights that lend some style to the overall appearance.
It has a 30-litre grass collection box which is a fair bit bigger than what other mowers offer and will allow you to mow for longer before having to empty out the container.
It's also exceedingly lightweight and easy to manoeuvre, so pretty much anyone can mow the lawn without much trouble. There are multiple height settings as well, letting you adjust your grass length between 20 – 60mm.
Detaching and reattaching the grass box can be a bit of a hassle though, and the battery takes more time to charge than we'd like, but the Swift 40V Brushless Cordless Lawnmower remains a fantastic machine for people looking for an easy mow above all else.
---
6. Best Cordless Electric Lawn Mower: BLACK+DECKER 36V Lithium-Ion 38cm Lawnmower Kit
Next up on our list is the BLACK+DECKER 36V Lithium-Ion 38cm Lawnmower Kit which comes with some fantastic features, such as the inclusion of two batteries for twice the normal trimming time and the ability to charge one while using the other.
The batteries are also fast-charging, allowing you to do more mowing on less charging. As a nice bonus, you can use the batteries with other BLACK + DECKER products.
Another highlight feature is its wide array of cutting height settings, as it lets you choose between six different settings ranging from 30mm to 80mm. This means that you can finally have that lawn of yours at the exact height you want it.
It has a handy safety system too that requires the use of a key to start, so you won't have to worry about your kids accidentally turning on the machine when you're not around.
The BLACK+DECKER 36V Lithium-Ion 38cm Lawnmower Kit is a bit heavier than some of the competition and the grass collection container should have been bigger, but those are just minor missteps in an otherwise superb electric mower.
---
7. Best Compact Electric Lawn Mower: Greenworks 24V Cordless 33cm Lawn Mower
Another stylish entry is the Greenworks 24V Cordless 33cm Lawn Mower – a mostly jet-black model with some eye-catching apple-green highlights. Despite its position on the list, this is one of the best electric lawn mowers you can buy in Ausssie.
It's delightfully light and easy to move around, making a good choice for smaller-framed individuals and those who are fairly new to maintaining a lawn.
The handles also fold away, allowing it to become more compact and easier to store away. A good feature to have if you don't have much real estate to work with in your storage shed or garage.
You have to give grass around edges a few run-throughs before they're trimmed properly, but it's not too much of a hassle really.
On the downside, the mower only includes one battery and it's not enough to give it enough juice to mow a larger sized yard and the included instructions can be quite vague.
Despite that, the Greenworks 24V Cordless 33cm Lawn Mower is an excellent option for those who find aesthetics and ease-of-use important. It's not heavy on the wallet either.
---
How We Researched the Best Electric Lawn Mowers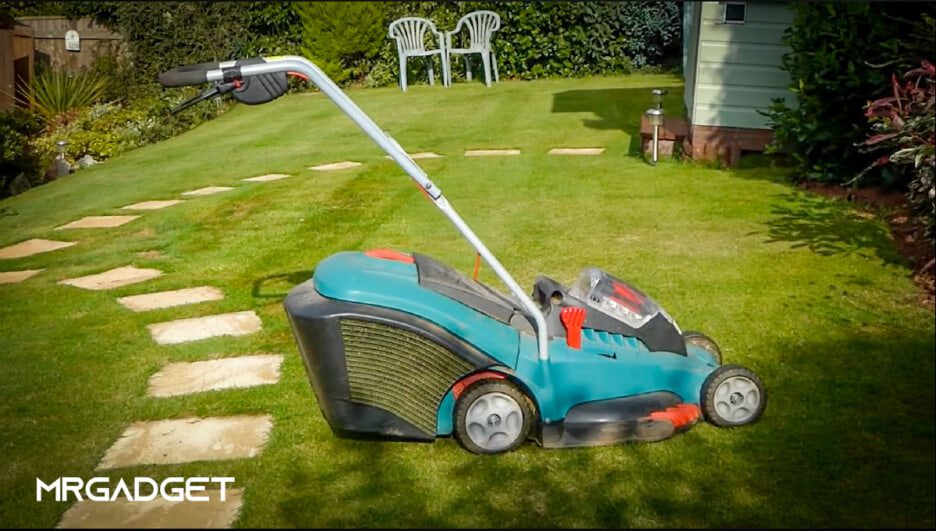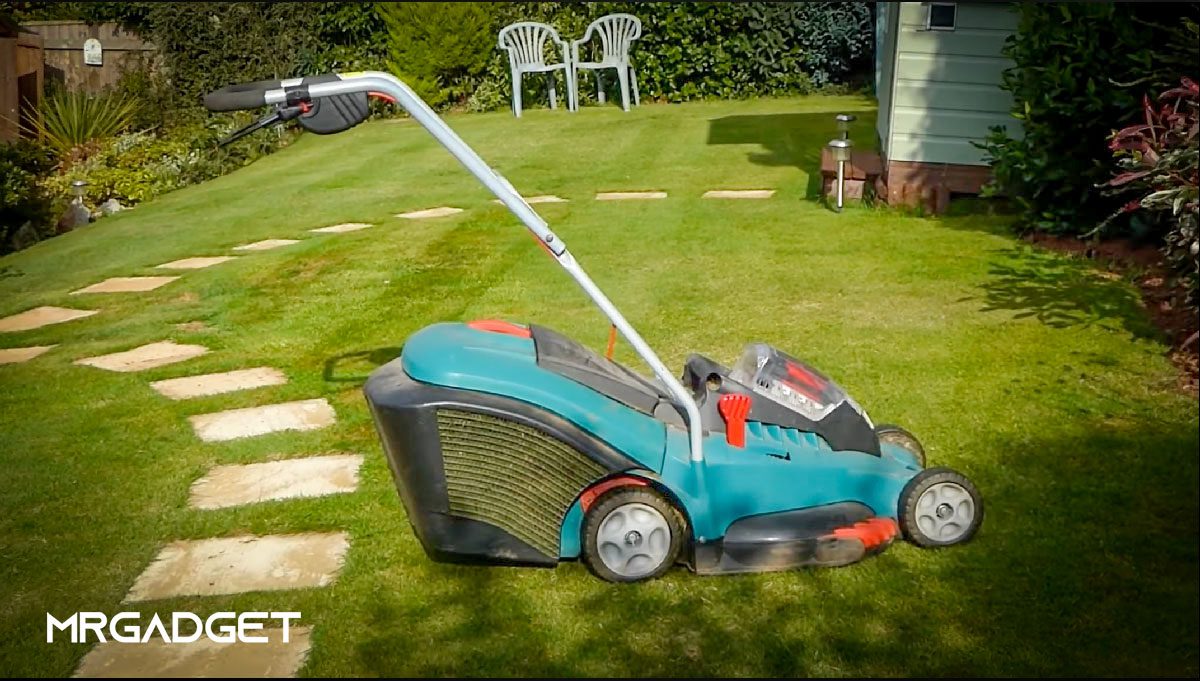 We spent almost a year researching and testing the best electric lawn mowers Australia has to offer. Our review team picked both cordless and corded electric lawn mowers to increase your chances of finding the most ideal option for your needs.
The lawn mowers were tested for cutting performance on a 125 square metre lawn and later on a 90 square metre lawn. One of the lawns (the former) had weeping grass measuring about 9cm, while the latter had Kikuyu grass measuring about 6cm.
We tested the lawn mowers multiple times on flat and ragged sections of the lawns to see how easy they are to manoeuvre. Additionally, we evaluated the cutting speed of each test model using a timer, taking into account the cutting width.
In addition to this, we tested battery performance by noting how long each cordless model took to juice up to full capacity and the time taken for the battery to run dry after a full charge.
We also took into account the length of the power cords for the corded models that we tested. For all the lawn mowers that we tested, we made sure that we used all the available cutting heights to evaluate performance.
We expected clean cuts with every pass that we made, and that is exactly what the lawn mowers delivered. However, there was a significant variation in cutting speed and overall performance when we compared the corded models and their cordless counterparts.
Electric Lawn Mower: Buying Guide
Electric lawn mowers come with a wealth of different parts and features and figuring out which ones are important can be a tough time, especially if you're new to mowers or gardening in general. You have to consider your lawn size, the thickness of your grass, how smooth your soil is, and whether or not you have a lot of edges to mow around, just to name a few.
To make your decision a bit easier, we came up with a handy buying guide for electric lawn mowers to introduce the features you should be familiar with when deciding which model to purchase.
What Do You Need An Electric Lawn Mower For?
Electric lawn mowers may generally lack the power that their gas-powered predecessors offer, but that hasn't stopped an increasing number of people from making the switch. After all, they're a lot quieter, require much less maintenance, and are an absolute breeze to fire up. Plus, you won't have to deal with that nasty petrol smell throughout the entire mowing process.
Most electric lawn mowers are suited for small to mid-sized yards and are generally good for moderately thick grass on account of the lower power when compared to the gas kind. Mowers, in general, are used for large patches of grass that need regular trimming, but if you have a lot of pathways and several plants that you care for, then you might want to consider whipper snippers since they're made for more delicate trims that require greater precision.
What to Consider When Buying Electric Lawn Mowers
Here are some of the factors that you need to take into consideration when shopping for an electric lawn mower:
Lawn Size
The first thing you should keep in mind before you invest in an electric lawn mower is the size of your lawn. While this type of mower is made for small to medium-sized yards, there's really no reason for you to purchase a machine that's for a bigger lawn than what you have on your property.
If you have a small garden, for example, there's no need for you to pick up something like the BLACK+DECKER 36V Lithium-Ion 38cm Lawnmower Kit with its dual battery system since a single battery should be more than enough for an entire mowing session.
Corded or Cordless
Cordless are certainly the more convenient choice, but they tend to come with a far steeper price tag. So if your lawn isn't particularly large and you think you can make do with a 10 – 15m cord, then you might want to consider the corded version instead, especially if you're trying to stick to a tight budget. Also, ensure that you check the battery capacity and charging time when buying a cordless lawn mower.
Corded also means that you won't have to regularly charge your machine before you mow. But if you have the cash to spare and put convenience above all else, then there really is no substitute for going cordless and sparing yourself the hassle. To get the best from a corded lawn mower, ensure that you pick one with a long cord as this will allow you to cover a wider area.
Adjustable Height Settings
Just like with your haircut, you'll probably want your grass to be cut at a specific length. If that's the case, you'll need to make sure that the machine you're browsing has adjustable height settings so you can get your grass length exactly the way you want them. A few of the electric lawn mowers we mentioned on this list feature various height settings, so it's worth giving them a look.
Grass Storage Container
Some electric lawn mowers models feature grass storage containers that capture the severed blades of grass as you're mowing. This saves you the trouble of cleaning up after your trimming session and makes the whole process a lot easier. These containers come in various sizes, so you should consider the size of your lawn as well, so you know how many times you'll need to empty the box during each mow.
Mulching System
This feature generally comes with models that feature a storage container. What it does is prevent the machine from funnelling the grass debris into the container and, instead, leaves them to be ground finely at the mower's blade area to return to the soil and act as fertilizer once they decompose. It's a great feature for yard maintenance and ensuring your grass and soil remain fertile and healthy.
Self-propulsion
Certain electric lawn mowers take much of the stress of having to push a machine across your yard by incorporating a self-propelling feature that moves the tool forward at a comfortable walking pace. That way, you have to do little more than just keep up with the machine and steer it whenever you have to make a turn. This is a particularly great feature for people with a smaller frame or those who suffer from injuries or illnesses that affect mobility.
There are a few other things to keep in mind, like blade width and motor strength, but if you familiarize yourself with the features we mentioned then you'll be armed with enough knowledge to make the right choice for your lawn.
---
You may also be interested in:
Last update on 2023-12-02 / Affiliate links / Images from Amazon Product Advertising API