ⓘ We are reader-supported and may earn a small commission at no additional cost to you if a purchase is made through one of our links.
Whipper snippers or line trimmers are nifty little machines, that are able to get rid of unwanted grass and other weeds growing along pathways, around other plants and trees, and on either side of your fence.
It's also a great way of maintaining uneven lawns and patches that are a little too small to warrant a lawnmower.
TL;DR: The #1 Whipper Snipper for Most People 👇
There's no shortage of great whipper snippers in the market, but finding out which one is right for you and your lawn can give anyone a headache. To save you the hassle, we came up with the list of the very best whipper snippers that Australian residents can get their hands on in hopes of helping you make your decision that much easier.
Product
BLACK+DECKER POWERCOMMAND String Trimmer
EGO Power+ ST1500XY 15-Inch Foldable Shaft String Trimmer
WORX 20V Cordless 2-in-1 Line Grass Trimmer/Edger
Makita DUR181Z Line Trimmer
Product
BLACK+DECKER POWERCOMMAND String Trimmer
Product
EGO Power+ ST1500XY 15-Inch Foldable Shaft String Trimmer
Product
WORX 20V Cordless 2-in-1 Line Grass Trimmer/Edger
Product
Makita DUR181Z Line Trimmer
The Best Whipper Snippers Available to Buy in Australia
1. Best Overall Whipper Snipper: Greenworks 80V 16-inch String Trimmer
No products found.
The takes the number 1 spot on our list of the best string trimmers thanks to its combination of performance, durability, and flexible use cases.
The 2ah battery is more than enough to handle a large lawn, even when pushing the machine into high gear. and its 80V  brushless motor is great even in the thicker areas  Despite the excellent battery, it's not too heavy, and very ergonomically designed with excellent handles and weight distribution. This makes it ideal if you plan on using for longer sessions.
You won't have to worry about longevity either, as this trimmer is well-built from quality materials that will stand the test of time, which is typical of Greenworks products.
Overall, the is an excellent pickup if you're looking for something to tidy up the lawn and neaten up some overgrowth. If you can afford the fairly steep price tag, you won't regret picking this strimmer up.
---
2. Best for Most People: BLACK+DECKER 18V Lithium-Ion 30cm POWERCOMMAND String Trimmer
Why we like it:
Solid battery life
E-drive system is great
Wide cutting path
What customers say:
"This trimmer is light to use, cuts well and has 2 speeds and can be used as an edger and a trimmer. 1 battery lasts quite a long time but I still purchased another battery just in case I need it. The pole could be a little bit longer as at 6 ft tall I find myself bending over a bit even when it's on its longest setting." – Ross Dummett
Similar to the first entry on our list, the BLACK+DECKER 18V POWERCOMMAND String Trimmer features an excellent battery that can go on for up to 30 minutes of high-powered trimming. It also boasts Black and Decker's proprietary E-drive technology, giving you enough oomph to take on even thicker weeds and brushes.
Furthermore, it's exceedingly easy to use and can be effortlessly operated even by novices in the art of gardening. Switching from trimming to edging is an absolute breeze, allowing you to get your lawn exactly how you want it. Another one of its highlight features is its automatic feeding system which swaps out-snapped strings before you even notice it.
The BLACK+DECKER 18V POWERCOMMAND String Trimmer wasn't really designed for large lawns, however, so the battery may not be up to snuff if your garden is huge, but if you're rocking a smaller yard, this guy has you covered.
---
3. Best Whipper Snipper for Weeds: EGO Power+ ST1500XY 15-Inch Foldable Shaft String Trimmer
The strength of the EGO Power+ ST1500XY String Trimmer really lies in its performance and ease of use. This whipper snipper gives you all the power you need to cut through even the thickest of weeds without any trouble and you'll feel comfortable while doing it, given the machine's lightweight design.
The line won't tangle halfway through either, so you won't have to worry about dealing with that mess every now and then.The battery lasts pretty long as well, giving you about 40 minutes of trimming time with every charge. It's a sturdy fella, so you expect this piece of machinery to stick with you for years and years of yard trimming.
It's not the most portable string trimmer, so people with limited space may have a hard time putting it away, and putting in more string can be a bit of a chore, but that does little to hold the EGO Power+ ST1500XY String Trimmer back from simply being great at what it does.
---
4. Best Whipper Snipper for Edging: Bosch Cordless Line Trimmer Advanced Grass Cut 36
No products found.
The is a bit more on the expensive side, but with it comes a comfortable yet exceptionally sturdy build and a wide cutting area that will help you trim your lawn quicker and more efficiently. It sports rubber handles, so carrying it around never feels unwieldy and the semi-automatic line feed works great at alleviating the hassle of having to mind your line constantly.
It's fairly lightweight as well, so mowing – even for lengthier sessions – never feels like too much of a struggle. The battery lasts a long time by any standards, though the downside is that you have to purchase it separately along with its charger which is a bit of a bummer.
If you have a bit more money to spare on your whipper snipper and you don't mind spending extra for a battery and charger, the is a magnificent choice for people in the market for a premium machine.
---
5. Best Value for Money Whipper Snipper: WORX 20V Cordless 2-in-1 Line Grass Trimmer
Price reduction
Why we like it:
Has wheels for easy trimming
Safety and plant guards
The command feed function is handy
What customers say:
"The major likes for this trimmer/edger was the way the unit performed vertical edging around paths and the like. The wheeled edging support was a dream. The head could be configured to various angles to suit cutting needs. The on demand cord advance works really well. Unlike other trimmers, this one is well balanced and easy to manage." – Paul
The highlight feature of the WORX 20V Cordless 2-in-1 Line Grass Trimmer is its nifty wheels, which make the weight of the machine a non-issue when in use. It lets you focus more on the accuracy of your trimmer, while allowing you to take your time without the hassle of lugging a large piece of machinery around your yard.
It includes both safety and plant guards to protect you and your plants, both of which work quite well. There's also a command feed function that you can push for a constant supply of line, though it's worth noting that the included line is fairly flimsy and will likely break easily. That being said, you'll want to invest in something tougher.
The concept of how to switch from trimmer to edger is quite simple but in reality, it can feel a bit finicky and may take some getting used to. Minor missteps aside, WORX 20V Cordless 2-in-1 Line Grass Trimmer is a fantastic whipper snipper that's made extra easy to use on account of its wheels.
---
6. Best Whipper Snipper for Small Yard: Makita DUR181Z 18V Body Only Cordless Li-ion Line Trimmer
Why we like it:
Speedy charging
5-point adjustable head
Wide variety of battery options
What customers say:
"Thought this might be a bit crap but it works really well edging around the garden, so pleasantly surprised glad I got it as the mrs can use it while I drink beer ….mrs has now beaten me round the head with it after reading this review & it still works well. Good product." – Spence
What makes the Makita DUR181Z 18V Line Trimmer stand out is its ability to accept various battery types which range from 1 to 5 Ah. Whichever battery you choose, the machine does a good job of juicing them up quickly, ensuring your tool is always ready to go.
It utilizes a bump feeder to reload your line – which a lot of people seem to despise – but this trimmer does a good job of making it easy to use and fairly accurate. For those who don't know how bump feeders work, you simply bump the head of the machine against the ground and the mechanism does the rest.
It does have a few shortcomings, like the fact that the battery and charger are sold separately and the unit itself is a bit on the expensive side, but, overall, the Makita DUR181Z 18V Line Trimmer is an excellent investment for people who want a versatile whipper snipper.
7. Best Lightweight Whipper Snipper: Bosch Cordless Line Grass Trimmer
No products found.
If line management is critical for you, then the is right up your alley. It features its proprietary IntelliFEED system that automatically feeds as many lines as necessary to maintain the exact diameter the machine needs. With this, you won't have to constantly feed line to the trimmer whenever it snaps.
It's really lightweight to boot, so carrying it around while you do your trimming is significantly less taxing. It does a great job of taking care of plants of varying thicknesses and it has enough battery life to take care of a full lawn and more.
It's a bit tougher to use for taller folk and the user instructions could've used some work overall, but the remains a high-level whipper snipper that's great at its job – especially if you like seamless, automatic spool management.
---
How We Researched the Whipper Snippers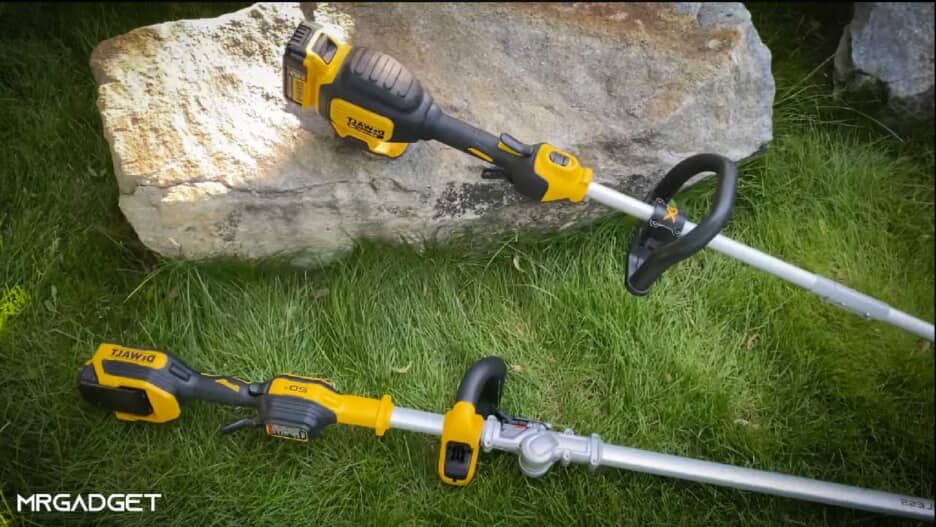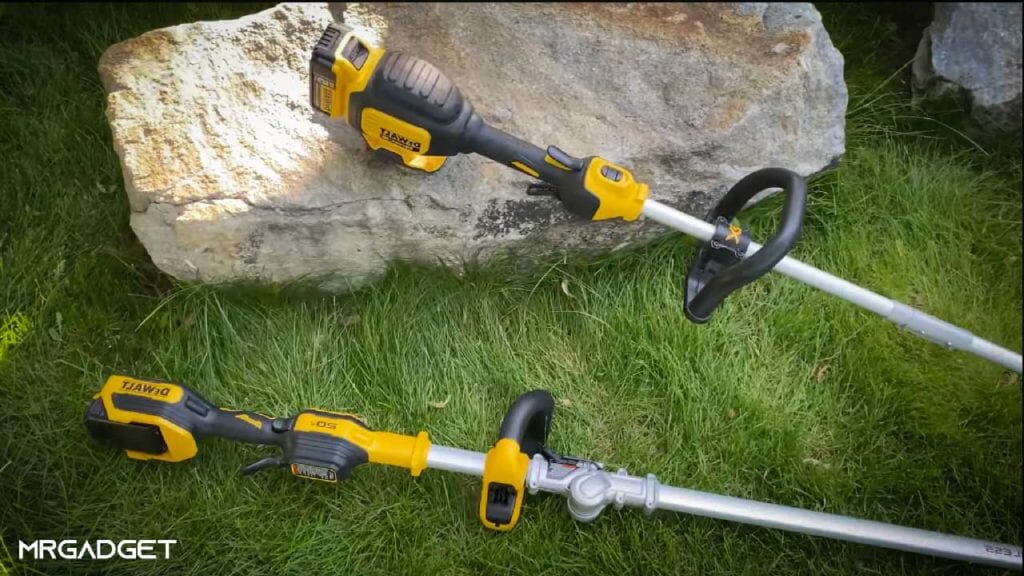 Whether it's leading online marketplaces like Amazon and eBay, or local sites like Matt Blatt and Bunnings, we looked all over for the best selling and highest reviewed whipper snippers around. But that wasn't enough. We also dove deep into the reviews sections to read up on what satisfied and disgruntled buyers had to say about the machines.
We didn't stop at customer reviews, either. We wanted to know what the professional critics and blogs had to say too, so get to know the products inside and out. From there, we talked it over amongst ourselves and decided which ones to cut, slowly trimming down the list to the top seven.
What we were left with was a list of high-quality machines of various features, budgets, and functionalities, all of which are exceptional. Whichever you decide to go with, just know that these whipper snippers are top-notch and are sure to keep any lawn in order.
Whipper Snipper: Buying Guide
There are tons of different tools out there for maintaining your lawn, and the whipper snipper or line trimmer is one of them. Their benefit over other tools is the ability to get to harder-to-reach spots, like around trees, fences, or your house, and they're great for carefully getting rid of weeds or grass that are growing close to your flower beds or other plant patches.
They're a lot better for delicate yard work than a mower and they're easier to move around. The thing is, there are just so many different brands and models to choose from, each with varying sizes, features, and power systems. Picking one out of the sea of choices is pretty darn tough, so it's best you learn all there is to know about whipper snippers in general so you can make an informed decision.
In this section, we'll take a look at all of the different features that are commonly found in whipper snippers.
What Do You Need A Whipper Snipper For?
First, you need to really take a look at the layout of your lawn and see if a whipper snipper is what you really need. Are you caring for a lot of flower beds and other plants which require a delicate touch to trim around? And do you have a long fence or some pathways that make it tough for you to use a lawnmower all throughout?
Does the grass on your property extend around your home? If the answer to some or all these questions is yes, then a whipper snipper is probably the way to go. Here are some of the features that you should familiarize yourself with.
Electric or Gas
Whipper snippers come in two forms – electric or gas-powered. Each of them have their own merits and disadvantages. Electric trimmers are generally a lot easier to start and use and they require far less maintenance overall. Gas whipper snippers, on the other hand, make up for the hassle by being a lot more powerful, making them great for especially stubborn weeds and other plants.
Volts and Amp-Hours
If you look for whipper snippers or line trimmers on Amazon or eBay, you'll likely see a lot of talk about the machine's voltage or Ah (Amp-hours). Voltage pertains to the strength of the battery and most trimmers come in either 36, 48, or 56 V. Alternatively, amp-hours, like the name suggests, is the number of amps the machine spends in the span of an hour. So if the tool uses a 1 Amp battery and is 2Ah, you'll run out of juice in about half an hour.
Line Feeding
Whipper snippers use a line to cut grass and there'll be plenty of times where you'll need more line to get the job done. Different models use various ways to feed line to the machine. Some utilize an automatic system that does all the work for you, while a bump feeder, for example, requires you to tap the head of the tool on the ground for more line to come out. Some use a button-operated mechanism that gives you more line whenever you press a button.
Guards
These are little protectors fitted onto the head of the device that will protect you or your other plants from flying weeds. Getting hit by a severed plant can be pretty annoying, especially if your prized plant loses some flowers because of it.
Shoulder Strap
Lugging around a whipper snipper can get pretty tiring, particularly if you have a large lawn to take care of. Some models come with a shoulder strap right out of the box, making it easier to carry around your machine while getting rid of unwanted plants. Most whipper snippers can be fitted with an aftermarket one either way.
Start up
Depending on your kind of whipper snipper, getting the machine started in the first place can be quite the chore. It's especially difficult when it comes to gas-powered variants, so you should really do your research if you foresee that this may be a problem for you.
Balance
The heaviness of a whipper snipper is one thing, but the balance of the tool as a whole is just as vital. You need to really hold the machine to see if it fits your height, weight, and hand orientation. Some trimmers out there were made especially for right-handed users, leaving left-handed ones feeling awkward. How tall you are is also another issue, since many whipper snippers feel unwieldy for taller people.
Now that you know a bit more about whipper snippers, the specs you see on marketplaces and online stores will make a lot more sense and you'll be better equipped to know what your yard needs. All that's left is to find the perfect whipper snipper for you.
---
You may also be interested in:
Last update on 2023-12-02 / Affiliate links / Images from Amazon Product Advertising API