ⓘ We are reader-supported and may earn a small commission at no additional cost to you if a purchase is made through one of our links.
The mouse is one of the most important computer peripherals. It can help you put new data into and retrieve data out of your computer with a simple click. With the best wireless mouse, you can comfortably move your hand without being limited by a cable. This will allow you to tackle a range of computing tasks with precision, thus boosting your performance.
Additionally, a wireless mouse will not only make your desk neater but also helps you save on space. As such, you will have enough room for other peripherals that you are likely to use. Based on your needs and preference, you can go for a wireless mouse that uses RF or Bluetooth. Both technologies will deliver great results, enabling you to control your computer wirelessly without having to deal with stubborn cables.
TL; DR: The #1 Wireless Mouse for Most People 👇
Price reduction
SteelSeries Aerox 3 Wireless Gaming Mouse
SteelSeries presents you with an ultra-lightweight wireless gaming mouse that you can fully count on. The Aerox 3 utilises Quantum 2.0 Wireless technology for lag-free gaming and also offers dual connectivity—Bluetooth and 2.4GHz modes. Best of all, it features a large capacity rechargeable battery, making it one of the best wireless mouse you can buy!
However, finding a reliable wireless mouse can be challenging since there are countless models to choose from. Besides, all mouse manufacturers claim to be the best, making it even more difficult to know which one is legit. And that is why we've put together a list of the 5 best wireless mouse that you can find in the Australian market. If you are in hurry, you can use the quick links below to skip to the wireless mouse of your choosing:
Product Name
Best Overall: Corsair Dark Core RGB Pro SE
Best for Most People: SteelSeries Aerox 3 Wireless Gaming Mouse
Best Value: Logitech G G502 LIGHTSPEED Wireless Gaming Mouse
Most Versatile: Razer Basilisk Ultimate Hyperspeed Wireless Gaming Mouse
Best Ergonomic Wireless Mouse: Logitech MX Vertical
Connectivity
Bluetooth, Radio Frequency
Recommended uses for product
Product Name
Best Overall: Corsair Dark Core RGB Pro SE
Connectivity
Bluetooth, Radio Frequency
Recommended uses for product
Product Name
Best for Most People: SteelSeries Aerox 3 Wireless Gaming Mouse
Recommended uses for product
Product Name
Best Value: Logitech G G502 LIGHTSPEED Wireless Gaming Mouse
Recommended uses for product
Product Name
Most Versatile: Razer Basilisk Ultimate Hyperspeed Wireless Gaming Mouse
Recommended uses for product
Product Name
Best Ergonomic Wireless Mouse: Logitech MX Vertical
Recommended uses for product
The Best Wireless Mouse to Buy Today in Australia
1.

Best Overall

: Corsair Dark Core RGB Pro SE
Price reduction
Why we like it:
Low-latency wireless connectivity real-time tracking
Programmable buttons for personalised configuration
Onboard memory for storing profiles
Ergonomically contoured for comfort
What customers say:
"Very good wireless mouse. It supports wireless through receiver and Bluetooth and easy to switch between two modes. I used the receiver to connect to my own laptop and Bluetooth to pair with work laptop…"–Road
Our top pick for the best wireless mouse is the Corsair Dark Core RGB Pro SE due to its advanced features, ease of configuration, and durable design. Moreover, the mouse is built with your gaming needs in mind, so rest assured it will deliver great results.
It offers the widest range of connectivity options on the list, allowing you to connect it to your machine either through its wireless USB transmitter, Bluetooth capability, or the 1.8-metre long braided cable that comes in the box.
All the options will provide you with a stable connection, thereby improving your gaming experience. But that is not all; the mouse is ergonomically contoured to give you a comfortable grip. The sides are textured to increase traction between your fingers and the mouse.
You can also interchange the side grips to match your style. To add to this, the mouse's Pixart PAW3392 sensor performs fantastically, giving you all the precision and sensitivity you'll need when playing games that demand quick reflexes.
Not only does the mouse have an impressive battery life of up to 50 hours when connected via Bluetooth, but it also fully supports compatible Qi wireless charging pads. This enables you to charge the battery without using a cable.
Like most gaming mouse with a similar design, the Corsair Dark Core RGB Pro SE features dynamic RGB lighting that you can customise according to your preference. With the help of Corsair's iCUE software, you can configure the lights in a matter of seconds.
---
2.

Best for Most People

:

SteelSeries Aerox 3 Wireless Gaming Mouse
Price reduction
Why we like it:
Dual connectivity (Bluetooth 5.0 & 2.4GHz) for user convenience
Large capacity built-in battery for uninterrupted usage
Smooth gliding skates for easy mouse movement
Lightweight design for user comfort
What customers say:
"Got an amazing feel to it and glides so smoothly across my mouse Matt! The light illumination is amazing! 10/10 would recommend."–Jon
The 40 Hours - IP54 Water Resistant - 18K CPI Optical Sensor - Prism 3-Zone RGB Illumination" data-aawp-geotargeting="true" data-aawp-click-tracking="title">SteelSeries Aerox 3 Wireless Gaming Mouse will dramatically reduce your reaction time when playing fast-paced games, thanks to its lightweight design. Additionally, this peripheral is fitted with Virgin PTFE skates, which are strategically placed to allow for smooth movement.
As such, you can glide the Aerox 3 effortlessly over the mousepad without experiencing any problems. Plus, the mouse features SteelSeries's Quantum 2.0 Wireless technology for lightspeed data transfer. With this technology in place, you won't experience latency when gaming. Besides, it makes the mouse just as reliable as the wired variety.
Best of all, you can connect this accessory to your gaming device via radio frequency (RF) or Bluetooth. Both will deliver a stable wireless connection, providing you with a frustration-free gaming experience. The optical sensor on this mouse is very responsive and offers just the right level of precision and speed to help you win the game.
It can greatly improve your accuracy and overall performance when playing FPS and MOBA titles. What's more, the Aerox 3 supports all grip styles, making it one of the most ergonomic mouse on our review list. It is also compatible with major operating systems and can work on macOS, Linux, and Windows. You can also connect it to an Xbox.
The housing is vented to allow for free airflow. This way, you won't have to worry about your palms getting sweaty. Since the mouse is IP54 rated, the circuit board is well protected against spills and dust. The SteelSeries Aerox 3 comes with a rechargeable Li-ion battery that will provide you with approximately 200hrs of uninterrupted usage.
However, this can vary depending on the frequency of use. The USB-C charging cable will allow you to juice up the battery within the shortest time possible in case the mouse runs out of power. To make it even better, you can use the mouse while it's charging. If you are searching for a high-performance wireless gaming mouse, the Aerox 3 can be a great pick.
---
3. Best Value: Logitech G G502 LIGHTSPEED Wireless Gaming Mouse
Price reduction
Why we like it:
Reliable optical sensor for smooth performance
PowerPlay compatible with wireless charging
Adjustable weight system for added convenience
Rubberised grip for user comfort
What customers say:
"The G502 is one of the most revered mice of all time and for good reasons. G-shift, good ergonomics, multitudes of programmable buttons, good durability, all contribute to an excellent product…"–David T.
The G502 HERO remains to this day one of the greatest gaming mouse money can buy, and its successor—the Logitech G G502 LIGHTSPEED Wireless Gaming Mouse has managed to improve upon it by adding the brand's marvellous signature wireless technology.
Not only do you get the impeccable performance and design that came with the original minus the wire, but it also feels just as good thanks to its low-latency technology. Furthermore, the HERO 25K sensor is among the leading sensors in the gaming world, boasting a crazy high DPI and an impressive polling rate. This makes it ideal for fast-paced shooter titles.
In addition to this, it sports a total of 11 programmable buttons, so it's not only great for shooters but also MOBAs and MMOs as well. This mouse is ergonomically designed to give you maximum comfort during gameplay. The grip area is rubberised and textured to ensure your fingers don't slip when moving the manoeuvring your hand.
It's compatible with Logitech's PowerPlay charging pad, so you can game wireless as you charge. This means you won't have to leave the game from time to time. You can also adjust the weight of the mouse according to your preference.
Nonetheless, this peripheral is a bit expensive compared to most wireless mouse in its class. Also, its large size may turn away some gamers. On the bright side, the Logitech G502 LIGHTSPEED's excellent blend of high-end performance, comfy design, robust functionality, and top-notch wireless technology simply make it hard to beat. If you can afford it, get it.
---
4. Most Versatile: Razer Basilisk Ultimate Hyperspeed Wireless Gaming Mouse
Why we like it:
Precision calibrated for maximum accuracy
Customisable macro controls for in-game advantage
Fitted with a powerful sensor for high-speed transmission
Ergonomic design gives you comfort
What customers say:
"Just love this mouse, not too light, just the right weight and the charge lasts ages. I've had zero issues and love the RGB LEDs too, great fun to link in with other RGB colours…"–Andy Z 
Next on the list is the Razer Basilisk Ultimate Hyperspeed Wireless Gaming Mouse. Like SteelSeries, Razer is a reliable manufacturer of gaming peripherals, and this mouse is no different from what the brand has been making.
It offers excellent performance, a high level of customisability, and gorgeous design, but what really takes it over the top is its easy-to-use charging dock. Additionally, it can last up to 100 hours on a single charge which is great compared to most rechargeable mouse.
This gaming mouse is fitted with 11 programmable macros buttons as well as a Hypershift button that gives a whole other set of programmable controls to work with. Also, the sensor is precision calibrated to ensure you get the best results when gaming.
The mouse's optional charging dock is both incredibly functional and drop-dead gorgeous with its sleek design and RGB lighting. Excellence doesn't come cheap as Razer so often likes to remind us, but it's the peripherals like the Basilisk Ultimate that jogs our memory as to why the brand still stands as one of the elite.
However, its hefty price tag definitely limits its intended clientele, but its exceptional performance, customisability, and design make the Razer Basilisk Ultimate worth every penny, especially if you cop the terrific dock that's meant to go with it.
---
5. Best Ergonomic Wireless Mouse: Logitech MX Vertical 
Price reduction
Why we like it:
High-precision optical sensor for easy tracking
Textured grip area to prevent slippage
USB-C cable for fast charging
Contoured for maximum comfort
What customers say:
"Been using this mouse for 2 months now. Here's what I think about this product: long battery life, easy to adjust to the ergonomic design, easy to navigate even by sitting it on my lap!…"– Kenny
Vertical mouse have grown in popularity over the years with the promise of providing a much healthier form of hand posture compared to the regular orientation that we're accustomed to. PC peripheral giant Logitech decided to dive head-first by providing you with the Logitech MX Vertical which, as its name suggests, employs a rising form factor.
It is a remarkably well-built piece of equipment that's incredibly comfy to boot and offers much better support for your wrist, hands, and arms compared to the regular mouse. The speed switch will allow you to adjust the accuracy and speed of the mouse cursor to match your needs.
According to Logitech, the MX Vertical boasts an insane battery life of up to 4 months on a single charge. Plus, the high-precision sensor on this mouse is energy efficient, thus making it even more efficient.
The mouse allows you to connect to 3 different devices simultaneously, allowing you to switch between them with the push of a button. It also provides you with customisable shortcuts that will simplify your work during gameplay.
Switching over to a vertically-oriented mouse undoubtedly takes some getting used to and this mouse's steep price tag doesn't do much in encouraging you to try it out. But for people who suffer from Carpal Tunnel syndrome or joint pains or simply just want a healthier alternative to the conventional design, the Logitech MX Vertical Ergonomic Mouse is the best of the bunch.
---
How We Researched the Best Wireless Mouse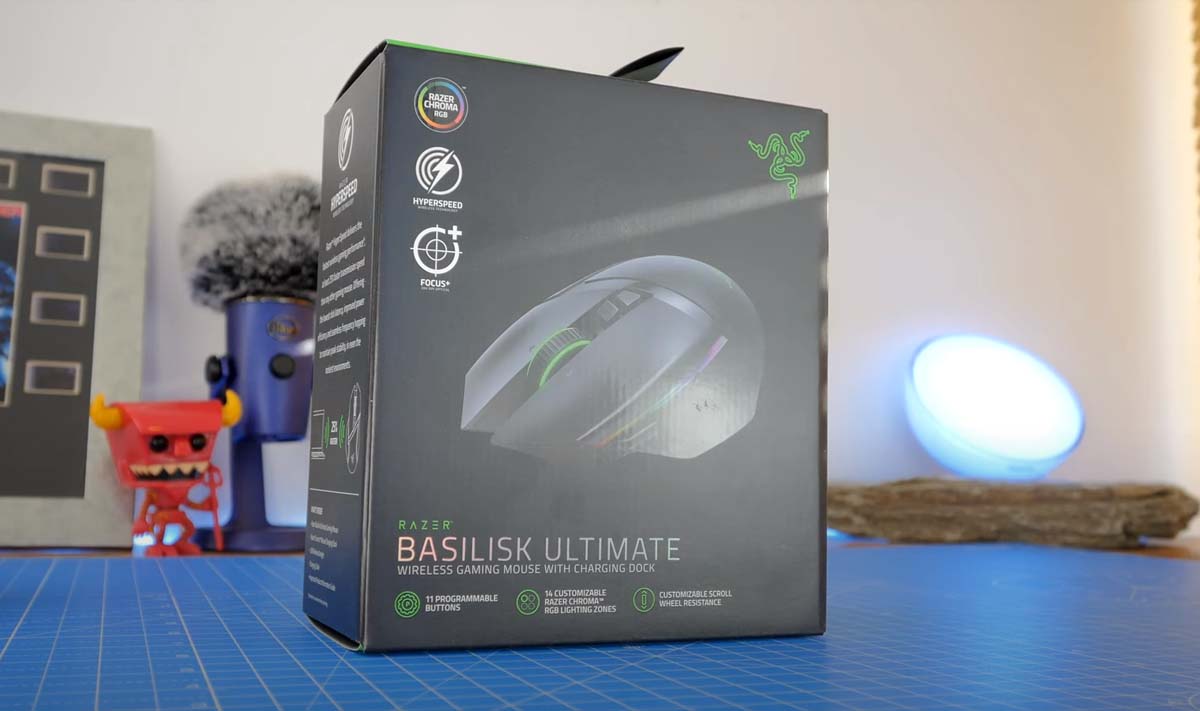 We chose the best wireless mouse based on our research findings and independent customer reviews on Amazon Australia. To start off, we visited local e-commerce stores to identify the top-rated wireless mouse frequently bought by Aussies. From this, we were able to pick 9 wireless mouse from 5 different brands.
After this, we compared the mouse based on Sensor type, Build quality, DPI rate, Ergonomics, Connectivity, Polling rate, Price, and Battery type. We further analysed each mouse and eliminated those that did not meet our selection standards. This left us with 5 wireless mouse, which we ranked based on key features and the performance of each unit in different areas.
Wireless Mouse: Buying Guide
When choosing a wireless mouse, you need to consider the purpose for which you are buying the mouse. Even though these peripherals are designed for the same purpose, some perform better than others when handling certain computing tasks.
For example, a mouse that is specially designed for office work may fail to deliver the results that you need during gameplay. Additionally, wireless mouse vary in terms of features and performance, so ensure that you pick one that matches your needs.
What to Consider When Buying a Wireless Mouse
Here are some of the things that you should think about when shopping for a wireless mouse:
Build quality
The mouse is the most used peripheral on a computer. It helps you select actions and perform other computing functions on the fly. That said, ensure that you invest in one that not only performs well but is also durable. You should consider the type of materials from which the mouse is made and the overall quality of the buttons and the wheel.
To avoid buying low-quality or cheaply built peripherals, you should acquire a mouse from renowned brands that have a good track record. To ensure that you only get the best wireless mouse, we only picked peripherals from Logitech, Corsair, SteelSeries, and Razer.
DPI rate
Dots per inch or DPI refers to the distance travelled by the pointer on the screen with every move that the mouse makes. A mouse with a high DPI rate will allow you to move the pointer over a long distance. However, not everyone can benefit from a high DPI, so you should consider your needs before choosing a mouse.
A low DPI rate is ideal for computing tasks that require precision. If you are a gamer, we recommend that you buy a mouse with adjustable DPI as this will allow you to customise the peripheral based on the resolution of your monitor.
Sensor type
Most mouse on the market use either laser or optical sensors. The two technologies are somewhat similar but they differ in that a laser mouse uses laser to track movements, while an optical mouse utilises LED light. A laser mouse is more sensitive and allows you to work on a variety of surfaces.
Ergonomics
When buying any handheld peripheral, you need to check if the device in question is designed with your comfort in mind. Depending on your preference, you can go for a palm grip or claw grip wireless mouse.
The former is more suited for people who prefer a low DPI rate, while the latter is ideal for a higher DPI. You also need to check if the grip points are textured to prevent slippage when moving the mouse. In addition to this, the mouse in question should be lightweight with smooth gliding feet
Polling rate
Polling rate represents the frequency with which a mouse reports the position of the pointer to the computer's processing system. This parameter is measured in hertz (Hz) and varies from mouse to mouse. A mouse with a high polling rate has a shorter delay time and vice versa.
Connectivity 
There are two main ways through which you can connect a mouse to a computer wirelessly, via Bluetooth or radio frequency (RF). An RF mouse is easier to set up than a Bluetooth mouse since you only have to plug the included dongle into your computer.
Most people prefer a Bluetooth mouse over the RF variety because the former does not require a USB port. As such, you can connect multiple peripherals to your computer without running out of ports. If you are after convenience, a Bluetooth mouse is the way to go.
Battery type
Unlike their wired counterparts, wireless mouse don't draw power directly from the computer. Instead, they use batteries. Some wireless mouse are fitted with built-in rechargeable batteries while others use disposable AAA or AA batteries.
Depending on the model of rechargeable mouse that you pick, you will find a charging dock or a regular charger in the package. If you prefer the rechargeable type, ensure that you check the capacity of the battery as this will dictate how long you can use the mouse before plugging it in for a charge.
Price
The cost of buying a wireless mouse may vary from one brand to another. Also, the features, built quality, and overall performance can also determine the price of a mouse. You can find a good wireless mouse for as low as $20.Nonetheless, you should be willing to spend at least $50 to get a high-quality mouse.
---
You may also be interested in:
Last update on 2023-11-30 / Affiliate links / Images from Amazon Product Advertising API