ⓘ We are reader-supported and may earn a small commission at no additional cost to you if a purchase is made through one of our links.
Our first impression of indoor gardening is that it takes up too much effort, and time, and it can be very messy. But this doesn't need to be the case. With the best indoor garden kits in hand, you'll find this hobby becomes a lot more fun and a lot easier!
Not to mention, the money you'd be saving in the long run when those garden tomatoes, basils, and chive are all ready for harvesting.
TL;DR: The #1 Indoor Garden Kit for Most People 👇
Not all food ingredients, spices, vegetables, and even fruits can be found in the supermarket all the time. So what is left to do? Grow it yourself. With these best indoor garden kits, you will be gardening like an expert in no time.
If you don't have the time to read the full review, you can just click on the links below to skip to that product:
How We Picked The Best Indoor Garden Kits
Our list of the best indoor garden kits has been extensively researched over the course of 20 hours. Over 25 different garden kits were assessed and evaluated by a green-thumbed editor, who managed to whittle it down to the list you see below. Each of these indoor garden kits was then thoroughly researched and included in this list of the best indoor garden kits.
The Best Indoor Garden Kits Australia
#1. Wetpia 12 Pod Indoor Intelligent Garden Kit
The Wetpia 12 Pod Indoor Intelligent Garden Kit is one of the best indoor garden kits available if you are looking into taking things to the next level. It is definitely a game-changerwith 12 ods allowing you to grow and generous amount of greenery.
Taking a hydroponic approach to nutrients delivery and utlising an adjustable full-spectrum LED light, you'll see plant growth like you've never seen before! Just like the iDOO indoor garden kit, the design is sleek and compact, albeit slightly larger due to the increased capacity.
This indoor plants is great for people who cook frequently and get through more herbs than usual as a result. It does come at a bit of a cost, but it's well worth it when you consider the money saved fro mgrowing your own food.
---
#2. iDOO Hydroponics Growing System
With iDOO Hydroponics Growing Systemyou'll never have herbs that are out of season anymore. Say goodbye to finding yourself arguing with a store employee as to why the greens or the herb seasoning you need are out of stock.
This definitely one of the best indoor garden kits to have when you're quite the cook in the kitchen and you need all kinds of herbs and spices. With iDOO, you can grow everything you need right inside your kitchen for extra freshness!
This product most definitely takes indoor gardening to the 21st century—where technology is abundant and fast developing. It is a 6-pod stainless steel pot that can be digitally controlled and bring you the freshest herbs and greens within an arm's reach.
It won't need soil, so it won't be as messy as you thought. You won't need natural sunlight either to ensure the fast and healthy growth of the plants. It has a 24W LED grow light that'll become the plant's sunlight source and it comes with an extendable lamp arm of up to 14.57 inches. That way you'll be able to adjust your lamp when your plants grow taller.
It comes with customized settings with an LCD control panel and it has a reminder alarm to when your plant needs water and plant food. It's also designed to sustain the plant while you're out for a few days as this technology comes with a Vacation Mode. You will never come home to dead plants.
---
#3. Dr Goodrow Mini Indoor Garden
The Dr Goodrow Mini Indoor Garden is great for people just entering the world of indoor garden kits thanks it's low price and smaller capacity. There is a larger version available but it's much more costly and not as highly recommeded as this smaller unit.
It functions in the same way as other hydroponic units on this list, with a water reservoir, plant pods and nutrient packs. The LED light can be adjusted upowards to make room for the plants as they grow.
The whole product is slim and won't take too much space, which is why it is great for those who live in the city with small living arrangements. It's easy to use and you don't need to be particularly green-thumbed  to make your indoor plants grow healthy.
---
#4. Chef'n Microgreens micro greens grower
Nothing is fresher than snipping out microgreens directly from the pot. The Chef'n Microgreens micro greens grower will make any home chef and urban farmer too. The brand promotes making your healthy homegrown salads with extra fresh garnish.
Chef'n Microgreens is considered one of the best indoor garden kits because, for one, it gives you the whole starter package to begin your planting journey. It comes with a coir growing medium and starter seeds. Once you've successfully harvested your first batch of microgreens, you can just conveniently re-order from Seatle seed company.
Microgreens are very beneficial. It can serve as a nutrition supplement, a visual enhancement for your food, and even a flavor and texture boost too. Chefs usually put microgreens to add either sweetness or spiciness to the dish.
---
Best Indoor Garden Kits Buying Guide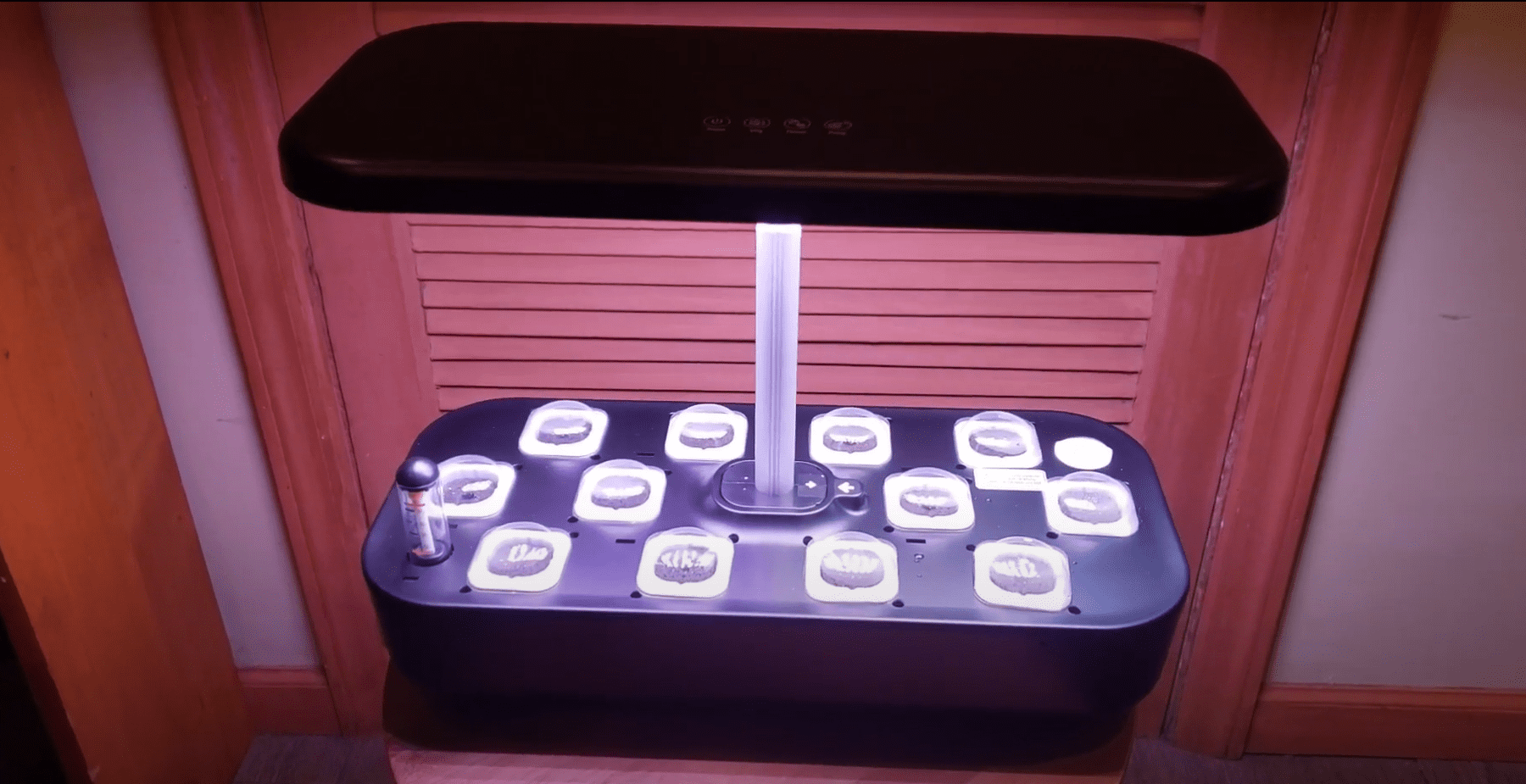 If you're new to indoor gardening as a hobby, you might find it difficult to look for the right kind of tools and materials that you'll need to get you started. The gardening market is most likely one of the highly populated markets, as there are so many innovative tools, kits, and mechanisms produced every day. To keep your plants, especially your microgreens, alive and healthy you will need the right kind of tool and the right attitude towards it. To help find the best indoor garden kits, here are a few reminders and factors to consider:
Size and space 
When we talk about indoor gardening, we always need to take into full consideration the available space you have inside the house and/or where you want to place it. Most indoor garden kits are small enough to conveniently sit on your countertop or window sill. But there are others that will require space.
The size of your indoor garden kit won't necessarily mean that you will have more space to plant. Some products will seem big but can only hold at least 3 plants pods. The rest of the space inside is probably for the built-in system to help you keep your plants alive like the water reservoir tank or the machine for the LED grow light and pump.
Some are simply small and compact as they cater more to smaller living spaces, to which these pots are often placed by the window sill or any nook available.
Water reservoir capacity
The bigger the water tank your best indoor garden kits have, the more low maintenance it is. Because, generally, it would mean that it'll take a while before you will need to refill it. This also means that you can leave the plant alone for long periods of time without having the constant fear of it dying while you're gone.
The water reservoir is one of the basic features that you will find with indoor garden kits. Most, if not all, have one. What you need to look for is how big do you want it to be.
Power supply
Highly innovative indoor garden kits will offer an automatic watering system, LED grow lights, and etc. This means they will need to be connected to a power supply unless they are battery-operated. Ergo, you have to plan where you will need to place the pot.
Do you have a space in your kitchen that is near an outlet? Will you be comfortable leaving an appliance plugged in while you are gone? Make sure to also look into its power consumption as you may end up with a big electric bill. A regular-sized planter will likely carry a 12V adapter but that won't always be the case so you have to double-check.
Set-up process
Many highly innovative indoor garden kits can be difficult to put together, most especially if they have a complex system in place. If you're the tech-savvy type, then it shouldn't be much of an issue. However, if you are not that tech-savvy, then you might be more comfortable with having easy-to-set-up indoor garden kits. You don't want to find yourself staring dumbfoundedly at the garden kit and thinking what you did wrong for it not to work properly.
Nevertheless, most indoor garden kits are quite simple to set up. Just choose the right one that you'll be able to assemble effectively alone.
Overall maintenance
One of the main reasons why others are not fond of plants is the maintenance it needs. The constant watering, the cutting, and transferring when the plants are tall enough to be transferred to a bigger pot. Also, there's the issue of cleaning up spilled soil, especially when harvesting.
Many highly innovative indoor garden kits have soil alternatives to address the issue. Make sure to check what kind of soil will the product use. Also, it's maintaining the water inside the reservoir. Even a cactus needs water every now and then. Will you be able to sustain constant watering? If not, you may want to invest in a kit that has its own auto-watering system or just a product with a big water reservoir.
There are special products that have a self-cleaning cycle and will just need a refill after every few months or after a year.
Price
Indoor gardening is a healthy hobby but when you're too deep into it, you might find yourself investing all of your savings into all the kits and tools you find in the market. What is your workable budget? Compare the products within the budget range and see which one offers the best features that suit most, if not all, of your preferences.
Also, you have to think about the added cost for seed and soil (or soil alternative) re-ordering. Brands will just usually give you a starter pack, after that, you will have to buy the rest. So make sure you include those in your budget.
Conclusion
We hoped that this article helped you find the best indoor garden kits or has sparked your interest in starting this kind of hobby. There are a lot of benefits in growing your own food and you don't necessarily need a big backyard to achieve it. Start on one garden kit at a time. Learn from the experience you've had with one product and try experimenting with other brands, then compare which one suits your gardening best. Or you can just stick to the best one you find.
After experiencing what felt like a sneak peak to an apocalypse, you may have found yourself having the need to gear up for the real thing someday, and that means learning how to plant and maintain your own food supply.
More Reading
Last update on 2023-11-30 / Affiliate links / Images from Amazon Product Advertising API