The beautiful lights of stars and galaxies have entertained humans long before written history. They offer unparalleled beauty and have played a large part in the stories we humans have told for millennia. These beauties help comfort us and produce an inner peace rarely found elsewhere.
With the rise of artificial lights, the stars and galaxies have disappeared from you, leaving us yearning for what once was. This is where galaxy and star projectors shine. Take the great starscapes and bring them inside with the best galaxy and star projectors.
We looked at over 100 galaxy and star projectors to bring you this list of the best star and galaxy projectors! Take a look and bring the final frontier into your bedroom.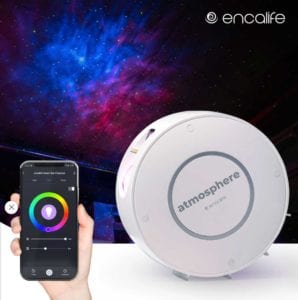 #1.  Atmosphere Smart Galaxy Star Projector
The Atmosphere Smart Galaxy Star Projector is a fantastic galaxy projector that does it all. It projects beautiful star systems in 16.7 million colours all controlled through a smartphone app. This galaxy projector allows you to adjust the brightness and the speed settings offering a level of customisation not found elsewhere.
"Hey Google, set the skies to purple please!". Never lift a finger and adjust the settings using the smart assistant connection. Tell Google (or Alexa) to adjust things to your taste with no effort at all. take your chill to a whole new level! In addition to voice control, you can set the Atmosphere Star Projector to switch off when you do. Connect it to a timer, and it will turn off as you doze off into a deep slumber.
---
#2. Ambience Star & Galaxy Projector
Create the perfect ambience with the  Ambience Star Light Galaxy Projector. With over 21 different lighting modes you'll never get bored with starry nebulas projected across your room.
Fancy a bit of music? Well, this guy has you covered with its built-in Bluetooth speaker. Crack on your favourite chill playlist and get lost in space. Don't worry about moving either! If you need to make any adjustments you can use the handy remote. Feeling even more relaxed, well turn on the sleep timer and this galaxy projector will automatically turn off as you nod off.
---
#3. GSmade Galaxy Projector Light
This  GSmade Galaxy Projector Light is great for adding ambience, most especially when you're planning something special with it like a romantic setting. But it can be used for many other set-ups, like for parties or as a cool backdrop when going live on TikTok or other social media platforms, or even for meditation, as its light effect is very calming.
It's also so convenient to change the light effect (through the rhythm effect) because it can be controlled through its user's voice command. This projector can also rotate quietly, with adjustable customization as to the speed of colour change and its spinning speed.
Its brightness can also be adjusted (via its remote control) from as low as 30% to 100%. Users will have 43 different light effects to choose from with three main displays: the moon, the moon + Ripples, and the Moon + ripples + stars.
Things you need to know: 
It's easy to set up
Make sure you have 2 AAA batteries for the remote
It doesn't have a built-in lullaby
It is not rechargeable
Great as a gift, especially for children
It is not BlueTooth-enabled
---
#4.
BlissLights Sky Lite Galaxy Projector
This Galaxy Light Projector from BlissLights  isone of Amazon's choices for best galaxy projectors, and with good reason. It has been rated over 450 times and scores a very very solid 4.5/5. So people are clearly loving the product and so do we!
A few of the features that make this projector stand out; first, it has a patent-pending effect that projects a stream of stars across a blue nebula backdrop! How amazing is that!
Second, it looks sleek and smarter compared to some other entries on this list. SkyLite has opted for a more min9ilaist approach that can be tucked away in a corner without distracting.
Third, to make it more user-friendly, this galaxy projector comes with a remote control. So can change modes and other settings at the palm of your hand
---
#5. Star & Galaxy Projector Light
The Star & Galaxy Projector Light  also comes with a remote control but offers much more customisation than the Blisslights projector.
It supports three types of colour effects: Mono-colour, bi-colour and tri-colour. It plays around with three main colours—red, blue and green. But with that, it can create up to 30 light combinations with an added LED moon and stars with breathing effects.
Unlike the usual projectors, this galaxy projector has 4 different rotational speeds allowing for the moon, stars, or even a nebula to traverse across your room!
It has a built-in auto-timer as well as a built-in Bluetooth speaker to help lull you to sleep!  On top of that, there are 4 different brightness levels to help create the perfect ambience
#6. Star Projector 4 in 1 Smart WiFi Galaxy Projector Night Light
Ouyulong's Star Projector 4 in 1 Smart WiFi Galaxy Projector  works with Alexa and Google Assistant which makes it convenient for parents to control—or even for kids who are still young to correctly manoeuvre over buttons.
It has two remote controls: The first one is a physical remote control that comes with the package, the other is an app that you can use under Wifi Mode.
It also comes with an auto-off timer wherein you can set it up for 1 hour, 2 hours, and 4 hours before it automatically powers off. It's a great option to have especially when you're trying to entertain your kids until they go to sleep.
It comes with a built-in BlueTooth speaker making the whole galaxy experience more enjoyable. Alternatively, it has a USB port where you can insert a drive to play the music instead.
Things you need to know: 
It doesn't come with an Alexa or Google Assistant device
The projector will automatically shut off after working for 4 hours
It comes with 10 coloured-led lights with dynamic 360-degree rotating fantasy ocean wave projections at different speeds.
---
#7. YunLone Smart WiFi Star Projector
YunLone Smart WiFi Star Projector also works with Amazon's Alexa and with the Google Assistant device.
It has a sleek design with the option buttons located on top under the crystal bulb. Because it's a smart device, it also has many ways to be controlled. The first one is via the buttons on the device itself. The second is through the physical remote control while the third one is through the Smart Life app. And, of course, lastly is through voice command via Alexa or Google.
Also has both the built-in BlueTooth and the USB port for music. It has a unique sound-activated mode that'll flicker along with the beat of the music.
Things you need to know: 
Projects ocean wave galaxy
Alexa or Google Assistance device not included in the package
---
#8. QingHong Galaxy Projector
The Qing Hong Galaxy Projector is quite different compared to the others in this list. It looks different, considering its crystal bulb is not placed outside like a semi disco light. It looks more like a portable and compact LCD projector.
It projects a simpler design with drifting green lights against the blue nebula clouds. It doesn't have many features compared to the rest but it still provides a premium galaxy experience.
A point of difference is the aesthetic, which is more understated and darker. This could be more to some people's tasted who want to get away from the more generic galaxy projectors on this list.
It has simple button controls. Aside from the power button, it only has the brightness adjustment and the start/stop rotating motion.
Things you need to know:
---
Last update on 2021-09-21 / Affiliate links / Images from Amazon Product Advertising API