ⓘ We are reader-supported and may earn a small commission at no additional cost to you if a purchase is made through one of our links.
The safety of your home is one of those things that can never be overstated, all the more so if you live with a partner and have kids running around. To make your household more secure and to deter potential malicious individuals from entering your home, it's never a bad idea to have the best outdoor security cameras available.
That way, you can have a bit more peace of mind when you're away from your residence, especially when the kids are home alone. Plus, in the unfortunate event of a break-in, you'll have a lot of surveillance footage for the authorities to look through.
TL;DR: The #1 Outdoor Security Camera for Most People 👇
You'll also be able to use the camera to get a good look at who's at your front door before opening it. That's a great feature to have given the ongoing pandemic since it's best to keep your distance from people you're unfamiliar with. That being said, if your home doesn't have an outdoor security camera yet, there couldn't be a better time to pick one up.
The Best Outdoor Security Cameras to Buy Today in Australia
1. Best Wireless Security Camera Australia: Eufy Cam Wire Free HD Security 4-Camera Set
For those unaware, the Eufy brand of household security devices is actually owned by Anker – a tech company recognised for its excellent cameras and security products. The Anker eufyCam 2C Pro Wireless Home Security System is a battery-powered home security solution that's exceedingly easy to set up on account of how it doesn't require a dedicated power outlet.
We chose it as our top pick for the best outdoor security cameras because it has advanced security features, large memory, and also offers real-time response through its 2-way audio system. It's completely weatherproof, so you won't have to worry about it being caught in harsher elements and it provides you with crisp 2k video output for a satisfyingly clear image.
Not only does it have its own local storage but it's also capable of storing data in the cloud as well, and it incorporates facial recognition technology and can accept Alexa commands to boot. Unlike most battery-powered cameras that suffer from the need to be charged on a regular basis, this device can last up to a half a year on a single charge, which is pretty insane.
The motion recording feature comes in a bit late as far as capturing footage is concerned and the facial recognition accuracy could use some work, but if a long-lasting battery and top-notch recording quality are what you're after, then the Anker eufyCam 2C Pro Wireless Home Security System can't be beat. Assuming you can afford it, that is.
---
2. Best Value Outdoor Security Camera: Ring Floodlight Cam Wired Pro
Keeping a close eye on your property and keeping your home secure can be easily done with the help of the Ring Floodlight Cam Wired Pro. This camera system allows you to not only monitor what's going on outside your home via the camera that has a 140-degree horizontal field of vision, but you can also illuminate the immediate area with its built-in LED floodlights.
We were particularly impressed with its performance when we mounted it directly above our garage door. The 2000 Lumen LED floodlights illuminated the entire area and also worked in conjunction with the 110dB siren when motion was detected.
This same siren and lighting system can also be used to deter would-be home intruders from trying to enter your home. The video footage captured by the camera of the Ring Floodlight Cam Wired Pro features 1080p HD quality, Colour Night Vision, and Live View.
It also has 3D motion detection and two-way audio that allows you to listen to what's going on outside as well as talk with whoever is outside your home. All of these can be operated via the Ring App that you can download on your tablet or smartphone.
This app also gives you real-time notifications, lets you communicate with visitors outside your door via the Live View feature, and even save videos or photos taken by the camera. Note, however, that the latter will require a subscription to the Ring Protect Plan.
One of the best features of this security system is its customisation options. You can increase or decrease your motion detection zones according to what you want. The range you can choose from is between 1.5 metres and 9 metres. You can also get an aerial view of what's going on around your home with the help of the Bird's Eye View feature.
Connectivity to the device is established via the dual-band connection, which allows you to use either 2.4GHz or 5.0 GHz Wi-Fi. You can also pair this camera and light system with Alexa to give you a better chance of monitoring your surroundings and your home.
You should know, however, that this system is hardwired to your power supply, so any power outages may affect its operation.
---
3. Best for Most People: Arlo Pro 4 Wire-Free Spotlight Camera
Arlo dabbles in all sorts of home security devices, including doorbells and floodlights, but it's their cameras that really put the brand on the map. The Arlo Pro 4 Wire-Free Spotlight Camera is what really caught our eye, with its magnificent 2K recording quality, built-in siren system, and its openness for integration with external systems like Samsung and Apple setups.
Not only does the Arlo Pro 4 have great night vision, but it displays dark footage in colour and it's completely wireless and so easy to install you could practically do it blindfolded. Regrettably, it shares a similar weakness with the Ring Spotlight Cam in the sense that it doesn't have an SD slot for local storage.
This means that you'll either have to pony up for a separate device to store your videos, or you'll just have to give in and shell out $2.99 a month for the subscription service. You'll want to do yourself a favour and subscribe since not doing so robs you of some of the best features the device has to offer, such as smart alerts, advanced object detection, and event history.
As long as you don't mind recurring subscription fees and the complete lack of free video storage, the Arlo Pro 4 Wire-Free Spotlight Camera is the perfect pick-up for sticklers of video quality. It doesn't hurt that it comes with some pretty cool advanced features as well. As long as you subscribe to their plan, of course.
---
4. Best for Video Quality: Ring Spotlight Cam
If the previous three entries on this list are a little too rich for your blood, then the Ring Spotlight Cam might just be a little more your speed. This single-camera battery-powered home security solution couldn't be easier to set up and, just like the Eufy entry above, it records footage in magnificent 1080p, making it one of the best models when it comes to video quality.
It includes one battery in the box, but it can handle up to two batteries so you can always get another one to extend battery life. Plus, that way you'd be able to charge one while the other keeps the camera alive. Depending on how many batteries you've got running the device, it can last anywhere between 6 – 12 months per charge.
The camera features above-par night vision that's good for more than 9 meters and it even includes a surprisingly loud siren and two-way audio as some handy extra features. It provided us with a clear view of the front door area even on pitch-black nights.
And while it's strictly required to actually function, the Ring Cam's cloud service subscription starts at a very affordable $3 which is fairly light on your wallet.
If you're searching for an incredibly easy to install outdoor security camera that sports high definition video recording, some interesting extra features, and a price tag that won't break the bank, the Ring Spotlight Cam might just be your guy.
---
5. Best Smart Outdoor Security Camera: seQuro GuardPro CCTV Camera System Set
No products found.
seQuro is a tech company that specialises in home surveillance and security, with its GuardPro cameras being its main line of products.
What makes the such a great choice is its extremely simple do-it-yourself installation procedure and easy to set up security cameras.
Accessing the devices is effortless as well since you can do so via an app that's available on both Android and Apple devices.
The effective range of the cameras is very impressive, as it reaches up to more than 300 meters without any annoying interference, and the package includes a touchscreen display that also acts as a digital video recorder.
It isn't perfect, however, as the 720p resolution isn't great and the expandability of the system is fairly limited since it won't accept anything that's not seQuro.
All things considered, if an all-in-one DIY security system is what you're after, it doesn't get much better than the
---
6. Best Multipurpose Outdoor Security Camera: Reolink 1080p Indoor/Outdoor Wireless Security Camera
If you want to keep a watchful eye on your property, you should install the Reolink 1080p Indoor/Outdoor Wireless Security Camera. This camera is wire-free, which means you don't have to think about running a connection of wires from the camera to your home.
Since this device operates with the use of its own solar panel, battery, and power adaptor, you don't have to worry about it going off when there's a power outage. You can rest assured that you'll have coverage 24 hours a day, 7-days a week because of this power setup.
Now, let's talk about the camera. It's of such high quality that you not only get crisp and clear videos during the day, but also great footage with its night vision mode. Get maximum coverage and crystal-clear images within the 30-foot range that this camera has, night or day.
This camera system also features a PIR (passive infrared) sensor that alerts you to any motion occurring within the camera's 130-degree range. It can pick up movements made by animals and humans but can also discern movements made by tree branches, the rain, and even the wind, eliminating the possibility of false alerts.
Another feature worth mentioning is the built-in mic and speaker. This allows you to not only listen in to what people are saying within the range of the camera, but you can also talk back when you want to. The camera also has a siren that you can use to scare away critters and people who might be planning on infiltrating your home.
The Reolink 1080p security camera also lets you save any of the videos and motion triggered footage it captures, and you can do this using your local storage (can use up to 128GB SD card) or the Reolink Cloud. Also worth noting is the durability of this system, which is rated IP65 weatherproof, which means it's not that affected by harsh weather.
When it comes to checking on what's going on, you'll be happy to know that you can view video footage captured by this camera anytime and anywhere using your phone or tablet with the use of the Reolink App. It can also work with Alexa, giving you the chance to check live feeds on Echo Dot or Echo Show.
---
7. Best Budget Outdoor Security Camera: TP-Link Tapo Outdoor Security Wi-Fi Camera
Anyone who's used to buying entry level to mid-range computer peripherals is likely familiar with TP-Link – a tech company that has been in the business of creating networking devices and computer accessories since the mid-90s.
So who'd have thought that they'd be so good at coming up with affordable home surveillance solutions as well? The TP-Link Tapo Outdoor Security Wi-Fi Camera is a wonderfully well-priced security device that packs a siren and two-way audio, as well as long-range night vision, all at a price point that the average joe can afford.
Compared to the Ring Spotlight Cam's night vision range of approximately 9 meters, the Tapo can reach up to 30 meters with no problem.  And for people who shudder at the thought of having to pay a monthly subscription fee on top of buying the camera just to store your footage, you'll be glad to know that this little guy has a Micro SD slot for local storage.
Not only will you save money on the device itself, but you'll cut some major costs on recurring cloud payments. Sure, it has its faults. It isn't battery-powered, so you'll need to have a power supply, you won't have the option for cloud storage, and it really doesn't have the same bells and whistles as some of the other entries on this list.
But if a budget home surveillance solution is what you're after, the TP-Link Tapo Outdoor Security Wi-Fi Camera is one of our favourites.
---
8. Best Wi-Fi Enabled Outdoor Security Camera: Genbolt 5MP WiFi Security Camera Outdoor
Claiming the final spot on our list is another modestly-priced camera developed by Chinese CCTV company Genbolt. Their 5MP WiFi Security Camera Outdoor boasts a spectacular 5MP camera (2560x1920p resolution), wireless connectivity, and a coloured night mode that's effective for more than 15 meters.
We only ranked it this far down due to a few drawbacks that we noticed during testing. You should know that this is not a low quality outdoor security camera, it's only that the other models that we tested had more to offer.
It's weatherproof, so you don't have to worry about it taking a beating in harsh weather conditions. Additionally, it features floodlights and a customisable siren that work together to ward off intruders day or night.
The camera is flexible enough to work with Android, iOS, Windows, and macOS operating systems without any trouble and the AI-based humanoid detection attempts to limit false alarms by spotting only human-like movements.
However, we noticed that the motion detection function is a kind of hit-and-miss, but where else are you going to find a 5MP security camera for a price like this? Also, this is not a battery-powered device, so we had to plug into a power source.
---
How We Researched the Best Outdoor Security Cameras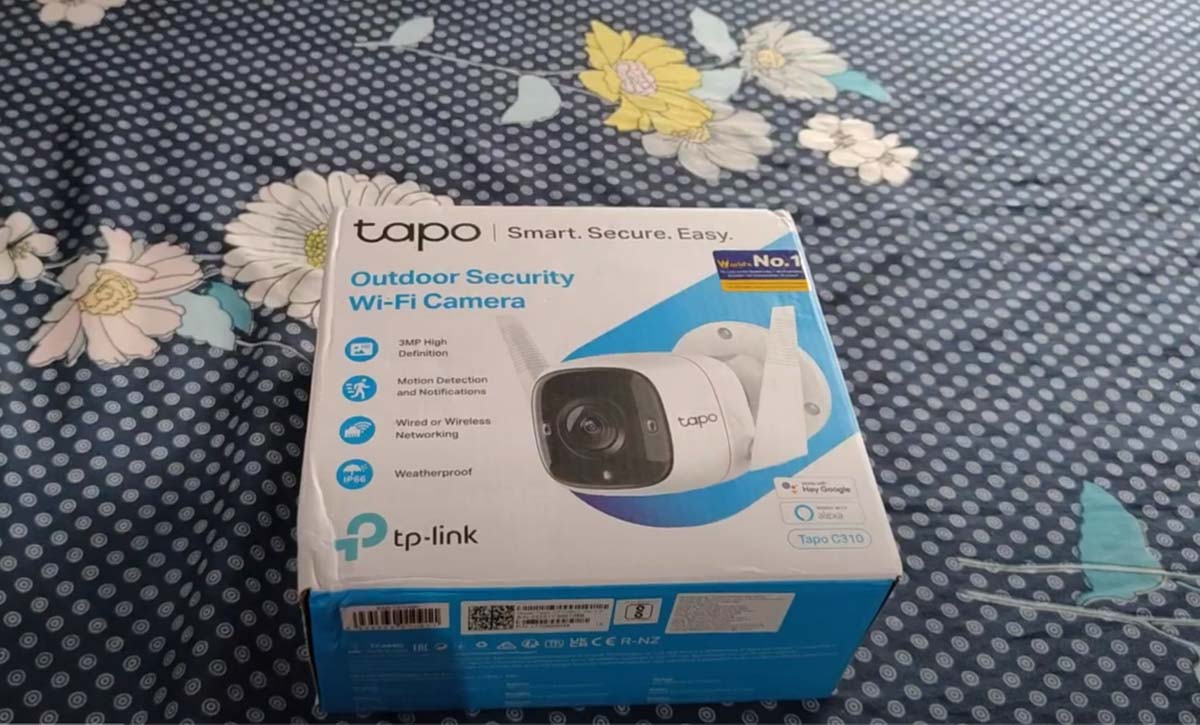 We picked 8 of the best outdoor security cameras we could find in Australia and tested them over a period of five months. The cameras were tested in two phases—we assessed four cameras during the first two months and then proceeded to the remaining four.
Our team spent the fifth month comparing the data that was collected during the testing period. Each test model was placed at different points around our Melbourne home to test for image quality, field of view, and night vision.
All the cameras were mounted at the exact same spot for consistency. We tested each security camera for a week, changing the mounting locations as required. The first camera that we tested was mounted directly above the main door to see how well it captured the faces of family members and friends.
After collecting the data, we mounted the camera in the corner of our porch, directly facing the entryway. Next, we placed it above the garage door and the backside of the house. We did this for all test models and compared the results to identify the best performing outdoor security camera.
Testing the Wi-Fi enabled models was rather challenging since we couldn't get a stable signal for all the mounting spots, so we had to buy Wi-Fi extenders. We also downloaded the app for each camera and compared the user interface and resolution for each test model.
If you know a thing or two about home security cameras, then you must be aware that it's not always about image quality. That being said, we also considered the security level of each camera to prevent possible cases of hacking.
Outdoor Security Camera: Buying Guide
Setting up the right security system for your home can be a pricey endeavour and finding a quality outdoor security camera that suits your property's needs can set you back quite a bit of coin. While we're unshakably confident with our choices in this list, there are still tons of great cameras out there worth your time.
Whether you decide to invest in something we chose or plan on purchasing a different device entirely, there are a few factors to consider before finally taking the plunge. It's important that you're fully aware of the needs of your home and area prior to making a decision that could potentially affect yourself and your entire household.
What Do You Need An Outdoor Security Camera For?
One of the more overlooked questions you should ask yourself before purchasing an outdoor security camera is regarding your purpose for setting up the device in the first place. One of the first things that come to mind is to protect your home from potential break-ins and malicious intruders.
So you have to do your homework and find out if this is a common threat where you live, or are you more prone to dangerous animals wandering into your yard to rummage through your garbage? For the latter, you're probably better off choosing an outdoor camera that offers powerful floodlights and a frightening siren to scare the animal off.
Where you plan on setting up the camera is vital as well. Positioning the device overlooking your likely well-lit front porch means that it isn't particularly important for the camera to have its own dedicated light source while using the device to monitor darker areas like your backyard would require excellent night vision and probably some competent floodlights.
Why You Should Buy Outdoor Security Cameras
According to Knoema, Australia has a home burglary rate of 674.9 cases per 100,000 population, putting it as the 7th highest in the world. Of these break-ins, 70.8% have possessions stolen, and 11.8% result in a confrontation. (Source)
Outdoor security cameras are an excellent deterrent as well as an excellent source of evidence. If you are concerned about home security then it's hard to look past the advantages outdoor security cameras can offer.
What to Look for When Buying an Outdoor Security Camera
The most important thing about buying an outdoor security camera is the features that'll make it effective in your particular home and setup. Here are a few things that you will want to familiarize yourself with:
The Importance of Video Resolution
Video resolution is undoubtedly one of the more important aspects of a security camera since that often directly correlates to a clearer image and you'll definitely want crisp footage when you're monitoring your home.
While this idea might tempt you into immediately going for the highest resolution security camera money can buy, this is a bit misleading since these devices don't often film at their maximum potential. After all, modern security cameras rely on our home WiFi which isn't always running at its best speeds. As a result, you might end up with degraded footage, in which case that 5MP gadget really didn't amount to much.
That's why it's equally important to invest in a camera with flexible video resolution. That way, the device is better equipped to handle WiFi fluctuations, leaving you with overall better recording quality even if the resolution isn't exactly high definition.
Night Vision
As previously mentioned, the area you plan on surveilling should play a big part in the kind of camera you end up buying. Darker areas of your property like the sides of your house or your backyard probably wouldn't be nearly as well-lit as, say, your front porch.
For places like this, it's critical that you choose a model that features great night vision properties so that your footage comes out clear even without a nearby light source. The TP-Link Tapo, for example, has an effective night vision range of 30 meters, making it perfect for bigger yards that other models might struggle to monitor.
Motion Activation
What's the point of a security camera if it doesn't wake up fast enough to capture the things it's meant to? That's why you should properly look into how effective the device's motion activation really is. Some devices suffer from a few seconds of lag before they begin recording, and this little bit of time can sometimes mean the difference between catching the culprit on tape or missing them entirely.
Two-Way Audio
A built-in mic and speaker have become the norm in modern security cameras, allowing people to listen in on what's happening outside and make their voices heard from wherever it is they're watching from. This can be a very effective way to deter criminals, as there's nothing quite as shocking as hearing a person scream when you're trying to sneak your way into a seemingly unknowing home.
It's also a nifty way of communicating with whoever is in that area without having to go all the way out there, like if you want to call the kids in for supper while they're playing in the yard. Some camera models include a built-in siren that acts as an alarm to surprise intruders. The Genbolt one sounds like a barking dog, which sounds pretty funny on paper but it's actually rather terrifying for someone who isn't expecting it.
Types of Video Storage
For security cameras, storage types fall under two different categories, local and cloud. Local storage entails the use of a physical storage medium, such as a memory card or hard drive, in order to house all the footage that your device records. Cloud storage, on the other hand, works by uploading your recordings to an online server where you can access them through an internet connection. Most brands will require you to buy into a monthly subscription to use this service.
It's worth noting that the higher your camera resolution is, the larger the recording will end up being and, in turn, the more storage you'll need to house them. This means larger (and more expensive) memory cards for local storage or more storage space in your cloud server.
Companion Apps
These days, most security cameras come with companion apps of various qualities, giving you the ability to conveniently access your camera's footage from the comfort of your smartphone, PC, or laptop. Not all companion apps are created equal, however, as some are more polished than others and contain more useful extra features.
Having said that, you should definitely look into how well-developed the app is for the device you are eyeing and check if it's even compatible with your smartphone or computer to begin with.
Wired vs Battery-Powered
Wired and battery-powered cameras each have their pros and cons. The latter is usually far easier to set up and can be placed pretty much anywhere you want, but you'll have to take them down for a charge every now and then which can be a hassle. The Reolink Argus Eco might be an exception, though, since it comes with a solar panel that can potentially keep your device charged forever.
In contrast, wired cameras need to be set up near a power source, which is pretty limiting, but you never have to worry about them running out of juice all of a sudden/
Brand Names Carry Weight
There certainly are exceptions to the rule but it's generally safer for a brand name that's popular and tried and tested, versus trying your luck with a relatively obscure piece of equipment. You'll probably end up spending more, but it's a warranted expense that generally results in better quality, after-sales support, and longevity.
But if you're dead-set on rolling the dice with a lesser-known brand, make sure to dive deep into the customer reviews and see what the people have to say.
---
You may also be interested in:
Last update on 2023-12-02 / Affiliate links / Images from Amazon Product Advertising API