ⓘ We are reader-supported and may earn a small commission at no additional cost to you if a purchase is made through one of our links.
The best video doorbell cameras offer added security and unbeatable convenience. They allow you to see who is at your door without even being in the country and offer a strong deterrent to potential intruders or porch pirates.
So, say goodbye to salespeople offering random insurance products or parcel delivery guys arriving at the most inopportune time, and say hello to a life free of door dilemmas.
TL;DR: The #1 Video Doorbell for Most People 👇
The Best Video Doorbell Cameras Available to Buy Today in Australia
1. Ring Video Doorbell 4
The Ring Video Doorbell 4 is by far the best doorbell camera on the Australian market and is a big upgrade over previous Ring products, which were already excellent.
This iconic product has been upgraded in almost every way. The 1080p camera is impressive and more than capable of serving the purpose of identifying who's at your door. The 160-degree FOV is also impressive gives you a wide coverage of your property. This is further complemented by its ability to record in full colour.
There are of course the usual features found on the best doorbell cameras, like two-way audio for speaking to the delivery person, instant notification sent to the device of your choice, and the ability for visitors to leave a message if you're out of the home.
And don't worry about connectivity issues. The Ring 4 is now dual-band Wi-Fi capable of ensuring a reliable, long-range, and strong connection regardless of the weather. This is a new feature in the Ring product line and welcomed one for anyone struggling to get a consistently good and reliable connection.
Installation couldn't be any easier! Ring has designed the Ring 4 with the ability to connect to your preexisting doorbell wires, or just use the included rechargeable and removable battery. Simply mount the Ring 4 where you want it positioned, and you're good to go! The battery can last for months and months with a few tweaks to settings, like setting to stop recording the moment no movement is recorded.
Ad if you never want to have to charge the removable battery you should consider picking up the Ring Solar Panel!
---
2. Eufy E8210CW1 Video Doorbell
The Eufy E8210CW1 Video Doorbell may lack the big brand recognition of Ring but it makes up for it in terms of features and specs, making it more than worthy of its position on this list.
Its biggest advantage over Ring products is the included HomeBase which acts as a highly secure localised storage of recordings. This removes the need for the monthly subscription Ring offers. The HomeBase is also able to connect to up to 16 different Eufy devices for those who want to expand their home security.
Another area where this product excels is with the camera itself. The 2k resolution is one of the best on the market and arguably a little bit overkill, but a nice touch nonetheless. The downside is of course the amount of storage required. It requires twice as much storage as a 1080p clip, so there is a bit of a trade-off.
It must be noted that despite the excellent camera, there is a slight delay when communicating from a phone to the doorbell camera. The video and audio feed takes a few seconds to load and then there is a bit of latency communication. It isn't a deal-breaker, but it could be smoother.
However, despite these minor downsides, the Eufy E8210CW1 Video Doorbell is a quality product that excels in many areas. The customised detection zones are a great feature that limits the motion detection to only alert you if movement is seen in a designated area and its ability to connect to a smart assistant like Alexa and Google Home is very welcomed!
---
3. Ring Video Doorbell 3
The Ring Video Doorbell 3 may not be the newest kid on the block this doorbell camera is certainly still one of the best. It was the first doorbell camera to have the pre-roll feature, which is still rare to this day.
There's a reason the Ring became the defacto doorbell camera, and that's because they have excellent feature lists, look great and "just work. And the Ring 3 continues that trend. It offers a marked improvement over its predecessors like a much easier installation process, a cleaner aesthetic, better motion detection, and adjustable motion detection zones.
The video captured is of very high quality and with a 160-degree field of view, you'll be able to capture a large portion of your driveway or porch.  This ensures that package deliveries will likely be within the frame and help track down any porch pirates. The night vision is surprisingly good and is easily clear enough to identify those who come to your door.
The app is excellent in terms of setting up the device, managing the device, and communicating with anyone at your door. There's a lot of customisation available from setting up the motion detection zones, setting up person detection mode, and even blanking out parts of the vision to prevent the recording of property that isn't yours.
Overall, this is still an absolutely brilliant doorbell camera, that may not be the best on the market anymore, but still excels in many areas and offer good value for money over new products.
---
4. Arlo Essential Video Doorbell Wire-free
The Arlo Essential Video Doorbell Wire-free is another great alternative to the popular Ring products. It may not have heard of Arlo before but they have an excellent pedigree in the home security space, and in particular in the camera systems. The same quality found throughout their product range is also present in the Arlo Essential Video Doorbell.
This is a battery-operated video doorbell which makes it easy to install, but the drawback is that the unit itself is bigger. However, this really isn't an issue for most people, since after all, it's just a doorbell. Despite the size, it still looks the part and will look smart next to most people's front doors.
But, you're not researching video doorbells for looks, you want convenience and added security. Well, this is an area where Arlo shows its strengths. The motion detection is excellent and can be easily customised through the app to only monitor certain zones. Even at night, the camera can record in full color, which is rare in this space.
Another advantage Arlo offers over most other doorbell cameras is its' horizontal and verticle field of view. This means it captures much more of your property and almost guarantees that any parcels left are within view, even if left very close to the front door.
This is a no-brainer purchase if you're already part of the Arlo ecosystem, but is still well worth your consideration even if you're just entering the smart home security space.
---
5. XTU Video DoorBell Camera
The XTU Video DoorBell Camera is another great doorbell camera that offers all of the features you would expect for any quality product in this category. This is another wireless variant that is incredibly easy to set up, with the only downside is having to occasionally recharge the battery.
This doorbell camera can go up to 5 months on a single charge with lower usage and stated a minimum of 3 months on max settings and normal usage. So although you will have to charge the battery, it will only be a few times each year.
The 2k resolution puts it up there with the EUFY doorbell cameras and beats both of the Ring doorbells on this list. There's also an excellent night vision mode that provides surprisingly good clarity even in low-light environments. There's an impressive 166-degree FOV which is beaten by other systems on this list but is still good.
Of course, there is a two-way audio function so you can chat to the Uber Eats delivery person without having to see them after you order way too much food. And if for some reason you want to make a montage of your deliveries you can store the video on an SD card straight from the doorbell camera.
---
6. Amcrest SmartHome Video Doorbell
The Amcrest SmartHome Video Doorbell moves us into the budget video doorbell space so it's a bit lighter on the features for it to remain economical. However, it's still a very viable option for those who want the basic functionality that this product offers.
It still easily fulfills its purpose as a video doorbell camera system and can offer a 1080p resolution and a 140-degree FOV. The built-in microphone is surprisingly clear and the app works surprisingly well too. Another surprising inclusion for the price point in the night mode, which is capable of viewing people up to 16ft away.
There's the option to store a recording in the cloud through the Armcrest smartphone app, or by adding an SD card into the device itself. Either way accessing your footage is very easy and intuitive through the app.
It must be noted that this is a wired-only version and has no battery, so make sure you have the correct wiring in place before purchasing this product.
So, if you're in the market for a budget doorbell camera, this could be the one for you!
---
7. ZUMIMALL WiFi Video Doorbell Camera
The UMIMALL WiFi Video Doorbell Camera is another budget option, but this time gives the flexibility of coming in both a wired and wireless version. Again, despite its low cost, this guy still packs a serious punch.
Its built-in rechargeable battery has a 6600mAh capacity which is good for around 205 months of use without the need for a recharge, although 5 months seems a bit optimistic. Although, it should certainly be good for at least 3 months even with heavy use.
The 1080p camera is more than capable of delivering good clarity video through to your phone and the two-way audio is relatively high fidelity for a budget product. There's also the ability for people to record a voice message if you're away from home and your phone,
There is the option to store footage in the cloud if you so choose, but there's also the option to store the recordings on an SD card straight from the doorbell. Amazingly, a 32GB SD card is included with the purchase and already inserted, which is more than can be said for some other doorbell cameras.
Overall, this is a top buy if you're on a budget and want a budget wireless doorbell camera. Sure it lacks some of the premium features, but if you don't need them, why spend more!
---
How We Researched the Best Video Doorbell Cameras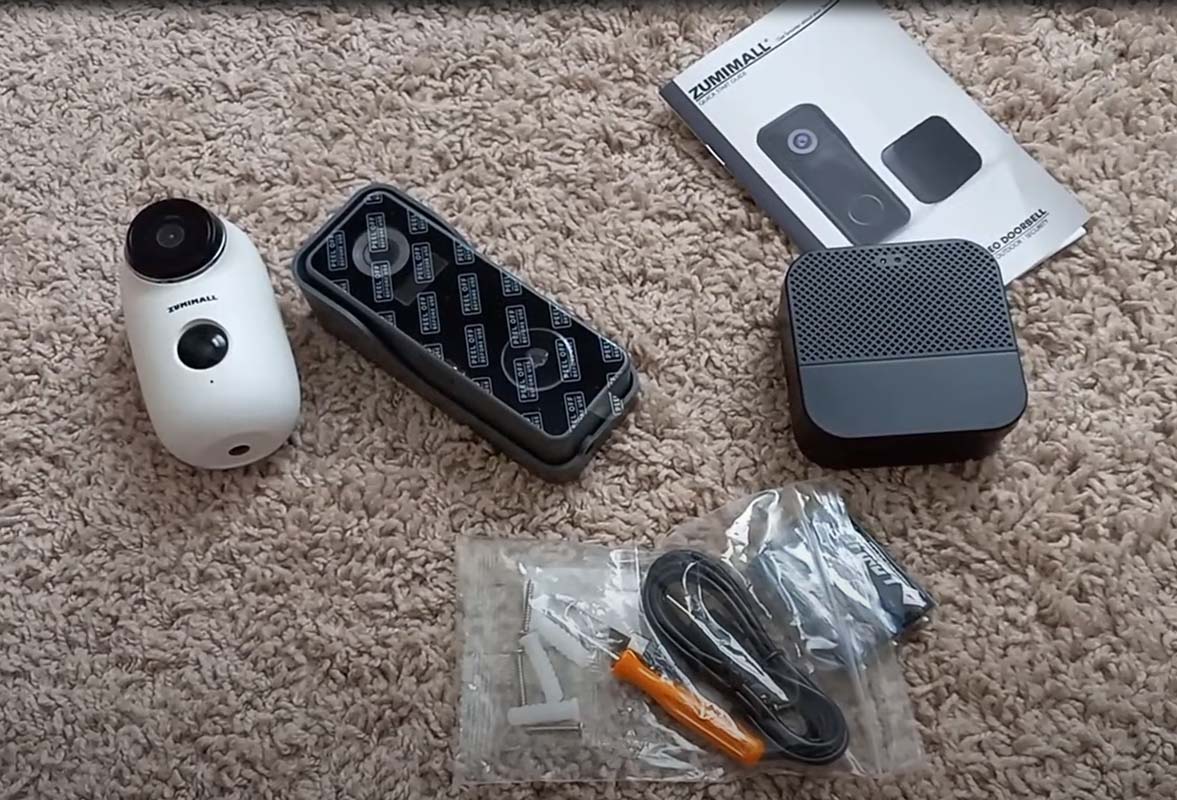 We looked at 34 different smart doorbells when researching for this article. We looked for different products across marketplaces like Amazon and Catch, major retailers like JBHi-Fi and the Good Guys, as well as independent brands.
With these 34 different products, we then looked at their features, specs, customer testimonials, and reviews from other trusted platforms like CHOICE, which is Australia's leading consumer advocacy organisation, and well-respected review aggregators like productreview.com.au.
We took all of that into account and removed any obviously poorly reviewed smart doorbells until we were left with a list of 14. The 14 video doorbells remaining were then put against one another in a head-to-head, with the loser being removed from the list.
Video Doorbell: Buying Guide
Before securing your home with a doorbell camera make sure that you understand what you're buying, what to look for, and how they impact home security.
What to Look for When Buying a Video Doorbell Camera System
The features define the quality of video doorbells and should be considered when making a purchase:
Resolution
Camera resolution plays a large role in being able to monitor who is at your door and capturing recordings that are able to identify what's actually going on. These days it's hard to find a camera with less than 1080p with some doorbell cameras using 2k cameras.
1080p is more than capable of providing enough clarity for the vast majority of cases, but if you want more, buy a doorbell camera like the Eufy E8210CW1 Video Doorbell.
Field of View (FOV)
Field of view is another important aspect when it comes to capturing footage. It determines wide of an angle the camera is able to capture and typically refers to the horizontal plane, although some cameras like the Arlo Essential Video Doorbell specifically mention verticle as well.
Usually, the FOV will range from 140-degrees to 180-degrees on the verticle plane, with the horizontal plane being much more limited, except in the case of the Arlo, which offers 180-degrees in both directions.
Storage
There are two options when it comes to storage, cloud and local. Cloud storage usually requires some form of subscription, typically priced at a few bucks each month and localised often come in the form of an SD card, but some cameras like the Eufy E8210CW1 Video Doorbell come with a station with a hard drive.
It's really up to your preference and budget. Cloud storage is great if you never want to have to think about running out of space and are happy to pay a monthly fee, and local storage is great if you're happy to free up space from time to time.
Two-way Communication
This is a critical feature that all of the best doorbell cameras include. Essentially a microphone and camera will record the person and send the feeds to a device of your choice. Some systems are a little bit laggy and others offer great clarity and low latency like the Ring Video Doorbell 4.
Do not purchase a system without this feature otherwise, you may as well just buy a camera instead.
Smart Home Intergration
The majority, but not all video doorbells can integrate with popular smart home systems like Alexa and Google Nest. This means you'll be able to listen to recordings through smart speakers and even have two-way communication from smart speakers.
Installation
Most brands make it incredibly easy to install their doorbell cameras and often include the tools and brackets with the device itself. Typically it will take no longer than 20 minutes to install if you have even a little bit of experience with this type of thing.
Wireless doorbells are much easier than wired variants since they have their own built-in battery and don't require any wiring whatsoever. Whereas wired versions take advantage of preexisting doorbell wires as a source of power and therefore require some wiring to set things up.
Cost
Ultimately everyone has a budget and in this space, you get what you pay for. However, there are some excellent budget options around the $150 mark but expect to pay closer to $400 for a top-of-the-range model.
What are The Benefits of Owning a Video Doorbell System
There are numerous advantages to owning a video doorbell from convenience to security. Both are highly valued and offer a lot of quality of life improvements over traditional doorbells.
See who is at your door from the safety of your couch
You never who could be at your door, and at nighttime, it could be potentially dangerous to take a look if you're not expecting anyone. Instead of having to check in person or worry without looking, you'll be able to get a nice clear picture of who it is.
Organise parcel deliveries better
When the AusPost guy finally arrives after weeks of delays, you'll be able to instruct them where the best place to leave the parcel safely is. Usually, if you're away from home, they'll leave a note and leave it with your parcel. Not anymore.
Protect parcel deliveries
If the porch pirate walks up to your parcel and sees a doorbell camera, well chances are they'll leave it alone and do a quick u-turn. If they don't see it or simply don't care, well you'll have a 1080p video of them committing a crime.
---
You may also be interested in:
Last update on 2023-12-02 / Affiliate links / Images from Amazon Product Advertising API