ⓘ We are reader-supported and may earn a small commission at no additional cost to you if a purchase is made through one of our links.
If you are looking to protect your valuable items, you need to invest in a high-quality safe that can take a beating from burglars. In addition to this, the safe in question should be resistant to both fire and water. This will ensure your precious items are kept safe in case of an accident. A good safe can securely store your jewellery, personal documents, cash, passport, laptops, etc.
Moreover, some safes are compartmentalised and will allow you to organise your valuables according to your preference. Safes are not only designed for keeping high-value items safe. They can help keep strong medications and dangerous weapons away from children. If you intend to store extremely valuable items, you should go for a TDR safe.
TL; DR: The #1 Safe for Most People 👇
However, if you are looking for a standard safe for your home or office, this guide can help you get started. It lists 6 of the best safes that you can find in Australia. Additionally, there is a buying guide at the end that can assist you during the selection process. If you are unable to read the entire article, the links below can direct you to the safe that you want:
The Best Safes to Buy Today in Australia
1. Best Overall: SentrySafe X125 Security Safe
Our top pick for the best safes in Australia is the SentrySafe X125 Security Safe due to its robust steel construction, large capacity, concealed hinges, and removable shelving. This safe is built with the safety of your precious items in mind, so you can go for it knowing that your valuables will be well protected.
The walls are constructed from thick steel to ensure no one cuts through the safe, while the door is fitted with two high gauge live-locking bolts for maximum protection. Since the bolts secure both the upper and lower sections of the door, burglars will have a hard time breaking into the safe.
Also, the door hinges are concealed, making it virtually impossible to pry the safe open. The electronic lock system provides you with an extra layer of security against unauthorised access. You can program the digital keypad with a security code of your choosing.
Once the bolts are engaged, you won't be able to open the safe unless you key in the correct code. The keypad has three indicator lights that will let you know the current state of the lock. There is also a knob that will make your work easier when opening the door.
The lock system is powered by two AA batteries that you can easily get from the local stores. To make it even better, this home security safe has shelving that you can remove should there be a need to do so. With the shelving in place, you can organise your valuables categorically for neat storage.
What's more, the interior of the safe is carpeted to safeguard fragile items against scratches. This makes the SentrySafe X125 an ideal security safe for storing jewellery, laptops, and any other item that can easily acquire abrasion marks.
The power cord access hole enables you to juice up your rechargeable devices even when they are in the safe. Although this feature can come in handy, we didn't find it practical. The safe comes with mounting hardware, so you can anchor it to your floor, on a shelf, or in the closet for added theft protection. This way, burglars cannot easily carry away the safe.
Furthermore, it weighs approximately 12.2 kg when empty, thus making it even more difficult to lift. On the downside, this security safe is not fire resistant nor is it waterproof. All factors considered, the SentrySafe X125 is a reliable basic security safe that can help keep your valuables safe.
---
2. Best Value: RPNB RP42ESA Deluxe Safe and Lock Box
The RPNB RP42ESA Deluxe Safe and Lock Box shares several similarities with the SentrySafe X125, so you can go for either of the two if you are spoilt for choice. However, this safe is slightly larger than the X125 and also more affordable.
Down to the features—this unit is equipped with an easy-to-use electronic lock system that will give you quick access to your valuables. Plus, the keypad is fully programmable, meaning you can set a security code that you want.
To add to this, the locking system gives you the option of choosing an access code that is three to eight digits long, so you are the one to choose. On top of that, the door is 4mm thick and is made of tough steel to limit access into the safe by unauthorised persons.
The walls and the live-action bolts are equally thick, so you won't have to worry about forced entries. You will be happy to know that the safe is mountable. And the fact that it comes with pre-drilled holes makes it even more convenient.
You'll require 4 AA batteries to operate the digital panel. The safe is separated into two compartments with a detachable shelf that you can take out. This will enable you to customise the available space according to your storage needs.
The keys on the digital panel are designed such that they don't generate noise during usage. Hidden under the cover with the RPNB logo is an emergency lock system that can prove helpful in different scenarios. You can make use of this feature when the batteries run out of power.
Simply insert the override key that comes with the safe and you will be good to go. After turning the key, ensure that you turn the knob clockwise to disengage the bolts. The same applies when using a code. To top it all up, the safe comes in a range of sizes for different storage needs.
---
3. Best for Most People: Sentry Safe X055 16.4L
If the X125 is too large for your needs, the Sentry Safe X055 16.4L can be a great alternative. This security safe is built from reinforced solid steel to ensure your items are kept safe at all times.
Even though it is not fire-resistant or waterproof, the X055 can take a beating. And like most safes in this guide, it features two action bolts that are strategically placed to keep the door shut. Additionally, the hinges are neatly tucked away for improved security.
Attached to the door is an ergonomic knob that will give you easy access to the contents of the safe. The good thing about this safe is that you can mount it on a wall. Moreover, the back panel has holes through which you can insert the mounting hardware.
Ensure that you check the structural integrity of your wall before mounting the safe to avoid complications. Due to its size, we recommend that you use this safe for storing small items. The interior has a soft lining that will keep your valuables scratch-free throughout the period that they'll be in the safe.
With the pry-resistant door in place, you can use this safe with no worries. The lock system allows you to create a personal 1-8 digit security code for secure access. You can always use the included master keys if you forget the access code or the battery is depleted.
One thing that we didn't like about the safe is that it's not as heavy compared to most safes in its class. This means a burglar can easily carry it from your premises, and that is why we highly recommend that you bolt it down using the mounting hardware provided by the manufacturer.
---
4. Best Mid-range Safe: RPNB RP25ESA Deluxe Safe and Lock Box
RPNB provides you with yet another reliable safe that you can use in the office or at home. The RPNB RP25ESA Deluxe Safe and Lock Box is no different from the RP42ESA. However, this model takes up less vertical space than its counterpart.
The two live-action latches on this safe are not only made of premium-grade steel but also reinforced to give your precious items the best security during storage. You can only disable the latches using the emergency override keys or a set 3-8 digit security code of your choosing.
Both the walls and the door are thickened to prevent forced entry. This safe is quite spacious with interior dimensions of 247mm (H) ×347mm (W) ×190mm (D). Also, you can remove the shelf to create more room, especially when storing large items such as laptops.
Since the safe weighs approximately 8 kilograms, the package is inclusive of heavy-duty mounting hardware that can help anchor the unit to the floor or wall. Besides, the safe has holes at the bottom and on the back, so it is up to you to choose the most appropriate setup during the mounting process.
When properly installed, the safe won't budge during an attack. But that is not all; the keypad has a silence button that allows you to mute the audible key sounds made by the safe. The electronic panel requires four AA batteries and is also energy efficient.
As such, you won't have to replace the batteries frequently. This may, however, vary depending on the brand of batteries that you are using. If you are looking for a mid-range safe, the RPNB RP25ESA can be an ideal pick.
---
5. Best Compact Safe: Lockguard S17ET 6.1L
Built from high gauge steel, the Lockguard S17ET 6.1L is both tough and durable. The walls are 2mm thick, thus making it difficult to cut through the S17ET.
Fitted with a 4mm thick steel door, this is one of the best mini safes that you can buy. All the parts are firmly fused to ensure the safe stays in one piece when exposed to destructive forces. Despite its small size, the safe has a dual bolt locking system that secures the door in place.
Similar to most safes that we have covered in this guide, the hinges on the Lockguard S17ET are purposely concealed to prevent break-ins. The combination lock allows you to create a 3 to 8-digit code that you can use for securing the safe.
Much like the security safes before it, this unit features a pry-resistant door that can withstand just about anything that a burglar may throw at it. Upon purchase, you will get mounting bolts that can help you fasten the safe to a shelf, wall, floor, etc.
And because the safe is pre-drilled, all you have to do is assemble the mounting hardware. The auto-locking function will be automatically engaged when you key in the wrong security code thrice. Since it has a low-profile design, the safe does not take up a lot of space.
Its sturdy steel structure will provide you with long-lasting service, so you can buy this safe having the assurance that you won't have to replace it any time soon. Our only gripe is that the safe is rather lightweight, meaning someone can easily lift it during a burglary.
To avoid this, ensure that you fasten it to a solidly built surface. Alternatively, you can conceal it inside a wall or floor. The Lockguard S17ET can particularly assist those with limited storage space.
---
6. Best Portable Safe: SentrySafe Fire Safe
Not everyone needs a mountable safe, at times you just want a portable lock box that you can take with you to wherever the work may take you. And that is exactly what the SentrySafe Fire Safe offers.
Despite its position on the list, it is more secure compared to most security safes on the list. The safe is durably built from high-quality materials that you can count on in all scenarios. Best of all, the safe is fire resistant and can withstand an 843°C flame for up to 30 minutes.
And if that's not enough, the CHW20121 is waterproof and can protect your documents for up to 72 hours when submerged. This makes it ideal for everyone who lives in flood-prone areas. Unlike the safes that we have listed above, this unit does not have an electronic lock system.
Instead, it uses a tubular lock system that will give you quick access to the safe. The safe comes with two keys, so you can always keep one in case you lose the other. Additionally, the lid has straps that will secure your documents in place.
That said, the contents of the safe won't move about during transit. This safe has a strong carrying handle that will simplify your work. Weighing less than 10 kilograms, the SentrySafe CHW20121 is one of the lightest security safes on our review list.
Also, it measures 39.12 cm x 36.32 cm x 16.76 cm (L x W x H) and can easily fit inside a standard-sized suitcase. By using this unit, you can safely store your passport, digital media, birth certificates, heavy medications, and any other small item that you wouldn't want other people to touch.
---
How We Researched the Best Safes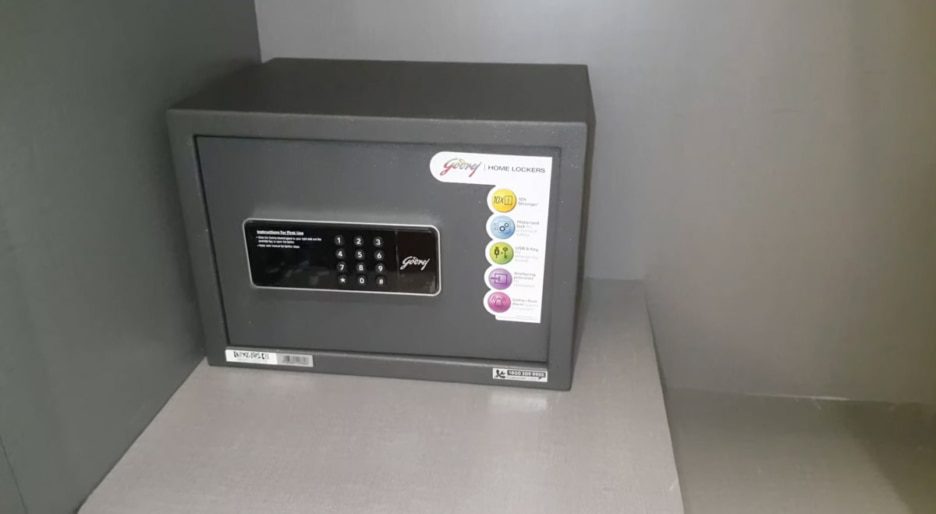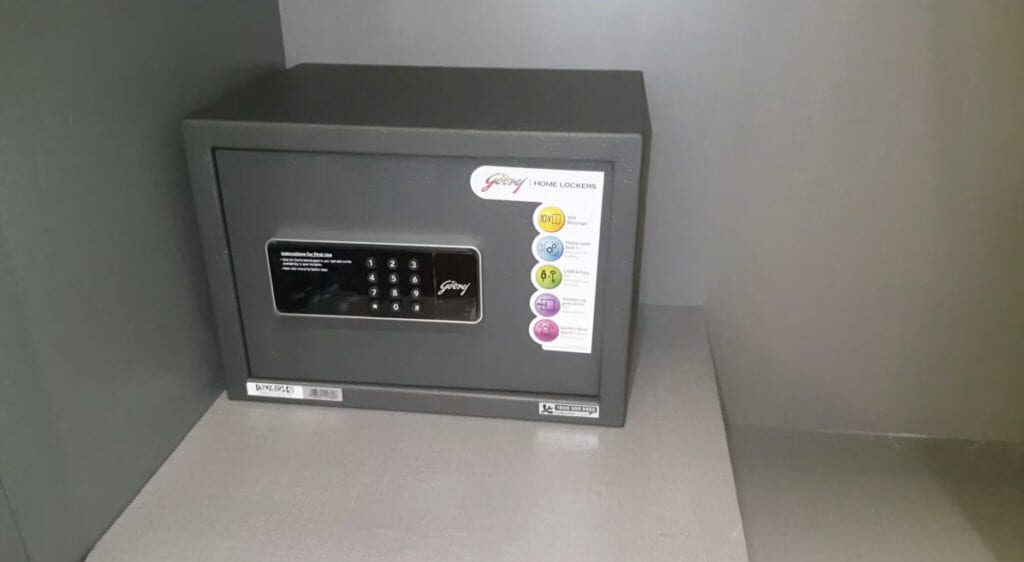 We spent several hours researching the best safes in Australia, consulting professional review sites, and reading through independent customer reviews. Also, we visited local e-commerce stores such as Officeworks and Bunnings. This made our search a bit easy as we were able to identify some of the safes preferred by Aussies.
From this, we created our first list, which consisted of 11 safes from 5 different brands. We then made comparisons and analysed the safes based on Build quality, Size, Cash rating, Locking mechanism, Fire rating, Weight, Price, and Water resistance. This allowed us to cross off safes that did not tick all our boxes.
We were left with 8 safes which we further assessed, taking into account brand reputability, material thickness, and theft protection. As a result, we removed two more safes from the list, leaving us with the 6 best safes that we ranked based on the ratings and reviews left by customers on Amazon Australia.
Safes: Buying Guide
There are several factors that you need to think about when buying a safe for your office or home. Besides, these pieces of equipment are not similar in terms of build quality and security level. That said, some safes offer better security than others and are also more durable.
You should therefore make it your goal to ensure you buy a safe that is not only functional but also reliable. Finding the best safe is, however, not easy since there are countless options to choose from. Additionally, every safe manufacturer out there claims to be the best, so it can be hard to tell which one is genuine.
With so many things to keep in mind, your search for the best safe can quickly turn into a stressful and frustrating experience. And that is why we created this detailed buying guide to help you find the top-rated safes Australia has to offer.
What to Consider When Buying a Safe
To get value for your money, ensure that you buy a safe that fits your budget and needs. You can only achieve this through an in-depth analysis of the safes currently available in the Australian market. The below-listed factors can help you assess the best safes in Australia:
Build quality
The first thing that you should take into consideration when buying a safe is how well the unit is built. As the name implies, a safe is designed to keep your valuable items safe, so ensure that you buy one that can properly serve this purpose. When it comes to build quality, you need to consider the type of material used in making the safe.
Most safes are made of solid steel due to its high yield and tensile strength. You should also consider the thickness of the walls and the door as this will determine how secure the safe is. Bear in mind that a safe can only withstand a beating depending on its thickness. This means a safe with a thin door and walls can easily be broken into compared to one with thick walls.
A good number of home safes have a rating of TL-30 or TL-15. The first two letters are an acronym for Tool Latency which stands for how well a safe can resist hand tools, while the numbers represent the number of minutes the safe can withstand an attack. Experts recommend that you go for a safe with a higher rating, especially when protecting high-value items.
Safe size
Ensure that you pick a safe that offers enough space for all the items that you want to store. If you are looking to store several items in one safe, you need to buy a large capacity unit. You also need to check if the safe is compartmentalised. This will allow you to organise your items according to your preference. You should also account for the external measurements of the safe.
Cash rating
This refers to the value of items that you can securely keep in your safe. It also indicates the amount your insurance company will pay back if the items in the safe are stolen during a burglary. However, not all safes have a cash rating. To get maximum security, ensure that you buy a safe with a high cash rating.
Locking mechanism
Safes feature different types of locking systems. You can buy a safe with a digital lock pad, biometric lock, or manual key. Some models have combination lock systems, so you are the one to choose the locking mechanism that suits you. Most people prefer digital safe locks because they are easy to use and equally reliable.
Fire rating
A good safe will not only protect your valuable possessions from burglars but also safeguards them against fire. Fire-resistant safes are designed in such a way that the contents will stay in one piece even when the temperature around the safe is extremely high.
Even so, the items are still likely to burn if the temperature of the fire exceeds the recommended limit. Some safes can withstand fire for up to an hour or more, while most only offer protection for up to thirty minutes. This may vary depending on how hot the fire is.
Water resistance
Aside from the fire rating, you need to check if the safe is water resistant. This feature can prove helpful when you are putting out fire around the safe. A safe with high water resistance will ensure your items don't get soaked when the unit is exposed to wet conditions. If you live in an area that is prone to flooding, a water-resistant safe may just be what you need.
Weight
As stated earlier, a well-designed safe should have thick walls and a heavy gauge door that cannot be easily broken into. Safes with thick walls tend to weigh more than their thin-walled counterparts. Heavy safes are highly preferred because they cannot be easily carried by burglars.
If you opt for a lightweight safe, it would be wise to anchor it to the wall or floor for extra security. However, if you need a portable safe, we recommend that you choose a model that is solidly built and lightweight.
Price
A safe can cost anything between $50 and $3000, with some costing more. The prices can vary depending on the safe's fire rating, build quality, water resistance, lock system, etc. We understand that at times one can be tempted to buy an affordable product.
Nonetheless, cheap safes are not always the best because they are made of low-quality materials that may not deliver the level of security that you need. In addition to this, you need to think about the value of the items that you want to store.
If you are dealing with high-value possessions, you need to invest in a sturdily built safe that can withstand an attack. To avoid spending your money on safes that are of questionable quality, we recommend that you only consider buying your safes from reputable brands.
---
You may also be interested in:
Last update on 2023-12-02 / Affiliate links / Images from Amazon Product Advertising API