ⓘ We are reader-supported and may earn a small commission at no additional cost to you if a purchase is made through one of our links.
The best smart locks offer better security, more convenience, and peace of mind. Gone are the days of simple barrel locks and keys, locks have now joined the ranks of other smart devices with the aim of creating more sophisticated and secure home security.
There are many advantages to having smart locks and this includes not having to worry about ever losing your keys or having to hide spare keys on the porch. With one of the best smart locks, you can check on your house from time to time, create temporary passkeys for the plant or pet sitter, and even alert the police if there's unusual activity in your house.
TL;DR: The #1 Smart Lock for Most People 👇
Eufy T8510T11 Security Smart Lock
With up to four unlocking options to choose from, you can never go wrong with the Eufy T8510T11. This smart lock is very easy to install, making it ideal for everyone who is looking to upgrade their locks. It stores biometric and app data locally, so you can use it without worries.
However, it is not Wi-Fi enabled and also lacks a built-in alarm system but is still one of the best smart locks that you can consider buying! 🙌
Smart locks have been around for quite some time now but the latest batch of smart locks are integrated with smart home devices like Amazon Alexa, Siri, and Google Assistant, providing much more advanced systems and commands.
If you don't have the time to read the full review, you can just click on the links below to skip to that smart lock product:
Best for Most People
Yale Assure Lock SL
August Smart Lock Pro + Connect
Schlage Touch™ FE695 Century Lock
Smart App integration
Alexa, Google Home, Homekit, SmartThings
Alexa, Google Assistant, IFTTT
Best for Most People
Smart App integration
Alexa, Google Home, Homekit, SmartThings
August Smart Lock Pro + Connect
Schlage Touch™ FE695 Century Lock
Smart App integration
Alexa, Google Assistant, IFTTT
The Best Smart Locks to Buy Today in Australia
1. Best Overall Smart Lock: August Wi-Fi (4th Generation) Smart Lock
No products found.
Lock Type: Deadbolt | Smart Home Compatibility: Google Home, Alexa, Apple HomeKit | Alarm: None | Keypad: Optional | Batteries: 2 CR123A batteries
The is our number 1 pick for the best smart lock to buy in Australia due to its long list of advanced features, ease of installation, and reliable biometrics system.
Everything that you've grown to love with the original August Smart Lock is still available but with excellent improvements. One of which is its direct connectivity to your home wi-fi instead of installing through the August Connect Bridge.
The installation of the smart lock itself is just a breeze. It only took us twelve minutes to unwrap and set up. This technology will upgrade your existing deadbolt lock into a cutting-edge smart lock.
In fact, most of the Kwikset single cylinder deadbolts will work with the August Wi-Fi Smart Lock. Just to be sure, you can always check out the list of compatible deadbolt locks on the brand's official website.
It has the DoorSense technology which can detect the current status of the door—whether or not the doors are left ajar if it's closed, open, locked, or unlocked.
Another great thing about this is that you don't have to necessarily throw away the original key. You can keep it and use it in instances where you don't have access to your smartphone or smartwatch. In addition, you can install a keypad for keyless access without the use of a gadget.
You can even produce guest keys for family, friends, and trusted people so that you don't have to hide spare keys somewhere on your porch. You'll have full control and you can connect digital assistants like Siri, Alexa, and Google to help open, lock, and keep tabs on your door's activity feed.
---
2. Best Smart Lock for Airbnb: Yale Assure Lock SL – Keyless Smart Lock with Touchscreen Keypad
Why we love it:
Unlock by entering your 4-8 digit PIN code
Replaces existing deadbolt with just a screwdriver
Upgradeable to work with your smart home
Voice-guided assistance, privacy mode, auto re-lock and more
What customers say:
"Bought this lock on sale. Good quality as compared with my previous touch key lock. Easy to install. Auto re-lock setting can be set at various intervals. light keypad is great and the surface can be cleaned easily, no fingerprint left behind." – Peter Siu
Lock Type: Deadbolt | Smart Home Compatibility:  Alexa, Google Home, Homekit, SmartThings | Alarm: None | Keypad: Yes | Battery: 4 AA batteries
The Yale Assure Lock SL is a keyless smart lock that will replace your regular deadbolt. Nevertheless, it's very easy to install with just the use of an ordinary screwdriver, and the brand guarantees that this best smart lock will fit standard entry doors.
What we like most about this smart lock is that it can generate security codes that you can share with those you trust. This makes it ideal for Airbnb owners-the auto generated code will expire upon checkout, so you won't have to worry about anything.
Also, the lock is easy to set up and use – you don't have to be tech-savvy or a locksmith to get this keyless lock up and running.
One of its key features is its auto-lock feature. You won't have to worry nor wonder if you locked the door behind when you leave the house. It has the DoorSense technology as well that uses a small magnet to detect if the bolt has slid into place to confirm the door is fully locked.
Instead of a rubber number pad, it makes use of a touchscreen that dims away after it locks and enters into Standby mode to conserve battery. If you want to go back into the house, you will just have to double-tap the screen to enable the digital number pad – very cool stuff indeed.
To enable smart home features, you will have to buy the Yale Access Upgrade kit
---
3. Best Smart Lock for Apple Home: The Invisible Smart Lock
Why we love it:
Designed to replace your current deadbolt
Give friends and family access
Featuring a 6-gauge stainless steel gearbox
Simple Installation:
What customers say:
"This is a beautiful lock, so well made that it is almost a shame it's hidden inside the door. A breeze to install, a delight to use." – G. Powell
Lock Type: Deadbolt | Smart Home Compatibility: HomeKit| Alarm: None | Keypad: None | Battery: 1 CR2 battery
The Invisible Smart Lock bags a spot in our best smart locks list because of how discrete it is. Intruders and burglars will definitely be caught off guard. This is one way of adding security to your security system, not letting people know that you have a smart security system in place.
The Level Bolt features a 6-gauge stainless steel gearbox and it doesn't necessarily replace your deadbolt lock, just the mechanism inside. To activate the smart system, you need to place the battery inside the cylinder.
What makes this a genius contraption is you can still make use of the same regular keys that you use for your old deadbolt lock.
Unfortunately, this "invisible" smart lock can only be connected to Apple's HomeKit. Although, you can connect to it via Bluetooth. You can control the lock via an app.
---
4. Best for Most People: Eufy T8510T11 Security Smart Lock
Why we love it:
Stores your biometric data locally for maximum security
Has emergency unlocking function for user convenience
Weatherproof construction for durability
Offers multiple ways of unlocking
What customers say:
"This lock is the real deal and once installed is a pleasure to use. The fingerprint reader hasn't failed yet, the illuminated keypad is great. Oh yes, the laser cut key works." -Davo
Lock Type: Deadbolt | Smart Home Compatibility: No | Alarm: None | Keypad: Optional |Batteries: AA batteries
The Eufy T8510T11 Security Smart Lock is one of the most reliable smart locks that we tested. Although it lacks the bells and whistles, it offers great value for money and is equally durable. Most people like this smart lock because of its simple design.
One of the things that we liked about the Eufy T8510T1 is that it stores your biometric and app data locally. This makes it more secure compared to models that store data in the cloud. Additionally, the lock has a straightforward design and is very easy to install.
It only took us about twenty minutes to set up everything, including the app. The Eufy T8510T11 offers four unlocking options—you can use the included spare keys, your fingerprint, electronic keypad, or app.
All the options will give you quick access to your home, but the fingerprint function is the most convenient. It allowed us to unlock the lock in less than two seconds. Plus, the lock is IP65 rated and will remain functional even when the ambient temperature is at sub-zero levels.
To top it all up, the Eufy T8510T11 boasts an auto lock function, so your door will always lock behind you. This feature can prove helpful when you are in a hurry.
---
5. Best Smart Lock for Front Door: Schlage Touch™ FE695 Century Lock with Latitude Lever
Why we love it:
Keyless entry
Fingerprint-resistant, capacitive touchscreen with easy one-touch locking
Grade 2 security rating
Easy to install with just a screwdriver
What customers say:
"I like everything about this lock, simple, modern and keyless entry, never again searching for key in the dark! The best thing about the lock is it come with the LED light on top of the keypad for night vision," – Angela Y
Lock Type: Deadbolt | Smart Home Compatibility: No | Alarm: No | Keypad: Yes | Battery: 2 AA batteries
The Schlage Touch™ FE695 Century Lock makes it our list of best smart locks because of its excellent security rating, ease of installation, and keyless entry feature. It can be a great addition to most front doors, thanks to its cylinder-free design.
The keyless entry not only provides a very convenient way of entering your property but also an added level of security by removing the keyhole. This is one of the main areas of attack from would-be thieves who are able to pick locks. Also, never worry about losing your house key again!
The touch screen is very responsive and not at all frustrating to use like some other smart locks on the market. In low light LED downlights illuminate both the keypad and the lever to make entry a breeze no matter how dark it is.
It requires 2 AA batteries to power the smart lock, but these are good for 24,000 hours, or 1,000 days with normal usage. So you won't have to continually swap batteries in and out.  Fret not, there is a battery indicator to give you an advanced warning that your battery needs replacement to mitigate against lockouts.
Overall, this is a fantastic product for those who want a sleekly designed, very secure, keyless smart lock for their property.
---
6. Best Keyless Smart Lock: Narpult Smart Door Lock
Why we love it:
BHMA authenticated
Multiple ways to unlock your door
Built-in alarm
Perfect for Airbnb
What customers say:
"Can open with a fingerprint, a code, a key, or a chip card (included). If you add the hub, you can open with Alexa. You can have different passcodes for different people and the app keeps records of WHO opened your lock. It's easy to add limited time passcodes." – Aaron Basil
Lock Type: Deadbolt | Smart Home Compatibility: Alexa, Google Assitant| Alarm: Yes | Keypad: Yes | Battery: 4 AA Batteries
The Narpult Smart Door Lock is said to be one of the best keyless smart locks currently available on the market. It automatically generates access codes that will expire after 24 hours.
Also, the lock can be accessed through IC cards which you can give your family members instead of actual keys. Aside from IC cards, the door can be unlocked via fingerprint, mechanical keys, smartphone, and of course, a digital keypad.
The Narpult Smart Lock will also replace your regular deadbolt lock, converting your traditional key-based lock, into a modern keyless lock (say goodbye to losing your keys!).
To connect this device to the Wi-Fi you'll need a separate device called the Wi-Fi gateway. It is sold separately, so if you don't have the budget yet or you don't plan on connecting it to your smart home system you can still control your lock via Bluetooth.
The smart lock also comes with a beeping alarm if it senses a potential door attack. It'll also beep to warn you that the batteries are running low.
---
7. Best Smart Lock for Google Assistant: ULTRALOQ Smart Door Lock U-Bolt
Why we love it:
Anti-peep password
Auto lock feature
Grant access to trusted people
What customers say:
"Well thought out smart lock. In a class of its own, and packed with valuable features. Used for a short stay property and has been up to the task. Only complaint is I wasn't able to retrofit into existing deadlock cavity, but once I managed to get it installed it has been working magnificently. Will purchase again for my next property" – Alex Wong
Lock Type: Deadbolt Lock| Smart Home Compatibility:  Alexa, Google Assistant, IFTTT| Alarm: None | Keypad: Yes | Battery: 4 AA batteries
The ULTRALOQ Smart Door Lock U-Bolt offers the choice between using a keyless entry or a good old-fashioned key depending on your preference.  The only thing lacking is a finger print scanner but that's not to everyone's taste.
The device can also be connected to Smart Home assistants such as Alexa, Google Assistant, and IFTTT. Although, you will need its Wi-Fi bridge to be able to connect to your Wi-Fi before you can connect it to your smart home system.  This particular product includes the Wi-Fi Bridge, so no need for any additional purchases.
You can add random digits in the first half and in the second half of the code you enter and type in the correct digits in the middle. This is to protect your code from prying eyes.
This immensely resolves the common problems faced by those who use keypad smart lock codes. It's like having to cover your pin when withdrawing at an ATM.
Another key feature is the Passenger mode where you can set the smart lock to keep the door unlocked for a certain period of time because it has an auto-lock feature that'll close the door after a min. Of 3 seconds to 5 mins.
Lastly, located beside the mechanical keyhole is a micro-USB where you can connect an external battery, perhaps a power bank, to activate the lock when the batteries die.
---
8. Best Budget Smart Lock for Lockers: Autens Fingerprint Padlock
Price reduction
Why we love it:
High strength ADC12 aluminium alloy construction
 fingerprint technology
Very light
Recognises up to 15 different fingerprints
What customers say:
"The lock was easy to program for both my husband and I's fingerprints. Works much better than other fingerprint locks we have previously used." – Pandora
Lock Type: Padlock | Smart Home Compatibility: None | Alarm: None | Keypad: None | Battery: Built-in lithium
The Autens Fingerprint Padlock takes padlock innovation to the next level. It is definitely the next padlock you'll be bringing to the gym lockers or at school.
It is quite a durable mechanism, more than suitable for securing possessions in public spaces. The lock is made with steel, while the body is made with Zinc Alloy. It can't be connected online or through an as one of its aims is to avoid hacking
Take note that there is no spare mechanical key as it would lose the sole purpose of its innovation. It'll only accept the fingerprint you registered and it can read your biometrics as fast as 0.5 seconds.
Don't worry about this best smart lock padlock dying on you, as it comes with a built-in lithium battery that can be used for 12 months or for about 9,000 times in a single charge.
---
How We Researched the Best Smart Locks
We care about your safety and property. And that is why our team spent hundreds of hours researching and testing the best smart locks we could find in the Australian market.
As you already know, locks are security items that are used on a daily basis, so we didn't want to subject the chosen smart locks to one-time rigorous testing.
Instead, we installed the locks on our door one after the other over a period of thirteen months. Each lock was tested for a month to see how it performs when it comes to security features, ease of installation, and reliability.
However, we had to test some of the locks longer than the just mentioned period because they had a  long list of features that required thorough assessment. We tested most of the locks on our front door, while others were tested on the bedroom door due to compatibility issues.
Also, we connected all the Wi-Fi enabled test models to compatible devices and evaluated their performance. We installed the support applications and configured the locks according to our preference.
Smart locks with automatic locking function were timed to find out how long it takes for the bolt to slide in place after you slam the door behind you. Additionally, we tested the biometric systems to see if they could effectively read fingerprints.
Smart Locks: Buyer's Guide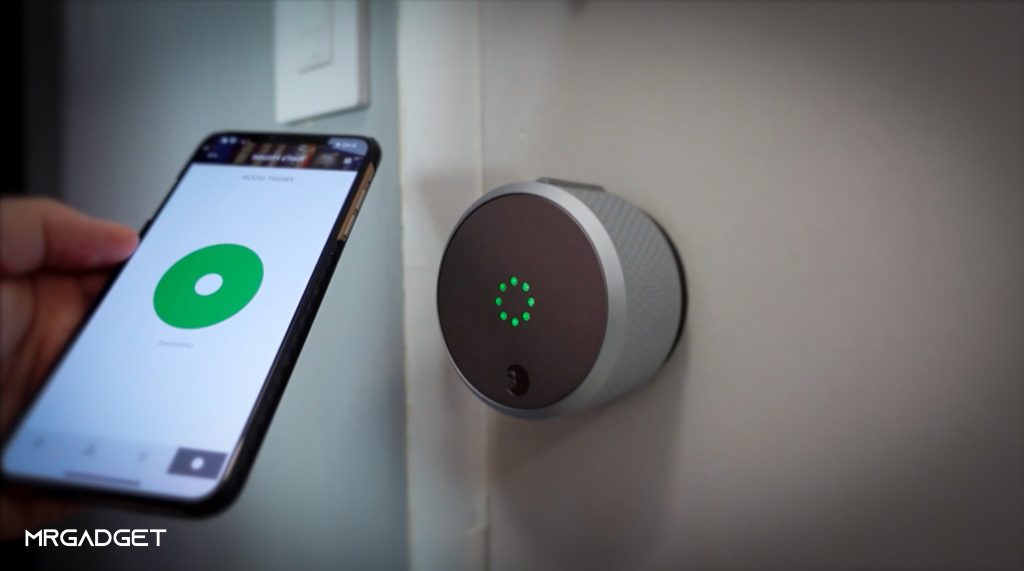 The best smart locks should offer you great versatility in terms of functions and security. But up to what degree? With all these great innovations, you might be feeling lost and confused as to what product will work great for you. To help you make the smart decision here is a comprehensive buyer's guide explaining the factors that you should consider:
Lock type
Generally, there are two types of smart locks for the door: the deadbolt type and the door lever. As observed in this article, the deadbolt type is more common than the other one. Nonetheless, the lever-type smart lock is becoming more and more apparent in the market.
Choosing either one is more of a personal preference and what you can work with as easily as you can without having to bear new holes on your door.
Smart home and Wi-Fi connectivity
Not all smart locks have smart home and Wi-Fi connectivity. Others even just have a Bluetooth connection for you to be able to connect to your lock through the app.
The best smart locks will offer wide-range connectivity to either of the Smart Home assistants, Alexa, Siri, or Google Assistant. And to be able to do so, it should be connected to Wi-Fi.
If your goal is to connect your whole house to centralized smart home connectivity, then you may want to look into the products that are compatible with your already existing smart home ecosystem.
Most use Amazon's Alexa while others opt for Google. Apple's HomeKit, on the other hand, is becoming more and more visible in people's houses.
So, what do you have at home? Then, pick out a product that has the same smart home compatibility.
The second point that's worth emphasizing in this section is the availability of Wi-Fi connectivity in smart locks. New innovations have integrated a built-in Wi-Fi system into the products.
However, it's still a developing norm that only the best of the best smart locks will have like the August Smart Lock. Most of the products still need a Wi-Fi Connect Bridge to enable said connectivity.
Some will include that added device in the package, while others will make you buy it separately. This is why you need to be very careful when ordering. You have to double-check if the bridge is included or not.
Smart lock interaction
Some products will have multiple ways to unlock the device. The most common is via an app and by typing a code on the lock's keypad. Many have already integrated fingerprint readers, which is very high-tech.
The new set of smart locks with keypads offer great options such as generating temporary passcodes for your visiting friends, family members, and of course, for the service people you hired to do some work inside the house while you are away.
They usually get timed codes that'll expire after the date and time you set. This is to make sure they won't have access to your door after they've served their purpose.
If this is something that'll make you even more secure, then you might consider looking into the products that'll offer this kind of feature.
Meanwhile, there are products that'll offer a mechanical key, which is great backup access, just in case you encounter machine failure with your smart device. This is very useful, especially when your device runs out of batteries.
Design
Smart locks usually carry a sleek design, style, and finish. What you will do for then is what will complement your home decor the best. Most will come in some sort of metal material, either brass, silver, and bronze.
Others will throw in simple design variations to make the smart lock more appealing than the others and for it to stand out from the rest.
Budget
High-tech security can be a bit costly. But the perks that it can give you are priceless. Spending a few dollars could mean saving hundreds and thousands of dollars worth of furniture, appliances, and not to mention, jewelry.
Also, our loved ones' lives are obviously priceless, and ensuring their safety is one of our utmost priorities. The best smart locks shouldn't cost you a great deal. What you want to consider is if you'll be able to save when opting for a product with a built-in Wi-Fi or will it be more expensive than buying one with a separate connect bridge device.
There are also hidden gems that are offered at an affordable price but sports premium-like features. So be on the lookout for that.
Final Thoughts
Overall, installing the best smart locks in the market is a very wise decision. In the long run, most, if not all, houses will have smart locks. With how the tech trend is going, it wouldn't take long for it to be a normal device you'll see in houses.
There are a lot of products made available in the market right now. But all you need to focus on is what will benefit you and your house the most.
If you have the need to check the locks from time to time while you're at work, especially when you're a parent, then get one that comes with an app, a smart home, and Wi-Fi connectivity.
Don't be afraid to heighten the security in your house as what it saves is way more valuable than what the smart lock cost.
---
You may also be interested in:
Last update on 2023-12-02 / Affiliate links / Images from Amazon Product Advertising API