ⓘ We are reader-supported and may earn a small commission at no additional cost to you if a purchase is made through one of our links.
The best charging stations have really innovated over the years. Gone are the days of the basic charging stations with bland designs, we are now in the era of fast charging, cool-looking, and multi-device charging stations.
We've searched the corners of the world wide web for the best charging stations made available right now. We made comprehensive and in-depth research for each product and considered every critical factor, from the number of ports, wattage, and wireless charging capability. With that, we've narrowed down the list to 10 products that stood out the most for us.
TL;DR: The #1 Charging Station for Most People 👇
The Best Charging Stations
1. Best Overall Charging Station: Alxum 10 Port USB Charging Station
Need a charging station for the whole family while on vacation? The Alxum 10 Port USB Charging Station might just be the product for you. It's our number 1 pick for the best charging station because it can accommodate 10 gadgets and that doesn't even include the wireless charging pad. It comes with a resting dock shelf too!
Each port can provide up to 2.4A maximum power output and it is equipped with an Auto Detection Smart IC technology, which intelligently recognizes the unique charging need (i.e, power output) of each device. It'll adjust the power output needed to make sure your phone is charging safely and efficiently.
There is no wireless charging on this device, but many people still do not use this type of charging, and the ability to hold up to 10 devices as well as having adjustable dividers makes up for this omission.
---
2. Best Charging Station for Multiple Apple Devices: Unitek Charging Station for Multiple Devices
Price reduction
Why we like it:
Can charge up to 10 devices at the same time
Convenient slots hold smartphones and tables securely
Automatically stops charging when device is at 100 percent
Great for keeping all your devices organized
What customers say:
"The dock works well with multiple devices. I wrapped my cords shorter because I don't feel like buying short cords for all my devices… it's great for organization."– Alex
If you have lots of Apple devices and are running out of outlets to charge them all at the same time, maybe you need a multi-device charging station like the Unitek Charging Station for Multiple Devices. This handy charging station allows you to charge up to 10 devices at the same time with the use of just one outlet.
A multi-charging station like this one can help you maximize your space by removing any clutter from your desk. It can also help keep your devices organized since it has enough slots to hold multiple items at the same time. And since the baffles are adjustable, you're not limited to using this charging station with slim gadgets only.
You can also use this with thicker items like power banks, cameras, gaming console controllers, and other similar USB chargeable devices. This feature makes it ideal for charging multiple Apple and Android devices simulataniously.
Aside from being able to charge up to 10 of your phones, tablets, and power banks in one go, this charging station also has a few more features you're sure to love. For starters, it comes with an auto-off function that prevents overcharging, which is one of the biggest culprits in battery degradation.
When the charging station detects that a device is fully charged, it automatically stops the flow of power to that particular device. Not only that but the charging station also matches the ideal charging needs of each item you plug into it. This, along with the auto stop feature, helps prolong battery life.
This multi-device charger is a great addition to your home office, bedroom, and in situations where more than one device has to be charged at the same time. Meeting rooms, in your dining room, and even when you're simply hanging out with friends at home are just some of the examples of where this charging station can be used.
One thing to keep in mind though is that you need to have individual cables for each of your devices since this charging station doesn't have charging cables of its own. You can use the cables that come with your phones and tablets, or you can buy shorter ones for a cleaner look.
---
3. Best for Most People: SooPii 60W Wireless Charging Station
The SooPii 60W Wireless Charging Station is our number 3 pick for the best charging station to buy in Australia. This is because it has three awesome features: It has 5 USB (1 USB-C) charging ports, a wireless charging pad, and a simple stack shelf for the phones and even for Airpods. It's the ultimate gadget management accessory.
The USB-C charging port is designed to provide lightning-fast charging for devices such as the 2018 iPad Pro, the iPhone series (Starting from the 8 to the XS Max), and even the Google Pixel. It'll provide a maximum of 10W charging power and 5W for wireless charging.
It'll provide the right wattage needed for certain products, i.e, 7.5W for iPhones, 10W for Samsung models, and 5W for earbuds and Airpods.
---
4. Best Charging Station for Apple: Anker Wireless Charging Station PowerWave 2-in-1
The Anker Wireless Charging Station PowerWave 2-in-1 is another great charging accessory for Apple users. It can charge your iPhone and Airpods all at the same time. But take note, this highly innovated device is also compatible with other smartphone brands like Samsung and Sony, as well as other Earpod brands (Galaxy Buds, Pixel Buds).
This charging station is constructed with a superior safety design. First, it assure the battery's safety and provides radiation shielding. It makes sure its machinery doesn't overheat too, so it has a temperature control in place. It is also smart enough to detect foreign objects and not initiate any type of charging.
Also, it looks clean. Offering a minimalist aesthetic that looks good on any desk or bedside table
---
5. Best Value Charging Station: AUTENS 100W 8-Port Desktop Charging Station
Charging multiple devices at the same time no longer needs to be a hassle when you have the AUTENS 100W 8-Port Desktop Charging Station. Trying to find enough sockets to use with the individual chargers of each of your devices can be such a bother, but with a charging station like this, all you need is one power outlet.
The AUTENS 100W Desktop Charging station features 8 individual ports that you can use with 8 of your devices. It has 6 USB ports, 1 QC3 port, and 1 Type-C output port. The variety of interfaces lets you use this charging station with a wide array of devices, from tablets to smartphones to console game controllers to power banks.
This charging station comes with an LCD screen that tells you a few things about the ports that you're currently using. Aside from showing you the current coming from a specific port, it also shows you the charging status of every device that's plugged in. Now you don't have to check each individual device for its battery level since the charging station keeps you updated with a single glance at its LCD screen.
Another great feature this station has is its ability to protect your devices from a variety of power-related problems. These include overcharging, overheating, surges, short circuits, and overcurrent issues. With such a feature, your batteries will be protected and you won't have to worry about battery degradation and lifespan.
One fantastic feature this charging station has is its wireless charging plate. If you have devices that can be charged wirelessly, this plate will give you the chance to charge up to 9 devices simultaneously.
Now, if you think charging everything all at once will cause this charging station to heat up, think again. It comes with a heat dissipation channel in the back that releases any heat that's generated when it's in use. It's also made with a flame-retardant material, so you can rest assured that it won't become a fire hazard.
---
6. Most Versatile Charging Station: Rimposky 4-in-1 Fast Charging Station
Now, you don't have to plug in power brick after power brick into every available socket in your home or office just to keep all your devices charged. With a desktop charging station like the Rimposky 4-in-1 Fast Charging Station, you can keep all other sockets free as you charge up to 4 of your devices at the same time.
This charging station may not have as many charging ports as others like it in the market but it does have one distinct advantage – it charges 3 of your devices wirelessly. Yes, you read that right! This charging station is a wireless charging station, so you reduce a lot of clutter from your desk with its use.
Now, you need not suffer the noodle-like mess that can sometimes come from using a multi-charging station that uses cables. The only two wires that are used with this device is the one that's plugged into the power outlet and one other USB charging cable.
The wireless charging plates of this device includes one for your smartphone, one for your smartwatch, and another for your wireless earbuds. To charge your earbuds, simply place them in their charging case and put the case right on top of the charging plate that's made for it. When you need to charge your smartwatch, just pop up the magnetic charging plate for it, which is built into the station, and place your watch on it.
When it comes to wirelessly charging your smartphone, you can do this in a few ways. One, you can lay it flat on the charging platform. Two, you can pull up this phone charging platform and place your phone on at an angle so you can see the screen while the device is charging. You can even use your smartphone at the same time while charging and can also choose to position it vertically or horizontally.
Aside from being able to charge a few devices wirelessly and one device via USB cable, this charging station also has a few add-on features that you'll enjoy. It comes with RGB lights that can be used as a nightlight and an electronic clock that shows you the time. These features make this station a great piece to have on your bedside table or on your work desk.
---
How We Researched The Best Charging Stations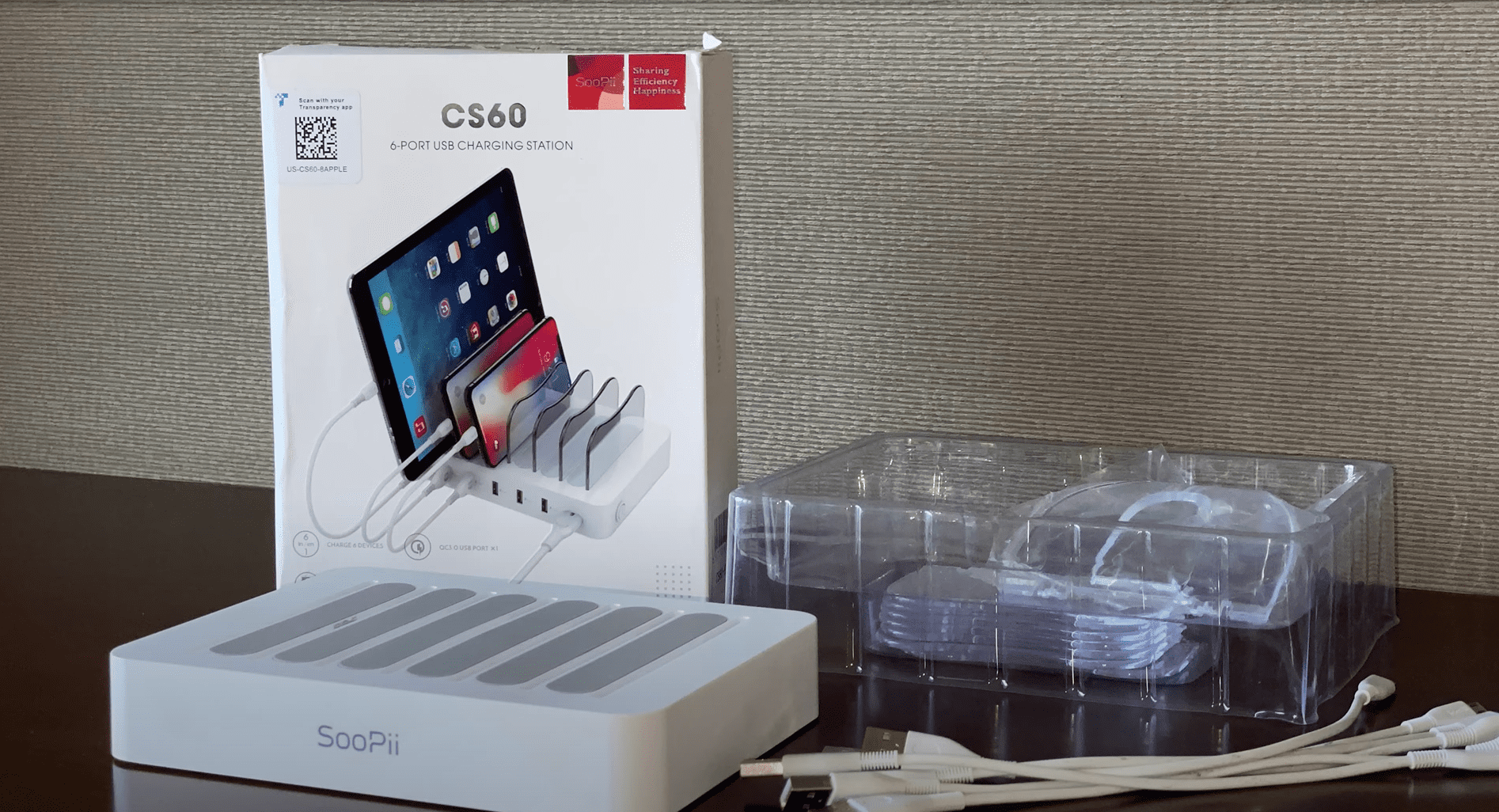 We picked 6 of the best charging stations we could find in the Australian market and tested them for charging speed and overall performance.
Our team tested the charging stations in two phases–we started by charging the selected devices via USB connection and then proceeded to units with charging pads.
Additionally, we compared the charging stations, taking into account the number of charging ports on each unit.
We used an Android phone and an iPhone with the same battery capacity (4323mAh Li-Ion). Before starting the test, we drained the batteries of both phones to 0%.
After this, we plugged them onto the charging stations and timed the charging process at intervals of 20 minutes.
We collected data from each test model and ranked the units based on how fast they charge and the number of available charging ports.
Charging Station: Buyer's Guide
We invest so much money in our devices, especially with chargers. The tech world is filled with so much innovation, it makes it so hard to choose. Like any other purchases you make, especially with tech stuff, you want something that'll be worth your money. Smartphones, tablets, iPads, and smartwatches alone are already very expensive. But we still spend more money on accessories. You'll realize that the best charging stations are, definitely, worth the investment, so long as you know how to pick the right product.
What to Consider When Buying a Charging Station
Below are some of the important factors that you need to take into account when shopping for a charging station:
Power Delivery (Wattage)
You'll notice that each charger differs in offered watts. We have a 60W charger, 90W, and even as low as 18W or 15W. These are what we call "power delivery"; a term used to identify the capability of a charger to handle higher amounts of power to be able to charge your devices quickly and safely.
Smartphones have different charging needs. The same goes for tablets, iPads, smartwatches, and Airpods/Earbuds. What we want is a charger that can accommodate all charging needs, adjust accordingly, yet be able to power them all safely and efficiently.
Therefore, the higher the wattage, the more power it can handle and the wider range of devices it can cater to. When choosing the best charging stations, make sure to look into the different charging needs of your devices. If you have heavy devices, like iPad Pro or the latest iPhone or Samsung series, then you may want to opt for a charging station that offers a big wattage.
Number of Ports
Do you need the best charging station that can cater to a whole family or to a big group of friends? Or is it for personal use only?
Charging stations will have different numbers of USB charging ports offered. Some may have as little as 3 ports, while others will offer up to 10. For personal use, charging stations with 4 to 6 charging ports is already good. This will, of course, depend on how many gadgets you have. Nowadays, the most common setup includes wireless charging pads. Many brands will offer a good number of ports (5 to 8) and throw in an additional pad for wireless charging.
There are premium charging stations, on the other hand, that offer wireless charging only and you will likely get only 2 to 3 ports or charging pads for that.
Wireless Charging
Wireless charging is the future of smart charging. The latest smartphones and other gadgets can now be wirelessly charged. It wouldn't be such a big surprise if one day, everything will be charged wirelessly. But since we're still slowly developing and transitioning to that stage, not all charging stations will offer wireless charging, especially when compatibility is a big issue.
Many now prefer wireless charging because of the great convenience it brings. When opting for the best charging station with a Qi /wireless charging pad, you have to look into the restriction first. Since this method is still in its developing stage, it has many hindrances to function well. For example, wireless charging pads will require your phone to be bare; this means you have to take off the case. Other models are more capable of charging your phone even with a case on, so long as it's not metal, there are no phone rings, stands, magnets, and cardholders. Basically, any accessories that can block the connection of your phone to the charging pad.
Safe Charging
This is a very critical factor to consider. First, when we safe charging we should first consider the power delivery offered, ergo that wattage of the charger. If we charge a phone to a low wattage charger, you'll end up ruining the battery of your device or it will not charge efficiently. As mentioned earlier, a charger with higher power delivery means it can safely charge devices with different charging needs. So you may need to do further research on that.
Also, we need to read further on the safe charging features of the charging stations to make sure that they are equipped with safety protection features such as technologies to prevent overheating, overcharging, and fire-resistant.
Compatibility to smartphones 
Not all charging stations will have universal compatibility with smartphones. When a charging station was developed and manufactured a year or two before a smartphone was produced, you'll more likely have to question their compatibility with each other.
It will not automatically be incompatible but you have to ensure the power delivery is enough for the charging needs of your phone. If you'll notice, some charging stations for Apple products will note the iPhone series that the device is compatible with. For example, it'll only be compatible from the iPhone 4 to the iPhone X series. This could mean that the charging station may have been produced before the iPhone 11 and the iPhone 12 series were released. Or that the most latest iPhone models have different or higher charging needs that the charging station cannot cater to.
This goes for all other Android phones, such as Samsung. So you have to be very keen on double-checking whether or not your charging station is compatible with your latest gadget. You might end up destroying your phone or giving a bad review that you received a defective charging station.
Added features
The two most common added features are the Airpods/Earbuds and the Smartwatches/Apple Watch holder. It will come in different design constructions. Many have loved this special holder feature, especially to those who offer a special slot for their chargers. Others even have a built-in charger installed for Airpods/Earbuds and a wireless charging pad for the smartwatches/Apple Watch.
If you have both or either, then you may want to check out the best charging station with these features included. Other premium products have the additional special port for an Apple Pencil, while others offer a great dock or stand for a more organized charging station.
Conclusion
The best charging station can give you quite the convenience and reassured feeling for your smartphones and other gadgets. If something is that expensive, you'll do everything and buy anything to keep it at its peak condition and pamper it with many accessories. It beats having to buy a long extension wire to plug in all of your gadgets.
Sometimes, you may even feel like the most tech-savvy person in the world when you have the premium charging station on your desk or bedside table. The times are charging, the tech-centered world is upon us, all there is to do is embrace it.
---
Last update on 2023-11-30 / Affiliate links / Images from Amazon Product Advertising API