ⓘ We are reader-supported and may earn a small commission at no additional cost to you if a purchase is made through one of our links.
Elevate your productivity levels with the best laptop stand. By refining your work setup, it ensures you can tackle tasks efficiently, without compromising on comfort. No more hunching over your laptop; with adjustable height features, these stands encourage a healthier posture. Remember, when you're comfortable, you're naturally more productive.
Aside from that, placing your laptop at an ergonomic angle can help reduce wrist strain while typing. But that is not all; some laptop stands feature cable management systems that will keep your work desk clutter-free. This way, you will have enough room for all peripheral devices that you may need when working.
TL; DR: The Best Laptop Stand for Most Australians 👇
Besides, raising your laptop above the desk level will create more space underneath. Additionally, most laptop stands can improve airflow, thereby increasing heat dissipation. As such, you won't have to worry about your laptop overheating. Plus, many laptop stands come pre-assembled, meaning you can use them right out of the box. If you are looking to elevate your laptop, the below-listed laptop stands can help you get the job done:
The Best Laptop Stands to Buy Today in Australia
1. Best Laptop Stand for MacBook: BoYata Laptop Stand
Our top pick for the best laptop stands is the BoYata Laptop Stand due to its high load-carrying capacity, excellent craftsmanship, and multi-height design. This equipment is sturdily built and is also compatible with a wide range of laptops, including MacBooks.
Its adjustable design makes it ideal for both low and high-work desks. Furthermore, you can use this stand when standing or seated. It will improve your posture in both scenarios, thus taking the stress off your vertebral column.
To add to its list of features, the upper panel has vent holes for increased airflow. As a result, your laptop will dissipate heat at a faster rate, preventing the build-up of heat. When it comes to durability, the aluminium alloy used in making this laptop stand is both durable and corrosion-resistant.
This unit is equally stable, so it won't wobble when you are typing. Besides, the adjustment shaft is ingeniously designed to counter unwanted movements. More on the aluminium panel, it has protective silicone pads that will cushion your laptop while also preventing scratches.
---
2. Best Foldable Laptop Stand: Nulaxy Laptop Stand
Next up is the Nulaxy Laptop Stand—a collapsible, lightweight unit that you can carry to and from the office without it weighing you down. This laptop stand shares several similarities with the Omoton Adjustable Laptop Stand, so you can go for either of the two. However, this model can elevate your laptop to a maximum height of 533.4 mm, while the Omoton Laptop Stand can rise to 300 mm. This makes the Nulaxy C5 Laptop Stand an ideal choice for those who prefer working while standing.
Nonetheless, you should keep in mind that the stand may not be as stable at certain heights due to a shift in its centre of gravity. With that being said, the stand is likely to wobble when you are typing. If you've set the stand at its highest elevation, you should consider using a separate wireless keyboard. The good news is that you won't experience any problems when you lower the stand's centre of gravity. Plus, the base has a large surface area, so the chances of it toppling over are minimal.
Like the laptop stand before it, the top panel of this unit has silicone pads that protect your laptop from scratches. Additionally, the pads will prevent your device from sliding off the panel. The dual-shaft system will allow you to make tilt adjustments according to your needs. With the help of this feature, you can tilt the laptop towards you, so you won't have to slouch when working. This way, your back will stay in a healthy posture throughout the period that you will be using the stand.
The hinges on this unit are fully foldable, so you can tuck it away when it is not being used. What's more, this feature makes the stand portable since it can fit nicely inside your bag when fully folded. This stand is specially designed for 10-17-inch laptops and is compatible with Microsoft Surface, MacBook Air, Dell XPS, Chromebook, MacBook Pro, etc. It can support laptops that weigh up to 10 kg, so rest assured it won't collapse under the weight of your laptop. On the downside, this laptop stand is more expensive than most units in its class.
---
3. Best Plastic Laptop Stand: Kensington Smartfit Laptop Stand
The Kensington K52783WW Smartfit Laptop Stand is one of the best plastic laptop stands that you can consider buying. And although the upper panel is plastic built, it can support the weight of your laptop. However, the Kensington K52783WW is not designed for heavy laptops, so you should only go for lightweight devices that weigh not more than 3.5 kilograms. The most outstanding thing about this laptop riser is that it comes with a colour-coded fitting chart that will guide you when making adjustments.
Moreover, not all parts are plastic; the panel uprights are made of metal to ensure the stand firmly locks in place once you have adjusted the viewing angle. And unlike the first two units before it, this stand does not come pre-assembled, so you will have to assemble it upon its arrival. On the plus side, it ships with instructions that will guide you through the assembly process. Assembling the parts is not as difficult and will only take a few minutes of your time. Plus, the assembly screws are included in the kit for your convenience.
There are 4 height settings that you can choose from when making adjustments. The cable management system underneath the upper panel will allow you to run wires away from the work area, thus keeping your desk free of clutter. In addition to this, the top platform can accommodate laptops that are up to 15.6 inches wide. But most importantly, the Kensington SmartFit laptop riser will ensure that you work in a comfortable posture regardless of whether you are sitting or standing.
Also, it won't take up a lot of pace on your work desk. Moreover, the fact that it has a lower panel means you will have extra space for peripheral devices. It will allow you to use Bluetooth keyboards, wireless mouses, speakers, and many more. The flaws; the upper panel does not have ventilation holes and this may cause your laptop to overheat. Some users have also reported that the stand wobbles when they are typing.
---
4. Best for Most People: Besign LSX3 Aluminum Laptop Stand
The Besign LSX3 Aluminum Laptop Stand is one of the best-selling laptop risers in Australia. Constructed from premium quality aluminium, this unit is as sturdy as they come. It is also one of the top-rated units on our list, giving you even more reasons as to why you should buy it. Like the Kensington K52783WW Smartfit Laptop Stand, the Besign LSX3 requires some assembly.
Everything that you may need is included in the package, so you won't have to buy anything separately. Most people prefer the Besign LSX3 over other laptop stands because it is of high quality and is also reasonably priced. And, better yet, it will keep your laptop cool, thanks to its open-back design. The placement of the vent holes on your laptop won't matter when using this riser, and that is one of the reasons why we recommend it to those who run heavy software on their laptops on a regular basis.
By using this stand, you'll be able to operate your laptop for long hours without it overheating. The telescopic shaft will allow you to make height adjustments from 125 mm to 194 mm, so you can set your laptop at a level that best suits you. In terms of compatibility, it can hold all models of laptops from 10 inches to 15.6 inches. Both arms are lined with rubber pads to prevent your laptop from slipping. Apart from offering stability, the pads will prevent the aluminium arms from scratching the backside of your laptop.
The front part of each arm is curved to ensure your device stays in place even when adjusting the shaft. Ensure that you secure the adjustment screw after customising the unit. This laptop stand has a wide base, which measures 225 mm x 190 mm (L x W). As such, it won't fall over easily, provided that you place the laptop correctly. One of the things that we liked most about this unit is that it has a space-saving design. Best of all; it will safeguard your neck and back against common physiological complications.
---
5. Best Laptop Stand for Desk: Besign LS03 Aluminum Laptop Stand
If for some reason you didn't like the Besign LSX3, we reckon the Besign LS03 Aluminum Laptop Stand will leave you more than impressed. This unit has the highest rating on the list and is also one of the best laptop stands that is currently available in the market. It is not only lightweight but also has a simple design, thus making it ideal for everyone who is looking to elevate their laptop to a comfortable viewing angle.
Since the manufacturer cares about the safety of your laptop, this stand is designed in such a way that air can flow freely in and out of the device, thereby optimising heat loss. Consequently, your laptop will run cooler for extended periods, thus protecting the processor and the battery from being damaged. And like most laptop stands on our review list, the Besign LS03 is compatible with all 10 to 15.6-inch laptops.
It can support the weight of a 4 kg laptop without it tilting forward or falling over. Furthermore, the C-shaped base offers maximum stability, making the Besign LS03 one of the go-to laptop stands that you can add to your work desk. Even though it is not adjustable, it is far more stable than most adjustable models. The lack of hinges and joints puts it a step ahead of high-end units like the Nulaxy C5.
This laptop riser will elevate your laptop to a maximum height of 152 mm. Additionally, it is tilted at a 15-degree angle to allow you to work more ergonomically. It is also not as heavy, so you can move it from one work desk to another without straining yourself. The entire frame is innovatively designed to allow for equal weight distribution. Moreover, the front part of the holders only sits at 102 mm above the surface of the desk, hence lowering the centre of gravity.
---
6. Best Laptop Stand for Airflow: Luye Laptop Stand
The Luye Laptop Stand is sturdy, foldable, lightweight, and portable. Despite its position on the list, it is one of the best adjustable laptop risers and definitely is worth adding to your cart. With this laptop stand, you can elevate your device from 66 mm to 152 mm. Additionally, it will allow you to incline your laptop from 15° to 40° for comfortable viewing. This unit has 7 height levels that you use based on the elevation of your desk and chair.
You can also reduce the width to match the device that you are using. This is the second unit that we tested, and we noticed that it offers exceptional stability even when using smaller devices like iPads. It can as well be used to raise tablets and other compatible devices. However, it is advisable that you only place lightweight gadgets on this stand. Its use can apply when elevating a Chromebook, MacBook Air, Microsoft Surface, or Google Pixelbook, just to mention but a few.
The aluminium alloy frame is both scratch and wear-resistant, so the stand will stay in top-class condition for an extended period. Plus, the protective silicone pads will prevent the stand from scratching your devices. And since the rubber pads are strategically placed on all contact points, your laptop won't slip as you type. The other thing that is worth mentioning about this unit is that it will prevent your device from overheating.
This is primarily because the aluminium alloy absorbs and dissipates heat to the surrounding environment. Also, the backside is open, so the heat will escape freely. This laptop stand is fully collapsible and can fit in all standard-size backpacks. Besides, the package is inclusive of a convenient carrying bag that will keep the stand safe during transit. If you are in search of a multi-functional laptop riser, this may just be the right equipment for you.
---
How We Researched the Best Laptop Stands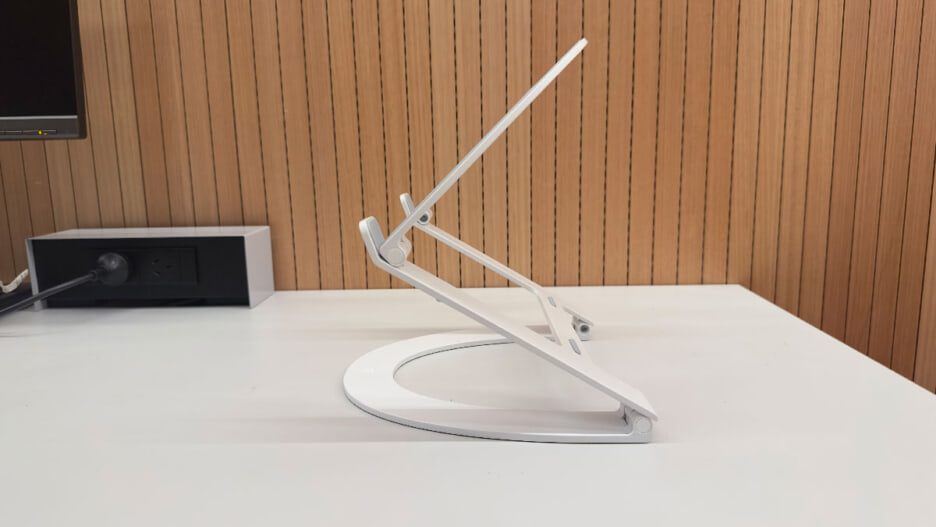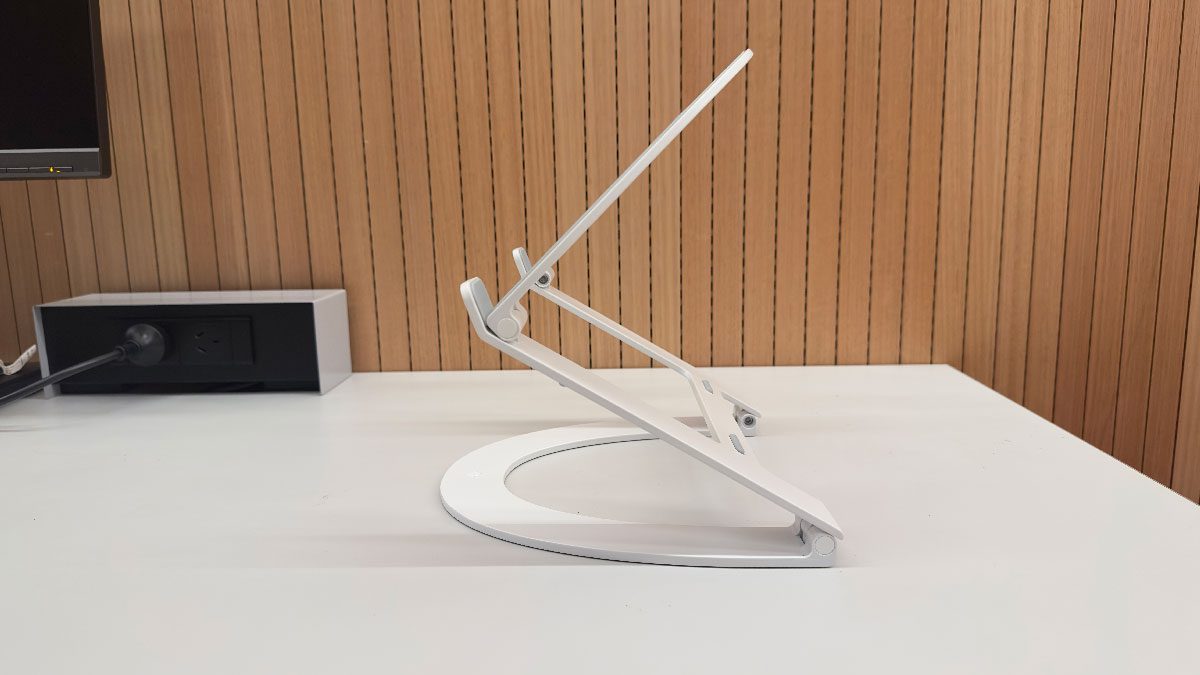 To find the best laptop stands, we compared products from 21 brands and spent over 15 hours doing the research work. We analysed the stands based on Stability, Ergonomics, Material used in construction, Adjustability, Size, Airflow, and Portability. Since we picked the products from Amazon, we also considered the ratings and independent reviews from consumers.
We focussed our attention on the reviews to better understand how each laptop stand performs in the work environment. This allowed us to compare the stands depending on what consumers had to say, taking into account the pros and cons of each unit.
In addition to analysing the specs and going through the reviews of each product, we compared the prices of different units to help you find a reasonably priced stand. To increase your chances of finding the ideal product, we included low-end, mid-range, and high-end laptop stands. Out of the 21 products that were shortlisted in our first list, we only selected 6 for this review.
Laptop Stands: Buying Guide
Laptop stands can provide you with a range of benefits. Apart from keeping your back and neck comfortable, they can help you avoid eye strain. However, finding the best laptop is not an easy task because there are several options to choose from.
Plus, laptop stands come in varying sizes and also have different features. That being said, there are factors that you need to consider when shopping for a laptop stand. This will allow you to pick a stand that meets all your needs.
What to Consider When Buying a Laptop Stand
When buying a laptop stand or any other product, it would be wise to do thorough research. This will allow you to make the right decision, especially when dealing with items that are in abundance on the market.
As such, you need to familiarise yourself with the factors that can help you in the decision-making process. Below is a list of the key things that you need to take into account when selecting a laptop stand:
Type
Laptop stands can be categorised as adjustable or fixed. Adjustable laptop stands are customisable and will allow you to adjust the viewing angle according to your needs and preference. The good thing about adjustable laptop stands is that you can use them when standing or sitting down.
Fixed laptop stands, on the other hand, have a pre-set viewing angle, so you won't be able to adjust the height of your laptop. You should be careful when buying this type of laptop stand since there are many factors to consider. The Besign LS03 Aluminum Laptop Stand is not only the best-fixed laptop stand on our review list but also the most versatile.
Stability
You should go for a sturdily-built laptop stand that won't topple over when you are working. If you are buying an adjustable stand, you need to check all the joints and hinges to ensure the unit in question won't wobble as you type.
Also, you should consider the design of the base, since this will determine the stand's level of stability. We recommend that you buy a laptop stand with a wide non-slip base.
Size
Size is also another important factor that should top your list of considerations. When choosing a laptop stand, you should pick one that can sit on your work desk without it overlapping.
As you know, laptops come in different sizes, and so do the stands. As such, you need to ensure the stand is the right size for your laptop. Choosing a stand that is too small may cause your laptop to slip and fall.
Adjustability
If you decide to go for an adjustable laptop stand, you should check the maximum height to which the stand can elevate your laptop. Plus, some laptop stands can only be adjusted vertically, while others allow users to make horizontal adjustments. This means you will be able to move the laptop closer or away from your sitting position.
Airflow
A laptop stand should have good airflow, as this will allow your laptop to dissipate heat faster, thus preventing overheating. Units like the Omoton Adjustable Laptop Stand and the Nulaxy Laptop Stand have vented panels that allow air to flow freely in and out of your laptop.
You can also go for open-back models like the Luye Laptop Stand.
Material
Most laptop stands that are on the market are made of aluminium alloy because it is both lightweight and durable. However, some brands use wood, plastic, and other types of metals to make these units.
Although aluminium is the preferred material, stands made from it tend to cost more than those made from other materials. On the bright side, aluminium laptop stands are not only durable, but also corrosion-resistant.
Cable management
A good laptop stand should have holes through which you can run cables. This will help you free up your work desk, thus preventing clutter. As such, you will have enough space for wireless keyboards, the mouse, and other peripherals.
Portability
If you are after portability, you should consider buying a foldable laptop stand. Additionally, the stand should be lightweight. The Nulaxy Laptop Stand is one of the most portable laptop stands on our review list.
Health Benefits of Using a Laptop Stand
Back pains have become prevalent among Australian adults. According to the Australian Institute of Health and Welfare, approximately 4 million Australian adults suffer from back pains. This accounts for about 16% of the entire adult population. Back problems can be brought about by a range of factors. However, the type of work that a person does is often the main cause of back complications.
Sitting in a bad posture for an extended period can increase your chances of getting back pains. This particularly applies to those who work on computers or handle tasks that require them to stay slouched for long hours. To avoid this, you can use any of the laptop stands that we have reviewed above.
The units that we have hand picked for you will take the pressure off your shoulders, lower back, upper back, and neck region. And since they elevate laptops to a comfortable viewing angle, you won't strain your eyes. In addition to using these stands, you should consider taking short breaks of at least 5-10 minutes each hour when using a laptop.
---
You may also be interested in:
Last update on 2023-12-11 / Affiliate links / Images from Amazon Product Advertising API