ⓘ We are reader-supported and may earn a small commission at no additional cost to you if a purchase is made through one of our links.
No self-respecting dog-lover wants to let their pupper down. After all, few things are as gut-wrenching as having to deny your dog playtime while they're staring at you with those puppy-dog eyes. But the fact of the matter is, occasionally, we just get so caught up with work and when we're home, we're sometimes too tired to give our furry friends the attention they deserve. That's precisely what makes investing in one of the best automatic dog ball launchers so worthwhile.
Not only will your doggo have a new toy to obsess over, but it's one that promotes healthy exercise and stimulates their fetching instincts. And when you finally have some time to play, you can take over for the machine and your pet will already be a pro at tracking balls down and bringing them over to you.
If you often find yourself short on time and are looking for a way to keep your dog physically, mentally, and emotionally engaged, a high-quality automatic dog ball launcher is definitely one of the best toys you could possibly invest in.
The Best Automatic Dog Ball Launchers Available to Buy Today in Australia
1. iFetch Interactive Mini Tennis Ball Launcher for Dogs
We're kicking off our list with the iFetch Interactive Mini Tennis Ball Launcher for Dogs – a very straightforward device whose charm lies in its simplicity and ease of use. As its name suggests, it launches projectiles that are smaller than the average tennis ball, making it more suitable for small to mid-sized dogs. Larger dogs might just end up swallowing them whole.
The device itself is incredibly easy to set up and clean-up is an absolute cakewalk. We especially loved the fact that the iFetch can be powered via outlet or batteries, so you can use them both indoors and outside. It also comes with some handy training materials and videos to help teach your dog the proper way to fetch and release.
The biggest drawback of then iFetch Interactive Mini Tennis Ball Launcher for Dogs is its diminutive ball size, which limits the compatible dog breeds to those on the smaller side. Big dog lovers should really look elsewhere. But for furparents with teeny doggos who are looking for a simple dog ball launcher to play with, you can't go wrong with this one.
---
2. ALL FOR PAWS Interactive Automatic Ball Launcher Dog Toy
The ALL FOR PAWS Interactive Automatic Ball Launcher Dog Toy is a great alternative to the iFetch, as it shares many of its best features. It can be powered by batteries or an outlet, it's exceedingly easy to use, and it works perfectly for dogs that are small or medium in stature.
The balls are a bit bigger than the first entry in our list, but it's still not recommended for larger doggos. The throwing distance is adjustable between three different increments: 10ft, 20ft, and 30ft, making it effective for small and wide-open spaces.
It includes an auto-shutdown feature that automatically powers off the device after about ten minutes. While this is likely an added safety feature that prevents your dog from over-playing, there's no way to turn off this setting and having to frequently power up the device can get tedious. But if you don't mind a ball launcher that needs you to be present for playtime, then the ALL FOR PAWS Interactive Automatic Ball Launcher Dog Toy has a lot to love.
---
3. PetSafe PTY17-15849 Automatic Ball Launcher Dog Toy
The next entry on our list leans a bit more to the premium side compared to the first two. The PetSafe Automatic Ball Launcher Dog Toy one-ups the ball launcher game by being water-resistance, allowing it to work perfectly in moist environments like freshly watered lawns.
It also includes motion sensors in front of the device that detects when someone or something is blocking the machine's shooting trajectory, effectively preventing your dog from being hit in the face – a common problem with devices of this type. Aside from the major highlights, this ball launcher has an exceptional battery life that allows up to 30 hours of use and you can adjust throwing distance between 10 to 30 feet.
Unfortunately, premium items generally come with premium price tags, so this machine is a bit on the pricey side. It's also quite loud, so skittish dogs who are easily frightened will probably want nothing to do with this guy. But if you think your dog can handle it and you don't mind the steeper price tag, then there's little reason you shouldn't pick up the PetSafe Automatic Ball Launcher Dog Toy.
---
4. iDogmate Mini Ball Launcher: Best Ball Launcher For Smaller Dogs
Don't like the idea of having to get up and turn on your dog ball launcher every time you want to start playtime? The iDogmate Mini Ball Launcher remedies that problem by throwing in a remote that can control power and even throwing distance.
There are four distance increments to work with: 10, 20, 25, and 35 feet, which is a bit more than what most ball launchers offer. One thing we particularly loved about the machine's design was the wide funnel area throwing in the ball. This makes it easier for dogs to figure out how the machine works.
Aside from the cool features, the iDogmate Mini Ball Launcher r is simple very well-built, so it's sure to last you a long time even with rowdier dogs and frequent use. Plus, it has a built-in rechargeable battery which is awesome, though some people have reported that the battery doesn't last too long.
---
5. Hyper Pet K9 Kannon K2 Ball Launcher
If you were surprised at the price tags of the other ball launchers on our list and were hoping for something lighter on the wallet, then the Hyper Pet K9 Kannon K2 Ball Launcher might be right up your alley. This inexpensive dog toy is shaped like a gun and comes in two different sizes, one of which is capable of firing full-sized tennis balls. This makes it good for small, medium, and relatively large-sized dogs.
This design is also fun for both you and your canine buddy since you'll have to do the aiming and firing yourself. After all, why not get some exercise yourself while Fido is running around. It's also exceedingly easy to reload since you can simply pick up the balls through the end of the toy's barrel. Just put the nuzzle over the ball and pull the level.
It does have some caveats, however. First of all, it's not automatic, so you'll need to put in a lot more effort compared to the other products on this list. Your dog will also miss out on the sense of independence of dropping the ball into the launcher themselves. Finally, this launcher only shoots out balls to a maximum of 20 ft, which is a lot shorter than the automatic ones. If these limitations don't bother you and you find the idea of a gun-style launcher appealing, the Hyper Pet K9 Kannon K2 Ball Launcher is one of the best.
---
How We Researched the Dog Ball Launchers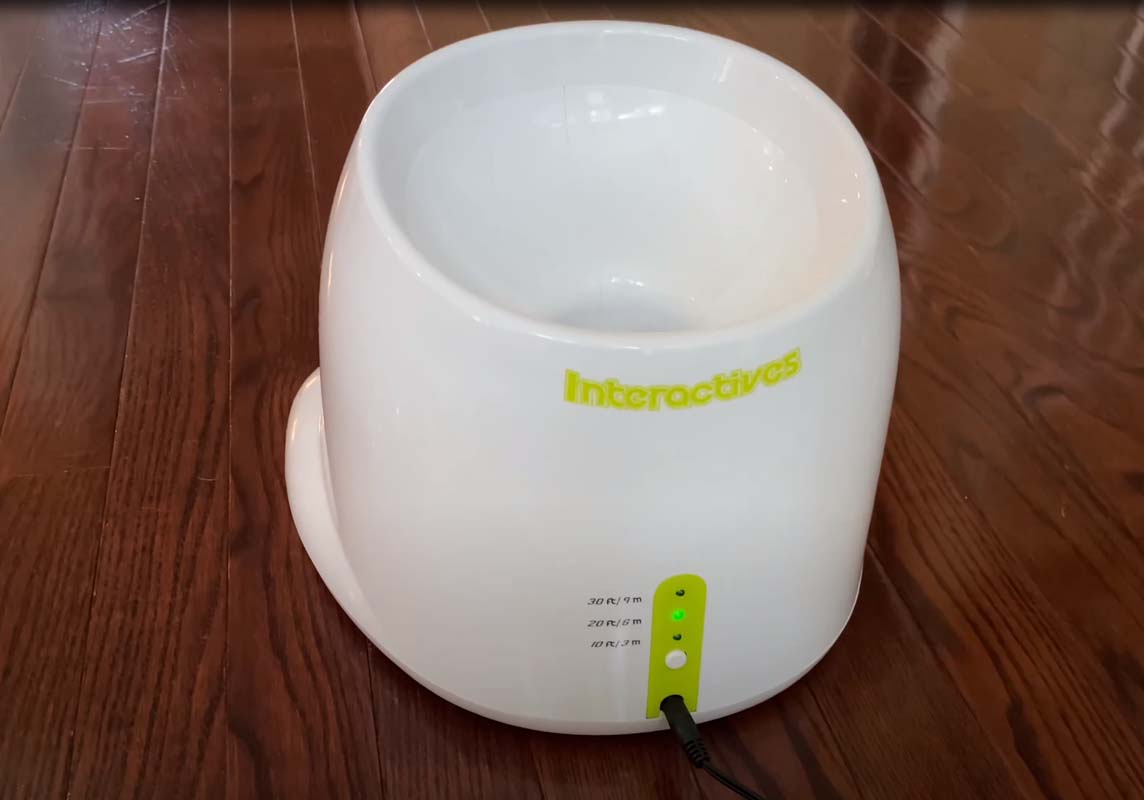 There are tons of different dog ball launchers out there. Some are pricey and some are bargain-bin, and some are great while others are disappointing. We searched high and low for the very best, sifting through popular online marketplaces like eBay and Amazon, and checking out online pet supply stores both local and international.
If we included all the dog ball launchers we found interesting in this list, it would be way longer than what any normal person is willing to read. So, to trim the fat, we took into account the buyer feedback we found on those websites and we even looked up what professional reviewers had to say about them.
In doing so, we managed to cut the list down to six exceptional entries. Trust us when we say that if you choose any of the dog ball launchers below, you won't be disappointed.
Dog Ball Launcher: Buying Guide
Dog ball launchers can be a great way for your canine to get some much-needed exercise without having to go on long walks or trips to the nearby dog park. They're also good for teaching your dog how to play fetch and for keeping them from getting too lonely when you just can't spare the time for play.
However, quality dog ball launchers generally cost a fair bit, so it's best if you do your research before investing in something that could potentially not be a good fit for your pooch, home, or lifestyle. After all, most models are suited for specific dog sizes and not all of them are good for both indoor and outdoor use. That being said, we put together a quick dog ball launcher buying guide so you know what to look for when shopping for your model of choice.
What's Your Living Situation Like?
It's important that you factor-in the size and layout of your home before purchasing a dog ball launcher. For example, if you have a wide back yard, you'll probably want one that can launch a ball a fairly long distance away. Conversely, if you live in a cramped studio apartment, a ball launcher is probably not the right toy for you and your dog in the first place. The same could be said if you have a lot of fragile items on display, like vases and picture frames.
Other Things To Consider Before Buying a Dog Ball Launcher
Aside from your living space, there are a lot of other things to think about before you pull the trigger on a dog ball launcher. Things like your dog breed, health, features, etc. Here are a few things to keep in mind before your purchase:
Indoor or Outdoor
Whether you're planning on using the machine indoors, outdoors, or both is an important factor to consider before settling on a model. Most launchers have specific features that make them better suited for one or the other. Variants that require an outlet, for example, are more inclined towards in-home use, while the battery-powered ones are the better choice for outdoor playtime.
Another thing is launch distance. You don't want to buy a launcher that you intend to use in your yard, only to find out that it launches balls a measly 15 feet away. Save yourself the disappointment and look up the specifications first.
How Big is Your Pupper
The size of the balls included with the machine is a direct indication of the size of the dogs they are meant for. iFetch, for instance, features mini tennis balls, meaning the device was designed for smaller dogs since larger breeds might end up swallowing the balls whole or choking on them – both very dangerous circumstances.
Safety Features
While the balls included with these devices are generally fairly soft, a wrongly-timed launch can still catch a toddler or dog off-guard, causing some injury or trauma towards the device moving forward. So if you feel like your household requires some extra safety features, you'll want to invest in a model like the PetSafe PTY17-15849 which has a built-in motion sensor. This sensor detects if there's an obstacle in front of the device – like a child or dog – and prevents it from launching a ball and potentially causing an accident.
Pet Health
It's a well-established fact that most dogs just love to play. And sometimes, they do so at the expense of their health. Dogs will often keep playing even when their joints are inflamed and they're in pain, so it might be important that you get a dog launcher that limits the length of time it remains operational. It's also advisable that you consult your vet before even considering one in the first place, as your pooch might have underlying conditions that make that kind of activity detrimental to their health.
Dog Demeanour
Your dog's general personality can be a major factor in determining whether they enjoy a specific ball launcher model or end up fearing it. Some dogs are deathly afraid of strange, loud noises, so if a machine is too noisy, they may end up fleeing and developing a trauma. For canine's like these, you're better off finding a model that's particularly quiet or you might want to look for a different kind of toy entirely.
Teaching Your Doggo How To Use a Dog Ball Launcher
Worried that you're going to have a tough time teaching your pooch how to use the machine? Here are some general guidelines to follow when training your dog how to use a ball launcher:
Start by setting down the ball launcher near your pup and wait for them to sniff it and get acclimated with the machine. They may be very wary about it in the beginning, so make sure to give them ample time to get used to having it around.
Slowly demonstrate how to use the launcher step-by-step. Show your dog the ball and then have them watch you as you place it inside the machine. If the device launches the ball and your dog retrieves it for you, make sure to offer them a yummy treat.
Your canine will probably bring the ball over to you the first few times, so you'll want to start nudging them to place the ball in the machine themselves once you sense that they're becoming a bit more confident. If they succeed in doing so, another treat is in order.
Repetition is key. If your pupper is having a hard time figuring out where to put the ball or they keep returning it to you, you simply have to repeat the demonstration over and over until they finally get it. Just make sure to keep the treats coming.
Know when to call it quits. While most dogs adore ball launchers, every doggo has a unique personality so there's always a chance that the toy simply isn't for them. Give the launcher a fair shot at entertaining your dog, but if they're just not interested after so many attempts, you really shouldn't force the issue.
---
You may also be interested in:
Last update on 2023-12-11 / Affiliate links / Images from Amazon Product Advertising API