ⓘ We are reader-supported and may earn a small commission at no additional cost to you if a purchase is made through one of our links.
The best air fryers make cooking up a storm easier, healthier, and more convenient. Make unhealthy food healthier by reducing oil, and make healthy food more easily! Cooking can sometimes feel like a chore, but not when you have the right kitchen equipment.
One of the best appliances for cooking up healthy meals, quickly, cleanly, and with minimal effort is the air fryer. The best air fryers combine great cooking quality, low energy usage, and convenience in a small counter-top unit that looks good.
TL;DR: The Best Air Fryer for Most People 👇
Price reduction
Nutri Ninja Airfryer Deluxe AF160
Most people don't actually need a top-shelf air fryer. Instead, they want something affordable, high-quality, easy-to-clean, and with great cooking capabilities – and that's exactly what the Nutri Ninja Airfryer Deluxe AF160 offers!  🙌
Product Name
Philips Airfryer Twin TurboStar Advanced Collection XXL
Tefal EY401D Easy Fry Deluxe Digital Fryer
Auspure Kitchen Premium Digital Air Fryer
Healthy Choice 7.1 L Digital Air Fryer
Nutri Ninja Foodi Airfryer Deluxe AF160 Ninja Air Fryer
Material
Stainless Steel Aluminum Plastic
Stainless Steel Aluminum Plastic
Product Name
Philips Airfryer Twin TurboStar Advanced Collection XXL
Material
Stainless Steel Aluminum Plastic
Product Name
Tefal EY401D Easy Fry Deluxe Digital Fryer
Product Name
Auspure Kitchen Premium Digital Air Fryer
Product Name
Healthy Choice 7.1 L Digital Air Fryer
Material
Stainless Steel Aluminum Plastic
Product Name
Nutri Ninja Foodi Airfryer Deluxe AF160 Ninja Air Fryer
The Best Air Fryers in Australia
1. Best Overall Air Fryer: Philips Airfryer Twin TurboStar Advanced Collection XXL
Why we like it:
Very large cooking  capacity for larger meals
Includes fat-removal technology
Fry, bake, grill, and roast all with one appliance
Very easy to clean
What customers say:
"This is my second Airfryer from Philips. I would never, not, have one in my kitchen now. The lower fat alternative and speed of cooking is great. I am also sure my electricity bill is much lower, because I never use my oven anymore. My first Phillips Airfryer is still in use, but concerned it was getting older I did not want to get caught without." – Myshelle
The Philips Airfryer Twin TurboStar Advanced Collection XXL is our number 1 pick as the best air fryer in Australia. It ticks every box you'd want and looks good too! It is designed to fry foods with little or no oil, giving you healthier alternatives for frying. The unit features new twin-turbo technology that uses hot air to remove fat from the food. This means less fat in your diet and extra crispy fried results that are similar to deep-frying.
You can also prepare dishes through heat recirculation from the top as well as bottom elements so your dish remains warm until it's ready to be served on a Keep Warm function for up to 30 minutes of time, making it perfect for parties and social gatherings. Make delicious restaurant favourites like chips, onion rings, chicken tenders, and french fries at home with this Airfryer but without all of the grease traditionally associated
This air fryer has a large, easy-to-clean basket that can accommodate 1.4 kg of fries with room leftover and can be cleaned in less than 90 seconds! It delivers 650W worth of power at 240V 30A frequency to help you get dinner ready fast!
If you're looking for the best air fryer in Australia, look no further!
---
2. Best for Most People: Nutri Ninja Airfryer Deluxe AF160
Price reduction
Eating at a fast-food restaurant is an egregious choice, but when you're rushed and craving juicy fries or crispy chicken – it's tempting. Thankfully, the Nutri Ninja Airfryer Deluxe AF160 wants to help you make better choices.
The Air Fryer can cook up to 230 °F with little-to-none oil, making these fried favorites guilt-free with superheated air that boils moisture out of the foods so they crisp in just minutes. MaxCrisp Technology means all of your favorite semi-fast foods can be made at home without the regretful consequence of telling your kids "maybe next time". Get their attention smoother than ordering from McDonalds – this sleek portable device has great features like preset cooking buttons only taking 2 minutes
The Ninja Air Fryer provides 2 modes: Both the MaxCrisp (Fast and Even) & MaxBake (Faster and Hotter). It has a 5.2L capacity, four blades for evenly distributing heat so there's never an undercooked or fried spot, 230° Maxcrisp Technology delivers hot air to crisp food at 30% higher speed than before making it simpler than ever to have guilt-free favorites with little to no oil needed.
What are you waiting for? A healthy, crispy world awaits you!
---
3. Best Air Fryer for Family: Instant Vortex Plus Air Fryer Oven
Price reduction
Why we like it:
Very easy to use
Solid build quality
6 preset cooking programs
What customers say:
"I purchased an air fryer years ago when it all began and gave it away soon after as I couldn't see what the fuss was about – I just used the oven. Then I purchased this one to see if it would change my mind about them. Boy it has!!" – Ron Edwards
Instantly convert any of your favourite fried snacks into a healthier, more wholesome dish with the Instant Vortex Plus 10-litre 7-in-1 Air Fryer Oven. The pre-set programs allow for quick and easy use throughout the cooking process. You can air fry, bake, grill, or roast on different shelves to come up with something new every time you use this great piece of kitchen equipment. Get healthy food in no time at all with this multifunctional tool!
Digital control provides a range of options for cooking any food you can imagine, so the possibilities are endless. A pre-set Smart Program does everything from rotisserie to air frying and baking in the oven – all with no oil needed! You don't need to be an expert chef because, with all these functions at your fingertips, anything becomes possible.
The latest 10L Instant Vortex Plus Air Fryer Oven accommodates large families or busy cooks – anyone who loves crispy foods without the guilt. With this innovative appliance, you can enjoy delicious and healthier versions of classic dishes like crisp fries, juicy wings and even cinnamon rolls that taste just as good as they should!
---
4. Best Air Fryer for Baking: Russell Hobbs RHAF5COP 5L Brooklyn Air Fryer
No products found.
Why not try cooking up a healthy, delicious meal with the cooks up meals and snacks in a flash as it requires little to no oil. With an option for one-pot dinner or packing away after cooking, this fryer can be used by anyone. The sleek black housing looks like professional quality while the digital touchscreen ensures easy use all around!
If you're a family chef or an amateur, this fryer is perfect! With a 5L capacity and 7 in-built cooking functions for healthier, taste-filled meals with little to no oil spilling mess. Plus, it's packed with handy design features like removable frying baskets for easy access and clean-up after cooking plus a generous carry handle making packing away a cinch. Finished with a touch of glossy black elegant appeal that will last through those busy days alone or spent eating your delicious meal creations together as one big happy family.
The digital touchscreen is clear and bright while being easy to clean thanks to its dishwasher-safe properties. This product also includes features such as removable attachments for ease of washing – combined with a handy carry handle you can use on those lazy nights out when you don't want anything but wonderful food from every mealtime!
---
5. Best Value Air Fryer: Auspure Kitchen Premium Digital Air Fryer
Why we like it:
Choose from 10 presets for easy operation
Dishwasher-safe and easy to clean
5.5 liter cooking capacity
2-year warranty
What customers say:
"Purchase this Air-Fryer. I did all the research for you. I spent 3 days researching air fryers pouring over hundreds of reviews, specs and videos.And now I'm so happy with this purchase also recommended for you as well." – Adam
For the busy cook that needs to whip up a quick and easy dish, try the Auspure Kitchen's Digital Air Fryer. Perfect for "ready-in-a-minute" heating options like traditional burgers, pizzas, french fries or any type of burger patty without added fat or oil! The included inbuilt timer is perfect for cooking dishes at various time intervals with an intuitive touchscreen and digital display.
Keep your family healthier and reduce the burden on the global environment by using an Auspure Kitchen Premium Digital Air Fryer. With its rapid 360-degree high-speed air circulation technology, this appliance cooks food with little or no oil so you can reach your health goals while caring about the environment.
With its sleek, contemporary design, this easy-to-use air fryer has an intuitive touchscreen and digital display features that make it perfect for any kitchen. The detachable nonstick coating baskets are dishwasher safe for maximum convenience.
---
6. Best Air Fryer for Small Batch Cooking: Tefal EY401D Easy Fry Deluxe Digital Fryer
Why we like it:
Very well-built and compact design
8 presets including fries, fish, pizza, grill, and roast
4.2-liter cooking capacity
Up to 200 degrees Celcius
What customers say:
"This air fryer is absolutely fantastic. We've been using every day and is so easy to use.
Anything you would deep fry, bake and grill can go in the air fryer. It's amazing and also scary how much oil drains out the food you're cooking." –Jean Gangoo
Featuring an XL capacity in a modern stainless steel design, the Tefal Easy Fry Deluxe Digital Fryer lets you fry classic foods like fries and shrimp as well as grill French bread for perfect cuts. Its cyclonic airflow system is hot enough to give your food incredible crusts without using oil – no need for extra ingredients or dishes!
With the Tefal Easy Fry Deluxe Digital Fryer, you can now say goodbye to messy fryers with unhealthy high-calorie oil. It has eight pre-set menus for fries, cutlet, shrimp, cake, pizza fish, and more – but it's also easy to customise your perfect settings too.
Fresh vegetables can be flash roasted to bring out their natural flavour while saving on time and effort. Chicken, fish and even desserts will also taste just great when cooked in this fryer thanks to its 8 preset menus with cooking options such as fries, pizza, cake and more on offer.
This fryer is an indispensable kitchen appliance that's worth every penny! However, due to its capacity, we recommend theTefal Easy Fry Deluxe Digital Fryer for small batch cooking applications.
---
7. Best Air Fryer for Chips: Healthy Choice 7.1 L Digital Air Fryer
Why we like it:
Very large 7.1-litre capacity
7 presets to choose from
Touch screen display
Dishwasher-safe and easy to clean
What customers say:
"Am extremely happy with this air fryer so easy to use and easy to clean. Makes such a delicious job of all foods. Try a roast pork shoulder, the crackling is perfect and very tasty. A whole chicken is so tasty with Potatoes around the outside" – William J Long
Healthy Home's newest addition to the kitchen is the Healthy Choice 7.1 L Digital Air Fryer! Designed for all your healthy cooking needs, this versatile appliance is perfect for frying without oil and healthier alternatives to classic fried fare. With a maximum capacity of 7.1 liters, this unit can cook up to 12 chicken drumsticks or 6 hamburgers at once – and all dishwasher safe too! Whether you're looking forward to delicious, crispy fries filled with flavour or fluffy baked goods that have been lightly browned on top – let our air fryer do it for you quickly and easily!
Healthy Choice 7.1L Digital Air Fryer is the perfect solution for all your family meal needs on those busy summer days. From crispy chicken nuggets, chips, to tempura battered mushrooms, make dinner in minutes with this multifunctional air fryer, which distributes heat evenly using its "turbo air" technology, and cooks super-quickly at low temperatures.
Inspecting the easy-to-use digital control panel reveals a variety of features: timer; angle selector; hoblight; automatic shutoff – allowing you to choose how well done you want your food from rare to well done or even customize cooking time right down to 1-minute increments! Best of all, it's so versatile that it can be used as a grill for grilling
It's time to stop dreaming about quick-fire food: make difficult recipes become easy tasks with a little help.
---
How We Researched the Best Air Fryers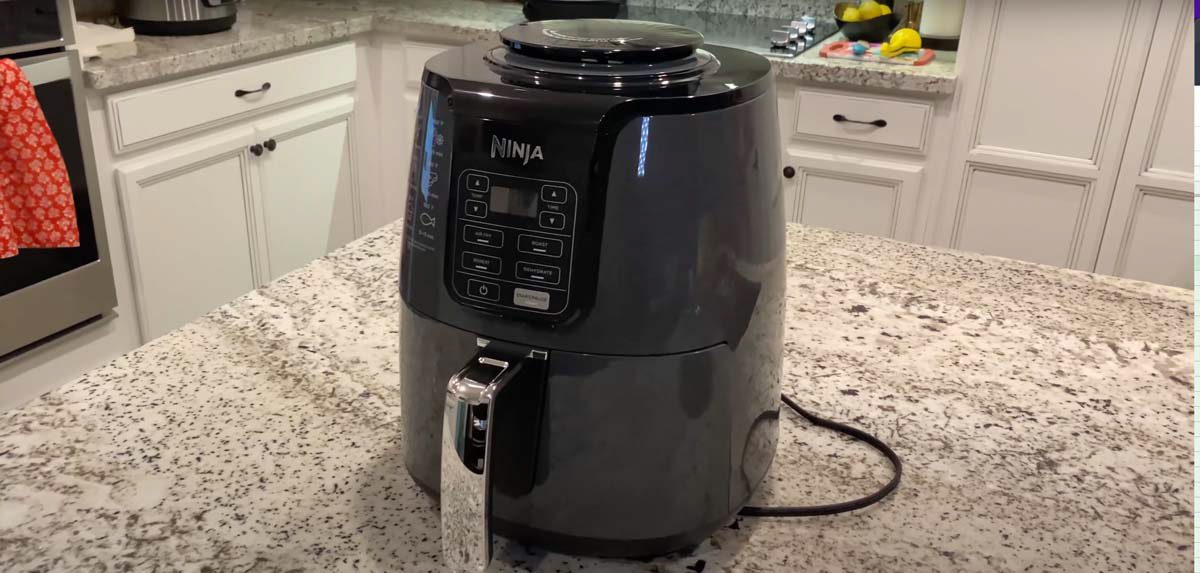 We spent dozens of hours researching, comparing, and analysing the best air fryers we could find in Australia to help save you time. We looked at over 50 different air fryers from  30 different brands across Australia. We shortlisted the best 20 and compared their features, pricing, reviews, customer testimonials, and more. This resulted in the list of the best air fryers available to buy right now in Australia.
Air Fryer Buying Guide
If you're on a mission to create a healthier lifestyle, but can't quite say goodbye to crispy fluffy chips just yet, then perhaps an air fryer is for you! Greasy chips and an oily kitchen smell are no more with an air fryer. Do yourself and your home a favor by picking up an air fryer, but before you do, make sure you're in the know and can make an informed purchase by reading our Air Fryer Buying Guide.
What are The Benefits of an Air Fryer?
Healthier Meals
The number one benefit of owning an air fryer is healthier meals. Air fryers dramatically reduce the amount of oil required to cook many meals. This reduces cholesterol and cuts down on calories.
Easy Clean-Up
Cooking with an air fryer is typical takes less time than with a traditional cooker and also requires less cleaning. For example, if you're frying chips traditionally there will be a lot of oil splatter and utensils to clean up. Well, with an air fryer there is no oil splatter and the majority of air fryers are very quick and easy to clean.
Quick Cooking
On top of the cleaning benefits, they also cook more quickly. Air fryers can heat up very quickly, with some air fryers like some of the Philips range heat up incredibly quickly.
How Does an Airfryer Work?
The name air fryers is actually a bit misleading since technically they don't fry food. Instead, they circulate hot air around food held in a basket allowing air to flow around all sides of the food. This creates a convection effect that heats the food uniformly from all angles.
What to Consider When Buying an Air Fryer
Before purchasing an air fryer you should learn what separates bad air fryers from good ones and good ones from the best. Here are the key purchasing considerations
1. Capacity
First things first, you need to consider the capacity of the air fryer and how this will impact cooking. Typically an air fryer will range from 0.5 L to 6L, with 0.5 being on the small side even for a solo cook and 6L being suitable for families or meal prep.
The stated capacities in practice are smaller since some of the capacity must be left empty to facilitate the cooking. Also practically speaking again, food isn't always a uniform shape, so you must keep this in mind.
The larger the capacity the larger the unit. If you have very limited counter space a larger air fryer can be very annoying. Buy an air fryer that suits your kitchen and cooking requirements.
2. Drip Trays
Ideally, you would purchase an air fryer with a drip tray to help with the cleanup and keep the food on the healthier side of things. Not all units have this feature, but it's a very useful feature that should be considered.
3. Keep Warm Mode
This feature allows you to cook up some food, eat some and leave the rest in the air fryer at a nice warm serving temperature. This is a must-have on the larger air fryers.
4. Variety of Cooking Functions
The best air fryers are quite versatile when it comes to the different cooking functions. Typically they will require an accessory some of which are included with others requiring a separate purchase. These accessories can enable grilling, baking toasting, slow cooking, and more.
---
You may also be interested in:
Last update on 2023-12-02 / Affiliate links / Images from Amazon Product Advertising API