ⓘ We are reader-supported and may earn a small commission at no additional cost to you if a purchase is made through one of our links.
Health grills can be a great addition to any kitchen. They can help you cook a variety of foods such as chicken, vegetables, steak, paninis, bacon, burgers, seafood, etc. The good thing about health grills is that they lock in the natural flavours of the food while draining out the unhealthy fats. In addition to this, health grills are easier to set up compared to traditional grillers. Plus, they don't emit smoke, so your food won't discolour, and neither will it have a smoky taste.
A typical health grill has two heating plates, meaning you can cook the upper and lower sides of the food simultaneously. This can reduce your cooking time by half. The cooking plates are purposefully slanted to allow fats and oils to flow away from the food as it cooks. There is a drip tray that will catch the grease dripping from the food, so your countertop won't get messy. Moreover, the heating plates on most health grills are removable, allowing for quick and easy cleaning.
 TL;DR: The #1 Health Grill for Most People 👇
Price reduction
TEFAL OptiGrill+ Stainless Steel Health Grill
This health grill is an Australian staple from the celebrated kitchen accessory brand Tefal. It offers 6 different programs to help cook perfect chicken, bacon, burgers, red meat, and even fish!
There's an automatic cooking sensor that detects the thickness of the meat and adjusts the temperature and cooking cycle on the fly. So you'll never have to worry about over or undercooked food again!
So, if you're looking for a health grill that will actually improve your food and will make you want to use it, then here it is! 🙌
Some health grills allow users to adjust the cooking temperature to the most preferred level. This feature can prove helpful when preparing foods that require precision cooking. There are models with pre-set cooking settings for specific types of foods. However, selecting the best health grill can be quite difficult because there are several options to choose from. Listed below are some of the top-rated health grills that you can find in the Australian market.
Product Name
Breville BGR840 The Smart Grill Pro
TEFAL OptiGrill+ Stainless Steel Health Grill GC712
Cuisinart GR-6S Contact Smoke-Less Mode Griddler
Salter® EK2143 Deep Fill 3-in-1 Snack Maker
Product Name
Breville BGR840 The Smart Grill Pro
Product Name
TEFAL OptiGrill+ Stainless Steel Health Grill GC712
Product Name
Cuisinart GR-6S Contact Smoke-Less Mode Griddler
Product Name
Salter® EK2143 Deep Fill 3-in-1 Snack Maker
If you are in a rush, the below quick links will take you straight to the product that you have selected:
The Best Health Grills to Buy Today in Australia
1. Best Overall Health Grill: Cuisinart GR-6S Contact Smoke-Less Mode Griddler
Why we like it:
Has a sear function
It is an all-rounder
Easy to use digital controls
What customers say:
"Great addition to my kitchen. Easy to clean and very easy to store (small footprint). Good in the winter as opposed to cooking outside, and ease of cleanup makes it better than the big kitchen cooktop." –M. Shapiro
The Cuisinart GR-6S Contact Smoke-Less Mode Griddler is also another feature-packed health grill that you can consider buying. It has a user-friendly control panel that allows you to make quick adjustments in between the cooking session. You can set the cooking temperature anywhere between 79°C and 218°C. The Cuisinart GR-6S will provide you with well-cooked meals when grilling meat, vegetables, omelette, and many more.
And unlike the OptiGrill+ GC712, the heating plates on this health grill can fold out flat for an enhanced barbequing experience. Additionally, it has a short preheating time, so you won't have to wait for the plates to heat up. Like most health grills in its class, this unit features a sear function, which will enable you to cook the surface of the meat to crusty brown doneness. The heating elements will keep the temperature at a constant level throughout the cooking process, allowing all parts of the food to cook properly.
This health grill has a small footprint, meaning it won't take up a lot of space on your worktop. In addition to this, it does not generate as much smoke compared to most health grills on the market. You can use it to cook your favourite meals while indoors without experiencing any problems. With this health grill, you won't have to wait for summer to cook that rib-eye steak, you can cook all grillable foods at the comfort of your home even in winter.
This unit is solidly built for durability purposes. The circuitry system allows for precision heat control when preparing temperature-specific foods such poultry, fish, fowl, etc. Cleaning this grill is very easy since the plates and the drip tray are removable. But that is not all; the aforementioned components can be cleaned in a dishwasher. The handle doubles as a stand when the plate is folded out flat, providing you with maximum stability when grilling.
The most outstanding feature of this health grill is the DuoControl temperature functionality, which allows users to adjust the temperature of the lower and upper plates independently. This means you can cook foods with different temperature requirements without altering the natural flavours. Both plates are coated to prevent the food from sticking onto the heating surface. However, the height of the top plate is not adjustable.
---
2. Best Health Grill with Removable Plates: Breville BGR840 The Smart Grill Pro
Price reduction
Why we like it:
Adjustable temperature settings
Excellent build quality
Fast cooking
What customers say:
"Breville grille. This is our second of this model. First one lasted 12 years before it died. Bloody awesome for grilling and also for opening out to use like a big frypan. Highly recommend this." –Glen
Topping our list of best health grills is the Breville BGR840 The Smart Grill Pro due to its smart features and heavy-duty construction. Fitted with 2,400-watt heating elements, which are neatly embedded in the grilling plates, this health grill allows for fast cooking in all scenarios. It does not matter whether you are cooking fish, beef, poultry, lamb, or pork, the Breville BGR840 will help you get the job done within the shortest time possible.
Furthermore, it features pre-set cooking modes that can help you cook your food to the desired level. With up to five settings that are dedicated to cooking meat, this health grill may just be what you need to make your summer grilling experience more memorable. The onboard probe can come in handy when grilling different types of meat, but it can as well assist you when cooking fish and other delicate foods.
What the probe does is that it intelligently checks the cooking temperature of the food during the grilling process. And since it collects the temperature data from inside the food, you won't have to worry about the meat overcooking. The integrated sensor will alert you when your food has been properly cooked. Through this, you won't have to check the doneness of the meat every now and then. If you like, you can even crack a cold one with your mates as the food cooks.
The LCD screen will show you the plate temperature and the cooking mode that is currently in use. In addition to this, the grill has a rest meat function that will prevent your steaks from overcooking. This feature locks in the flavours, thus providing you with tastier meat. You can double the size of the cooking surface by unfolding the upper plate. The included handle will simplify your work when making plate adjustments.
When the heating plates are set at a 180° angle, you can use this grill for griddling pancakes and eggs. Plus, this health grill has both ribbed and flat plates, which are removable. Besides, you can effortlessly remove the plates with the help of the plate release buttons. This is the largest health grill on our list, so only go it if you have enough space.
---
3. Best for Most People: TEFAL OptiGrill+ Stainless Steel Health Grill GC712
Price reduction
Why we like it:
It has up to six pre-set cooking modes
Indicates the cooking level
Innovatively designed
What customers say:
"I am very satisfied with the product. Highly recommend. Specially, if you don't have BBQ then just buy this and you will be fine. Very easy to clean. 10/10. Guys go for it." –VORAVATSAL
The TEFAL OptiGrill+ Stainless Steel Health Grill GC712 with Automatic Thickness and Temperature Measurement boasts a long list of features that will take your grilling skills a notch higher. This health grill is designed with every users need in mind, thus making it an ideal option for grill masters and beginners. The cooking surface measures 600 cm² and is suitable for prepping meals for 2-4 people.
Plus, the plates are made of die-cast aluminium to maximise heat transfer and durability. The cooking surface is PTFE-coated to allow for easy cleaning. It is also non-stick, so you won't have a hard time removing the food from the grill once it has been cooked. Like the Breville BGR840, the OptiGrill+ GC712 provides you with multiple cooking modes that you can choose from based on what you are cooking. As such, you will be able to prepare a variety of meals without using a second grill.
The available modes can help you cook bacon, sausage, burgers, fish, chicken, and red meat with precision. This unit has high-performance sensors that monitor the food while it cooks. The level indicator is colour-coded for user convenience. On top of that, the in-built alarm system beeps every time the food progresses to the next cooking level. This appliance has an auto cooking mode that will prompt the thermostat to adjust the cooking temperature depending on how thick the food is.
As a result, your food will cook from the inside out without getting charred. Also, it won't be undercooked since the sensor can detect the level of doneness in each stage. To add to its list of features, the OptiGrill+ GC712 provides users with a manual mode, with up to four temperature settings that you can use when cooking seafood, vegetables, fruits, paninis, and other foods. The 1st level will set the cooking temperature at 85°C to 110°C,2nd level;150°C to 165°C,3rdlevel;190°C to 205°C,4th level;240°C to 255°C.
As you can see, this health grill is fully programmable, so all you have to do is apply the setting that matches the requirements of the food that you are cooking. There is also a special mode for cooking frozen foods. And because health grills are all about healthy cooking, the plates on the OptiGrill+ GC712 are set at a 7-degree angle so that the fats can drain away from the food. This feature will provide you with leaner meat that is equally tasty.
---
4. Best Mid-range Health Grill: De'Longhi Electric Grill
–
The De'Longhi Electric Grill is somewhat similar to the Tefal SW852D61 in that both units are specially designed for making snacks. This device is quite versatile and will allow you to swap cooking plates with the utmost ease. The upper and bottom plates are both interchangeable and non-stick.
This grill can greatly assist you when making toasted sandwiches, waffles, paninis, etc. In terms of build quality, this unit is made of high-quality stainless steel to keep rust at bay. For your safety, it is fitted with a cool-touch handle, so you won't burn your hands even when the plates are hot.
Besides, the heating element delivers just the right amount of heat, so your food will come out exactly how you want it. Also, the heating plates won't crumble or tear your snacks during the cooking process. This unit is very easy to work with and will allow you to grill your snacks within the shortest time possible.
Plus, the locking latch ensures the plates stay in the right position, meaning all parts of the food will be cooked to your preference. The included instruction manual will guide you on how best you can make use of the available features.
---
5. Best Value Health Grill: Tefal Snack Collection SW852D61 Multi-Function Sandwich and Snack Maker 
The Tefal Snack Collection SW852D61 Multi-Function Sandwich and Snack Maker with Interchangeable Plates performs exceptionally when it comes to making to grill panini, sandwich, waffles, pancakes and other snacks. It has a space-saving design, making it an ideal option for small countertops. To add to this, it is lightweight, allowing for easy portability.
This unit is made of stainless steel and also has a corrosion-resistant coating to increase durability. It is important to note that the heating element is only rated at 700 watts, so it may not be as efficient compared to most health grills on our review list. The heating plates are not only removable but also interchangeable. As such, you can adjust them according to your needs.
This appliance comes with two plates, but you can buy additional plates separately depending on what you want to cook. As earlier mentioned, the SW852D61 is more suited for grilling light snacks that require minimal heat. The base is weighted, so it won't lift off from the worktop when you pull on the handle. There is a locking mechanism that will ensure the top and lower plates stay in place so that the food can cook to the preferred doneness.
The preheat indicator will let you know when the plates have heated up to the desired level. This can help you avoid guesswork when putting in the food. The downside; this equipment does not have smart features and is also underpowered. All in all, it has a simple design and is equally easy to operate.
---
6. Best Health Grill for the Budget: George Foreman GR25042AU Family Steel Grill
Why we like it:
Removable drip tray for easy cleaning
Non-stick plates
Stainless steel body for maximum durability
Compact design for easy storage
What customers say:
"I am very happy with my grill and am trying various things I have grilled sandwiches, chicken wings, meatballs, and will try different things as I just cook for myself it's big enough for me."-Anneke
Featuring a large grilling surface that can cook up to five servings, the George Foreman GR25042AU Family Steel Grill can be a great option for those who grill regularly with family and friends. Moreover, it comes from a brand that is known for making premium-grade health grills.
This model has amazing features that will make all grilling tasks easy for you. For starters, the cooking surface is slopped to prevent fats and oils from pooling in the grilling area. The result is that you will have yourself a low-fat meal that is healthier and tastier.
Additionally, the drip tray has a large capacity, so you can grill continuously without having to empty it. More on the drip tray, it has a clip-on design that will enable you to attach it with ease. Since the heating plates are ribbed, the fats will run off cleanly without creating a mess.
Like the unit just before it, the George Foreman GR25042AU has temperature-ready and power indicator lights that are strategically placed for your convenience. Thanks to the floating hinge design, you can cook both small and large portions with no fuss. However, the plates are not removable, so cleaning them can be a bit difficult.
---
How We Researched the Best Health Grills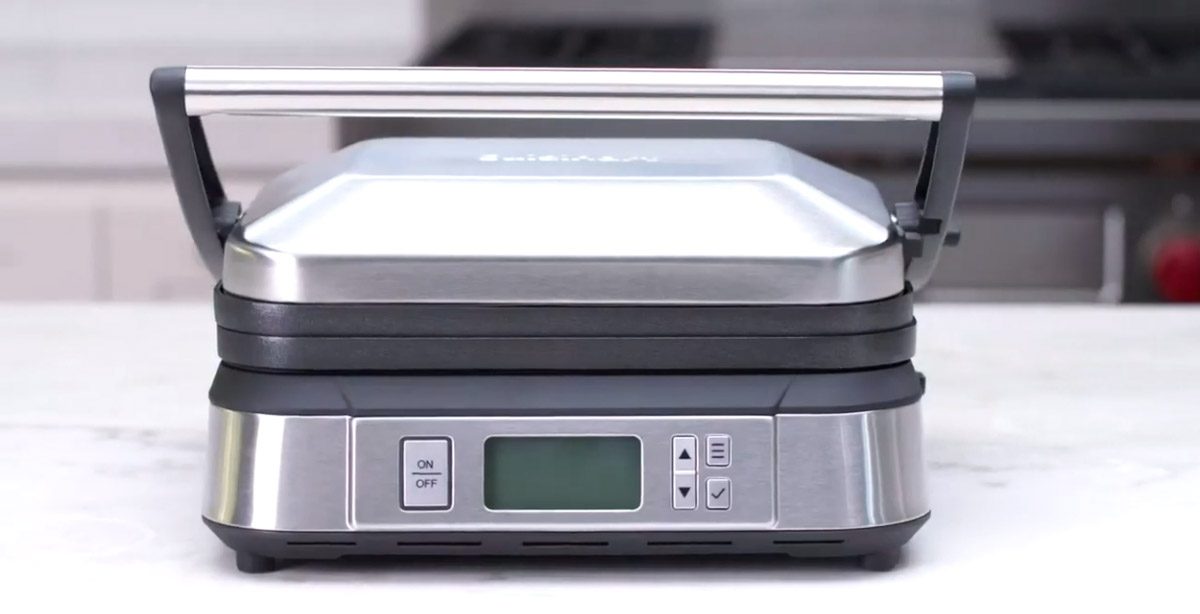 In our search for the best health grills, we visited online marketplaces like Amazon, Bunnings, MyDeal, and eBay. We handpicked the health grills based on ease of use, build quality, versatility, ease of cleaning, and size. Additionally, we went through the reviews left by customers who had made a verified purchase.
This gave us a better understanding of how each grill functions, its features, and overall performance. We did not only focus on the good reviews but also considered the bad ones to get unbiased information. That is not all; we scoured through professional review sites to see what professional critics had to say about the health grills that we had chosen.
After careful thought and consideration, we had to eliminate the products that fell short of our standards. We only chose health grills from reputable brands, so you can buy any of the products covered in this review list without worrying about the quality. Furthermore, we have included high end, mid-range and low-end health grills, so you are the one to choose the machine that works best for you and within your price range.
Health Grill: Buying Guide
As it is with most kitchen appliances, health grills are not the same in terms of performance. They have different features and functionalities, so you should take your time and consider all the factors before buying a particular grill. Here are some of the things that you should take into consideration when shopping for health grills:
You grilling needs
Before choosing a health grill, it's important to know the purpose for which you are buying the grill. If you intend to prepare meals for the whole family or a large number of people, you should go for the larger models. The smaller models are better suited for cooking meals for one or two people.
Cooking speed
Health grills are fitted with powerful heating elements that generate the heat needed to cook the food. However, manufacturers use different types of heating elements. As such, high power health grills tend to heat up quickly and can also keep the heat at optimum levels for an extended duration, allowing the food to cook faster.
Low power health grills, on the other hand, may take a longer time to cook the food to the desired level. High power health grills are ideal for cooking steak, fish, bacon, and other types of meat, while low power models are more suitable for grilling vegetables.
Cleaning
Proper hygiene is of utmost importance when in the kitchen. With that being said, you should go for appliances that are easy to clean to avoid food contamination.
You should buy a health grill with detachable heating plates since this will give you an easy time when cleaning the unit. Plus, some heating plates are dishwasher safe, so you can toss them inside your dishwasher for a quick rinse.
Price
Health grills come at different prices depending on the available features, power, size, functionality, etc. The price of a health grill can range anywhere between $40 and $500.Some models are far more expensive, so ensure that you choose a grill that is within your budget and worth what you are paying for.
Ease of use
This is one of the factors that we considered when choosing the above-listed health grills. To get the best from your health grill, you should buy a unit with a straightforward design. This will not only help you avoid complications but will also allow you to cook the food according to your preference.
A good health grill should have a control panel that can help you make quick adjustments when cooking. Also, the grill in question should have quick-change heating plates for a frustration-free cooking experience.
What to Look for When Buying a Health Grill
Now that you know what to consider when selecting a health grill, it's good to familiarise yourself with the specifics as this will increase your chances of finding the grill that matches your requirements.
And as mentioned earlier, health grills have different features and also vary when it comes to design and performance. It is, therefore, recommended that you select a health grill based on your needs. Below are the basic features that you should look for when purchasing a health grill:
Temperature control
When buying a health grill, it would be wise to choose one with adjustable temperature settings. That way, you will be able to cook different types of foods without sacrificing the natural flavours or compromising the quality of the food.
Health grills with this feature have easy-to-use temperature dials that will allow you to increase or decrease the heat accordingly. Moreover, they are ideal for cooking foods that require precision heating.
Plate design
If you are looking to cook your meals without damaging the food, you should consider buying a health grill with non-stick plates. These types of grills can cook at maximum temperature without the food sticking onto the surface of the heating plates. Non-stick plates are also easier to clean, making them even more convenient.
Aside from being non-stick, the heating plates on the health grill should be slightly slanted to allow the fats and oils to flow away from the food, especially when cooking meats. Also, removable cooking plates are highly preferred because they are easier to clean.
Drip tray
As you already know, health grills are unique in that they can drain away fat and oils from your food, leaving you with a leaner meal. As such, a health grill needs to have a drip tray since it's the component that captures the juices rendered from the food
Pre-set cooking settings
Certain types of foods require a specific temperature range for them to cook properly. And this is why some health grills have dedicated heat settings for cooking delicate foods. If you know that you will be cooking temperature-specific foods, ensure that you buy a health grill with pre-set cooking settings.
Automatic sensor
Some health grills are equipped with highly responsive sensors that can detect the size and thickness of the food being cooked. The sensors allow the heating element to adjust the cooking time and temperature accordingly.
If you are in search of this type of health grill, the TEFAL OptiGrill+ Stainless Steel Health Grill GC712 with Automatic Thickness and Temperature Measurement is one of the options that you can consider buying.
Searing functionality
If you are a grilling master, then you must be familiar with the searing technique. This method is commonly used when grilling steak, chicken, and seafood. It allows you to grill the meat at extremely high temperatures without drying it out. Searing creates a flavourful crust on the surface of the food while keeping the inner parts juicy.
Benefits of Using a Health Grill
As the name suggests, a health grill can help you make healthy meals. These machines are specially designed with your health and wellbeing in mind. Although they don't extract all the fats and oils from the food, health grills can greatly reduce the number of calories that you consume each time you eat grilled meats.
This will, in turn, lower your chances of getting diseases such as obesity, atherosclerosis, diabetes, heart disease, etc. Additionally, health grills will help you cook your foods evenly without leaving any parts undone. Nonetheless, this will only apply if you go for high-quality health grills. The health grills that we have reviewed above can help you get started on your journey to eating healthy.
---
You may also be interested in:
Last update on 2023-11-30 / Affiliate links / Images from Amazon Product Advertising API