ⓘ We are reader-supported and may earn a small commission at no additional cost to you if a purchase is made through one of our links.
A multi-cooker may just be what you need to up your performance when in the kitchen. These units are exceptionally versatile, making them ideal for all households. With a multi-cooker, you can stew, deep-fry, boil, bake, steam, and sauté your favourite foods without using additional cooking appliances. Some models offer other cooking functions, so it will all depend on the type of multi-cooker that you pick.
Plus, most multi-cookers are fully programmable, meaning you can customise the cooking system according to your needs and the type of food that you are cooking. If you do everything correctly, you will get perfectly cooked meals every time. Moreover, multi-cookers are very easy to operate and will allow you to prepare flavoursome meals without giving you any problems.
TL;DR: The #1 Multi-cooker for Most People 👇
Additionally, multi-cookers can save you a lot of time in the kitchen since they have a pressure cooker function. But that is not all; most multi-purpose cookers can as well be used for slow cooking applications. And the fact that they take up minimal counter space makes them even more convenient for users.
The Best Multi-cookers to Buy Today in Australia
1.

Best Overall:

Breville The Fast Slow Pro Multi-Cooker
Our top pick for the best multi-cookers is the Breville The Fast Slow Pro Multi Cooker due to its intuitive cooking system and simple design. We highly recommend this multi-purpose cooker to both professionals and beginners because it is efficient and equally easy to use. Breville has combined a slow cooker and a pressure cooker to give you a versatile appliance that can help you cook virtually all types of food.
The slow cook function provides you with 8 settings that you can choose from, while the pressure-cook mode offers up to 11 settings for user convenience. All you have to do is select the most appropriate cooking function from the menu , and you will be good to go. It does not matter whether you are sautéing, steaming, boiling, or searing your food, the Fast Slow Pro Multi Cooker will help you get the job. Plus, it features an automatic setting that will simplify your work when cooking a variety of foods.
Simply place the ingredients inside the 6-litre cooking bowl and let the machine handle the rest. With this feature in place, the multi-cooker can automatically adjust the cooking temperature, pressure, and time. That way, your food will cook under the right conditions, thus providing you with nicely cooked meals. Moreover, this all-in-one cooker has a user-friendly digital interface that will give you full control.
To add to its list of features, the Breville The Fast Slow Pro Multi Cooker is fitted with a reliable pressure regulating valve for user safety. Besides, it has an auto pulse function that allows the steam to escape without you opening the pressure valve manually. The built-in sensors monitor all the parameters during the cooking process, thereby proving you with real-time updates as the food cooks. On the downside, the inner bowl does not have handles.
---
2.

Best Multi-cooker for Rice:

Instant Pot Duo Crisp and Air Fryer
The Instant Pot Duo Crisp and Air Fryer is more than your average multi-cooker. It can also be used as an air fryer, making this one of the most versatile units that you can add to your kitchen. This multi-cooker comes with two lids that you can swap depending on the type of food that you are cooking. Both the air fryer and pressure cooking lids are designed with your safety in mind, so you can operate this appliance without worries.
You can use the pressure cooker lid when steaming, pressure cooking, sautéing, or slow cooking. It can as well be used for sous vide cooking. The air fryer lid, on the other hand, will provide you with exceptional results when roasting, broiling, air frying, dehydrating, or baking food. There are up to 11 cooking programs that you can use in different scenarios. The one-touch control panel will allow you to adjust the settings according to your cooking needs.
Also, this unit comes with additional accessories such as a steam rack, multi-function broil tray, protective pad, and a multi-level fryer basket. With a capacity of 8 litres, the cooking bowl can accommodate a full standard size chicken. But that is not all; it is non-stick, so you won't have a hard time cleaning this multi-cooker once you are done cooking. The pressure cooker lid features a quick-release button that enables you to regulate the pressure in an instant.
What's more, there is a float valve that will let you know whether it is safe to open the lid. If the float valve pops up, it means the cooking chamber is fully pressurised. The valve will drop down when the cooker is depressurised, indicating that it's now safe to open the pressure cooker lid. To add to this, the bright LED display allows for easy readability in all lighting conditions. The flaws: the Instant Pot Duo Crisp does not have a cooking progress indicator.
---
3.

Best for Most People:

Philips Viva Collection All In One Multi Cooker
Sleek, stylish with an interactive digital interface, the Philips Viva Collection All In One Multi Cooker is one of the highly-rated units on our list. It has great features that will dramatically boost your performance when cooking. Like the Breville Fast Slow Pro, this multi-cooker allows you to use either pressure cooker or slow cooker function. The former provides you with 7 settings that will help you whip up a quick meal when in a hurry.
As for the latter, it will allow you to cook your food with low or high-temperature settings to achieve the desired level of tenderness. According to the manufacturer, the 1,300W heating element on this multi-cooker is up to 25% more energy efficient than most units on the market. Additionally, it takes a shorter time to heat up, making it even more convenient. The digital interface has everything that you may need to get started on your first cooking session. Besides, the controls are conveniently labelled to take the guesswork out of cooking.
This appliance comes with a 6-litre cooking pot, steaming basket, measuring cup, scoop, and a recipe book. It has an adjustable timer setting that will give you maximum control when pressure cooking or slow cooking. If you apply the right setting, your food won't be undercooked, and neither will it overcook. Furthermore, the intelligent cooking system ensures the unit operates within the set parameters at all times. As such, nothing can go wrong provided that you use the correct cooking function.
The Philips HD2237/72 Viva Collection not only provides you with a keep-warm function but has a reheat feature. This means your food will be served when it's still piping hot. And since the heating element distributes heat evenly, the food at the bottom of the cooking pot won't get burnt even when the cooker is left on keep-warm mode for long hours. The lid has a control valve and a stay-cool handle for user safety. As with most multi-cookers, this appliance is tricky to clean.
---
4.

Best Value Multi-cooker:

Instant Pot Duo Nova Electric Multi-Use Pressure Cooker
The Instant Pot Duo Nova Electric Multi-Use Pressure Cooker is somewhat similar to the Instant Pot Duo Crisp and Air Fryer. However, this model has more advanced features that put it a step ahead of most multi-cookers on our review list. For starters, it boasts a cooking progress indicator—a feature that is lacking in most multi-purpose cookers. In addition to this, it has multiple safety features, thus making it safe for users.
This multi-function cooker can be a great choice for both beginners and professionals, thanks to its simple design. Nonetheless, it has several buttons, so it may take some time before you get used to the control panel. On the bright side, each button is labelled to give you easy access to the function that you intend to use. Also, this multi-cooker sports a wide digital display that will show you the pressure level, temperature setting, and cooking time.
With this appliance, you can slow cook, sauté, steam, boil, pressure cook, etc. It even has a yogurt maker function, so you can even use it to make dessert. The stainless steel cooking pot dissipates heat uniformly, meaning your food will cook without sticking. Plus, the inner pot is very easy to clean and is also durable. Plus, the exterior is partly made of stainless steel to keep rust at bay. Its brushed finish can go well with most kitchen décor styles and appliances.
The Instant Pot Duo Nova Electric Multi-Use Pressure Cooker can also be used for cooking rice. It will provide you with fluffy rice regardless of the grain type that you are cooking. There is also a multigrain mode that you can use for cooking mixed grain types. The generously sized cooking bowl can cook enough food for eight servings. This makes it ideal for large families. The sealing rings ensure the multi-cooker retains most of the heat, allowing for fast cooking. You should, however, keep in mind that this multi-cooker doesn't come cheap.
---
5.

Best Budget Multi-cooker:

Russell Hobbs RHPC1000 Electric Multi Pressure Cooker
Russell Hobbs is known for making some of the best kitchen appliances, and the Russell Hobbs RHPC1000 Electric Multi Pressure Cooker is no different from what the brand has been offering over the years. It is made of high-quality materials to ensure you get a multi-cooker that you can rely on. This multi-function cooker has a capacity of 6 litres and features a well-designed control panel that will save you a lot of time.
The pressure cooker mode has three levels that you can use depending on how fast you want to cook your food. By using the delay timer feature, you can program the cooker to start cooking at a time that suits you. There are up to 7 pressure cooking modes and 4 non-pressure functions that can help you get the results that you need. Both cooking techniques will deliver commendable results, so you only need to place the right amount of ingredients inside the cooking pot.
More on the pot, it is removable and also non-stick. When you buy this multi-cooker, you will get a serving spoon, measuring cup, and a steaming rack. All the accessories are dishwasher safe. This unit is ideal for cooking both brown and white rice, so it can be an excellent replacement for your rice cooker. On top of that, it has ten pre-set cooking modes that can assist you greatly when preparing soups and solid foods. The LED display is backlit, so you won't have a difficult time viewing the readouts.
It also has a sauté function that will allow you to cook healthy meals using just a small amount of fat. The keep-warm function lets you keep the temperature of your food at an optimal level for hours after you are done cooking. This feature will save you the hassle of reheating your food before serving it. The other thing that you will like about this multi-cooker is that it is compact, meaning it won't take up a lot of space on your kitchen worktop and storage cabinet.
---
6. Best Mid-range Multi-cooker: Tefal Home Chef Smart Multicooker
With 15 pre-set programs and two special functions, the Tefal Home Chef Smart Multicooker is also another excellent choice that you can buy. It is one of the most affordable multi-cookers in Australia and offers great value for money.
This multi-cooker has multiple safety levels, a removable lid, a wide digital display, and other amazing features, making it an option that is worth buying. And because it has a versatile design, its use can apply in different cooking applications. Depending on the cooking function that is employed, you can use this appliance for cooking rice, soups, vegetables, eggs, porridge, cake, beans, just to mention a few.
Like the Russell Hobbs RHPC1000, this multi-purpose cooker features a 24-hour delay timer. The automatic keep-warm function will kick in when the unit is done cooking your food. The heating element generates just enough heat to cook the food without altering its natural flavours and aromas.
Also, the multi-layer cooking pot is designed to increase your cooking speed. Moreover, its surface is coated in a non-stick layer to increase its efficiency. This makes It is resistant to both corrosion and rust, so it won't discolour over time. Unfortunately, this unit cannot be used for air frying.
---
How We Researched the Best Multi-cookers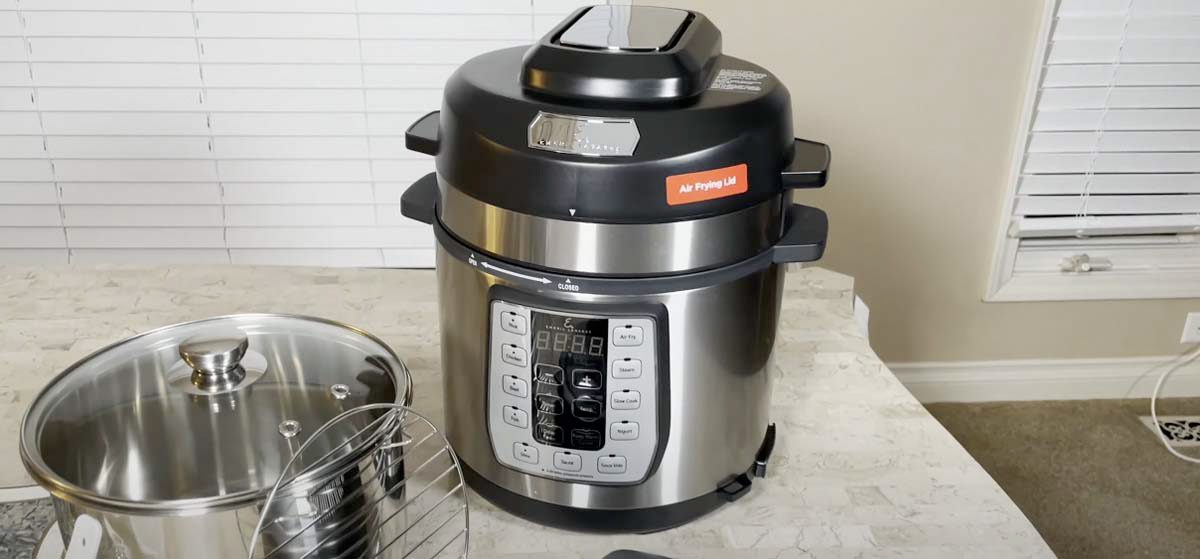 To find the best multi-cookers, we consulted popular independent product review sites in Australia to see what consumers had to say about the best-selling brands. Our selection strategy was mostly based on the data provided by ProductReview.com.au. We were able to identify some of the top-rated brands known for selling high-performance multi-cookers in the Australian market.
For this review, we only chose multi-cookers from Instant Pot, Russel Hobbs, Philips, Advwin, and Breville—one of Australia's best manufacturers of kitchen appliances. After we had selected the brands, we proceeded to Amazon to find the highly-rated models from each brand. We only picked multi-cookers with 4+ star ratings. Also, we read through the customer reviews to ascertain whether the products deserved the ratings.
We found 13 products that were of great quality, but we only needed six, so we had to cancel out some multi-cookers. For this step, we compared the appliances based on cooking capacity, ease of cleaning, cooking functions, build quality, and ease of use. After sifting out some of the cookers, we visited local online stores such as Myer, My Deal, Harvey Norman, and Appliances Online to get the number that we needed.
Multi-cookers: Buying Guide
There are several factors that you need to take into account when shopping for a multi-cooker. These appliances come in different sizes and also vary in terms of cooking functions. With that being said, some multi-cookers are more efficient than others, so ensure that you pick an appliance with as many cooking functions as possible for increased versatility.
Additionally, you need to consider the amount and type of food that you will be cooking. As you may have noticed, each of the multi-cookers that we have reviewed above has a unique feature (s) that sets it apart from other units on the list. They also come at different prices, so you should also consider your budget before picking a particular model.
What to Consider When Buying a Multi-cooker
Cooking capacity
You should choose a multi-cooker depending on the amount of food that you intend to cook. Most of these appliances have a cooking capacity of between 2 litres and 6 litres, while others can hold up to 8 litres of food.
If you have a large family, you can buy the Instant Pot Duo Nova Electric Multi-Use Pressure Cooker or Instant Pot Duo Crisp and Air Fryer are the largest multi-cookers on our list.
Ease of cleaning
One of the main disadvantages of using multi-cookers is that they are not easy to clean. To make your work easier, you should choose a unit that is easy to disassemble and assemble. Some models have dishwasher-safe parts, thus making them super easy to clean.
Wattage 
Multi-cookers with higher wattage can cook faster than their low-power counterparts. A typical multi-function cooker has a wattage rating of 500W to 1500W. Ensure that you pick an appliance that suits your cooking needs.
Cooking functions
Before spending on a multi-cooker, you should check if the unit in question has all the cooking functions that you need. As stated earlier, you should go for a multi-cooker with several menu selections that you can choose from. This will allow you to cook a range of foods with minimal fuss.
The Advwin 7-in-1 Electric Multi Cooker has up to 16 pre-set programs that you can use when preparing different types of food.
Ease of use
Not all multi-cookers are easy to operate. To avoid unnecessary complications when cooking, you need to choose a multi-cooker with a straightforward design. A good multi-cooker should have easy-to-use buttons/dials that can allow you to make quick and easy adjustments.
Features to Look for When Buying Multi-cooker
Keep warm function
Some multi-cookers have a keep-warm function that will ensure your food stays warm for long hours after the cooking process is complete. As such, you will never have to deal with chilled food. If you are looking for a multi-cooker with this function, you can buy the Philips Viva Collection All In One Multi Cooker.
Auto cooking setting
This feature can come in handy when slow cooking. Once the auto function is engaged, the multi-cooker will automatically fine-tune the temperature system accordingly. Most units with this feature start by employing a higher temperature during the initial stages of the cooking process and then gradually lower the cooking temperature, thereby tenderising the food to the desired level without sacrificing the flavours.
Digital display
All the multi-cookers on our review list feature easy-to-read digital displays that will let you know the cooking function, pressure level, and temperature setting that is currently in use. In addition to this, a display will guide you when adjusting the settings.
Reheat function
The reheat function serves the same purpose as the keep warm function in that both will help you maintain the food temperature at an ideal level. However, the reheat function allows you to warm up your food to the most preferred temperature after it has cooled.
Cooking progress indicator
Multi-cookers with this feature are very easy to operate since they let you know the level of doneness of your food. Additionally, they'll help you avoid guesswork when cooking, meaning your food will cook just the way you like it.
Benefits of Using a Multi-cooker
In addition to being versatile, multi-cookers can provide you with a long list of benefits. The main advantage of using these appliances is that they can assist you in different cooking applications. They can replace your pressure cooker, rice cooker, slow cooker, sauté pan, and other appliances that fall in the same category. Besides, some models like the Instant Pot Duo Crisp and Air Fryer can be used for air frying applications.
A multi-cooker can help you save money, space, and energy. Additionally, they enable you to cook healthy meals for your family within the shortest time possible. Most multi-cookers feature a delay timer function, which allows you to program the cooking system according to your needs. Units with this feature can be programmed to start the cooking process after 12 hours to 24 hours, so you will always come home to a perfectly cooked warm meal.
---
You may also be interested in:
Last update on 2023-11-30 / Affiliate links / Images from Amazon Product Advertising API