ⓘ We are reader-supported and may earn a small commission at no additional cost to you if a purchase is made through one of our links.
Finding the right gaming monitor with a limited budget is tough, especially since the market is flooded with so many brands and models that it'll make your head spin. The Sceptre E248W-19203RS comes from a brand that isn't particularly popular in the gaming scene, but they've managed to create a bargain all-around display that's great for entry-level gaming and perfect for professionals who do much of their work on their desktop.
CHECK TODAY'S PRICE HERE: See at Amazon
30 Second Review: Sceptre E248W-19203RS
Design & Build -

8/10

Image Quality -

7.5/10

Refresh Rate -

7.5/10

Ports -

7.5/10
Summary
The Spectre E248W-19203RS walks the fine line between performance and visual quality, offering an exceptionally rich colour palette, above-average refresh rate, and a wonderful bezel-less screen.
Its response time maybe a bit slower than some of its rivals but it just has so much value for a $130 display. If you want an ultra-budget monitor that's suitable for both work and play, this one should definitely be high up on your list.
Pros
Superb colour quality and contrast
Edgeless design
Above-average refresh rate
Decent viewing angles
AMD FreeSync support
Super affordable
Comes with built-in speakers
Cons
5ms response time is slower than some of the competition
Lack of USB ports and DisplayPort
Some noticeable ghosting in high-speed games
Limited range of movement
With so many big gaming brands dishing out affordable monitors, does Spectre's offering have the technological chops to earn your business? That's what we aim to figure out, in this Sceptre E248W-19203RS review.
Don't have the time to read through the whole review? Just click any of the links below and we'll send you straight to that section:
What is the Sceptre E248W-19203RS?
The E248W-19203RS is part of Spectre's 3RS lineup that mixes productivity and play. It started with the 1920 model and they slowly started adding confusingly similar letters and numbers at the end to denote improved variants for different purposes.
The Sceptre E248W-19203RS, for one, features a different panel and better refresh rate compared to the original but still manages to maintain its speedy response time. It also comes with a sync type that's notably absent from other variants, making it a little more gaming-inclined.
On the official Spectre website, the monitor retails for $129.99 which is 30 bucks more expensive than the excellent Acer KG221Q. In return, however, you get a bigger screen, superior panel, and a prettier design which is one of the KG221Q's weaker elements.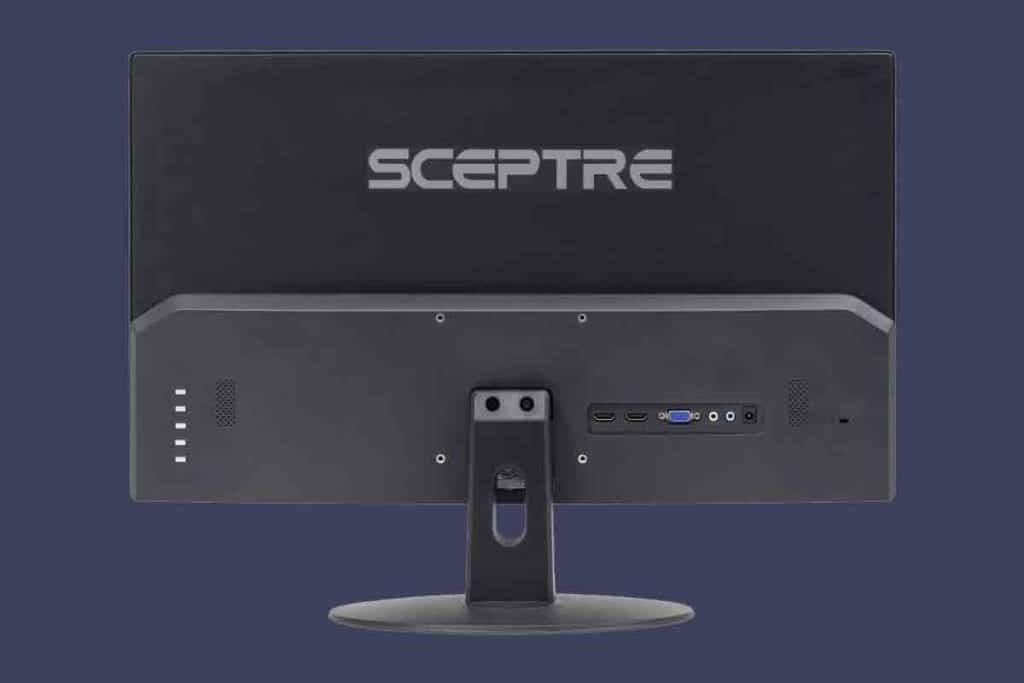 Features
Screen
The Spectre E248W-19203RS features a flat 23.8″ screen with a native resolution of 1920 x 1080 (also known as Full HD or FHD for short) that's just right for its size. It has a maximum refresh rate of 75 Hz which is above the 60 Hz average and perfect for entry-level GPUs that aren't expected to reach particularly high FPS. Its decent (but not great) 5 ms response time also helps create a smoother overall gaming experience.
Panel/Stand
This monitor utilizes a Vertical Alignment (VA) panel which is a nice middle ground between the excellent visual quality that comes with an IPS panel and the impressive performance of a TN alternative. The stand allows for a 15° backwards and a 5° forwards tilt but can't be swivelled left or right and its height can't be adjusted.
If you plan on ditching the stand and mounting it instead, the monitor does allow VESA mounting with a 75 x 75 mm pattern.
G-Sync/FreeSync
Unlike its other variants, the E248W-19203RS comes with AMD FreeSync which minimizes screen tearing in graphics cards that support it.
Ports
It's a bit lacking in this department, as the monitor only has two HDMI ports, a VGA port, and input and output 3.5mm audio jacks. Unfortunately, it doesn't feature any USB ports or a DisplayPort.
Speakers
It may not be enough for more serious gamers, but the E248W-19203RS does come with a pair of built-in 3W speakers which is always a nice addition to have.
Picture Quality
The E248W-19203RS's VA panel is in full effect, as the screen's colour palette is rendered with a distinct level of accuracy and a far more vibrant colour gamut compared to the Acer KG221Q. In addition to the great colours, its contrast is excellent and blacks look deep and satisfying.  You're also getting better viewing angles all around, making it a good choice for console gaming and movie viewing.
In terms of responsiveness, this monitor's 5ms response time is at a disadvantage compared to the KG221Q's 1ms, which is to be expected since TN panels sacrifice visual quality for the sake of performance. But the E248W-19203RS still holds its own and is able to keep up with most games fairly well, though faster-paced titles may introduce some visible ghosting.
I felt that the Witcher 3: Blood and Wine expansion's rich world would be the best way to give the monitor a good test run, and I was right on the money. The game's vivid landscapes and colourful creatures were all brought to life by the monitor's spectacular colour range which is not only bright but precise as well.
After nightfall, the E248W-19203RS's excellent contrast made it easy to navigate the environment and the intense blacks were mostly void of any stray greyness.
What's it like to use?
The monitor comes in three pieces, the screen, the neck, and the base. Setting it up is easy enough. You just have to insert the top part of the neck into the back of the screen until you hear a click, then line up the indentations on the bottom of the neck with the base, after which you just push and then twist.
The E248W-19203RS's on-screen display is nice and straightforward, showing most of the features at first glance. You'll be able to tinker with picture settings, enable the FreeSync feature, and cycle through the presets just to name a few. Luckily enough, you really won't have to do that much tweaking anyways, since the monitor's colours are pretty spot-on right out of the box.
You can navigate the OSD options and switch the display on and off using the five buttons located on the right side of the monitor's rear, which I think is more preferable compared to designs that place the controls along the bottom edge. The buttons are fairly easy to press and usually respond after just one attempt.
Aesthetics
The E248W-19203RS's design isn't exactly revolutionary, but its edgeless frame adds a welcome level of class that's uncommon in monitors of its price range. Just ask the Acer KG221Q's thick bezels. The rest of its design is exceedingly low-key, from its circular base and slanted neck to the glossy black finish and business-like Sceptre logo on the front.
People who enjoy edgier looks and a more "gamer" aesthetic will likely be very disappointed, but if you prefer low-profile form factors, this monitor's right up your alley.
Final Thoughts
At a little over a hundred bucks, you really don't expect monitors to give you much beyond basic gaming features which is what makes the Spectre E248W-19203RS such a pleasant surprise.
Not only are you getting a VA panel with spectacular colour quality and spot-on accuracy, but you're also getting an edgeless screen, good viewing angles, a refresh rate that keeps up with modern lower-end GPUs, and even AMD FreeSync support. Heck, they even threw in some built-in speakers for good measure.
It does have its fair share of drawbacks like its mediocre response time and some missing ports, but that's a small price to pay for all the things it does right. If you don't mind sacrificing a tiny bit of the Acer KG221Q's smoothness and have 30 bucks to spare, you can't go wrong with the Spectre  E248W-19203RS.
Sceptre E248W-19203RS
99% sRGB: With 99% sRGB, this monitor offers a wider color gamut than most...
Multiple Ports: Two HDMI ports and one VGA port provide up to 75HZ refresh...
Built in Speakers: Perfectly suited to work & gaming settings, built-in...
Blue Light Shift: Blue Light Shift reduces blue light, allowing you to...
Last update on 2023-12-11 / Affiliate links / Images from Amazon Product Advertising API